Recently on Cyclingnews.com
Results and Reports from Australia
Promoters wishing to submit results should send them to Cyclingnews
Hobart Wheelers Summer Criterium #2
Hobart, Tasmania, November 23, 2004
By Simon Van Der Aa
The lead break:
Photo ©: Andrew Ling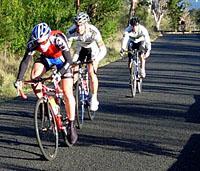 The second of the Hobart Wheelers Summer crits was spun and won on Tuesday night on the new course on Hobart's Queens Domain. This new course is proving to be popular, with the closer location to town attracting more riders. After two races the response is generally positive, although the course is tough. It's a tight 500m circuit with a high-speed chicane and a hairpin at the bottom section of the course, before the climb at the back. According to the author's Polar, over the course of the 38 minute A-Grade race we climbed 320m at an average gradient of 4%.
The B grade race was a war of attrition with Brendan Harris, John Harrs, Andrew Flakemore, Michael Thorne and Ben Grieve Johnson finally breaking clear after a flurry of attacks. With the lead yo-yoing every lap, the first prime was won by Brendon from Andrew and John. Ben slowly lost touch with the bunch leaving 4. With 2 laps to go it looked like a ring-a-ding-ding sprint was on the cards, with all the spectators money on Michael who was at the back, semingly whistling showtunes. However John Harrs saw this too, and made the winning move up the hill on the final lap, coasting easily over the line with the right foot off the gas pedal.
The A race was always going to be tough, with two Australian jerseys on the backs of Sid Taberlay (MTB) and Stephen Rossendell (track), as well as Jai Crawford who is home from a season of racing in the US before heading to Europe, taking the start beside the bunch of usual suspects. There were a few attacks early, before the expected attacks from the big guns came. The rest of the group couldn't stay with them, and gradually Sid, Jai and Rossi pulled away.
Sid seemed to be playing with everyone, repeatedly dropping back nearly to the chase group then accelerating away to the break, before a slight unexpected excursion into the bushes on the top bend put an end to that game (not really expected from an Olympic MTB rider!). That opened up 3rd place to the chase group of Andrew Hanigan, Simon van der Aa, Stuart Keep, Dylan Forbes, Daniel Furmston and Luke Wisby. Dylan launched a big attack into the chicane on the second last lap but went too hard into the hairpin and came unglued in spectacular fashion. In the end, Rossi took the win ahead of Jai with Stuart Keep in third.
A big thanks to Adam and Sarah Christopher, as well as Sam Jesney and Andrew Christie-Johnson for their efforts in running the race.
Photography
Images by Andrew Ling
Results

A-Grade - 35 minutes + 3 laps

1 Steven Rossendell
2 Jai Crawford
3 Stuart Keep

B-Grade - 25 minutes + 3 laps

1 John Harrs
2 Andrew Flakemore
3 Michael Thorne

Current points standings (after 2 races)

A Grade

1 Stephen Rossendell  31 pts
2 Andrew Hanigan      18
3 Jai Crawford        16

B Grade

1 Brendan Harris      18 pts
2 Andrew Flakemore    17
3 John Harrs          16




 
Local results 2004