Results and Reports from Australia
Promoters wishing to submit results should send them to Cyclingnews
Carnegie Caulfield Cycling Club Twilight Kermesse
Sandown Raceway, Victoria, November 23, 2004
By Mal Sawford
Nankervis
Photo ©: Mal Sawford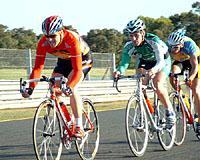 Another fine afternoon saw a record field assemble at Sandown Raceway, with good turn outs in all four grades. The wind, which had been surprisingly absent the week before made its regular return, helping riders up the long climb of the back straight, but making the long finishing straight a real slog for those on the attack.
Paul Richards (Team MG-ZT) had showed signs of strength with a long but unsuccessful break at the Carnegie Caulfield race on Sunday. After a few days recovery, there was no sign of the hamstring tightness that had forced him to ease off at Glenvale Crescent just when he had seemed certain to win the race. Richards attacked on the second lap, and was joined by Anthony Smith (Gran Prix Bicycles) and noted sprinter Tommy Nankervis (Fitzroy Cycles).
With all three riders working well, the trio was over thirty seconds clear with fifteen minutes to race, ahead of a big bunch which showed no signs of coordinating a proper chase. Eventually, a small group of seven broke clear and set about reeling in the leaders. With Pat Shaw (Giant), Matt Lloyd (Kathy Watt's Personal Training) and David Sturt (Pro-Motion/Giant) urging the chase along, the chasers closed to within ten seconds in the final two laps before the three leaders realized the danger and pulled out another fast lap to end the challenge.
Nankervis attacked before the final corner to cross the line alone for an impressive win, with Smith's efforts to latch on costing him any chance of holding off Richards for second. Sturt attacked the chasers and held a fifty meter advantage into the finishing straight, but ran out of steam in the final meter to allow Cam Wise, who has just been selected in the Australian team for the Oceania Championships, to steal fourth with a desperate sprint.
James Shepherdson
Photo ©: Mal Sawford

The B Grade finish was marred by a nasty crash at the front of the bunch in the final corner which saw popular Masters rider Peter McWeeney hit the deck hard head first. His injuries fortunately weren't as severe as first thought, but did require an ambulance ride to Monash Hospital.
Tobias Lennon made the trip down from Bendigo a successful one, attacking on the final hill and finishing clear of the bunch to take the win, while Scott Brown led the bunch home for second. Also avoiding the fall to claim places were another Bendigo raider, Jarrod Moroni and Belinda Goss (TIS/Cyclingnews.com), with Goss' great ride naturally sealing the leading Women's prize in addition to fourth overall.
The C Grade sprint was taken out by Tom Walker, ahead of the steadily improving Luke Postlethwaite. Darren Weir held out Will Tehan for the final place, while Rebecca Cleveland (Richmond Cyclery) was the fasted Woman, ahead of consistent place getter Louisa Judd.
Jackson Sharples proved well and truly ready for promotion to C Grade, with the sixteen year old claiming his third win on the trot. Another promising junior, Jake O'Leary (Terry Hammond Cycles) missed out by inches, but is bound to earn his maiden win in the very near future. Ben Day (Terry Hammond Cycles) claimed third ahead of Matthew Edsall, with Emma Gaul (Giramondo) relegating regular Women's winner Andrea Bishop to second place on the night.
All riders are reminded of the special venue for racing on Sunday November 28th. In conjunction with Breakaway Events, Carnegie Caulfield racing will move from the normal Glenvale Crescent circuit to Lakeside Drive, Albert Park - part of the Australian F1 Grand Prix circuit. Racing runs from 8.30am to 12.30pm, and early bird entry forms are available at CCCC races or www.breakawayevents.com.au. There is no racing at Glenvale Crescent on November 28.
Carnegie Caulfield Criteriums continue Sundays at Glenvale Crescent (Melways map 80B2). C, D and E Grades start at 9am, while A and B Grade ride at 10am. Tuesday night Twilight Racing at Sandown starts at 6.30pm for all grades, with access to the circuit via Sandown Road from 6pm.
All holders of Cycling Australia licenses are welcome (don't forget to bring your license or receipt!) and non-members can have a go by taking out a day license for $20. 2005 licenses are also now available. For first time competitors and the younger juniors, Tokyo Olympian Mick Hollingsworth conducts novice racing clinics at Glenvale Crescent. For further details, go to www.carnegiecycling.com.au.
Photography
Images by Mal Sawford
Results
A Grade 1 hour + 2 laps 56 Starters 
 
1 Tommy Nankervis (South Australia)
2 Paul Richards (Warragul)
3 Anthony Smith (Carnegie Caulfield)
4 Cameron Wise (Carnegie Caulfield)
5 David Sturt (Carnegie Caulfield)
6 Nathan Wise (Carnegie Caulfield)
 
B Grade 55 minutes + 2 laps 78 Starters 
 
1 Tobias Lennon (Bendigo)
2 Scott Brown (St Kilda)
3 Jarrod Moroni (Bendigo)
4 Belinda Goss (Tasmania)
5 Peter Johnstone (Chelsea & Peninsula)
 
Women 
 
1 Belinda Goss (Tasmania)
2 Nikki Matthews (Carnegie Caulfield)
3 Cheryl Walker (Carnegie Caulfield)
 
C Grade 50 minutes + 2 laps 44 Starters 
 
1 Tom Walker (St Kilda)
2 Luke Postlethwaite (Carnegie Caulfield)
3 Darren Weir (Warragul)
4 Will Tehan (Carnegie Caulfield)
 
Women 
 
1 Rebecca Cleveland (Brunswick)
2 Louisa Judd (Carnegie Caulfield)
 
D Grade 45 minutes + 2 laps 36 Starters 
 
1 Jackson Sharples (Carnegie Caulfield)
2 Jake O'Leary (Carnegie Caulfield)
3 Ben Day (Carnegie Caulfield)
4 Matthew Edsall (Carnegie Caulfield)
 
Women 
 
1 Emma Gaul (St Kilda)
2 Andrea Bishop (Carnegie Caulfield)

 
Local results 2004