Results and Reports from Australia
Promoters wishing to submit results should send them to Cyclingnews
Carnegie Caulfield CC
Sandown Raceway Twilight Kermesse, Tuesday November 9, 2004
By Mal Sawford
A Grade riders
Photo ©: Mal Sawford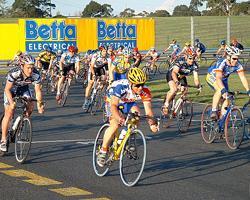 The first twilight race of the season doubled as the season opener for the Team Alex Series, back for its second season with over $7000 of series prizes. The first fine day for a while saw a healthy field of 150 assemble to test themselves in four grades over the technical 3.5km Sandown Motor Raceway circuit.
The A Grade race saw a succession of breaks try their luck without success. Mark Howard (O'Mara Cycles) bridged to the early move by Doug Garley (Terry Hammond Cycles) and Geoff Whiter, but the Fitzroy Cycles mafia of Tommy Nankervis, Hamish Taylor and Todd Wilksch ensured the bunch stayed in contact.
Garley joined a number of other moves; the one which looked most promising saw Jeff Stobie (Alchemy), Chris Lee (SBR), Jason Pastor, and Warren Knevitt (O'Mara) clear with Nankervis along for the ride, but the race came down to a bunch kick. The Fitzroy boys used their strength in numbers well, with Nankervis delivering track star Wilksch to the line for a comfortable win.
A tight sprint for second saw judges go the video, with Nathan Wise (Lloyd Morgan - Bike Pro) inches ahead of a second effort from Nankervis and Glen Hutchinson (Salter Cycles), with Aaron Salisbury (BikeNOW) and Brendan Rowbotham claiming the final prize envelopes.
B Grade had the night's biggest field, and stayed largely intact despite the efforts of Bruce Wills and Peter McWeeney to split the field. Good team riding from 'the boys from Bright' saw super sprinter Darren Cathie cap off a perfect lead out, holding off fast finishing juniors Alex Smyth (Team UNO) and Pete Johnstone (O'Mara). Cathie goes to A Grade next week - who will the boys work for now?
Tess Downing (Team Alex) has had no problem with her move to B Grade, and was a clear winner in the Women's division, taking the points ahead of Nikki Matthews (Bicycle Superstore) and Gemma Goyne (BikeNOW).
State Board member Chris Beales (Cycle Science) joined newcomer Darren Canute (Le Tour) in a long, but ultimately unsuccessful break in C Grade. After the bunch regrouped, young speedsters Luke Postlethwaite and Andrew Rolland (SBR) took the top two places in the bunch sprint, with Canute strong enough to come home third. Lisa Friend (Bianchi) took the Women's win, ahead of Ferne Walklate and Audrey Quick (Quick Cycle).
A mix up with the finish lines (there are lots of lines on a car racing circuit!) saw promising debutant Jake O'Leary sprint too early, allowing the more experienced Ben Day (Terry Hammond Cycles) to snatch the win. Jason Rushen and Daniel Loy took the final places.
Carnegie Caulfield Criteriums continue every Sunday at Glenvale Crescent (Melways map 80B2). C, D and E Grades start at 9am, while A and B Grade ride at 10am. Tuesday night Twilight Racing at Sandown start at 6.30pm for all grades, with access to the circuit via Sandown Road from 6pm.
All holders of Cycling Australia licenses are welcome (don't forget to bring your license or receipt!) and non-members can have a go by taking out a day license for $20. 2005 licenses are also now available. For first time competitors and the younger juniors, Tokyo Olympian Mick Hollingsworth conducts novice racing clinics at Glenvale Crescent. For further details, go to www.carnegiecycling.com.au.
Photography
Images by Mal Sawford
Results

A Grade, 1 hour + 2 laps - 29 Starters
 
1 Todd Wilksch (Horsham)                     
2 Nathan Wise (Carnegie Caulfield)           
3 Tommy Nankervis (South Australia)          
4 Glen Hutchinson (Footscray)                
5 Aaron Salisbury (Carnegie Caulfield)       
6 Brendan Rowbotham (Carnegie Caulfield)     
 
B Grade, 55 minutes + 2 laps - 52 Starters
 
1 Darren Cathie (Carnegie Caulfield)         
2 Alex Smyth (Carnegie Caulfield)            
3 Peter Johnstone (Chelsea & Peninsula)      
4 Andrew Verducci (St Kilda)                 
5 Boon Chia (Carnegie Caulfield)             
 
Women Tess Downing (Carnegie Caulfield)      
2 Nikki Matthews (Carnegie Caulfield)        
3 Gemma Goyne (Carnegie Caulfield)           
 
C Grade, 50 minutes + 2 laps - 45 Starters
 
1 Luke Postlethwaite (Carnegie Caulfield)    
2 Andrew Rolland (Blackburn)                 
3 Darren Canute (Blackburn)                  
4 Alan Beveridge (Latrobe Valley)            
 
Women Lisa Friend (Carnegie Caulfield)       
2 Ferne Walklate (Carnegie Caulfield)        
3 Audrey Quick (Blackburn)                   
 
D Grade, 45 minutes + 2 laps - 26 Starters
 
1 Ben Day (Carnegie Caulfield)               
2 Jake O'Leary (Carnegie Caulfield)          
3 Jason Russian (Carnegie Caulfield)         
4 Daniel Loy (Carnegie Caulfield)             
Local results 2004