Recently on Cyclingnews.com
Results and Reports from Australia
Promoters wishing to submit results should send them to Cyclingnews
Randwick Botany CC
Heffron Park, Maroubra, January 31, 2004
McDonald wins A-grade by a country mile
By Tony Horneman
Team FRF Couriers and RBCC members Chris Jenkins, Shaun Higgerson and Robert Cater.
Photo ©: Tony Horneman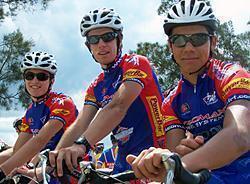 One hundred riders registered for racing at Heffron Park Maroubra on Saturday 31 January 2004 under clear skies and on-shore easterly breeze.
Peter McDonald (Randwick Botany) was the star of the day, with another solo breakaway in A-Grade. The crowd cheered McDonald home, who finished 43 seconds ahead of the bunch. He averaged 42 km/h during the race. Klayten Smith (Clarence Street), who finished ninth in the recent BMC Software Australian Open Road Championships Road Race in Ballarat, finished second, followed by Matthew Lucas, Brendan Ingram, Roger Crawford and Robert Cater, wearing his new Team FRF Couriers jersey and knicks.
No junior racing this week due to the School Holidays. Junior racing returns to Heffron Park on Saturday 7 February 2004, with a new junior race program.
Photography
Images by Tony Horneman
Results, Seniors

A Grade, 36 km
 
1 Peter McDonald (Randwick Botany)                 51.54 (42 km/h)
2 Klayten Smith (Clarence Street)
3 Matthew Lucas (Randwick Botany)
4 Brendan Ingram (Randwick Botany)
5 Roger Crawford (Randwick Botany)
6 Robert Cater (Randwick Botany/Team FRF Couriers)
 
B Grade, 32 km
 
1 Scott Ford (Sutherland)                          48.50 (40 km/h)
2 Chris White (Randwick Botany)
3 Nicholas Rathbone (Eastern Suburbs)
4 Kevin Black (Sydney)
 
C Grade, 28 km
 
1 Alex Krawchuk (Waratah Veterans)                 45.27 (37 km/h)
2 Wayne O'Young (Randwick Botany)
3 Tyron Bicknell (Randwick Botany)
4 Greg Haydon (Parramatta)
5 Tony Caruana (Randwick Botany)
 
D Grade, 20 km
 
1 Gus Silva (Lidcombe Auburn)                      34.07 (35 km/h)
2 Chris Reynolds (Randwick Botany)
3 Mark Murdoch (Randwick Botany)
4 Andrew Swan (Randwick Botany)
 
E Grade 14 km
 
1 Joe Gatt (Randwick Botany)                       31.38 (27 km/h)
2 Robert Capp (Waratah Veterans)
3 John Siounis (Bankstown Sports)
4 Julia Guinan (Randwick Botany)
5 Sandie Jeffery (Randwick Botany)

Local results 2004