Results and Reports from Australia
Promoters wishing to submit results should send them to Cyclingnews
Port Fairy CC
January 31, 2004
By David Tozer
Winnen's a winner: Kate Winnen (2nd from R) with SBS's Mike Tomalaris
Photo ©: David Tozer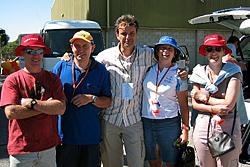 Cool overcast conditions greeted 32 cyclists at Port Fairy Cycling Club's road race on Saturday. The usual afternoon sea breeze challenged riders, especially on the return trip. The 8.00-minute bunch looked promising on the start line. With a few cyclists actually congratulating John Jenkins in advance.
For a certain bunch to win a road race everyone must work together, in order to hold of the chasing groups. Luckily for the 8.00-minute markers this was the case on the way out to the turn, with Murray Turland, Kate Winnen and new rider Chris Burridge driving the rest along. By the turn around point a large group from behind was steadily making up time.
The strong scratch bunch, which included Peter Murphy, Brian McNamara, Andy Graham and Mark Winnen, had a hard chase to catch the 2-minute group lead by in form rider Ron Hollingsworth.
Chris Burridge forced the pace on the return trip, dropping most of his co-markers, and rounding up the front runners in the final 7kms. Leaving Kate Winnen & Chris to work very hard together in the final stages to hold out the rest of the field, who were closing the time gap down very quickly.
In the finishing straight Kate was able to get the jump on Chris to claim victory. Wal Paton from the 16.00minute mark held out for third place ahead of John Blair and Peter Rauert who both started off 5.00 minutes. Andy Graham who claimed fastest time honours led scratch home. Afterwards everyone enjoyed afternoon tea and a post-race chat in the clubrooms.
The summer criterium series continues on Wednesday night, starting in front of St Pats Primary School at 6.30pm. There will be a 30km road race on Saturday starting from the Port Fairy Showgrounds at 2.00pm.
Results

1 Kate Winnen
2 Chris Burridge
3 Wal Paton 
Local results 2004