Results and Reports from Australia
Promoters wishing to submit results should send them to Cyclingnews
Trek Bikes Summer Series #4
Heffron Park, Maroubra, NSW, January 27, 2004
Whyman leads B Grade to another overall win
By John Sunde
Anthony Spurgeon (Caravello) doing it tough
Photo ©: John Sunde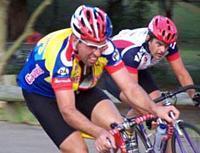 For the second consecutive week, B grade were able to hold off A grade to win the points in the fourth round of the Trek Bikes Summer Series at Heffron Park. Dave Whyman easily won the bunch sprint. This really wasn't a surprise, as it was less than a year ago when he won a stage against an international field in the Tour of Wellington. Either B grade is getting harder or the handicapper needs to review his form guide?
The series lead is still in favour of Jose Rodriguez, who maintains his lead of three points in the race for the series' first prize of a Trek 5500 Carbon OCLV frame. The race for the Shimano Dura Ace wheel set in the sprint competition has also hotted up, with Matt Lucas and Dave Green closing in on leader Peter McDonald.
After a big day of racing in the Joseph Sunde Memorial on Monday, there were a few tired legs last night and a only a small field of 10 A grade riders. By comparison, the B and C grade fields were still 30 strong and when these two groups came together with six laps to go, it was going always going to be a challenge for the A grade field to make contact with the leaders.
Jose Rodriguez gave it his best shot after he attacked A grade in the closing lap, but by then it was all but over as Dave Whyman was using his considerable international experience to outsprint the combined B and C grade field. Kevin Black was the first C grader to finish and took maximum points in the C grade pointscore, however, a narrow third place to Duncan Markham that earned him a valuable point has given him the lead in the C grade competition.
Photography
Images by John Sunde
Results

1 David Whyman (Lidcombe Auburn)
2 Mathew Lucas (Randwick Botany)
3 Luke Cridland (Southern Cross)
4 Trent Iliffe (Easts)
5 John Tzinberg (Manly)
 
1st A Grade: Jose Rodriguez (Easts)
1st C Grade: Kevin Black (Sydney)
 
Trek Bikes Poinstcore
 
1 Jose Rodriguez       10 pts
2 Steve Wooldridge      7
2 Jerzy Sowa            7
2 Dave Whyman           7
5 Matthew Lucas         5
6 Chris Gruber          4
6 Peter Hatton          4
6 Peter McDonald        4
9 Robert Cater          3
9 Jason Ockerby         3
9 Luke Cridland         3
12 Jeff Jones           2
12 Rodney McGee         2
12 Danny Iannazzo       2
12 Trent Iliffe         2
16 Stewart Campbell     1
16 Keegan Aitchinson    1
16 John Tzinberg        1
 
A/B Grade Sprint King
 
1 Peter McDonald       23 pts
1 Matthew Lucas        23
3 David Green          22
4 Jerzy Sowa           18
5 Scott Callum          9
5 Alan Bozunovic        9
7 Stephen Pearson       7
8 Jose Rodriguez        6
9 Steve Wooldridge      5
9 Dave Whyman           5
11 Craig Dempsey        4
12 Chris Gruber         3
12 Peter Hatton         3
12 Dave Evans           3
15 Luke Cridland        2
16 Trent Iliffe         1
16 Robert Cater         1
 
C Grade Poinstcore
 
1 Duncan Markham        7 pts
2 Danny Iannazzo        6
3 Jason Ockerby         5
3 Kevin Black           5
6 Shane Howley          3
6 Mark Robertson        3
6 Keegan Aitchinson     3
6 Chris Guillan         3
6 Andy Mathews          3
11 Chris Dowd           1

Local results 2004