Recently on Cyclingnews.com
Results and Reports from Australia
Promoters wishing to submit results should send them to Cyclingnews
Randwick Botany CC Jindabyne Training Camp
Snowy Mountains, NSW, January 24-26, 2004
Training in Australia's high country
By Tony Horneman
The RBCC Jindy crew
Photo ©: Tony Horneman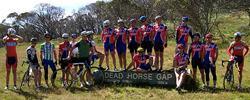 Twenty-five senior and junior cyclists from the Randwick Botany Cycling Club enjoyed four days of training in the Snowy Mountains over the Australia Day long weekend at the end of January 2004. Based in "The Three Way Inn" at Jindabyne, the first destination was Charlotte Pass then on to Nugget's crossing. Matthew Lucas clocked a speed of 93kmh on the descent down the mountain, assisted by a tailwind.
The second day was as ascent to Thredbo and on to Dead Horse Gap, an altitude of 1,582 metres, then a quick descent back to Jindabyne. The 22 kilometre climb from Dead Horse Gap back to Thredbo is one of the steepest climbs in Australia.
The third day was an 80km circuit through Dalgety and Berridale and back to Jindabyne. Riders had to negotiate some tricky obstacles along the way including some cattle grids and an old timber blank bridge. The final day was a return to Thredbo village to enjoy coffee at one of the highest coffee shops in Australia.
The Randwick Botany Cycling Club conducts similar training tours during the year. For more information about joining the Randwick Botany Cycling Club, please contact club secretary Helen Vella on: 02 9667 3307 or email: secretary@randwickbotanycc.com or website www.randwickbotanycc.com.
Photography
Images by Tony Horneman
The Randwick Botany CC crew at Dead Horse Gap, enjoying the fresh air at an altitude of 1,582 metres.
Some of the riders at the Jindabyne Training Tour on location at Dead Horse Gap - (L to R) Thomas Murdoch, Chris Jenkins, Tyron Bicknall, Tamas Bykerk, Peter O'Donnell, Scott Callum, Craig Klement, Brendan Ingram, John Buckton, Bob Bykerk, Richard Jenkins (seated), Richard Westmoreland, Mark Murdoch, Matthew Lucas (seated), Joseph Sorby, David Jackson, Mark Robertson and Robert Cater.
Local results 2004