Results and Reports from Australia
Promoters wishing to submit results should send them to Cyclingnews
Carnegie Caulfield Cycling Club & Break Away Cycling Events
St Kilda Festival Criteriums, February 8, 2004
Tighello takes St Kilda crit
By Mal Sawford
Robert Tighello
Photo ©: Mal Sawford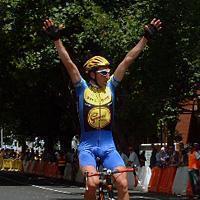 For the second year, Carnegie Caulfield and Break Away Cycling Events (the promotion company formed by former AIS rider Marcel Lema) were invited to run Criteriums on Fitzroy Street as part of the enormous annual St Kilda Festival. With 'willing' volunteers on site at 6am, a 900 meter hotdog circuit was fully cordoned off with rigid barriers, the TAC 'Share the Road' Finish line kite inflated and a testing technical race circuit was created in time for an early 8am kick off.
Local Mortgage broker Choice Capital, a strong supporter of cycling, kicked in with $1000 prize money, the Red Bull girls were on hand to give the competitors wings, and a steadily increasing crowd (many of whom were staggering home after very late nights!) provided a great atmosphere for racing on a morning which started overcast but soon gave way to bright sunshine and scorching heat.
The generous first place prize in A Grade brought out the Crit specialists, led by former Australian Road Champion Robert Tighello (Genovese Coffee/ACR) and Hilton Clarke (SBR). Barcelona Olympian Robert Crowe (TAC 'Share the Road'), renowned as a hotdog specialist was expected to do well, as were former World Junior MTB Champion Trent Lowe (VIS/Yeti) and Nick Kiraly (Fitzroy Cycles) who had impressed at last months Bay Series.
The opening attack came on lap 2 from Team Mg-ZT's Paul Richards; and Lowe and Clarke were quick to follow. The move was quickly neutralized before Clarke jumped away again, but once again he was quickly chased down. Tighello stretched his legs soon after, with Lowe in tow, but at the ten minute mark Tighello sensed a less than whole hearted commitment from his companion and attacked Lowe to go it alone.
A Grade podium
Photo ©: Mal Sawford

With Tighello alone out front, Richards bridged to Lowe, and Mitchell Docker (Drapac - Porsche) chased up to form a three man chase group. Richards struggled in the heat, leaving Lowe and Docker to continue the chase. Tighello continued to out distance both the chase group and the bunch and by the twenty minute mark was sniffing at the heels of the main bunch. Crowe made his move just before Tighello took the lap, and took almost ten minutes to peg back Lowe and Docker. The jump in tempo saw Docker call it a day, but Crowe and Lowe were able to maintain their advantage on the bunch.
Tighello's impressive ride saw him take the win alone, while a last lap attack from Lowe couldn't shake off a clearly suffering Crowe, who had just enough left to outsprint the tireless young star. The remnants of the bunch were lead home by James Maebus (Cannondale), another MTB star, from Peter Triggar and Nick Kiraly who had tried unsuccessfully all day to organize a chase.
Swiss visitor Doppman takes women
Priska Doppmann
Photo ©: Mal Sawford
One of the largest Women's fields seen outside the Bay Series assembled for the Women's race, with Swiss stars Priska Doppmann and Bettina Kuhn (Univega) the form riders. Belinda Goss (TIS/cyclingnews.com) had impressed in the C Grade men's field last year, and was hoping to improve on her slightly disappointing ride at the previous night's Austral Carnival.
The bunch stayed intact for the opening fifteen minutes, before Doppmann jumped away. Goss tried to get on terms but lost ground with each hairpin corner, and a similar solo chase from Kirsty Bortolin (The Freedom Machine) came up short. Doppmann's lead stabilized at ten seconds, as the bunch began to fragment under the pressure of the chase.
With ten minutes remaining, the bunch was down to seven. With Kuhn policing the efforts of Goss, Bortolin, Jenny Macpherson (Fitzroy Cycles), Christine Foster (Richmond Cyclery), Karen Hopkinson and Janine Donaldson.
Doppmann's lead blew out as the group started to race for second, with the former World number 6 taking the win by over thirty seconds, even having time to cheer on her team mate who had jumped away from the bunch with two laps remaining. Kuhn held on to claim second, ahead of Bortolin who outsprinted Goss, Macpherson and Hopkinson.
B Grade
B Grade Podium
Photo ©: Mal Sawford

Josh Vanderveen (Le Tour Cycles) kicked off the B Grade race with an early attack which strung the big bunch out, and caused the first of many early retirements. Aaron Lee flew the Choice Capital colors with an attack soon after, but the move of the day was started after twenty minutes by Footscray's Matt Shea. Queenslander Chris Wilson followed the move and the pair quickly pulled ten seconds clear.
Veteran breakaway specialist Russell Newnham and Steve Martin (Le Tour) powered across, and the bunch began to lose ground. Anthony Comino (Choice Capital) and Harry Fricke (Mascot Cycles) attacked the bunch and managed to claw their way up to the leaders with twenty minutes remaining, but the break last rhythm with the additional of the late arrivals, and the chasers closed in.
Newnham just before the bunch regrouped and in an impressive ride maintained a ten second advantage for the final ten minutes to pull off a crowd pleasing solo win. Martin lifted the tempo dramatically in the final laps in a last ditch effort to reel in the leader, but had to settle for third after towing the relatively fresh Wilson to the finish. Shea, who had started the move had to settle for fourth, ahead of Fricke.
C Grade
C Grade winner Stephen Price
Photo ©: Mal Sawford

C Grade saw the day's only crowd pleasing bunch sprint, after a long solo effort form Pro Speed Skater Michael Byrne was chased down. Nick Walker, youngest brother of Will, counter attacked in vain, setting things up for the mad rush to the line.
Alistair Jack led down the back straight, but visiting Tasmanian Trackie Stephen Price took the lead out of the final corner to win comfortably. Another overseas bound Skater, Mark Gainsmith, pipped Jack on the line for second, with Pete Johnson surviving early mechanical difficulties to sprint into fourth.
D Grade
D Grade winner Pete Johnstone
Photo ©: Mal Sawford

Frank Reardon went to the front as soon as the traditional D Grade neutral period was over, and stayed there for ten minutes in a show of strength. Thirteen year old Pete Johnstone (O'Mara Cycles) had an arm chair ride in second wheel, content to follow until Reardon finally tired.
Blackburn junior Ross Hamilton (CBD Cycles) tried an attack, but young Pete was quick to react, and as the race wore on a bunch sprint seemed likely. Johnstone put his cornering skills to good use, attacking a lap and half from home and spinning his tiny gear to the line for a great win. Gavin Grant led the bunch home with an ill-conceived salute, allowing Hamilton to come within inches of pinching second place. Twelve year old Patrick Drapac also showed some speed, sprinting into fourth.
The St Kilda Festival Criteriums were round 28 in the $7000 Team Alex Series. Co-leaders Simon Lancaster and Matt Jensen are on 117 points, four points clear of Cheryl Walker. Warren Knevitt is the leading A Grade rider on 95.
Carnegie Caulfield Criteriums continue every Sunday at Glenvale Crescent (Melways map 80B2). Twilight races are held on Tuesday evenings at Sandown racecourse, on the car racing circuit, with all grades starting at 6.30pm. Entry is via Sandown Rd, from 5.30pm. All holders of 2003 Cycling Australia licenses are welcome (don't forget to bring your license or receipt!) and non-members can have a go by taking out a day license for $20. 2004 licenses are also now available. For first time competitors and the younger juniors, Tokyo Olympian Mick Hollingsworth conducts racing clinics in E Grade. For further details, including information and standings for the Team Alex series, check out www.carnegiecycling.com.au.
Results
A Grade, 50 minutes, 25 starters
 
1 Robert Tighello (Carnegie Caulfield)
2 Robert Crowe (Carnegie Caulfield)
3 Trent Lowe (Carnegie Caulfield)
4 James Maebus (Dirt Riders)
5 Peter Triggar (Brunswick)
6 Nick Kiraly (Carnegie Caulfield)
 
Women, 45 minutes, 25 starters
 
1 Priska Doppmann (Switzerland)
2 Bettina Kuhn (Switzerland)
3 Kirsty Bortolin (Blackburn)
4 Belinda Goss (Tasmania)
 
B Grade, 50 minutes, 53 starters
 
1 Russell Newnham (Carnegie Caulfield)
2 Chris Wilson (Queensland)
3 Steve Martin (Blackburn)
4 Matthew Shea (Footscray)
5 Harry Fricke (Hawthorn)
 
C Grade, 45 minutes, 32 starters
 
1 Stephen Price (Tasmania)
2 Mark Gainsmith (Carnegie Caulfield)
3 Alistair Jack (Carnegie Caulfield)
4 Peter Johnson (Carnegie Caulfield)
 
D Grade, 45 minutes, 24 starters
 
1 Peter Johnstone (Chelsea & Peninsula)
2 Gavin Grant (St Kilda)
3 Ross Hamilton (Blackburn)
4 Patrick Drapac (Brunswick)
Local results 2004