Results and Reports from Australia
Promoters wishing to submit results should send them to Cyclingnews
Carnegie Caulfield CC
Glenvale Crescent, Mulgrave, Sunday February 1, 2004
By Mal Sawford
The winning A Grade break
Photo ©: Mal Sawford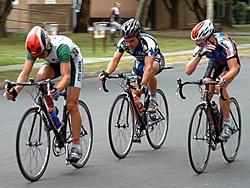 Another unseasonal overcast morning and light drizzle probably saw some of the early risers return to bed, but for the C and D Grade riders who took the chance, the conditions improved and racing was unaffected. By the time the later races got underway conditions were close to ideal.
The early break in A Grade looked threatening, with Leigh De Luca (Specialized) going clear with Jake Sutherland, Matt Jones, Anthony Smith (Gran Prix Bicycles) and Chris Boone. A high powered chase group made contact around the fifteen minute mark, with Darren Young (TIS/Cyclingnews.com), Junior World's medallist Nic Sanderson, Simon Clarke (BikeNOW) and Warren Knevitt (O'Mara Cycles) adding to the horsepower out front.
The pace stayed high in the bunch, and the break couldn't open their advantage beyond ten seconds, and after some big turns from Michael Ford (VIS) the bunch regrouped at the thirty minute mark. Echuca rider Mick Teggelove tried a number of attacks in the second half of the race, and Sanderson, Martin Bole and Guy Green also tried to split things up. Masters raider David Sturt (Colnago) put in a strong solo effort, but all the moves were quickly shut down.
Simon Clarke, riding the Team Alex carbon prototype, attacked with five minutes remaining, and was quickly joined by Young and Nathan Wise. Matt Goold (Genovese Coffee/ACR) was too late to react, with his attempt to bridge coming up short, and the three leaders combined well to keep the chase at bay. Clarke led out the sprint, but had to settle for third, with the Tasmanian track star Young a comfortable winner. Simon Walker (Victorian State Homeloans) led the chasers home, ahead of trackie Tommy Nankervis (Fitzroy Cycles) and Matt Goold.
The big B Grade bunch always seemed destined for a bunch sprint. Tyrin Simpson and Nick Sheard did their best to get away, and Swiss star Priska Doppmann rode off the front with Boon Chia (Team Alex) but all were soon back in the fold. 'Fast Eddy' Perez surprised with a three lap solo effort with fifteen minutes remaining, but at '3 to go', the field was intact.
Richard Cormick attacked the following lap, with Sheard in pursuit. Both were swept up on the final lap, but a strong move down the back straight from Harry Fricke (Mascot Cycles) saw him round the home turn fifty meters clear, and hold off a late charge from Matt Jensen (Kennedy Cycle Fit) to take the win. Jensen's lead out man, Peter Ballas held on for third, ahead of Luke Sproson, while the Swiss Pair of Doppmann and Bettina Kuhn were the best placed of the Elite Women.
The smaller than usual C grade bunch allowed for an attacking race, with many riders trying their luck off the front of the bunch. Amy Phillips (Trak Cycles), who had dominated Women's racing at the Warragul Track Carnival, seemed to have half the bunch working for her, while Scott Jensen (Kennedy Cycle Fit) was always at the head of affairs.
Visiting US Pro Tina Mayola-Pic (Genesis) was fresh off the plane and wondering where the sunshine she had been promised was, but proved too strong for the field, taking the bunch sprint convincingly. Bob Kelly (Tritech Coaching) kept his fingers off the brake levers for once and claimed second, ahead of Trent Brown and Ferne Walklate.
D Grade raced at a much faster pace than normal in the opening stages, leading to a number of regulars heading for the sidelines midway through the event. The survivors massed for their traditional bunch sprint, taken out by new comer Rupert Edwards ahead of David Thornley, Frank Reardon and Aidan McInernay.
Having held the lead in the $7000 Team Alex Series since Round 7 back on November 11, Simon Lancaster has finally been dethroned in Round 26! Matt Jensen's second place in B Grade earns him promotion to A Grade, and the promotion bonus sees him the new leader on 113 points. Lancaster (108) is now second with Cheryl Walker (107) third. Ferne Walklate was the other big mover up to 97 points, while Warren Knevitt is the leading A Grade rider on 91.
Important notice
The timetable for next week's racing hosted by Carnegie Caulfield sees the Twilight race at Sandown held on Wednesday evening rather than the usual Tuesday night (entry is via Sandown Rd, from 5.30pm for a 6.30pm race start), while Sunday morning racing will move from Glenvale Crescent to Fitzroy Street, St Kilda, in front of huge crowds as part of the massive St Kilda Festival between 8am and 1pm.
All normal grades will be catered for (including a special Women's race if entries permit), although the tight circuit will only allow one bunch at a time. C and D Grade riders need to register on the day by 7.45am, Women by 9.30am, and for A and B Grade entries will close at 10.30am. A field limit will apply in each grade, so early registration is strongly recommended! Entry fee is $15, and all 2004 Cycling Australia license holders (license or receipt must be presented) are welcome. Non-members can have a go by taking out a day license for $20. Full details of race start times, and the Club's regular racing schedule is available at www.carnegiecycling.com.au.
Photography
Images by Mal Sawford
Results

A Grade, 1 hour + 3 laps, 39 starters
 
1 Darren Young (TIS/Cyclingnews.com)
2 Jonathan Clarke (Carnegie Caulfield)
3 Simon Clarke (Carnegie Caulfield)
4 Simon Walker (Carnegie Caulfield)
5 Tommy Nankervis (South Australia)
6 Matt Goold (Carnegie Caulfield)
 
B Grade, 1 hour + 3 laps, 56 starters
 
1 Harry Fricke (Hawthorn)
2 Matt Jensen (Carnegie Caulfield)
3 Peter Ballas (Carnegie Caulfield)
4 Lucas Sproson (Carnegie Caulfield)
5 Karl Wood (Carnegie Caulfield)
 
Women
 
1 Priska Doppmann (Switzerland)
2 Bettina Kuhn (Switzerland)
3 Cheryl Walker (Carnegie Caulfield)
 
C Grade, 50 minutes + 3 laps, 23 starters
 
1 Tina Mayola-Pic (USA)
2 Bob Kelly (Carnegie Caulfield)
3 Trent Brown (Carnegie Caulfield)
4 Ferne Walklate (Carnegie Caulfield)
 
Women
 
1 Tina Mayola-Pic (USA)
2 Ferne Walklate (Carnegie Caulfield)
 
D Grade, 45 minutes + 3 laps, 23 starters
 
1 Rupert Edwards (Carnegie Caulfield)
2 David Thornley (Carnegie Caulfield)
3 Frank Reardon (Coburg)
4 Aidan McInernay (Carnegie Caulfield)
 
E Grade, 45 minutes + 3 laps
 
1 Andrew Cullen (Blackburn)
2 Alice Martin (Carnegie Caulfield)
3 Emily Wilkinson (Carnegie Caulfield) 
Local results 2004