Recently on Cyclingnews.com
Results and Reports from Australia
Promoters wishing to submit results should send them to Cyclingnews
Randwick Botany CC - Snowy Wilson Memorial Criterium
Heffron Park, Maroubra NSW, June 9, 2003
Hatton wins the Snowy Wilson Memorial
By Tony Horneman
Huge turn out for the Snowy Wilson Memorial
Photo: © Tony Horneman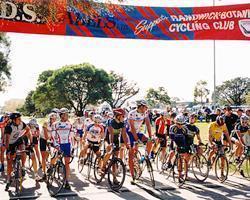 Over 150 riders registered for the Snowy Wilson Memorial Criterium cycling event at Heffron Park, Maroubra on Monday 9 June 2003. The 7-race program was conducted on the tight 2km closed road circuit in excellent weather conditions.
The race is dedicated to the memory of Alfred C "Snowy" Wilson who joined the Randwick Botany Cycling Club in 1917. Snowy was a member of the club for over 30 years and served as Club Secretary for 26 years. Snowy's daughter Phyllis Gilbert lives in Sydney and is very proud to see her father remembered this way each year.
The Randwick Botany Cycling Club would like to thank the following sponsors of the event: Newington Inn, Petersham, DS Labels Marrickville, Maroubra Cycles, Jan and Cohen Real Estate, marketers of fine homes and apartments, and Powerbar who were also the official supplier of Sports Nutrition to the recent UCI World Cup Track Cycling Classic in Sydney. Thanks also to Randwick City Council for preparing Heffron Park for theUu event.
Photos
Images by Tony Horneman
Results

A Grade, 45min plus 3 laps

1 Peter Hatton (Clarence Street Cyclery)
2 Simon Price (Hobart Wheelers)
3 Chris Thomas (St George)
4 Troy Glennan (St George)
5 Brian Appleyard (Clarence Street Cyclery)
 
A Grade Primes:
 
Brian Appleyard (Clarence Street Cyclery)
Nash Kent (Clarence Street Cyclery)
Peter  Milostic (Penrith Panthers/FRF Couriers)
Peter Hatton (Clarence Street Cyclery)
 
B Grade, 35min plus 3 laps
 
1 Scott McGrath (Hunter District)
2 David Green (Lidcombe Auburn)
3 Robert Cater (Randwick Botany)
4 Andrew Kidd (Hunter District)
5 Robert  Hampshire (St George)
 
C/D/E Grade, 8 lap 16km Handicap
 
1 Laurent Vignes (Parramatta)
2 Alex Simmon (Sydney)
3 David South (Waratah Veterans)
4 David McHugh (Sydney)
5 Michael Murdoch (Randwick Botany)
 
C Grade, 25min plus 3 laps
 
1 Matthew Lucas (Randwick Botany)
2 Robert Hadley (Hunter District)
3 David Watkinson (Manly Warringah)
4 Owen MacPhillamy (Central Coast)
5 David McIntosh (Bicisport)
 
D Grade, 20min plus 3 laps
 
1 Michael Popperwell (Manly Warringah)
2 David McHugh (Sydney)
3 Gerard Lai-Smith (North Sydney)
4 Michael Murdoch (Randwick Botany)
5 David South (Waratah Veterans)
 
E Grade, 15min plus 3 laps
 
1 Oliver Scott (Randwick Botany)
2 Kevin Black (Sydney)
3 Mark Taylor (Randwick Botany)
4 John Revesz (Sydney)
5 Frank Fortuna (St George)
 
Women, 10 lap 20km Handicap
 
1 Janelle Lindsay (Randwick Botany)
2 Kate Nichols (St George)
3 Zoe Southwell (Parramatta)
4 Julie Howard (Sydney)
5 Amber Jenkins (Lidcombe Auburn)