57th FBD Insurance RŠs - 2.2
Ireland, May 18-25, 2009
Main Page Results Overall standings Previous Stage Next Stage
Stage 6 - May 22: Scariff - Castlebar, 159 km
Healion grabs one for the Irish
Richardson holds onto yellow
By Shane Stokes
The victor and the vanquished: Paul Healion (Ireland National Team)
Photo ©: Stephen McMahon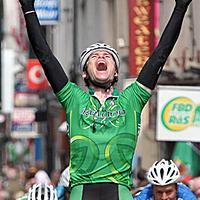 Showing the benefits gained from intensive track training earlier this year, Dubliner Paul Healion galloped to success in the sixth stage of the FBD Insurance Rás in Castlebar. The Ireland National Team rider jumped hard at the final corner, approximately 250 metres from the line, and held off the rest of the 86 man front group on the slight drag up to the finish.
Second place went to quadruple Tour de France stage victor Jaan Kirsipuu (Norway Giant-Veolia), who narrowly pipped Nicholas Walker (Australia Cinelli-Down Under), the victor on Wednesday and yesterday. Former Belgian road race champion Niko Eeckhout (Ireland An Post M. Donnelly Grant Thornton Sean Kelly) was fourth.
"I'm absolutely delighted - over the moon," the 30 year old Healion said afterwards, describing his emotions at taking his first ever stage win in the FBD Rás. "It has been a long time coming... I have ridden this race nine or 10 times, so I've waited this long.
"It was a really tight finish. There were three roundabouts to negotiate at the end and I kind of got swamped with about 500 metres to go. I saw the bend at 300 metres to go and I jumped into the corner first. Then I kicked again.
"I didn't believe I had a gap. I looked under my wheel with about one hundred metres to go and I knew I had it then. I had plenty of time to celebrate."
Three other Irish riders finished in the first fifteen. Sam Bennett (Tipperary Dan Morrissey) was ninth, the 18 year old landing his fourth top ten of the week, Aidan Crowley (Meath Engraveit.ie/BDBC) was twelfth and Seán Downey (Ireland National Team) was fourteenth.
Race leader Simon Richardson (Britain Rapha Condor) had a relatively stress-free day, and moved one stage closer towards winning the overall race. He finished safely in the main bunch and preserved his advantage over all of his rivals.
"We have got the strongest team in the race here and today the guys set an infernal pace," he said afterwards. "I think everyone in the bunch was cursing [because of the speed]. If we have another day like today the chances of retaining the yellow jersey right through to the finish are good. They increase day by day but, that said, you can never count your chickens in this race because it is just too difficult to control. With small teams you have to fight every inch of the way."
Long distance move
The major breakaway of the day
Photo ©: Stephen McMahon

The stage was marked by a number of unsuccessful early attacks before a five man group slipped away approximately 50 kilometres after the start in Scariff. This comprised Laurent Didier (Denmark Designa Kokken), former race leader Ian Wilkinson (Britain Halfords Bike Hut), Brian Kenneally (Meath Engraveit.ie/BDBC), Peter Ronsse (Australia Cinelli-Down Under) and Espen Jogert (Norway Giant-Veolia).
Wilkinson had started the day sixth overall, three minutes and 29 seconds behind Richardson, and so was considered a threat. The Rapha-Condor-led peloton didn't give the move any leeway until Wilkinson sat up and went back to the bunch, perhaps realising that no rein would be given as long as he was part of the escape.
The other four pressed on, opening up a maximum lead of over two minutes, but they were ultimately caught 40 kilometres from the finish. David McCann (Ireland National Team), Steve Calland (Britain Surrey Racing League) and Peter Hawkins (Dublin IRC Ushers Insulations) surged clear ten kilometres later but the first two sat up soon afterwards. Peter Hawkins persisted for a few more kilometres before he too was reeled in.
"Today it took 50 kilometres for the break to go, so we raced to that point attacking and covering moves," continued Richardson. "From there to the finish my four team mates were on the front ..we had very little help until maybe ten kilometres to go, when the sprinters got a whiff of the win."
Apart from his defense of the yellow jersey, others also maintained their own lead in their own classifications. Russell Downing (Britain CandiTV Marshall's Pasta) keeps the green jersey of best sprinter, Mark McNally (Britain Halfords Bike Hut) is best young rider, and David O'Loughlin (Ireland An Post M. Donnelly Grant Thornton Sean Kelly) fortified his advantage in the King of the Mountains category.
He took top points on the day's first climb, the third category ascent of Leecarrow (km 8.1), beating Bjorn Glasner (Germany Kuota-Indeland), his closest rival Kit Gilham (Britain C'Shire Sigmasport) plus Georgi Georgiev (Greece Heraklion-Nessebar).
Race Leader, Simon Richardson (Rapha Condor)
Photo ©: Stephen McMahon

And while he missed out on points in the day's other climb, the category three ascent of Killanena (km 18.3), the points gained by Spas Gyurov (Greece Heraklion-Nessebar), Mads Christensen (Denmark Designa Kokken) , David McCann (Ireland National Team) and Richardson should not pose any problems. Mathematically, only three riders - Gilham, McCann and Pete Williams (Britain Candi TV Marshall's Pasta) - can catch him now, but it is highly unlikely.
"I think at this point in the race I am feeling pretty confident about holding onto the mountains jersey now," he confirmed after the stage.
Also gaining confidence is 18 year old Sam Bennett, who added ninth place today to the sixth, seventh and eighth placings he has already achieved. It's a very strong performance by someone so young. His assessment shows his competitive nature; he's riding well, but wants to achieve more.
"I am happy enough but I am doing so well now that I kind of hope I can do better," he said. "I am hoping that if I can get into the right position I can compete with the top guys.
"Today was very fast. I was really struggling at times but near the end I kind of came into my element and it was much better."
Kenneally was annoyed after the stage, having spent almost 70 kilometres off the front and having nothing to show for it. "It's very frustrating this year," he said. "There's a whole lot of negative racing. I couldn't get the other guys in the break to ride hard; I started pushing it and they said that they would not ride with me if I didn't back off. I felt very good up there but we ended up being caught. If they'd dug deeper early on we could have had a chance." He said that he'll try to have a go again.
The 2.2-ranked race continues tomorrow with the penultimate stage, a mainly flat 150 kilometre race from Castlebar to Clara.
Photography
For a thumbnail gallery of these images, click here
Images by Stephen McMahon
Results

1 Paul Healion (Irl) Irish National Team                               3.45.26
2 Jaan Kirsipuu (Est) Team Giant-Veoila                                       
3 Nicholas Walker (Aus) Cinelli - Down Under                                  
4 Niko Eeckhout (Bel) An Post - Sean Kelly Team                               
5 Kasper Jebjerg (Den) Team Designa Kokken                                    
6 Jacobus Venter (RSA) Trek - Marco Polo Cycling Team                         
7 Joachim Tolles (Ger) Team Kuota - Indeland                                  
8 Russell Downing (GBr) Candi TV - Pinarello RT                               
9 Sam Bennett (Irl) Dan Morrissey                                             
10 Mark McNally (GBr) Team Halfords Bike Hut                                  
11 Stefan Ganser (Ger) Team Kuota - Indeland                                  
12 Aidan Crowley (Irl) Engraveit.ie/BDBC/Cycleways                            
13 Ian Wilkinson (GBr) Team Halfords Bike Hut                                 
14 SeŠn Downey (Irl) Irish National Team                                      
15 Spas Gyurov (Bul) Heraklion-Nessebar - Kastro                              
16 Steve Calland (GBr) Surrey Racing League                                   
17 Kristian House (GBr) Rapha Condor                                          
18 Joseph Fenlon (Irl) Dan Morrissey                                          
19 Kit Kilham (GBr) Sigmasport/Spelialized/Sportful                           
20 Chris Coyle (Irl) Castlebar Western Edge Medical Communications            
21 Barry Monaghan (Irl) Newry Whs. CC                                         
22 James Moss (GBr) Team KuK Kinesis Bikes                                    
23 Darren Lapthorne (Aus) Rapha Condor                                        
24 Peter Hawkins (Irl) IRC Ushers Insulations                                 
25 Paidi O'Brien (Irl) An Post - Sean Kelly Team                              
26 Jan Barta (Cze) ARB÷ - KTM - Junkers                                       
27 Ray Clarke (Irl) Total Cleaning Supplies                                   
28 Chris McNamara (GBr) Surrey Racing League                                  
29 John Lynch (Irl) Martin Donnelly                                           
30 Sven De Weerdt (Bel) Cinelli - Down Under                                  
31 Graham Hurley (Irl) DTC Orwell Wheelers                                    
32 Mads Christensen (Den) Team Designa Kokken                                 
33 Benny De Schrooder (Bel) An Post - Sean Kelly Team                         
34 David McCann (Irl) Irish National Team                                     
35 Joachim Pettersen (Nor) Team Giant-Veoila                                  
36 Bert Roesems (Bel) Cinelli - Down Under                                    
37 Stephen Barrett (Irl) Irish National Team                                  
38 Steve Lampier (GBr) Team KuK Kinesis Bikes                                 
39 Urban Monks (Irl) Ireland Development U23                                  
40 Simon Richardson (GBr) Rapha Condor                                        
41 Josef Kugler (Aut) ARB÷ - KTM - Junkers                                    
42 Daniel Drake (GBr) BC East Midlands                                        
43 Bogdan Stoytchev (Bul) Heraklion-Nessebar - Kastro                         
44 Jacques Janse Van Rensburg (RSA) Trek - Marco Polo Cycling Team            
45 Eric Van De Meent (Ned) Trek - Marco Polo Cycling Team                     
46 Robert Wardell (GBr) Team KuK Kinesis Bikes                                
47 Brian Kenneally (Irl) Engraveit.ie/BDBC/Cycleways                          
48 Dale Appleby (GBr) Candi TV - Pinarello RT                                 
49 Chris Newton (GBr) Rapha Condor                                            
50 Laurent Didier (Lux) Team Designa Kokken                                   
51 Wouter Sybrandy (GBr) Sigmasport/Spelialized/Sportful                      
52 Paul Griffin (Irl) Total Cleaning Supplies                                 
53 David O'Loughlin (Irl) An Post - Sean Kelly Team                           
54 Philip Lavery (Irl) KTM Winning Solutions                                  
55 Derek Burke (Irl) IRC Ushers Insulations                                   
56 Hannes Grundlinger (Aut) ARB÷ - KTM - Junkers                              
57 Patrick Clarke (Irl) Castlebar Western Edge Medical Communications         
58 Aaron Buggle (Irl) Ireland Development U23                                 
59 Tom Last (GBr) Sigmasport/Spelialized/Sportful                             
60 Tom Southam (GBr) Rapha Condor                                             
61 Rune Jogert (Nor) Team Giant-Veoila                                        
62 Ian Bibby (GBr) Team Halfords Bike Hut                                     
63 Alexander Gottfried (Ger) Team Kuota - Indeland                            
64 Peter Ronsse (Bel) Cinelli - Down Under                                    
65 Adrian Hedderman (Irl) KTM Winning Solutions                               
66 Matthew Stephens (GBr) Sigmasport/Spelialized/Sportful                     
67 James Sampson (GBr) Candi TV - Pinarello RT                                
68 Morten Kruse Brink (Den) Team Designa Kokken                               
69 Peter Williams (GBr) Candi TV - Pinarello RT                               
70 James Spragg (GBr) Trek - Marco Polo Cycling Team                          
71 John Mason (Irl) Engraveit.ie/BDBC/Cycleways                               
72 Conor Murphy (Irl) IRC Ushers Insulations                                  
73 Richard McCauley (Irl) KTM Winning Solutions                               
74 Stefan Poll (Aut) ARB÷ - KTM - Junkers                                     
75 Tony Brady (Irl) Martin Donnelly                                           
76 Mark Nugent (Irl) Comeragh CC                                              
77 SeŠn Lacey (Irl) Eurocycles                                                
78 Martin Grashev (Bul) Heraklion-Nessebar - Kastro                           
79 Espen Jogert (Nor) Team Giant-Veoila                                       
80 Conor McAllister (Irl) Eurocycles                                          
81 Rob Partridge (GBr) Team Halfords Bike Hut                                 
82 James Wlliamson (GBr) Sigmasport/Spelialized/Sportful                      
83 Michael Concannon (Irl) Total Cleaning Supplies                            
84 Georgi Petrov Georgiev (Bul) Heraklion-Nessebar - Kastro                   
85 Stephen Halpin (Irl) Ireland Development U23                               
86 Simon Kelly (Irl) IRC Ushers Insulations                                   
87 BjŲrn Glasner (Ger) Team Kuota - Indeland                              0.43
88 Luke Roberts (Aus) Team Kuota - Indeland                                   
89 Eugene Moriarty (Irl) Engraveit.ie/BDBC/Cycleways                      0.46
90 Mark Cassidy (Irl) An Post - Sean Kelly Team                           1.08
91 John Dempsey (Irl) Dan Morrissey                                       4.18
92 John Heaton-Armstrong (GBr) Surrey Racing League                           
93 Adam Armstrong (Irl) Ireland Development U23                               
94 Neil Delahaye (Irl) IRC Ushers Insulations                                 
95 Chris Troy (Irl) Castlebar Western Edge Medical Communications         4.20
96 Robin Kelly (Irl) Comeragh CC                                          4.47
97 Martin Gill (Irl) Clonmel CC                                           4.48
98 Lukas Winter (Aut) ARB÷ - KTM - Junkers                                4.50
99 Mike Reddan (Irl) Zilcom-South Dublin                                      
100 Niall Brosnan (Irl) Total Cleaning Supplies                               
101 Christopher Prior (GBr) BC East Midlands                                  
102 Shane Hurley (Irl) DTC Orwell Wheelers                                    
103 Michael Hennessy (Irl) Comeragh CC                                        
104 Daniel Clifford (Irl) Newbridge Projector World                           
105 David Cawley (Irl) Nigel's Bikes                                          
106 Michael Storan (Irl) Newbridge Projector World                            
107 Kieran Keane (Irl) Martin Donnelly                                        
108 Mark Power (Irl) Dan Morrissey                                            
109 Michael Butler (Irl) Eurocycles                                           
110 Andrew McQuaid (Irl) Zilcom-South Dublin                                  
111 Matthew Kipling (GBr) Team KuK Kinesis Bikes                              
112 David Fletcher (GBr) Team Halfords Bike Hut                           4.58
113 David Brennan (Irl) Castlebar Western Edge Medical Communications    10.15
114 Stephen Surdival (Irl) DTC Orwell Wheelers                           18.10
115 Richard Hoult (GBr) Surrey Racing League                             29.03
116 RuaidhrŪ Geraghty (Irl) Nigel's Bikes                                29.04
117 Eoghan Considine (Irl) Nigel's Bikes                                      
118 Odhran Connors (Irl) DTC Orwell Wheelers                                  
119 Don Feighery (Irl) Comeragh CC                                            
120 Cathal McCarthy (Irl) Eurocycles                                          
121 Dylan Rafter (Irl) KTM Winning Solutions                                  
122 Keith Fox (Irl) Clonmel CC                                                
123 David Peelo (Irl) Murphy Surveys                                          
124 Colm Bracken (Irl) Murphy Surveys                                         
125 Sean McGreevy (Irl) Newry Whs. CC                                         
126 Paul O'Keefe (Irl) Zilcom-South Dublin                                    
127 Jonathan Gibson (Irl) Martin Donnelly                                     
128 Drew McKinley (Irl) Newry Whs. CC                                         
129 Mark McKinley (Irl) Newry Whs. CC                                         
130 Ciaran Steed (Irl) Murphy Surveys                                         
131 James Stewart (GBr) Team KuK Kinesis Bikes                                
132 Colm Quinn (Irl) Newry Whs. CC                                            
133 Danny Carroll (Irl) Clonmel CC                                            
134 Keith Gater (Irl) Comeragh CC                                             
135 Mark Dowling (Irl) Zilcom-South Dublin                                    
136 Paul Doyle (Irl) Nigel's Bikes                                            
137 Michael Fitzgerald (Irl) Eurocycles                                       
138 Thomas Kirk (GBr) BC East Midlands                                        
139 Paul Dunne (Irl) Castlebar Western Edge Medical Communications       30.53
140 Kevin Shelly (Irl) Clonmel CC                                             
141 Richard Malone (Irl) Newbridge Projector World                            
142 Colin Robinson (Irl) Martin Donnelly                                      
143 Brendan Lacey (Irl) Total Cleaning Supplies                               
144 Gareth Williams (GBr) BC East Midlands                                    
145 Llewey Byrne (GBr) BC East Midlands                                       
 
Mountains
 
Cat 3: Lecarrow
 
1 David O'Loughlin (Irl) An Post - Sean Kelly Team                           5 pts
2 BjŲrn Glasner (Ger) Team Kuota - Indeland                                  4
3 Kit Kilham (GBr) Sigmasport/Spelialized/Sportful                           3
4 Georgi Petrov Georgiev (Bul) Heraklion-Nessebar - Kastro                   2
 
Cat 3: Killanena
 
1 Spas Gyurov (Bul) Heraklion-Nessebar - Kastro                              5 pts
2 Mads Christensen (Den) Team Designa Kokken                                 4
3 David McCann (Irl) Irish National Team                                     3
4 Simon Richardson (GBr) Rapha Condor                                        2
 
General classification after stage 6
 
1 Simon Richardson (GBr) Rapha Condor                                 24.10.21
2 Mads Christensen (Den) Team Designa Kokken                              2.49
3 Jan Barta (Cze) ARB÷ - KTM - Junkers                                    3.02
4 Bert Roesems (Bel) Cinelli - Down Under                                 3.19
5 Darren Lapthorne (Aus) Rapha Condor                                     3.24
6 Ian Wilkinson (GBr) Team Halfords Bike Hut                              3.29
7 Chris Newton (GBr) Rapha Condor                                         5.29
8 Russell Downing (GBr) Candi TV - Pinarello RT                           6.07
9 David McCann (Irl) Irish National Team                                  6.09
10 Alexander Gottfried (Ger) Team Kuota - Indeland                        6.38
11 David O'Loughlin (Irl) An Post - Sean Kelly Team                       6.53
12 Rune Jogert (Nor) Team Giant-Veoila                                    7.17
13 Josef Kugler (Aut) ARB÷ - KTM - Junkers                                7.18
14 Benny De Schrooder (Bel) An Post - Sean Kelly Team                         
15 Mark McNally (GBr) Team Halfords Bike Hut                              7.23
16 Brian Kenneally (Irl) Engraveit.ie/BDBC/Cycleways                      7.46
17 Nicholas Walker (Aus) Cinelli - Down Under                             7.48
18 Matthew Stephens (GBr) Sigmasport/Spelialized/Sportful                 7.52
19 Sam Bennett (Irl) Dan Morrissey                                        7.56
20 Jacobus Venter (RSA) Trek - Marco Polo Cycling Team                    8.04
21 Wouter Sybrandy (GBr) Sigmasport/Spelialized/Sportful                  8.20
22 Laurent Didier (Lux) Team Designa Kokken                               8.28
23 Stefan Poll (Aut) ARB÷ - KTM - Junkers                                 8.33
24 Niko Eeckhout (Bel) An Post - Sean Kelly Team                          8.45
25 Stephen Halpin (Irl) Ireland Development U23                           8.58
26 Paidi O'Brien (Irl) An Post - Sean Kelly Team                          9.15
27 Paul Griffin (Irl) Total Cleaning Supplies                             9.24
28 SeŠn Downey (Irl) Irish National Team                                  9.31
29 Jacques Janse Van Rensburg (RSA) Trek - Marco Polo Cycling Team            
30 Kristian House (GBr) Rapha Condor                                          
31 Morten Kruse Brink (Den) Team Designa Kokken                               
32 Tom Southam (GBr) Rapha Condor                                         9.59
33 James Spragg (GBr) Trek - Marco Polo Cycling Team                     10.37
34 Peter Ronsse (Bel) Cinelli - Down Under                               11.16
35 Peter Hawkins (Irl) IRC Ushers Insulations                            11.38
36 Philip Lavery (Irl) KTM Winning Solutions                             12.09
37 Michael Concannon (Irl) Total Cleaning Supplies                       13.01
38 Joachim Pettersen (Nor) Team Giant-Veoila                             13.05
39 Kasper Jebjerg (Den) Team Designa Kokken                              13.10
40 Stefan Ganser (Ger) Team Kuota - Indeland                             13.19
41 Spas Gyurov (Bul) Heraklion-Nessebar - Kastro                              
42 James Moss (GBr) Team KuK Kinesis Bikes                               13.24
43 Joseph Fenlon (Irl) Dan Morrissey                                          
44 Chris McNamara (GBr) Surrey Racing League                                  
45 Tom Last (GBr) Sigmasport/Spelialized/Sportful                             
46 Peter Williams (GBr) Candi TV - Pinarello RT                               
47 Steve Lampier (GBr) Team KuK Kinesis Bikes                                 
48 Daniel Drake (GBr) BC East Midlands                                        
49 Paul Healion (Irl) Irish National Team                                13.42
50 Kit Kilham (GBr) Sigmasport/Spelialized/Sportful                      13.47
51 BjŲrn Glasner (Ger) Team Kuota - Indeland                             14.07
52 Luke Roberts (Aus) Team Kuota - Indeland                              14.22
53 James Sampson (GBr) Candi TV - Pinarello RT                           14.29
54 Espen Jogert (Nor) Team Giant-Veoila                                  14.40
55 Adam Armstrong (Irl) Ireland Development U23                          15.33
56 Mark Nugent (Irl) Comeragh CC                                         15.41
57 Neil Delahaye (Irl) IRC Ushers Insulations                            15.49
58 John Dempsey (Irl) Dan Morrissey                                      17.40
59 Daniel Clifford (Irl) Newbridge Projector World                       18.03
60 Dale Appleby (GBr) Candi TV - Pinarello RT                            18.42
61 Ray Clarke (Irl) Total Cleaning Supplies                              18.58
62 Eugene Moriarty (Irl) Engraveit.ie/BDBC/Cycleways                     19.08
63 Barry Monaghan (Irl) Newry Whs. CC                                    19.24
64 Hannes Grundlinger (Aut) ARB÷ - KTM - Junkers                              
65 John Mason (Irl) Engraveit.ie/BDBC/Cycleways                          21.16
66 Jaan Kirsipuu (Est) Team Giant-Veoila                                 22.11
67 Bogdan Stoytchev (Bul) Heraklion-Nessebar - Kastro                    22.14
68 Rob Partridge (GBr) Team Halfords Bike Hut                            22.40
69 Conor Murphy (Irl) IRC Ushers Insulations                             23.41
70 Sven De Weerdt (Bel) Cinelli - Down Under                             23.58
71 John Lynch (Irl) Martin Donnelly                                      24.03
72 Stephen Barrett (Irl) Irish National Team                             24.07
73 SeŠn Lacey (Irl) Eurocycles                                                
74 Simon Kelly (Irl) IRC Ushers Insulations                              24.15
75 Chris Coyle (Irl) Castlebar Western Edge Medical Communications       25.11
76 Conor McAllister (Irl) Eurocycles                                     25.23
77 Martin Grashev (Bul) Heraklion-Nessebar - Kastro                      25.49
78 Aaron Buggle (Irl) Ireland Development U23                            25.51
79 Ian Bibby (GBr) Team Halfords Bike Hut                                26.56
80 John Heaton-Armstrong (GBr) Surrey Racing League                      27.10
81 Eric Van De Meent (Ned) Trek - Marco Polo Cycling Team                27.52
82 Matthew Kipling (GBr) Team KuK Kinesis Bikes                          27.58
83 Aidan Crowley (Irl) Engraveit.ie/BDBC/Cycleways                       28.18
84 Derek Burke (Irl) IRC Ushers Insulations                              28.23
85 Georgi Petrov Georgiev (Bul) Heraklion-Nessebar - Kastro                   
86 Graham Hurley (Irl) DTC Orwell Wheelers                               28.33
87 Joachim Tolles (Ger) Team Kuota - Indeland                            28.36
88 Patrick Clarke (Irl) Castlebar Western Edge Medical Communications    28.57
89 David Fletcher (GBr) Team Halfords Bike Hut                           29.05
90 Tony Brady (Irl) Martin Donnelly                                      29.20
91 Adrian Hedderman (Irl) KTM Winning Solutions                               
92 James Wlliamson (GBr) Sigmasport/Spelialized/Sportful                 30.15
93 Michael Hennessy (Irl) Comeragh CC                                    31.04
94 Robin Kelly (Irl) Comeragh CC                                         32.42
95 Mark Power (Irl) Dan Morrissey                                        32.58
96 Chris Troy (Irl) Castlebar Western Edge Medical Communications        34.27
97 Michael Storan (Irl) Newbridge Projector World                        34.53
98 Lukas Winter (Aut) ARB÷ - KTM - Junkers                               34.57
99 Steve Calland (GBr) Surrey Racing League                              35.29
100 David Brennan (Irl) Castlebar Western Edge Medical Communications    39.57
101 Urban Monks (Irl) Ireland Development U23                            40.25
102 Richard McCauley (Irl) KTM Winning Solutions                         41.12
103 Keith Gater (Irl) Comeragh CC                                        42.28
104 Mike Reddan (Irl) Zilcom-South Dublin                                43.59
105 David Cawley (Irl) Nigel's Bikes                                     45.05
106 Stephen Surdival (Irl) DTC Orwell Wheelers                           48.17
107 Christopher Prior (GBr) BC East Midlands                             48.40
108 Michael Butler (Irl) Eurocycles                                      50.23
109 Mark Cassidy (Irl) An Post - Sean Kelly Team                         51.28
110 Mark McKinley (Irl) Newry Whs. CC                                    54.55
111 Don Feighery (Irl) Comeragh CC                                       56.30
112 Michael Fitzgerald (Irl) Eurocycles                                  56.48
113 James Stewart (GBr) Team KuK Kinesis Bikes                           58.40
114 Ciaran Steed (Irl) Murphy Surveys                                    59.11
115 Cathal McCarthy (Irl) Eurocycles                                     59.43
116 Colm Bracken (Irl) Murphy Surveys                                         
117 Danny Carroll (Irl) Clonmel CC                                       59.47
118 Kieran Keane (Irl) Martin Donnelly                                 1.01.00
119 Martin Gill (Irl) Clonmel CC                                       1.01.21
120 Keith Fox (Irl) Clonmel CC                                         1.01.48
121 Robert Wardell (GBr) Team KuK Kinesis Bikes                        1.06.03
122 Niall Brosnan (Irl) Total Cleaning Supplies                        1.08.01
123 Shane Hurley (Irl) DTC Orwell Wheelers                             1.09.26
124 David Peelo (Irl) Murphy Surveys                                   1.10.16
125 Andrew McQuaid (Irl) Zilcom-South Dublin                           1.12.44
126 Dylan Rafter (Irl) KTM Winning Solutions                           1.21.21
127 Richard Hoult (GBr) Surrey Racing League                           1.27.38
128 RuaidhrŪ Geraghty (Irl) Nigel's Bikes                              1.28.10
129 Richard Malone (Irl) Newbridge Projector World                     1.30.03
130 Jonathan Gibson (Irl) Martin Donnelly                              1.34.03
131 Sean McGreevy (Irl) Newry Whs. CC                                  1.35.13
132 Kevin Shelly (Irl) Clonmel CC                                      1.38.22
133 Drew McKinley (Irl) Newry Whs. CC                                  1.41.02
134 Mark Dowling (Irl) Zilcom-South Dublin                             1.45.18
135 Colin Robinson (Irl) Martin Donnelly                               1.47.13
136 Paul Doyle (Irl) Nigel's Bikes                                     1.54.10
137 Brendan Lacey (Irl) Total Cleaning Supplies                        1.54.51
138 Odhran Connors (Irl) DTC Orwell Wheelers                           1.56.34
139 Paul O'Keefe (Irl) Zilcom-South Dublin                             2.08.33
140 Colm Quinn (Irl) Newry Whs. CC                                     2.12.40
141 Llewey Byrne (GBr) BC East Midlands                                2.16.04
142 Thomas Kirk (GBr) BC East Midlands                                 2.18.10
143 Paul Dunne (Irl) Castlebar Western Edge Medical Communications     2.19.38
144 Gareth Williams (GBr) BC East Midlands                             2.24.36
145 Eoghan Considine (Irl) Nigel's Bikes                               2.51.26
 
Points classification
 
1 Russell Downing (GBr) Candi TV - Pinarello RT                             59 pts
2 Niko Eeckhout (Bel) An Post - Sean Kelly Team                             58
3 Nicholas Walker (Aus) Cinelli - Down Under                                56
4 Jaan Kirsipuu (Est) Team Giant-Veoila                                     54
5 Ian Wilkinson (GBr) Team Halfords Bike Hut                                41
6 Sam Bennett (Irl) Dan Morrissey                                           34
7 Paul Healion (Irl) Irish National Team                                    33
8 Jan Barta (Cze) ARB÷ - KTM - Junkers                                      32
9 Joachim Tolles (Ger) Team Kuota - Indeland                                31
10 Jacobus Venter (RSA) Trek - Marco Polo Cycling Team                      30
 
Mountains classification
 
1 David O'Loughlin (Irl) An Post - Sean Kelly Team                          55 pts
2 Kit Kilham (GBr) Sigmasport/Spelialized/Sportful                          45
3 David McCann (Irl) Irish National Team                                    38
4 Peter Williams (GBr) Candi TV - Pinarello RT                              30
5 Tom Southam (GBr) Rapha Condor                                            27
 
International teams classification
 
1 Rapha Condor                                                        72.39.56
2 Designa Kokken                                                          9.42
3 ArbŲ KTM Junkers                                                       10.00
4 Cinelli-DownUnder                                                      13.25
5 An Post M.Donnelly                                                     13.28
6 National Team                                                          16.14
7 C'Shire Sigmasport                                                     16.50
8 Giant-Veolia                                                           17.01
9 Trek Marco Polo                                                        18.21
10 Candi TV Marshalls                                                    23.51
11 Halfords Bike Hut                                                     23.58
12 Kuota-Indeland                                                        24.21
13 Development U23                                                       31.44
14 Heraklion-Nessebar                                                    40.12
15 Merseyside KuK Kinesis Bikes                                          40.37
16 Surrey Racing League                                                  53.41
17 BC East Midlands                                                    2.36.39
 
County teams classification

1 Engraveit.ie/BDBC                                                   73.07.49
2 Dan Morrissey                                                           1.22
3 Total Cleaning Supplies                                                 4.37
4 IRC Ushers Insulations                                                  5.36
5 Comeragh CC                                                            25.38
6 Eurocycles                                                             33.16
7 KTM Winning Sol'tns                                                    45.23
8 Castlebar WesternEdge                                                  50.45
9 Martin Donnelly                                                        51.34
10 DTC Orwell Wheelers                                                 1.18.00
11 Projector World                                                     1.44.38
12 Clonmel CC                                                          1.59.03
13 Zilcom-South Dublin                                                 2.07.19
14 Newry Whs. CC                                                       2.12.46
15 Murphy Surveys                                                      2.32.24
16 Nigel's Bikes                                                       3.30.15
 
Best U23 rider
 
1 Mark McNally (GBr) Team Halfords Bike Hut                           24.17.44
2 Nicholas Walker (Aus) Cinelli - Down Under                              0.25
3 Sam Bennett (Irl) Dan Morrissey                                         0.33
4 Jacobus Venter (RSA) Trek - Marco Polo Cycling Team                     0.41
5 Stephen Halpin (Irl) Ireland Development U23                            1.35