44th Vuelta al Tachira - 2.2
Venezuela, January 6-17, 2009
Main Page Results Overall standings Previous Stage Next Stage
Stage 10 - January 15: Cordero - La Fría - La Grita, 133.6km
Rujano wins stage and gains ground in GC
By José Ignacio Bolívar in La Grita
Rujano celebrated 18 seconds ahead of Alarcón
Photo ©: Eduardo Rincón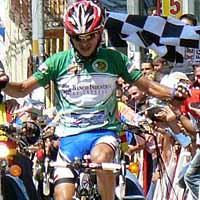 José Rujano (Gobernación Del Zulia) won the 10th stage in the Vuelta a Tachira, 18 seconds ahead of José Alarcón (Sumiglow de Mérida). Alarcón took the overall lead with a slim margin o 21 seconds over previous leader Ronald Gonzalez (Loteria Del Tachira). Rujano jumped from seventh to third, only 22 seconds off the lead.
The stage finished on top of the difficult La Grita climb, where the new leader caught his breath after the finish. "I am very happy to take over the lead, this victory is for all those who helped me to stay healthy and who gave me the energy to fight every day. [I also dedicate this] to my teammates, who ride their hearts out so we can have some good results," said Alarcón.
The battle will now be in the uphill time trial on Friday. "Now we want to defend this lead so we can arrive to the circuit race in San Cristóbal [Saturday] with the leader's jersey," Alarcón said.
For Rujano it was his second stage win in the Tour. "Today we did a great step towards our goal, we made a lot of time in the individual overall classification, which was our objective. The time trial will be the ideal occasion to take out the race, because this event [mountain time trial] suits me very well," said Rujano.
After a controlled start, Gobernación del Zulia took the initiative midway through the stage, with Manuel Medina working hard to get rid of some of the favourites on the mountainous day.
On the final climb Rujano took off with ease and only Alarcón was able to follow and keep close.
Photography
For a thumbnail gallery of these images, click here
Images by Eduardo Rincón
Results
1 Jose Rujano (Ven) Gobernacion Del Zulia                              3.37.30 (36.855 km/h)
2 Jose Alarcon (Ven) Sumiglow Gobernacion Merida                          0.18
3 Manuel Medina (Ven) Gobernacion Del Zulia                               1.08
4 Ronald Gonzalez (Ven) Loteria Del Tachira                               1.37
5 Edwin Becerra (Ven) Sumiglow Gobernacion Merida                         1.41
6 Jonatan Monsalve (Ven) Hussein Sport Gobierno Barinas                   1.42
7 Tomas Gil (Ven) Gobierno De Carabobo Fundadeporte                       1.51
8 Juan Murillo (Ven) Loteria Del Tachira                                      
9 Salazar Cesar (Col) Loteria Del Tachira                                 1.54
10 Jose Chacon (Ven) Loteria Del Tachira                                      
11 Carlos Becerra (Col) Gobierno De Carabobo Fundadeporte                 2.07
12 Jonathan Camargo (Ven) Loteria Del Tachira                             2.21
13 Daniel Medina (Ven) Gobierno De Carabobo Fundadeporte                  3.12
14 Rodolfo Camacho (Ven) Loteria Del Tachira                              3.13
15 Jose Alirio Contreras (Ven) Gobernacion Del Zulia                      4.40
16 Raul Saavedra (Ven) Fundaciclismo Trujillo                             5.13
17 Heberth Rivas (Ven) Gobernacion Del Zulia                              5.23
18 Alvaro Torres (Ven) Gobierno De Carabobo Fundadeporte                  5.28
19 Wilmer Vasquez (Ven) Alcaldia De San Cristobal Iandere Diamante        5.32
20 Daniel Abreu (Ven) Gobernacion Del Zulia                               5.55
21 Camiel Denis (Ned) Netherlands National Team                           7.22
22 Freddy Vargaz (Ven) Loteria Del Tachira                                8.14
23 Jhon Navas (Ven) Kino tachira                                          8.29
24 Ruben Flores (Ven) Hussein Sport Gobierno Barinas                          
25 Epifanio Cortez (Mex) Arenas Tlaxcala Mexico                           9.42
26 Darwin Urrea (Ven) Sumiglow Gobernacion Merida                         9.53
27 Jose Franco (Ven) Kino tachira                                        10.17
28 Luis Diaz (Ven) Hussein Sport Gobierno Barinas                        11.00
29 Josmer Cuadros (Ven) Hussein Sport Gobierno Barinas                        
30 Leonardo Delgado (Ven) Fundaciclismo Trujillo                         11.58
31 Juan C Ruiz (Ven) Kino tachira                                        12.02
32 Josmer Mendez (Ven) Hussein Sport Gobierno Barinas                    12.07
33 Oscar Luna (Ven) Kino tachira                                         13.55
34 Arthur Garcia (Ven) Loteria Del Tachira                               14.02
35 Adelso Valero (Ven) Alcaldia De Maracaibo                             14.51
36 Carlos Maya (Ven) Gobierno De Carabobo Fundadeporte                        
37 Maki Roman (Ven) Kino tachira                                         15.08
38 Jorge Orozco (Ven) Fundaciclismo Trujillo                             16.12
39 Angel Rivas (Ven) Sumiglow Gobernacion Merida                         19.37
40 Henry Mendoza (Ven) Alcaldia De San Cristobal Iandere Diamante        21.32
41 Joengris Acosta (Ven) Alcaldia De Maracaibo                                
42 Juan Torres (Ven) Gobierno De Carabobo Fundadeporte                   25.02
43 William Velez (Ven) Alcaldia De San Cristobal Iandere Diamante        25.11
44 Maros Kovac (Svk) Slovakia National Team Cyclocross                   28.07
45 Luis Mascopolo (Ven) Sumiglow Gobernacion Merida                           
46 Nelson Gelvez (Ven) Alcaldia De Maracaibo                                  
47 Victor Moreno (Ven) Alcaldia De Maracaibo                                  
48 Roberto Navas (Ven) Alcaldia De Maracaibo                             28.34
49 Francisco Landaeta (Ven) Alcaldia De Maracaibo                        32.00
50 Daniel Korevaar (Ned) Netherlands National Team                            
51 Douglas Albornoz (Ven) Sumiglow Gobernacion Merida                    33.54
52 Jesus Patalagoitia (Arg) Acme Argentina                                    
53 Alvaro Argiro (Arg) Arenas Tlaxcala Mexico                                 
54 Liselfi Montoya (Ven) Alcaldia De San Cristobal Iandere Diamante           
55 Mauro Valdallo (Ven) Alcaldia Mun. Libertad Independencia                  
56 Andrea Zanetti (Ita) GS Mastromarco Sensi Mapooro                          
57 Patrick Kos (Ned) Netherlands National Team                                
58 David Soto (Ven) Alcaldia De San Cristobal Iandere Diamante                
59 Wuilmer Sepulveda (Ven) Sumiglow Gobernacion Merida                        
60 Wilmer Bravo (Ven) Sumiglow Gobernacion Merida                             
61 Jose Ramos (Ven) Alcaldia De San Cristobal Iandere Diamante                
62 Mario Archila (Gua) Acme Argentina                                         
63 Stefano Borchi (Ita) GS Mastromarco Sensi Mapooro                          
64 Mauricio Frazer (Arg) Acme Argentina                                       
65 Francesco Cipolla (Ita) GS Mastromarco Sensi Mapooro                       
66 Yeckson Rios (Ven) Alcaldia De San Cristobal Iandere Diamante              
67 Freddy Cardenas (Ven) Alcaldia Mun. Libertad Independencia                 
68 Juan Jimenez (Ven) Alcaldia De Maracaibo                                   
69 Elio Beltran (Ven) Alcaldia Mun. Libertad Independencia                    
70 Henrik Wolter (Ger) Heraklion Nessebar Kastro                              
71 Wim Botman (Ned) Netherlands National Team                                 
DNF Franklin Chacon (Ven) Gobernacion Del Zulia                               
DNF Miguel Ubeto (Ven) Gobierno De Carabobo Fundadeporte                      
DNF Ramon Martinez (Mex) Arenas Tlaxcala Mexico                               
DNF Simon Ortega (Mex) Arenas Tlaxcala Mexico                                 
DNF Wiston Camargo (Ven) Alcaldia De San Cristobal Iandere Diamante           
DNF Wladimir Briceño (Ven) Fundaciclismo Trujillo                             
 
Points
 
Michelena
1 Adelso Valero (Ven) Alcaldia De Maracaibo                                  4 pts
2 Manuel Medina (Ven) Gobernacion Del Zulia                                  2
3 Arthur Garcia (Ven) Loteria Del Tachira                                    1
 
Pte Zona Industrial (Bon)
1 Adelso Valero (Ven) Alcaldia De Maracaibo                                  4 pts
2 Joengris Acosta (Ven) Alcaldia De Maracaibo                                2
3 Arthur Garcia (Ven) Loteria Del Tachira                                    1
 
E/S Bella Vista
1 Darwin Urrea (Ven) Sumiglow Gobernacion Merida                             4 pts
2 Joengris Acosta (Ven) Alcaldia De Maracaibo                                2
3 Camiel Denis (Ned) Netherlands National Team                               1
 
Plaza Seboruco (Bon)
1 Raul Saavedra (Ven) Fundaciclismo Trujillo                                 4 pts
2 Daniel Medina (Ven) Gobierno De Carabobo Fundadeporte                      2
3 Heberth Rivas (Ven) Gobernacion Del Zulia                                  1
 
Finish
1 Jose Rujano (Ven) Gobernacion Del Zulia                                   25 pts
2 Jose Alarcon (Ven) Sumiglow Gobernacion Merida                            20
3 Manuel Medina (Ven) Gobernacion Del Zulia                                 16
4 Ronald Gonzalez (Ven) Loteria Del Tachira                                 14
5 Edwin Becerra (Ven) Sumiglow Gobernacion Merida                           12
6 Jonatan Monsalve (Ven) Hussein Sport Gobierno Barinas                     10
7 Tomas Gil (Ven) Gobierno De Carabobo Fundadeporte                          9
8 Juan Murillo (Ven) Loteria Del Tachira                                     8
9 Salazar Cesar (Col) Loteria Del Tachira                                    7
10 Jose Chacon (Ven) Loteria Del Tachira                                     6
11 Carlos Becerra (Col) Gobierno De Carabobo Fundadeporte                    5
12 Jonathan Camargo (Ven) Loteria Del Tachira                                4
13 Daniel Medina (Ven) Gobierno De Carabobo Fundadeporte                     3
14 Rodolfo Camacho (Ven) Loteria Del Tachira                                 2
15 Jose Alirio Contreras (Ven) Gobernacion Del Zulia                         1
 
Mountains

GPM #1 - cat 2, km35
1 Manuel Medina (Ven) Gobernación del Zulia       
2 Juan Murillo (Ven) Lotería del Táchira          
3 Alirio Contreras (Ven) Gobernación del Zulia    
4 Adelso Valero (Ven) Alcaldía de Maracaibo       
5 Rubén Flores (Ven) Hussein Sports               
 
GPM #1 - cat 2, km3114
1 Heberth Rivas (Ven) Gobernación del Zulia       
2 Daniel Medina (Ven) Gobierno de Carabobo        
3 Raúl Saavedra (Ven) Fundaciclismo Trujillo      
4 Manuel Medina (Ven) Gobernación del Zulia       
5 Juan Murillo (Ven) Lotería del Táchira          
 
GPM #1 - cat 1, km133
1 José Rujano (Ven) Gobernación del Zulia         
2 José Alarcón (Ven) Sumiglow Mérida              
3 Manuel Medina (Ven) Gobernación del Zulia       
4 Ronald González (Ven) Lotería del Táchira       
5 Edwin Becerra (Ven) Sumiglow Mérida             
6 Jonatan Monsalve (Ven) Hussein Sports           
7 Tomás Gil (Ven) Gobierno de Carabobo            

Teams
 
1 Loteria Del Tachira                                                 10.57.52
2 Gobernacion Del Zulia                                                   0.26
3 Gobierno De Carabobo Fundadeporte                                       1.48
4 Sumiglow Gobernacion Merida                                             6.30
5 Hussein Sport Gobierno Barinas                                         15.49
6 Kino Tachira                                                           25.26
7 Fundaciclismo Trujillo                                                 28.01
8 Alcaldia De San Cristobal Iandere Diamante                             46.53
9 Alcaldia De Maracaibo                                                  59.08
10 Netherlands National Team                                           1.07.54
11 Acme Argentina                                                      1.36.20
12 GS Mastromarco Sensi Mapooro                                               
13 Alcaldia Mun. Libertad Independencia                                       
 
General classification after stage 10
 
1 Jose Alarcon (Ven) Sumiglow Gobernacion Merida                      31.43.56
2 Ronald Gonzalez (Ven) Loteria Del Tachira                               0.21
3 Jose Rujano (Ven) Gobernacion Del Zulia                                 0.22
4 Jonatan Monsalve (Ven) Hussein Sport Gobierno Barinas                   1.17
5 Juan Murillo (Ven) Loteria Del Tachira                                  1.18
6 Tomas Gil (Ven) Gobierno De Carabobo Fundadeporte                       1.31
7 Edwin Becerra (Ven) Sumiglow Gobernacion Merida                         2.02
8 Manuel Medina (Ven) Gobernacion Del Zulia                               2.27
9 Jose Chacon (Ven) Loteria Del Tachira                                   2.56
10 Salazar Cesar (Col) Loteria Del Tachira                                3.07
11 Freddy Vargaz (Ven) Loteria Del Tachira                                9.21
12 Jose Alirio Contreras (Ven) Gobernacion Del Zulia                     16.02
13 Carlos Becerra (Col) Gobierno De Carabobo Fundadeporte                17.23
14 Jonathan Camargo (Ven) Loteria Del Tachira                            17.31
15 Alvaro Torres (Ven) Gobierno De Carabobo Fundadeporte                 22.18
16 Rodolfo Camacho (Ven) Loteria Del Tachira                             29.11
17 Daniel Abreu (Ven) Gobernacion Del Zulia                              37.43
18 Luis Diaz (Ven) Hussein Sport Gobierno Barinas                        38.50
19 Jhon Navas (Ven) Kino tachira                                         42.55
20 Daniel Medina (Ven) Gobierno De Carabobo Fundadeporte                 47.16
21 Raul Saavedra (Ven) Fundaciclismo Trujillo                            49.08
22 Juan C Ruiz (Ven) Kino tachira                                        54.32
23 Heberth Rivas (Ven) Gobernacion Del Zulia                             55.22
24 Epifanio Cortez (Mex) Arenas Tlaxcala Mexico                        1.08.37
25 Jose Franco (Ven) Kino tachira                                      1.18.30
26 Darwin Urrea (Ven) Sumiglow Gobernacion Merida                      1.20.44
27 Josmer Cuadros (Ven) Hussein Sport Gobierno Barinas                 1.22.46
28 Wilmer Vasquez (Ven) Alcaldia De San Cristobal Iandere Diamante     1.27.07
29 Arthur Garcia (Ven) Loteria Del Tachira                             1.32.15
30 Adelso Valero (Ven) Alcaldia De Maracaibo                           1.33.01
31 Carlos Maya (Ven) Gobierno De Carabobo Fundadeporte                 1.34.59
32 Juan Torres (Ven) Gobierno De Carabobo Fundadeporte                 1.36.06
33 Ruben Flores (Ven) Hussein Sport Gobierno Barinas                   1.36.42
34 Luis Mascopolo (Ven) Sumiglow Gobernacion Merida                    1.37.58
35 Jorge Orozco (Ven) Fundaciclismo Trujillo                           1.39.19
36 Josmer Mendez (Ven) Hussein Sport Gobierno Barinas                  1.39.40
37 Leonardo Delgado (Ven) Fundaciclismo Trujillo                       1.43.01
38 Angel Rivas (Ven) Sumiglow Gobernacion Merida                       1.51.26
39 Maki Roman (Ven) Kino tachira                                       1.53.59
40 Oscar Luna (Ven) Kino tachira                                       1.54.00
41 Wuilmer Sepulveda (Ven) Sumiglow Gobernacion Merida                 1.56.58
42 Victor Moreno (Ven) Alcaldia De Maracaibo                           1.58.09
43 Nelson Gelvez (Ven) Alcaldia De Maracaibo                           2.00.59
44 Camiel Denis (Ned) Netherlands National Team                        2.07.30
45 Mario Archila (Gua) Acme Argentina                                  2.11.33
46 Douglas Albornoz (Ven) Sumiglow Gobernacion Merida                  2.13.01
47 Freddy Cardenas (Ven) Alcaldia Mun. Libertad Independencia          2.19.11
48 David Soto (Ven) Alcaldia De San Cristobal Iandere Diamante         2.21.01
49 Liselfi Montoya (Ven) Alcaldia De San Cristobal Iandere Diamante    2.21.52
50 Jose Ramos (Ven) Alcaldia De San Cristobal Iandere Diamante         2.24.42
51 Henry Mendoza (Ven) Alcaldia De San Cristobal Iandere Diamante      2.25.23
52 William Velez (Ven) Alcaldia De San Cristobal Iandere Diamante      2.26.36
53 Patrick Kos (Ned) Netherlands National Team                         2.29.05
54 Wilmer Bravo (Ven) Sumiglow Gobernacion Merida                      2.33.18
55 Daniel Korevaar (Ned) Netherlands National Team                     2.39.52
56 Stefano Borchi (Ita) GS Mastromarco Sensi Mapooro                   2.41.51
57 Mauricio Frazer (Arg) Acme Argentina                                2.43.50
58 Wim Botman (Ned) Netherlands National Team                          2.45.35
59 Jesus Patalagoitia (Arg) Acme Argentina                             2.49.17
60 Maros Kovac (Svk) Slovakia National Team Cyclocross                 3.00.09
61 Joengris Acosta (Ven) Alcaldia De Maracaibo                         3.01.51
62 Alvaro Argiro (Arg) Arenas Tlaxcala Mexico                          3.05.41
63 Andrea Zanetti (Ita) GS Mastromarco Sensi Mapooro                   3.09.05
64 Mauro Valdallo (Ven) Alcaldia Mun. Libertad Independencia           3.10.26
65 Francesco Cipolla (Ita) GS Mastromarco Sensi Mapooro                3.12.29
66 Juan Jimenez (Ven) Alcaldia De Maracaibo                            3.14.24
67 Elio Beltran (Ven) Alcaldia Mun. Libertad Independencia             3.17.40
68 Roberto Navas (Ven) Alcaldia De Maracaibo                           3.19.38
69 Henrik Wolter (Ger) Heraklion Nessebar Kastro                       3.22.52
70 Yeckson Rios (Ven) Alcaldia De San Cristobal Iandere Diamante       3.27.50
71 Francisco Landaeta (Ven) Alcaldia De Maracaibo                      3.29.36
 
Points classification
 
1 Jonatan Monsalve (Ven) Hussein Sport Gobierno Barinas                    146 pts
2 Jose Alarcon (Ven) Sumiglow Gobernacion Merida                           111
3 Ronald Gonzalez (Ven) Loteria Del Tachira                                 96
4 Juan Murillo (Ven) Loteria Del Tachira                                    81
5 Tomas Gil (Ven) Gobierno De Carabobo Fundadeporte                         79
6 Arthur Garcia (Ven) Loteria Del Tachira                                   78
7 Jose Rujano (Ven) Gobernacion Del Zulia                                   60
8 Manuel Medina (Ven) Gobernacion Del Zulia                                 56
9 Edwin Becerra (Ven) Sumiglow Gobernacion Merida                           51
10 Carlos Becerra (Col) Gobierno De Carabobo Fundadeporte                   41
11 Jose Chacon (Ven) Loteria Del Tachira                                    41
12 Freddy Vargaz (Ven) Loteria Del Tachira                                  35
13 Wilmer Bravo (Ven) Sumiglow Gobernacion Merida                           32
14 Victor Moreno (Ven) Alcaldia De Maracaibo                                29
15 Salazar Cesar (Col) Loteria Del Tachira                                  29
16 Jose Alirio Contreras (Ven) Gobernacion Del Zulia                        26
17 Alvaro Torres (Ven) Gobierno De Carabobo Fundadeporte                    23
18 Luis Mascopolo (Ven) Sumiglow Gobernacion Merida                         21
19 Daniel Abreu (Ven) Gobernacion Del Zulia                                 19
20 Mauricio Frazer (Arg) Acme Argentina                                     18
21 Andrea Zanetti (Ita) GS Mastromarco Sensi Mapooro                        16
22 Liselfi Montoya (Ven) Alcaldia De San Cristobal Iandere Diamante         14
23 Rodolfo Camacho (Ven) Loteria Del Tachira                                12
24 Josmer Cuadros (Ven) Hussein Sport Gobierno Barinas                      12
25 Jesus Patalagoitia (Arg) Acme Argentina                                  10
26 Freddy Cardenas (Ven) Alcaldia Mun. Libertad Independencia                6
27 Stefano Borchi (Ita) GS Mastromarco Sensi Mapooro                         5
28 Jonathan Camargo (Ven) Loteria Del Tachira                                4
29 Daniel Medina (Ven) Gobierno De Carabobo Fundadeporte                     3
30 Leonardo Delgado (Ven) Fundaciclismo Trujillo                             3
31 Camiel Denis (Ned) Netherlands National Team                              3
32 Darwin Urrea (Ven) Sumiglow Gobernacion Merida                            2
 
Mountains classification
 
1 Manuel Medina (Ven) Gobernacion Del Zulia                                 55 pts
2 Ronald Gonzalez (Ven) Loteria Del Tachira                                 53
3 Jose Rujano (Ven) Gobernacion Del Zulia                                   52
4 Edwin Becerra (Ven) Sumiglow Gobernacion Merida                           24
5 Juan Murillo (Ven) Loteria Del Tachira                                    15
6 Jose Alarcon (Ven) Sumiglow Gobernacion Merida                            11
7 Jonatan Monsalve (Ven) Hussein Sport Gobierno Barinas                      9
8 Jhon Navas (Ven) Kino tachira                                              7
9 Heberth Rivas (Ven) Gobernacion Del Zulia                                  7
10 Maki Roman (Ven) Kino tachira                                             7
11 Tomas Gil (Ven) Gobierno De Carabobo Fundadeporte                         6
12 Jose Alirio Contreras (Ven) Gobernacion Del Zulia                         4
13 Daniel Medina (Ven) Gobierno De Carabobo Fundadeporte                     4
14 Victor Moreno (Ven) Alcaldia De Maracaibo                                 4
15 Alvaro Argiro (Arg) Arenas Tlaxcala Mexico                                4
16 Raul Saavedra (Ven) Fundaciclismo Trujillo                                3
17 Wilmer Bravo (Ven) Sumiglow Gobernacion Merida                            3
18 Freddy Vargaz (Ven) Loteria Del Tachira                                   2
19 Arthur Garcia (Ven) Loteria Del Tachira                                   2
20 Adelso Valero (Ven) Alcaldia De Maracaibo                                 2
21 Douglas Albornoz (Ven) Sumiglow Gobernacion Merida                        2
22 Jose Chacon (Ven) Loteria Del Tachira                                     1
23 Ruben Flores (Ven) Hussein Sport Gobierno Barinas                         1
 
Sprints classification
 
1 Victor Moreno (Ven) Alcaldia De Maracaibo                                 48 pts
2 Wilmer Bravo (Ven) Sumiglow Gobernacion Merida                            34
3 Arthur Garcia (Ven) Loteria Del Tachira                                   32
4 Maki Roman (Ven) Kino tachira                                             16
5 Angel Rivas (Ven) Sumiglow Gobernacion Merida                             13
6 Alvaro Torres (Ven) Gobierno De Carabobo Fundadeporte                     12
7 Darwin Urrea (Ven) Sumiglow Gobernacion Merida                            11
8 Adelso Valero (Ven) Alcaldia De Maracaibo                                  9
9 Jose Rujano (Ven) Gobernacion Del Zulia                                    6
10 Jose Franco (Ven) Kino tachira                                            6
11 Ronald Gonzalez (Ven) Loteria Del Tachira                                 6
12 Jose Alarcon (Ven) Sumiglow Gobernacion Merida                            6
13 Jonatan Monsalve (Ven) Hussein Sport Gobierno Barinas                     5
14 Manuel Medina (Ven) Gobernacion Del Zulia                                 5
15 Raul Saavedra (Ven) Fundaciclismo Trujillo                                4
16 Daniel Abreu (Ven) Gobernacion Del Zulia                                  4
17 Joengris Acosta (Ven) Alcaldia De Maracaibo                               4
18 Leonardo Delgado (Ven) Fundaciclismo Trujillo                             4
19 Luis Mascopolo (Ven) Sumiglow Gobernacion Merida                          3
20 Daniel Medina (Ven) Gobierno De Carabobo Fundadeporte                     2
21 Freddy Vargaz (Ven) Loteria Del Tachira                                   2
22 Henry Mendoza (Ven) Alcaldia De San Cristobal Iandere Diamante            2
23 Jose Chacon (Ven) Loteria Del Tachira                                     2
24 Jose Alirio Contreras (Ven) Gobernacion Del Zulia                         2
25 Andrea Zanetti (Ita) GS Mastromarco Sensi Mapooro                         2
26 Jhon Navas (Ven) Kino tachira                                             2
27 Heberth Rivas (Ven) Gobernacion Del Zulia                                 1
28 Camiel Denis (Ned) Netherlands National Team                              1
29 Luis Diaz (Ven) Hussein Sport Gobierno Barinas                            1
30 Edwin Becerra (Ven) Sumiglow Gobernacion Merida                           1
31 Jose Ramos (Ven) Alcaldia De San Cristobal Iandere Diamante               1
 
Teams classification
 
1 Loteria Del Tachira                                                 95.16.19
2 Gobernacion Del Zulia                                                   2.26
3 Gobierno De Carabobo Fundadeporte                                      34.29
4 Sumiglow Gobernacion Merida                                          1.14.34
5 Hussein Sport Gobierno Barinas                                       1.25.32
6 Fundaciclismo Trujillo                                               2.25.19
7 Kino Tachira                                                         2.43.15
8 Alcaldia De San Cristobal Iandere Diamante                           5.15.15
9 Alcaldia De Maracaibo                                                5.21.31
10 Acme Argentina                                                      6.19.04
11 Netherlands National Team                                           6.39.54
12 GS Mastromarco Sensi Mapooro                                        8.03.22
13 Alcaldia Mun. Libertad Independencia                                8.39.54