Sea Otter - NE
USA, April 16-18, 2009
Main Page Results Overall standings Previous Stage
Race 3 - April 18: Circuit Race, 70/50mi
Bissell, Jacques-Maynes regain control from Leipheimer
Andy Jacques-Maynes (Bissell)
Photo ©: Mitch Clinton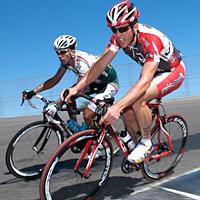 Dominating the SRAM Circuit Race at the Sea Otter Classic, Team Bissell used superior numbers and a balanced attack to take first, third, and fourth places. The riders were able to conquer Tour de France star Levi Leipheimer (Astana), the winner of yesterday's road race.
Riding to a solo win was Bay Area native Andy Jacques-Maynes (Bissell) in a dramatic turnaround after struggling on the Laguna Seca circuit for the last two years. Colavita/Sutter Home's Cuban Luis Amaran claimed second place from Bissell's Jeremy Vennell, from New Zealand.
"We went head down and committed; we had nothing to lose. I was surprised the gap went out so quickly," Jacques-Maynes said of the trio's attack.
Despite cramping, his acceleration over the final climb secured the victory, while Amaran dropped Vennell on the back side of the racetrack in the final mile. Fourth place went to another Bissell rider, Kirk O'Bee, while Leipheimer led home the field for fifth.
"It was tough today; it's a punchy course that was hard for me to control," said Leipheimer. "It was good training and good to see that the event has grown so much."
Amaran was certainly the day's most aggressive rider, making the winning break after spending the first 20 laps of the 30 lap race in a six-rider breakaway that hovered between one and two minutes off the front.
Third time a charm for Kiesanowski
Joanne Kiesanowski (Tibco)
Photo ©: Mitch Clinton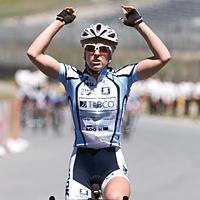 After consecutive second place finishes in the first two days of road racing at the Sea Otter Classic, Team TIBCO's Joanne Kiesanowski broke through with a narrow victory over Colavita/Sutter Home's Catherine Cheatley in today's 50-mile SRAM Circuit Race. The two New Zealand riders went clear of the pack on the second-to-last of 20 laps on the famed Laguna Seca racetrack, when Cheatley followed Kiesanowski's attack over the top of the course's 300-foot climb.
With Colavita's sprinter Tina Pic lurking in the field, the burden was on Kiesanowski to drive the breakaway all the way to the finish where she outsprinted her compatriot.
"Jo and I are old friends," Cheatley said. "I knew she has a good sprint and I attacked the last time up the climb to take the sting out of her legs, but I made it close at the end."
Describing Team TIBCO's strategy, Kiesanowski said: "We had a race plan and we stuck to it. We stayed calm and didn't worry about attacking or not [over the first half of the race]. Then we started launching attacks at five to go to put Colavita under pressure."
The strategy paid off for Kiesanowski and Team TIBCO, who prevented a Colavita/Sutter Home sweep of the Sea Otter Classic road races after the victories of Kelly Benjamin in Thursday's criterium and Tiffany Cromwell in Friday's road race.
Photography
For a thumbnail gallery of these images, click here
Images by Mitch Clinton/www.clintonphoto.com
Results
Elite men
 
1 Andy Jacques-Maynes (Bissell Pro Cycling)     2.44.18
2 Luis Amaran (Colavita Sutter Home)               0.12
3 Jeremy Vennell (Bissell Pro Cycling)             0.33
4 Kirk Obee (Bissell Pro Cycling)                  2.42
5 Levi Leipheimer (Astana)                         3.04
6 Alejandro Borrajo (Colavita Sutter Home)             
7 Ben King (Fly V Australia)                           
8 Ben Jacques-Mayne (Bissell Pro Cycling)              
9 Morgan Schmitt (Bissell Pro Cycling)                 
10 Caleb Fairly (Felt-Vmg)                             
11 Paul Mach (Bissell Pro Cycling)                     
12 Christopher Jones (Team Type 1)                 3.51
13 Alex Howes (Garmin-Holowesko-Felt)              3.52
14 Peter Latham (Bissell Pro Cycling)              4.24
15 Cody Oreilly (Bissell Pro Cycling)              5.48
16 Vincent Owens (Hdr P/B Lombardi Sports)         6.07
17 Jacques Janse Van Rensburg (Dcm Chrome)         7.41
18 Tyler Dibble (California Giant Berry)               
19 Tim Farnham (Bissell Pro Cycling)                   
20 Jared Barrilleaux (California Giant Berry)          
21 Roman Van Uden (Land Rover-Orbea)                   
22 Evan Elken (Land Rover-Orbea)                       
23 Carson Miller (Land Rover-Orbea)                    
24 Justin Kerr (Liquid Cycling)                        
25 Rudolph Napolitano (Liquid Fitness-Adage)           
26 Hayden Brooks (Fly V Australia)                     
27 Chris Winn (Rmcef/Westside Cycling)                 
28 Zack Stein (Iscorp/Nova Cycle)                      
29 Evan Hyde (Nashville Cyclist.Com)                   
30 Ian Holt (Rmcef)                                    
31 Neil Coleman (Gwr/3Vi/Swindon/Spuik)                
32 Mike Northey (Land Rover-Orbea)                     
33 Matt Landen (Liquid Fitness-Adage)                  
34 Dylan Jones (Bode)                                  
35 Ryan Ramos                                          
 
Elite women
 
1 Joanne Kiesanowski (Team Tibco)               2.08.14
2 Catherine Cheatley (Colavita/Sutter Home)        0.09
3 Tina Pic (Colavita/Sutter Home)                  0.16
4 Coryn Rivera (Pro Man Hit Squad)                     
5 Kelly Benjamin (Colavita/Sutter Home)                
6 Emma Rickards (Cervelo Lifeforce)                0.17
7 Rachel Heal (Colavita/Sutter Home)                   
8 Olivia Dillon (Touchstone Climbing)                  
9 Ruth Clemence (Simple Green)                         
10 Rushlee Buchanan (Team Tibco)                   0.18
11 Tiffany Cromwell (Colavita/Sutter Home)             
12 Jenn Halladay (Bobs Bicycles)                       
13 Jane Despas (Unattached)                        0.19
14 Susannah Breen (Wells Fargo Racing)                 
15 Kathryn Donovan (Kahala Lagrange)               0.28
16 Cara Gillis (Touchstone Climbing)               0.59
17 Kristina Seley (Touchstone Climbing)            1.12
18 Kelly Mcdonald (Touchstone Climbing)            1.13
19 Ashley Anderson (Metrovw)                       1.14
20 Melodie Metzger (Vanderkitten)                      
21 Melinda Weiner (Kahala Lagrange)                    
22 Mary Maroon (Vanderkitten)                      1.45
23 Alison Rosenthal (Team Tibco)                       
24 Liza Rachetto (Sugar/Crm)                           
25 Elizabeth Hatch (Vanderkitten)                  1.51
26 Kimberly Fong (Sugar/Crm)                       1.58
27 Karla Kingsley (Sugar CRM)                      2.56
28 Virginia Perkins (Proman Racing)                2.59
29 Kate Ligler (Dolce Vita)                            
30 Kelsey Withrow (Team Kenda)                     3.29
31 Kate Scheider (Coloradobikelaw .Com)