Sea Otter - NE
USA, April 16-18, 2009
Main Page Results Overall standings Previous Stage Next Stage
Stage 2 - April 17: Road Race, 69/47mi
Leipheimer grinds out solo victory over Bissell
Levi Leiphimer (Astana) rides away
Photo ©: Mitch Clinton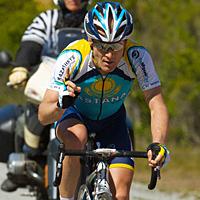 Astana's Levi Leipheimer picked up a close victory Friday at the 2009 Sea Otter Classic road race in a competition that he deemed to be a "training run". The Santa Rosa resident was racing on his own, without the benefit of his world-beating Astana team, but still he had the superior fitness and experience to pull ahead of the otherwise dominant Bissell Pro Cycling team at the top of a long, steep Ford Ord grade that marked the finish line.
Leipheimer decided early on that he was going to approach the Sea Otter road race as a robust training event in preparation for the summer race season. In pre-race comments Leipheimer not give himself much of a chance to win against the combined strength and cunning of the well-oiled Bissell boys, a commanding group of athletes who swept Thursday's Sea Otter criterium.
"This is home for me," he said. "I came up through the ranks doing these local races and I appreciate them. And I wanted to keep a light spring training schedule. So, this is what I call free training – to get out there and battle with these guys. And it was tough.
"I'm just really enjoying springtime in California," added Leipheimer.
Indeed, Friday was a spectacular one for a bicycle race. Refreshingly warm, with a slight coastal breeze to cool down the riders who might otherwise have overheated on the winding, hill studded 69-mile course. The course looped through the verdant sage and oak forests of the Fort Ord backcountry, the weather sparkled, but the star was clearly Leipheimer.
Bissell controls the race with four riders
Photo ©: Mitch Clinton

Using a wealth of world-class experience and a simple strategy – to stick closely with the Bissell team throughout, and then fight it out on the last hill – Leipheimer was able to chase down a series of breakaways. Bissell standouts Paul Mach and San Jose's Ben Jacques-Mayne led the attacks along with yesterday's criterium winner, Morgan Schmitt, who came in third in the road race.
"We had a pretty good day in the breakaways. We were trying to send as many guys up the road as possible to try and tire him out," said Mach.
Leipheimer proved to be more than up to the task of rabbit-chaser. The rider pedalled away to win by four seconds.
"We went pretty much into the bottom of the final hill together. Morgan went first, then Ben, and then I went and Levi was on my wheel. I tried to put in a dig at the end to see what would happen. But basically he (Leipheimer) just sat there, and then he passed me. He waited for a long time, and I guess that was payback for all of the pain that we put him through during the race," said Mach.
Cromwell powers away from the pack
Tiffany Cromwell (Colavita/Sutter Home) put the pain
Photo ©: Mitch Clinton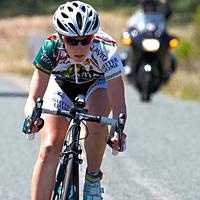 Tiffany Cromwell (Colavita/Sutter Home) dominated the women's field of the Sea Otter Classic road race on Friday, winning by a wide margin after a successful solo breakout from a lively pack. The 21-year-old paced a field that included including Team Tibco's Joanne Kiesanowski, who finished second for the second day in a row after missing out on first place by less than a bike length in Thursday's criterium.
The Colavita/Sutter Home team continued to own the middle spot of the Sea Otter Classic winners' podium with Cromwell's dominant win, adding to teammate Kelly Benjamin's dramatic victory the day prior.
Catherine Cheatley added a third place finish to Colavita/Sutter Home's haul, a remarkable feat considering that just three months prior she fractured her hip in a brutal velodrome accident. The victorious team also placed riders in the fourth and fifth positions, giving Colavita/Sutter Home four of the top five spots in the 49-mile road race that wound through the hilly circuit of Fort Ord's backcountry.
The spritely Cromwell took advantage of a gorgeously clear, warm California day, which was a change from blustery, rain-drenched Sea Otter Classics of recent vintage, to blaze ahead of the peleton on her own volition. It was a bold breakaway that paid victorious dividends for the rising star.
"Today was like a perfect day almost. I am really excited, a win is a win, and it's always a good feeling," said Cromwell.
With a dominant team of strong riders to support her efforts, Cromwell found the running easy on the way to a thirty-four second victory.
Photography
For a thumbnail gallery of these images, click here
Images by Mitch Clinton/www.clintonphoto.com
Results
Elite Men

1 Levi Leipheimer (Astana)                      2.58.05 
2 Paul Mach (Bissell Pro Cycling)                  0.04
3 Morgan Schmitt (Bissell Pro Cycling)             0.20
4 Ben Jacques-Mayne (Bissell Pro Cycling)          0.30
5 Luism Romero Amaran (Colavita/Sutter Home)       0.31
6 Christopher Jones (Team Type 1)                  0.35
7 Alex Howes (Garmin/Holowesko/Felt)               0.38
8 Nathaniel English (Zteam)                        0.41
9 Caleb Fairly (Felt-Vmg)                          1.21
10 Luca Ortolani (San Francisco)                   1.33
11 Burke Swindlehurst (Bissell Pro Cycling)        2.35
12 Daniel Holloway (Garmin/Holowesko/Felt)         5.18
13 Vincent Owens (Hdr P/B Lombardi Sports)             
14 Samuel Pickman (Specialized)                    5.38
15 Ian Tuttle (Above Category Racing)              6.05
16 Thomas Nelson (Liquid Fitness/Adage)            6.35
17 Andym Jacques-Maynes (Bissell Pro Cycling)      6.49
18 Chris Winn (Rmcef)                                  
19 Adam Switters (Colavita/Sutter Home)                
20 Alejandro Borrajo (Nashvillecyclist.Com)        6.50
21 Evan Hyde (Fly V Australia)                         
22 Hayden Brooks (Hdr P/B Lombardi Sports)         6.51
23 Tyler Brandt (Above Category)                   6.52
24 Kris Lunning (Swamis/Fppi)                      6.53
25 Jason King (Colavita/Sutter Home)                   
26 Anibal Borrajo (Iscorp/Nova Cycle)                  
27 Zack Stein (Now-Ms Society)                     6.54
28 Aaron Schneider (Fly V Australia)               6.55
29 Ben King (Liquid Fitness/Adage)                     
30 Rudolph Napolitano (Liquid Fitness/Adage)           
31 Matt Landen (California Giant/Specialized)          
32 Julian Martinez (Now-Ms Society)                6.57
33 Spencer Smitheman (Above Category Racing)       6.58
34 Chris Turner (Rmcef)                            6.59
35 Ian Holt (California Giant/Specialized)         7.01
36 Jesse Moore (California Giant/Specialized)          
37 John Hunt (Berkeley)                                
38 Ryan Ramos (Bissell Pro Cycling)                7.02
39 Peter Latham (Team Waste Mgmt)                  7.04
40 Evan Bowman (California Giant/Specialized)      7.07
41 Tyler Dibble (Plowman Craven)                   7.15
42 Neil Coleman (Webcor/Alto Velo)                 7.16
43 Thomas Novikoff (Colavita/Sutter Home)              
44 Guido Palma (Bissell Pro Cycling)               7.19
45 Tim Farnham (Swamis/Fppi)                       7.22
46 Corey Farrell (Cmg)                             7.35
47 Marcel Delisser (Colavita/Sutter Home)          7.42
48 Lucas Haedo (Bhten Speed Drive/)                8.25
49 Justin Maka (Cyclepaths/Wild Cherry)           14.12
50 Nathan Freed (Norcal Elite Cycling)            19.56
51 Shaun Harless (Leanderq Tx Sua)                28.22
52 Daniel Carruthers (Cyclepaths/Wild Cherries)    7.25
53 Nick Schaffner (Bpg)                            7.29
54 Jd Bergmann (California Giant/Specialized)      8.10
55 Osvaldo Olmos (Swamis/Fppi)                    26.20
56 Zack Simkover (Swamis/Fppi)                     9.52
57 Chris Daggs (Team Ranchos)                     21.40
58 Eric Sammuli (Black Dog Pro)                   21.41
59 Ryan Sabga (Fly V Australia)                   26.55
DNF Steven George (Santa Rosa)                         
DNF Jeremy Vennell (Bike Religion)                     
DNF Albert Gonzales (Klein Real Estate)                
DNF Kevin Klein (Liquid Fitness/Adage)                 
DNF Travis Wilkerson (Swamis/Fppi)                     
DNF Rob Carr (Swamis-Fppi)                             
DNF Alex Jarman (Boise Id Usa)                         
DNF Dylan Jones (Bissell Pro Cycling)                  
DNF Kirk Obee (Rmcef)                                  
DNF Tucker Olander (Bissell Pro Cycling)               
DNF Cody O'Reilly (Now-Ms Society)                     
DNF Peter Rennie (San Rafael)                          
DNF David Van Orsdel (Liquid Fitness-Adage)            
DNF Josh Horowitz (Liquid Cycling)                     
DNF Justin Kerr (Bend Or Usa)                          
DNF Sean Passage (Zteam)                               
DNF Lucas Binder (California Giant/Specialized)        
DNF Dirk Copeland (Chico Corsa)                        
DNF Michael Cordova (Liquid Fitness/Adage)             
DNF Mitch Gantz (Petaluma)                             
DNF Adrian Hedderman (Rock Racing)                     
DNF Danny Finneran (U23 Lombardi Sports)               
DNF Matthew Obregon (Bissell Pro Cycling)              
DNF Joao Correia (Pista Palace)                        
DNS Colby Elliot (San Francisco)                       
DNS Luca Ortolani (Durango)                            
DNS Ned Overend (Leadville)                            
DNS David Quist (Team Clif Bar)                        
DNS Mark Shimahara (Metromint Cycling)                 
DNS Connor Spencer                                     
 
Elite women
 
1 Tiffany Cromwell (Petaluma)                   2.20.40
2 Joanne Kiesanowski (Team Tibco)                  0.34
3 Catherine Cheatley (Petaluma)                        
4 Rachel Heal (Petaluma)                           2.02
5 Tina Pic (Colavita/Sutter Home)                      
6 Jenn Halladay (Bobs Bicycles Cycling Club)       2.03
7 Emma Rickards (Team Tibco)                       2.06
8 Ruth Clemence (Simple Green)                         
9 Annie Malouin (Team Webcor Av)                   2.12
10 Olivia Dillon (Touchstone Climbing)             2.23
11 Melinda Weiner (Kahala Lagrange)                2.34
12 Kelly Mcdonald (Touchstone Climbing)            3.31
13 Rushlee Buchanan (Brisbane)                     4.14
14 Coryn Rivera (Metro Vw)                         7.04
15 Kimberly Fong (Wines Of Washington)             7.06
16 Kathryn Donovan (Kahala Lagrange)               7.15
17 Kate Ligler (Dolce Vita)                        9.40
18 Yukie Nakamura (Metromint Cycling)             11.28
19 Ashley Anderson (Metro Vw)                     12.16
20 Alison Rosenthal (Team Tibco)                  13.29
21 Stacy Sims (Usateam Kenda)                     20.10
22 Kelsey Withrow (Menlo Park)                         
DNF Jane Despas (Colavita/Sutter Home)                 
DNF Kelly Benjamin