59th GP Città di Camaiore - 1.1
Italy, August 7, 2008
2007 Results Results Past winners
Bertagnolli imposes himself in Camaiore
Leonardo Bertagnolli (Liquigas)
Photo ©: Sirotti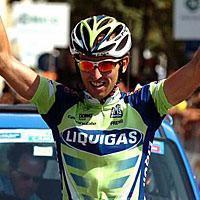 It was a great return to racing for Leonardo Bertagnolli, who won after a solo escape. 17 seconds behind a small group was led home by Vasili Kiryienka. Bertagnolli took revenge for some bad luck this season.
"After inconsistent performances in the first months of the year I trained by myself to achieve the best form. Now I'm in good shape and I'll do all that is possible to take advantage of it."
The race was decided two laps from the end, when Bertagnolli and fifteen other riders escaped. With eight kilometres remaining, the Liquigas' rider started the decisive attack and crossed the finishing line alone. Kiryienka and Biondo came in second and third, almost 20 seconds alter.
"I guessed the escape and on the last climb I understood that it was the right moment to make selection: I accelerated and gained enough time to stay away until the finish." The GP of Camaiore is Bertagnolli's second victory this season after taking a the stage in Intaka Tech World's View Challenge in February.
Directeur sportif Mario Scirea was also happy. "It's a great victory, that gives moral to the team and confidence to Bertagnolli for the end of the season. I hope could be good omen for Liquigas in the other races of August".
Photography
For a thumbnail gallery of these images, click here

Images by Roberto Bettini/www.bettiniphoto.net

Images by Fotoreporter Sirotti

-->
Results - 193.7 km

1 Leonardo Bertagnolli (Ita) Liquigas                                   4.29.14 (43.167 km/h)
2 Vasili Kiryienka (Blr) Tinkoff Credit Systems                            0.17
3 Maurizio Biondo (Ita) Ceramica Flaminia Bossini Doce                         
4 Massimo Giunti (Ita) Miche - Silvercross                                     
5 David Tanner (Aus) Barloworld                                                
6 Francesco Reda (Ita) NGC Medical - OTC Industria Porte                       
7 Francesco Failli (Ita) Acqua & Sapone - Caffe Mokambo                        
8 Alessandro Bertuola (Ita) Preti Mangimi                                      
9 Pasquale Muto (Ita) Miche - Silvercross                                      
10 Luca Solari (Ita) Serramenti PVC Diquigiovanni-Androni Giocattoli           
11 Francesco Masciarelli (Ita) Acqua & Sapone - Caffe Mokambo              0.22
12 Evgeny Petrov (Rus) Tinkoff Credit Systems                                  
13 Gabriele Bosisio (Ita) LPR Brakes                                           
14 Volodymyr Zagorodniy (Ukr) NGC Medical - OTC Indutria Porte                 
15 Filippo Simeoni (Ita) Ceramica Flaminia Bossini Doce                    0.26
16 Massimiliano Gentili (Ita) Acqua & Sapone - Caffe Mokambo               0.28
17 Santo Anza' (Ita) Serramenti PVC Diquigiovanni-Androni Giocattoli       0.30
18 Eddy Ratti (Ita) Nippo - Endeka                                             
19 Manuele Spadi (Ita) Cinelli - OPD                                       0.49
20 Jaroslaw Dabrowski (Pol) Lampre                                             
21 Alfonso Falzarano (Ita) Cinelli - OPD                                       
22 Ivan Rovny (Rus) Tinkoff Credit Systems                                     
23 Christopher Froome (Ken) Barloworld                                         
24 Francesco Tizza (Ita) NGC Medical - OTC Industria Porte                     
25 Romas Sinicinas (Ltu) Cinelli - OPD                                         
26 Michele Gaia (Ita) Barloworld                                           1.00
27 Giampaolo Caruso (Ita) Ceramica Flaminia Bossini Docce                      
28 Michele Scarponi (Ita) Serramenti PVC Diquigiovanni-Androni Giocattoli      
29 Gianpaolo Cheula (Ita) Barloworld                                           
30 Dario Cataldo (Ita) Liquigas                                                
31 Bruno Rizzi (Ita) NGC Medical - OTC Industria Porte                         
32 Andrea Noè (Ita) Liquigas                                                   
33 Ivan Santaromita (Ita) Liquigas                                             
34 Gabriele Missaglia (Ita) Serramenti PVC Diquigiovanni-Androni Giocattoli    
35 Pierpaolo Tondo (Ita) Nippo - Endeka                                        
36 Danilo Di Luca (Ita) LPR Brakes                                             
37 Francesco Gavazzi. (Ita) Lampre                                             
38 Cristiano Fumagalli (Ita) Ceramica Flaminia Bossini Doce                    
39 Leonardo Giordani (Ita) Ceramica Flaminia Bossini Doce                      
40 Adriano Angeloni (Ita) Ceramica Flaminia Bossini Doce                       
41 Andrea Masciarelli (Ita) Acqua & Sapone - Caffe Mokambo                     
42 Fortunato Baliani (Ita) CSF Group Navigare                                  
43 Luca Pierfelici (Ita) Acqua & Sapone - Caffe Mokambo                        
44 Federico Canuti (Ita) CSF Group Navigare                                    
45 Edwin Andrés Carvajal Jaramillo (Col) Miche - Silvercross                   
46 Alessio Signego (Ita) NGC Medical - OTC Industria Porte                     
47 Domenico Agosta (Ita) Nippo - Endeka                                        
48 Alessandro Vanotti (Ita) Liquigas                                           
49 Silvère Ackermann (Swi) NGC Medical - OTC Industria Porte                   
50 Emanuele Bindi (Ita) Lampre                                                 
51 Valerio Agnoli (Ita) Liquigas                                               
52 Krzysztof Szczawinski (Pol) Miche - Silvercross                             
53 Hubert Krys (Pol) Ceramica Flaminia Bossini Doce                            
54 Enrico Franzoi (Ita) Liquigas                                               
55 Massimiliano Mori. (Ita) Lampre                                             
56 Stefano Usai (Ita) Miche - Silvercross                                      
57 Stefano Cavallari (Ita) Acqua & Sapone - Caffe Mokambo                      
58 Gorazd Stangelj (Slo) Liquigas                                                
59 Umberto Nardecchia (Ita) Ceramica Flaminia Bossini Docce                    
60 Juan Pablo Dotti (Arg) Cinelli - OPD                                        
61 Fabio Sacchi (Ita) Preti Mangimi                                            
62 Daniele Pietropolli (Ita) LPR Brakes                                        
63 Marco Osella. (Ita) Preti Mangimi                                           
64 Stefan Koychev Hristov (Bul) Nippo - Endeka                                 
65 Raffaele Ferrara (Ita) LPR Brakes                                           
66 Serhiy Honchar (Ukr) Preti Mangimi                                          
67 Alessandro Spezialetti (Ita) LPR Brakes                                     
68 Oleksandr Kvachuk (Ukr) Cinelli - OPD                                       
69 Fabio Gilioli (Ita) Amore & Vita - McDonald's                               
70 Devis Miorin (Ita) Nippo - Endeka                                           
71 Luca Mazzanti (Ita) Tinkoff Credit Systems                                  
72 Niklas Axelsson (Swe) Serramenti PVC Diquigiovanni-Androni Giocattoli       
73 Diego Caccia (Ita) Barloworld                                               
74 Kazuki Inoue (Jpn) Nippo - Endeka                                           
75 Vincenzo Garofalo (Ita) Nippo - Endeka                                      
76 Alexey Shchebelin (Rus) Cinelli - OPD                                       
77 Enrico Rossi (Ita) NGC Medical - OTC Industria Porte                        

Past Winners
2007 Fortunato Baliani (Ita) Ceramica Panaria - Navigare    193.7 kms in 4.29.19             
2006 Luca Paolini (Ita) Liquigas                            193.7 kms in 4.33.18     
2005 Maxim Iglinskiy (Kaz)                                  193 kms in 4.32.12 
2004 Paolo Bettini (Ita)                                    193 kms in 4.18.43 
2003 Marco Serpellini (Ita)                                 193 kms in 4.37.31  
2002 Davide Rebellin (Ita)                                  193 kms in 4.18.43  
2001 Michele Bartoli (Ita)                                  197 kms in 4.36.36  
2000 Wladimir Belli (Ita)                                   196 kms in 4.41.32  
1999 Massimo Donati (Ita)                                   198 kms in 4.18.44  
1998 Andrea Tafi (Ita)                                      198 kms in 4.43.25  
1997 Alexander Gontschenkov (Rus)                           198 kms in 4.30.41  
1996 Alberto Elli (Ita)                                     209 kms in 4.46.42  
1995 Luca Scinto (Ita)                                      209 kms in 4.52.53  
1994 Gianluca Bortolami (Ita)                               209 kms in 5.17.32  
1993 Massimo Podenzana (Ita)                                209 kms in 4.55.55  
1992 Davide Cassani (Ita)                                   209 kms in 5.06.25  
1991 Gianni Faresin (Ita)                                   259 kms in 4.57.00  
1990 Giorgio Furlan (Ita)                                   253 kms in 6.14.07  
1989 Franco Ballerini (Ita)
1988 Rolf Sörensen (Den)                                    233 kms in 5.41.00  
1987 Gianni Bugno (Ita)                                     229 kms in 5.00.35  
1986 Claudio Corti (Ita)                                               5.02.00  
1985 Alberto Volpi (Ita)
1984 Roberto Ceruti (Ita)                                   218 kms in 5.22.52  
1983 Moreno Argentin (Ita)                                  263 kms in 6.21.58  
1982 Jean-Marie Wampers (Bel)                               210 kms in 5.10.00  
1981 Giuseppe Saronni (Ita)                                 209 kms in 5.03.00  
1980 Silvano Contini (Ita)
1979 Giuseppe Saronni (Ita)                                 199 kms in 4.58.00  
1977 Franco Bitossi (Ita)                                   199 kms in 4.59.00  
1976 Walter Riccomi (Ita)
1975 Francesco Moser (Ita)
1974 Giacinto Santambroggio (Ita)
1973 Emilio-M. Rodriguez (Col)
1972 Roger De Vlaeminck (Bel)
1971 Eddy Merckx (Bel)
1970 Mauro Simonetti (Ita)
1969 Ernico Paolini (Ita)
1968 Gianpiero Macchi (Ita)
1967 Lucien Dalla-Bona (Ita)
1966 Bruno Mealli (Ita)

Past winners by Mario Stiehl, www.world-of-cycling.com