5th Garrett Lemire Memorial GP - NE
Ojai, California, USA, April 13, 2008
2007 results Results Past winners
Gritters and Cromwell beat heat and opponents in Ojai
By Kirsten Robbins
Health Net dominates the men's crit
Kyle Gritters (Health Net-Maxxis) takes the win
Photo ©: Mitch Clinton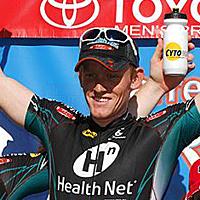 Blazing heat played a major factor in the Garret Lemire criterium held in down town Ojai, California. The Health Net duo Kyle Gritters and John Murphy sprinted in a one two punch ahead of Hilton Clarke, who secured third place for Toyota-United .
"This is my first NRC win and it was exciting for me as well as my team-mate John Murphy who ended up second," said race winner Gritters.
A ten-rider break separated itself from an aggressive peloton early on in the forty-nine lap Pro/1/2 men's field. Notorious for its grueling climb followed by a technical descent toward the final corner caused the field to slow down long enough to catch their breath, allowing the large break to gain a maximum of forty-five seconds on the field.
John Murphy (HealthNet-Maxxis) finished a solid second
Photo ©: Mitch Clinton

After solidifying their lead, the front group was joined by an additional ten riders that included Gritters, who came across as the race progressed to its end. The now twenty-rider field contained two to three riders from each team but Health Net-Maxxis took advantage of having strong man Rory Sutherland to help keep the rather large bunch motivated by attacking several times over the final finishing laps and leading his two team-mates to a victorious NRC criterium.
The breakaway of twenty riders was too large to be organised enough to work together and the scorching heat slowed down the peloton from behind, as the teams were content to see their sprinters ride away in the break. "I think the heat made a big difference in the motivation of the field," said Gritters. "Chasing the break normally might work out but it was just too hot."
"A couple of turns to go, Rory led it out with John Murphy, Hilton Clarke and Alejandro Borrajo all there, too," Gritters explained the final two laps. "I was sitting on Borrajo but they were waiting too long to sprint and based on experience I knew I needed to be in the front first through the last corner and from there it was so short to the line that it was too tight and no one could come around me."
Cromwell takes solo victory
Tiffany Cromwell (Colavita/Sutter Home) wins the women's race with a solo effort
Photo ©: Mitch Clinton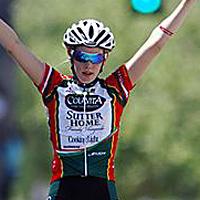 The pro women's sixty-minute criterium ended in a solo victory for the Australian climber Tiffany Cromwell (Colavita/Sutter Home). The race winner's team-mate, Jamaican national champion Iona Wynter-Parks, took advantage of her winter-long track sprinting to take second on the day ahead of Rachael Tiznberg (Bicycle Johns).
Late notice of the event not being organised under the NRC calendar for the women caused the women's field to be only slightly smaller, with a strong peloton starting the sixty-minute event. In its fifth year, the event is organised in the memory of Garrett Lemire, a cyclist killed in a head-on collision during the 2003 Tucson Bicycle Classic.
Photography
For a thumbnail gallery of these images, click here
Images by Mitch Clinton/www.clintonphoto.com
Results
Men

1 Kyle Gritters (Health Net-Maxxis)
2 John Murphy (Health Net-Maxxis)
3 Hilton Clark (Toyota United)

Women

1 Tiffany Cromwell (Colavita/Sutter Home)
2 Iona Wynter Parks (Colavita/Sutter Home)
3 Rachel Tzinberg (Bicycle Johns)

Past winners
2007 Ivan Dominguez (Toyota - United) Laura Van Gilder (Cheerwine)
2006 Alejandro Acton (Targetraining)  Tina Pic (Colavita Cooking Light)
2005 Harm Jansen (Ned)                Laura Van Gilder (USA)
2004 Harm Jansen (Ned)                Suzanne Sonye (USA)