46th Manhattan Beach Grand Prix - NE
California, USA, July 1, 2007
2006 Results Results Past winners
Bahati, Van Gilder now tops on both coasts
By Mark Zalewski, North American Editor
Rock Racing brings win at home
Rahsaan Bahati (Rock Racing) celebrates
Photo ©: Kurt Jambretz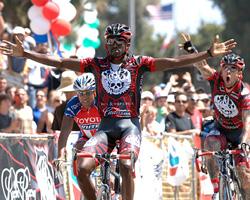 A month ago the Rock & Republic team felt like it belonged on the NRC circuit with a surprising win at the CSC Invitational. This month the team felt a different feeling, responsibility -- having to race as the hometown team at the 46th Manhattan Beach Grand Prix. But as he did on the east coast last month, Rahsaan Bahati was able to deliver the sprint, taking a second important win for the new team on the block.
"That's what made it the best," Bahati told Cyclingnews regarding the hometown win. "I had a lot of friends and family... people who have known me as a junior. I've raced this race as a junior, cat. 3, cat. 2, and a pro -- I've never won it as a pro."
The sprint win was not won easily as some of the fastest legs on the continent were present, including defending champion Ivan Dominguez (Toyota-United) who was back from an injury sustained in Arkansas in May. "I feel okay but not 100 percent," Dominguez said. "I don't feel fast enough yet. I spent a month and a half at home basically doing nothing and only started training again two weeks ago."
Toyota United, also a hometown team, was battling back and forth with Rock & Republic about who was responsible for controlling the race. This was a change from other NRC races where the team was easily discounted as an underdog. But now with results like the win at the CSC Invitational, the domestic teams are taking a second look at the Rock & Republic team.
"It was different! This race was slow for the first time," said Bahati. "People actually counted on us to do something as a team. That was interesting."
But the team did not fold or panic under the pressure. "We held our ground and wanted Toyota to chase. It was to our advantage and they did an early lead out which is tough to do on a course like this. They led out with three to go and we got our team right along side them and it was perfect."
It's great to see Ivan Dominguez (Toyota/United) back
Photo ©: Kurt Jambretz

"It's all about the last turn, a U-turn," said Dominguez. "If you are riding the way Bahati is riding now you can be first or fifth. For me I had to be top two or three and I was second with a lot of big fighting going into that corner. I was very close to crashing, but I made it through with Henk first and second. I went for my sprint but did not have it. But I was not expecting to be in the top three so it was still good."
"At the end I saw Dominguez being escorted to the front so I went with him -- then I followed my guys, Kayle LeoGrande and Sebastian Haedo in the end. It was easy to make up three or four positions on a course like that because it's wide and up-down."
With two big NRC wins under the belt the Rock & Republic team is bringing the bling to the quiet streets of the midwest, heading to the 17 day series known as Superweek -- with its fast menu of criteriums and road races. "We're going to try to get as many jerseys as possible," said Bahati. "We are going to win, but more importantly to train for races like Downers Grove."
Cheerwine dominates women
Arms raised, Laura Van Gilder (Cheerwine) celebrates
Photo ©: Kurt Jambretz

Just as Bahati did, Laura Van Gilder (Cheerwine) won at CSC, riding in a long two-rider break with Rebecca Larson (Aaron's Pro Cycling). But for Manhattan Beach she decided to put her fate in her team's hands, working the race for a field sprint -- and the team stepped up to the challenge, delivering her to the final corner with no worries.
"It was pretty well attended, I haven't done that race in a long time," said Van Gilder regarding the sizeable field. "We planned for a field sprint. The course makes it tough to get a breakaway with the wind and the nature of the course. But Dotsie Bausch certainly tried when she countered a prime that I went for, but it wasn't going to stick."
Van Gilder's teammates patrolled the front to either chase or go with any breaks. Van Gilder's final lead out rider Kelly Benjamin found herself alone off the front for a few laps, but smartly decided it was better to stay fresh for her Van Gilder.
"The girls got together around four to go," said Van Gilder. "From two to go they kept me safe and right near the front. Kelly was my final person but Bausch made a late race effort. We continued off the momentum from her and got to the last corner with Kelly -- it was perfect."
Photography
For a thumbnail gallery of these images, click here
Images by Kurt Jambretz/www.actionimages.cc
Results
Men's Category 1
 
1 Rahsaan Bahati (Rock Racing)                                        
2 Ivan Dominguez (Toyota-United)                                      
3 Kayle Leo Grande (Rock Racing)                                      
4 Antonio Cruz (Discovery Channel)                                    
5 David McCook (Kelly Benefit Strategies/Medifast)                    
6 Ricardo Escuela (Successful Living Presented by Parkpre)            
7 Hilton Clarke                                                       
8 Jeremiah Wiscovitch (Rock Racing)                                   
9 Henk Vogels                                                         
10 Alexi Martinez (Successful Living Presented by Parkpre)            
11 Kirk O'Bee (Health Net presented by Maxxis)                        
12 cody stevenson                                                     
13 Paul Che (Team 5 Star Fish)                                        
14 Chris DeMarchi (Team 5 Star Fish)                                  
15 Craig McCartney                                                    
16 John Murphy (Health Net presented by Maxxis)                       
17 Neil Shirley (Jittery Joes)                                        
18 Victor Ayala (Kahala LaGrange)                                     
19 Rory Sutherland                                                    
20 Nicholas Onate (Karl Strauss/SDBC)                                 
21 Raul Frias                                                         
22 Eric Barlevav (NOW-MS Society)                                     
23 Fabian Reyes                                                       
24 Austin Carroll (Rock Racing)                                       
25 Jorge Alavarado (Kahala LaGrange)                                  
26 Tyler Ofstad (Kahala LaGrange)                                     
27 Kris Koke                                                          
28 Daniel Vinson (Team 5 Star Fish)                                   
29 Armin Rahm (Sixtufit.com)                                          
30 Brian Forbes (RIDECLEAN)                                           
31 Devon Vigus (California Giant Berry Farms/Specialized)             
32 Anthony Morrow (Team 5 Star Fish)                                  
33 Sean Mazich (Team WM)                                              
34 Aron Gadhia (Kahala LaGrange)                                      
35 Patrick Caro (Schroeder Iron/ Incycle Masters)                     
36 Jamiel Reza Danesh (Kodak Gallery)                                 
37 Javier Pimentel Alcaraz                                            
38 Jonathan Cantwell (Kahala LaGrange)                                
39 Donny Carroll (DeWalt Racing)                                      
40 Christian Valenzuela                                               
41 Sean Sullivan (Toyota United)                                      
42 Matthew Johnson (Team 5 Star Fish)                                 
 
Women's 1-3
 
1 Laura Van Gilder (Cheerwine)                                        
2 Malindi Maclean (Jazz Apple Cycling Team)                           
3 Shontelle Gauthier (Team Ultralink)                                 
4 Lara Kroepsch (TEAm Lipton)                                         
5 Anna Lang (Karl Strauss/SDBC)                                       
6 Shelley Olds (Proman/Paradigm)                                      
7 Amanda Eaken (Metromint Cycling)                                    
8 Elizabeth (Betsy) Galenti (America's Dairyland)                     
9 Jennifer Wilson (South Bay Wheelmen)                                
10 Kara Vidaca (Bicycle Johns Serious Cycling)                        
11 Mary Ellen Ash (LGBRC-Easton/Specialized)                          
12 Rebecca Quinn (South Bay Wheelmen)                                 
13 Martina Patella (ValueAct Capital Cycling Team)                    
14 Melissa Sanborn (Wenzel Coaching)                                  
15 Bonnie Bourque (Karl Strauss/SDBC)                                 
16 Rushlee Buchanan (Jazz Apple Cycling Team)                         
17 Janel Holcomb (Unattached)                                         
18 Anna Webb (AE Sport Development)                                   
19 Ginger Hsieh (South Bay Wheelmen)                                  
20 Martina Sturm (Bicycle Johns Serious Cycling)                      
21 Dotsie Bausch (Colavita Sutter Home presented by Cooking Light)    
22 Dianna Del Fante (Paramount Racing)                                
23 Jennifer Reither (South Bay Wheelmen)                              
24 Jamie Hughins (Helens/Orbea)                                       
25 Kelly Benjamin (Cheerwine)                                         
26 Bonnie Breeze (Helens/Orbea)                                       
27 Nichole Wangsgard (Vitesse Cycling LLC)                            
28 Dorothy Wong (Figueroa Farms-Redline)                              
29 Pamela Schuster (Helens/Orbea)                                     
30 Sandra Kolb (Bicycle Johns Serious Cycling)                        
31 Kelli Jones (Paramount Racing)                                     
32 Hannah Banks                                                       
33 Christen King (South Bay Wheelmen)                                 
34 Deborah Durand (Helens/Orbea)                                      
35 Kele Murdin                                                        
36 Neva Day (South Bay Wheelmen)                                      
37 Gabriela Gonzalex-Ferrat (Kahala LaGrange)                         
38 Carine Bester (Bicycle Johns Serious Cycling)                      
39 Morgan Kapp (South Bay Wheelmen)                                   
40 Heather Rose (Paramount Racing)                                    
41 Catherine Cheatley                                                 
42 Lana Atchley (Southern California Velo)                            
43 Kristina Seley (Proman/Paradigm)                                   
44 Alison Shanks                                                      
45 Rider Unknown                                                      
46 Rachel O'Connell (Cheerwine)                                       
47 Charlayne Barger Hoover (Patent It!)                               
48 Krista Panaro (CA Pools Racing)                                    
49 Kim Paine (Karl Strauss/SDBC)                                      
50 Anna Drakulich (Kahala LaGrange)                                   
51 Susy Pryde (Jazz Apple Cycling Team)                               
52 Katharine Lundby (Karl Strauss/SDBC)                               
53 Sarah Bamberger (Cheerwine)                                        
 
Men's Category 2
 
1 Michael Easter (Time Factory Team)                                  
2 Andrew Salcedo (Karl Strauss/SDBC)                                  
3 Kirk Winters (Hotel San Jose/ RedBudSports.com)                     
4 Erick Pierce (Arete' Racing/Vellum Cycles)                          
5 Simon Nung (Sixtufit.com)                                           
6 Fabian Guzman (Team Helen's)                                        
7 Andy Bestwick (HDCC-Allegiant Airlines/Pain MD's.com)               
8 James Esser (Southern California Velo)                              
9 Thomas (Tommy) Robles (Team Velosport)                              
10 Wes Bredin (NOW-MS Society)                                        
11 Charon Smith (Team Velosport)                                      
12 Brian Duff (Team Helen's)                                          
13 Mark-Paul Gosselaar (Team Helen's)                                 
14 Travis Wilkerson (Team Velosport)                                  
15 Juan Saldana (United Cycling Club)                                 
16 Alfredo Cruz (Major Motion Cycling Club)                           
17 Alejandro Saint Jean (Paramount Racing)                            
18 Mike Tettleton (socalcycling.com)                                  
19 Mike McMahon (Team Velocity)                                       
20 Grant Van Horn (Simply Fit/Action Sports)                          
21 Nicholas Hight-Huf (Time Factory Team)                             
22 Christopher (Jordan) Itaya (Cycling Science)                       
23 Ryan Parnes (Metromint Cycling)                                    
24 Robert Evans (BPG/Montano Velo)                                    
25 Mike Frias (Giant Factory Team)                                    
26 Jason Short (Helens/Cannondale)                                    
27 Anthony Gebbia (HDCC-Allegiant Airlines/Pain MD's.com)             
28 Mark Shimahara (TGI/Hazards Cycling Team)                          
29 Enrique Gutierrez (Team DARE)                                      
30 Nicholas Brandt-Sorenson (VMG)                                     
31 Harold Martinez (Giant Factory Team)                               
32 Robert Dolman (HLHAP)                                              
33 Eli Richbourg (Team Helen's)                                       
34 Dillon Clapp (Rock Solid Cycling)                                  
35 Christopher Trembly (Southern California Velo)                     
36 Thomas Godfrey (Deloitte Cycling)                                  
37 Sammy Dean (Karl Strauss/SDBC)                                     
38 Stevie Cullinan (Team WM)                                          
39 Greg Modic (Team Helen's)                                          
40 Rider Unknown                                                      
 
Women's 3-4
 
1 Janel Holcomb (Unattached)                                          
2 Ginger Hsieh (South Bay Wheelmen)                                   
3 Beatriz Rodriguez (Southern California Velo)                        
4 Sandra Villarruel (Martin's Pro Bicycles Team)                      
5 Alicia Boland (Paramount Racing)                                    
6 Hattie Wetherington (DeWalt Racing)                                 
7 Rae Miller (CA Pools Racing)                                        
8 Louise Keoghan (NOW-MS Society)                                     
9 Kelli Jones (Paramount Racing)                                      
10 Julie Guthrie (South Bay Wheelmen)                                 
11 Michelle Ignash (Unattached)                                       
12 Peggy Cohen (Helens/Orbea)                                         
13 Stacy Griffis (Southern California Velo)                           
14 Heather Rose (Paramount Racing)                                    
15 claudia A. espinoza (UC Cyclery/JW Flooring)                       
16 Karryn Bowen (UC Cyclery/JW Flooring)                              
17 Sue Skarin (Bicycle Johns Serious Cycling)                         
18 Charlayne Barger Hoover (Patent It!)                               
19 Karen Meske (Karl Strauss/SDBC)                                    
20 Monika King (South Bay Wheelmen)                                   
21 Shelley Imhoff (Velo Allegro)                                      
22 angela bosco (Southern California Velo)                            
23 Nicole Stetson (Bicycle Johns Serious Cycling)                     
24 Mimi Sheean (Kahala LaGrange)                                      
25 Ana Odette Castaneda (Kahala LaGrange)                             
26 Cynthia Lou (Helens/Orbea)                                         
27 Kathryn Donovan                                                    
28 Angela Dybdahl (NOW-MS Society)                                    
 
Men's Category 3
 
1 Jason Lowetz (TeamBearclaw.com)                                     
2 Aaron Wimberley (Unattached)                                        
3 Juan Gutierrez (Team DARE)                                          
4 Brian McCulloch (Vegas Velo Racing Team Inc)                        
5 David Gonzales (Velo Allegro)                                       
6 alfonso meza                                                        
7 Ernie Krueger (Team Velosport)                                      
8 Jeffrey Johnson (HDCC-Allegiant Airlines/Pain MD's.com)             
9 Oliver Hutchinson (Unattached)                                      
10 Danny Finneran (Major Motion Cycling Club)                         
11 Edmund Humprey (Greenlight)                                        
12 Jeremy Thatcher (Money First-Coronado Investments-Mcghies)         
13 Jorge Bayarhy                                                      
14 Mitchell Porche (Sun Coast Velo)                                   
15 Sergei Cemenenkoff (South Bay Wheelmen)                            
16 Andrew Demas (Third Pillar)                                        
17 Piero Longhi (Helens Racing)                                       
18 David Wehrly (South Bay Wheelmen)                                  
19 Michael Douglas (UC Santa Barbara Cycling-USCF)                    
20 Frank Escoto (Team Dare)                                           
21 Bud Owens (Coates Cyclery/Arce Bros)                               
22 Marcus George (UCLA Cycling-USCF)                                  
23 Rider Unknown                                                      
24 Eleuterio Garcia (Unattached)                                      
25 Daniel Lowetz (Pasadena Athletic Assoc)                            
26 Joshua Courtney (United Cycling Club)                              
27 Kevin Miller (Southern California Velo)                            
28 Mike Davis (Major Motion Cycling Club)                             
29 Jayson Short (Higher Cadence/Bannings Bikes)                       
30 Charles Macleod (HealthNet Maxxis-Citrus Valley Velo)              
31 Jeff Koblentz (Kahala LaGrange)                                    
32 Rider Unknown                                                      
33 Alexei Pavlov (South Bay Wheelmen)                                 
34 Pedro Ordaz (CA Pools Racing)                                      
35 Bruce Gitmed (Velo Allegro)                                        
36 Rudolfo (Rudy) Eugenio (First Team Staffing Group Cycling Team)    
37 Daniel Fisher (South Bay Wheelmen)                                 
38 Oscar Jr Sagalongos (South Bay Wheelmen)                           
39 Dan Adkins (Metromint Cycling)                                     
40 Ted Cohen (Cynergy Cycles)                                         
 
Women's Category 3
 
1 Janel Holcomb (Unattached)                                          
2 Ginger Hsieh (South Bay Wheelmen)                                   
3 Sandra Villarruel (Martin's Pro Bicycles Team)                      
4 Alicia Boland (Paramount Racing)                                    
5 Hattie Wetherington (DeWalt Racing)                                 
6 Rae Miller (CA Pools Racing)                                        
7 Louise Keoghan (NOW-MS Society)                                     
8 Kelli Jones (Paramount Racing)                                      
9 Michelle Ignash (Unattached)                                        
10 Peggy Cohen (Helens/Orbea)                                         
11 Stacy Griffis (Southern California Velo)                           
12 Heather Rose (Paramount Racing)                                    
13 Karryn Bowen (UC Cyclery/JW Flooring)                              
14 Charlayne Barger Hoover (Patent It!)                               
15 Karen Meske (Karl Strauss/SDBC)                                    
16 Monika King (South Bay Wheelmen)                                   
17 Mimi Sheean (Kahala LaGrange)                                      
 
Men's Category 4
 
1 Jarette Capelli (Camarillo Bike Company)                            
2 Jim Miller (Helen's)                                                
3 Kieran Cox (UC Santa Barbara Cycling-USCF)                          
4 Jack Oh (Southern California Velo)                                  
5 David DuBois (Unattached)                                           
6 Javier Murphy (South Bay Wheelmen)                                  
7 Peter Whitwell (Team Red)                                           
8 Saul Hernandez (Bike Barn Racing Team)                              
9 Bryan O'Dell (Unattached)                                           
10 Juan Valdivia (Martin's Pro Bicycles Team)                         
11 John Holmstul (Bicycle Ranch)                                      
12 Greg Freeman (Major Motion)                                        
13 Allen Lin (PAA)                                                    
14 Benjamin Kelley (South Bay Wheelmen)                               
15 Cory Greenberg (Bicycle Johns Serious Cycling)                     
16 Bryan Galvan (United Cycling Club)                                 
17 David Gay (San Tan)                                                
18 Max Foorman (Unattached)                                           
19 Doug Rappaport (Unattached)                                        
20 Jeffrey Dingler (Karl Strauss/SDBC)                                
21 Ernest Gallardo (DeMarco's)                                        
22 Michael Green (Unattached)                                         
23 James Hayden (Fusion Sport USA)                                    
24 Rob Smith (Cycles Veloce)                                          
25 Zia Modabber (Team Helen's)                                        
26 bob rich (Cynergy)                                                 
27 Douglas Krutil (Karl Strauss/SDBC)                                 
28 Anthony Bezsylko (Metromint Cycling)                               
29 Simon Borain (Subaru Cycling Team)                                 
30 Robert Teixeira (Canyon Velo)                                      
31 Norberto Galvan (United Cycling Club)                              
32 Troy Perkins (Cycles Veloce)                                       
33 Daniel Katz (South Bay Wheelmen)                                   
34 Jared Shier (Cynergy Cycles Race Team)                             
35 Robert Langone (Kahala LaGrange)                                   
36 JEFFREY DINKIN (Liquid Fitness/1031market.com)                     
37 Marco Cubillos (Kahala LaGrange)                                   
38 Joaquin Blanco (Velo Club La Grange Westwood)                      
39 David Perez (Cynergy Cycles Race Team)                             
40 Andrew Parr (Swami's Cycling Club)                                 
 
Women's Category 4
 
1 Beatriz Rodriguez (Southern California Velo)                        
2 Julie Guthrie (South Bay Wheelmen)                                  
3 claudia A. espinoza (UC Cyclery/JW Flooring)                        
4 Sue Skarin (Bicycle Johns Serious Cycling)                          
5 Shelley Imhoff (Velo Allegro)                                       
6 angela bosco (Southern California Velo)                             
7 Nicole Stetson (Bicycle Johns Serious Cycling)                      
8 Ana Odette Castaneda (Kahala LaGrange)                              
9 Cynthia Lou (Helens/Orbea)                                          
10 Kathryn Donovan                                                    
 
Men's Category 5
 
1 Tony Zaldua Jnr                                                     
2 Wes Faria (Fast Friday)                                             
3 marty omalia                                                        
4 Philippe Guichard (Pasadena Athletic Assoc)                         
5 James Miller (Unattached)                                           
6 Hernan Ormachea (Unattached)                                        
7 Nicholas Betancourt (Unattached)                                    
8 Eladio Salazar (Salazar Construction)                               
9 Danny Gandasetiawan (Team Velosport)                                
10 Peter Beck (Karl Strauss/SDBC)                                     
11 Josh Soto (Unattached)                                             
12 Jeff Warford (Unattached)                                          
13 Antonio Valdivra (Team DARE)                                       
14 Kevin Laird (Unattached)                                           
15 Sean O'Donoghue (Cynergy Cycles)                                   
16 Sergio Rodriguez (United)                                          
17 Arturo Vierya                                                      
18 John Roper                                                         
19 David Sclafani (Unattached)                                        
20 Glen Wells (First Team Staffing Group Cycling Team)                
21 Edward Tomkins (Coates Cyclery/Arce Bros)                          
22 Tucker Swanson                                                     
23 Donald Osterholt                                                   
24 joe bas                                                            
25 Chad Holcomb (DeWalt Racing)                                       
26 Chris Gee                                                          
27 Michael Mardosz (SC Cycling Club)                                  
28 John Bishop (South Bay Wheelmen)                                   
29 Nguyen Tran (Unattached)                                           
30 Craig Sisino (Unattached)                                          
31 Scott Walters (Unattached)                                         
32 Allen Kizuka (Velo Allegro)                                        
33 RICARDO ramirez                                                    
34 chris Uettwiller (Unattached)                                      
35 Bill Maher (South Bay Wheelmen)                                    
36 Douglas Wolfe (Unattached)                                         
37 Todd Glunt (Karl Strauss/SDBC)                                     
38 Aaron Wise (Unattached)                                            
39 Cameron Sanders (Unattached)                                       
 
Masters 35+
 
1 Antony Galvan (NOW-MS Society)                                      
2 Mike McMahon (Team Velocity)                                        
3 Mark Scott (Cynergy Cycles Race Team)                               
4 Aron Gadhia (Kahala LaGrange)                                       
5 Craig Miller (Schroeder Iron/ Incycle Masters)                      
6 Joel Stangeland (Swami's Cycling Club)                              
7 Dan Voight                                                          
8 Thomas (Tommy) Robles (Team Velosport)                              
9 Paul Welsh (Celo Pacific)                                           
10 Gary Hanson (Central Coast Magazine)                               
11 Armin Rahm (Sixtufit.com)                                          
12 Billy Cubillas (BikePalace/BackOnTrack)                            
13 Harold Martinez (Giant Factory Team)                               
14 John Gabriel (Sonance/Specialized)                                 
15 Mark Fluss (Central Coast Magazine)                                
16 Kraig Willett (Fog Racing)                                         
17 Shaun Bagley (Central Valley Cycling)                              
18 Timothy Roth (Amgen/Giant Masters)                                 
19 Rider Unknown                                                      
20 Dennis King (Central Coast Magazine)                               
21 Allen Richburg (Schroeder Iron/ Incycle Masters)                   
22 Rider Unknown                                                      
23 Thurlow Rogers (Sonance/Specialized)                               
24 Gregory Coburn (Team 5 Star Fish)                                  
25 Jeffrey Johnson (HDCC-Allegiant Airlines/Pain MD's.com)            
26 Daniel Bomfim (Rogue Element)                                      
27 Rider Unknown                                                      
28 Nathan Lloyd (Cynergy Cycles Race Team)                            
29 Carlos Ristorcelli (Team Velocity)                                 
30 Peter Sullivan (Amgen/Giant Masters)                               
31 Garry Summers (Cynergy Cycles Race Team)                           
32 Peter Brown (California Giant Cycling)                             
33 Jon Stark (Cynergy Cycles Race Team)                               
34 Thomas Godfrey (Deloitte Cycling)                                  
35 Mitchell Porche (Sun Coast Velo)                                   
36 Chris Hansel (Vegas Velo Racing Team Inc)                          
37 David Gay (San Tan Racing/Paragon)                                 
38 John Allen (Team Velocity)                                         
39 Bert Glennon (BGM Sports)                                          
40 Thomas Farley (Central Coast Magazine)                             
 
Masters 45+
 
1 Thurlow Rogers (Sonance/Specialized)                                
2 James Edwards (Team Simple Green)                                   
3 David Prechtl (Edge/Toyota)                                         
4 Chris Hansel (Vegas Velo Racing Team Inc)                           
5 Gilbert Hatton (South Bay Wheelmen)                                 
6 Faustino Riveron Jr. (Team Simple Green)                            
7 Ricky Shorts (Velo Allegro)                                         
8 James Wiznura (California Bicycle Racing)                           
9 Kalman Szkalak (Sun Coast Velo)                                     
10 Jeff Newman (Cycles Veloce)                                        
11 Paul Rodriguez (UC Cyclery/JW Flooring)                            
12 Albert Shorts (Velo Allegro)                                       
13 Thomas Trainer (Kahala LaGrange)                                   
14 Robert Neary (Amgen/Giant Masters)                                 
15 Donald Denegal (Velo Allegro)                                      
16 Lawrence Shannon (Team 5 Star Fish)                                
18 Mark Chrysler (Team DARE)                                          
19 Eddie Williams (Ironfly)                                           
20 Gary Wall (Cycles Veloce)                                          
21 Erik Flockoi (Team Simple Green)                                   
22 Daniel Cervantes (Salazar Construction)                            
23 Ron Cushey (South Bay Wheelmen)                                    
24 Thomas Kluth (Bondi Racing Ltd)                                    
25 Jim Pongratz (Team One Racing)                                     
26 Mark Planellas (Southern California Velo)                          
27 Mark Fennell (TGI/Hazards Cycling Team)                            
28 Todd Boussom (DeWalt Racing)                                       
29 Bruce Balch (PaulTracy.com)                                        
30 Fred Hoblit (Sonance/Specialized)                                  
31 Craig Jones (Velo Avanti)                                          
32 Rodney Malloy (Cynergy Cycles Race Team)                           
33 Christopher Wheeler (Fast Friday)                                  
34 Marc Minasian (Criminal Minds-Champion Systems)                    
35 Gordon Carr (South Bay Wheelmen)                                   
36 Andrew King (South Bay Wheelmen)                                   
37 Charles Harris (Pasadena Athletic Assoc)                           
38 Kenneth Bartholomew (Vegas Velo Racing Team Inc)                   
39 Alan Flores (Edge/Toyota)                                          
40 Richard Doan (Team Velocity)                                       
 
Masters 55+
 
1 Leo Pettus (Paramount Racing)                                       
2 John Rubcic (UC Cyclery/JW Flooring)                                
3 Brett DeLawter (Team Simple Green)                                  
4 Richard Pollock (DeWalt Racing)                                     
5 Howard Miller (Paramount Racing)                                    
6 John Wagenaar (UC Cyclery/JW Flooring)                              
7 Gregg Stern (Cynergy Cycles Race Team)                              
8 Andrzej Fidelus (Team Ranchos)                                      
9 Leo Longo (Paramount Racing)                                        
10 David Lang (Team Hot Wheels)                                       
11 Richard Keegan (Ironfly)                                           
12 Carlos Cruz (Canyon Velo)                                          
13 Donald Davidson (Citrus Valley Velo)                               
14 John Edwards (UC Cyclery/JW Flooring)                              
15 Martinez Salvador                                                  
16 Antonio Vaca (CA Pools Racing)                                     
17 Rider Unknown                                                      
18 Al Pavoni (Edge/Toyota)                                            
19 mark wisnosky (Karl Strauss/SDBC)                                  
20 Phillip Richards (HealthNet Maxxis-Citrus Valley Velo)             
21 Sergio Fernandez (CA Pools Racing)                                 
 
Masters 55-60
 
1 Leo Pettus (Paramount Racing)                                       
2 John Rubcic (UC Cyclery/JW Flooring)                                
3 Brett DeLawter (Team Simple Green)                                  
4 Richard Pollock (DeWalt Racing)                                     
5 Michael Fleming (Team DARE)                                         
6 Howard Miller (Paramount Racing)                                    
7 John Wagenaar (UC Cyclery/JW Flooring)                              
8 Gregg Stern (Cynergy Cycles Race Team)                              
9 Andrzej Fidelus (Team Ranchos)                                      
10 Leo Longo (Paramount Racing)                                       
11 David Lang (Team Hot Wheels)                                       
12 Richard Keegan (Ironfly)                                           
13 Richard Lilleberg (South Bay Wheelmen)                             
14 Stephen Whitsitt (South Bay Wheelmen)                              
15 Carlos Cruz (Canyon Velo)                                          
16 Ernest Gallardo Sr (VOS Racing)                                    
17 John McKee (Paramount Racing)                                      
18 Bruce Steele (South Bay Wheelmen)                                  
19 Richard Rodriguez (Pacific Sunset Velo/Pac Sun Velo)               
20 Donald Davidson (Citrus Valley Velo)                               
21 Earl Guenther (Edge/Toyota)                                        
22 Robert Barney (UC Cyclery/JW Flooring)                             
23 D Jack Groves (NMBRA)                                              
24 John Edwards (UC Cyclery/JW Flooring)                              
25 Martinez Salvador                                                  
26 James Heise (South Bay Wheelmen)                                   
27 Antonio Vaca (CA Pools Racing)                                     
28 A Mario Seri (Kahala LaGrange)                                     
29 Rider Unknown                                                      
30 Peter Volpe (Pasadena Athletic Assoc)                              
31 Michael Edwards (Edge/Toyota)                                      
32 Jim Roebuck (United Cycling Club)                                  
33 Al Pavoni (Edge/Toyota)                                            
34 Robert Paganini (Pasadena Athletic Assoc)                          
35 mark wisnosky (Karl Strauss/SDBC)                                  
36 Phillip Richards (HealthNet Maxxis-Citrus Valley Velo)             
37 Sergio Fernandez (CA Pools Racing)                                 
38 Barnett Feigenbaum (South Bay Wheelmen)                            
 
Masters 60+
 
1 Michael Fleming (Team DARE)                                         
2 Richard Lilleberg (South Bay Wheelmen)                              
3 Stephen Whitsitt (South Bay Wheelmen)                               
4 Ernest Gallardo Sr (VOS Racing)                                     
5 John McKee (Paramount Racing)                                       
6 Bruce Steele (South Bay Wheelmen)                                   
7 Richard Rodriguez (Pacific Sunset Velo/Pac Sun Velo)                
8 Earl Guenther (Edge/Toyota)                                         
9 Robert Barney (UC Cyclery/JW Flooring)                              
10 D Jack Groves (NMBRA)                                              
11 James Heise (South Bay Wheelmen)                                   
12 A Mario Seri (Kahala LaGrange)                                     
13 Peter Volpe (Pasadena Athletic Assoc)                              
14 Michael Edwards (Edge/Toyota)                                      
15 Jim Roebuck (United Cycling Club)                                  
16 Robert Paganini (Pasadena Athletic Assoc)                          
17 Barnett Feigenbaum (South Bay Wheelmen)                            

Past Winners

Pro Men
 
2006 Juan Haedo (Toyota- United Pro Cycling Team)
2005 Greg Henderson (NZl) Health Net presented by Maxxis
2004 Tyler Farrar (USA) Health Net
2003 Jonas Carney (USA) Prime Alliance
2002 Gordon Fraser (Can) Mercury Cycling Team
2001 Jonas Carney (USA) Prime Alliance
 
Pro Women
 
2006 Nicky Wangsgard (Colorado Premier Training-Colnago Womens)
2005 Ina Teutenberg (Ger) T-Mobile
2004 Tina Pic (USA) Genesis Scuba/FFCC
2003 Becky Quinn (USA) Vaniqa/Red 5
2002 Suzanne Sonye (USA) Saturn Cycling Team
2001 Tina Mayolo (USA) Autotrader.com