45th Manhattan Beach Grand Prix - NE
California, USA, August 13, 2006
2005 Results Results Past winners
Haedo continues sprinting to wins at Manhattan Beach
By Mark Zalewski, North American Editor
JJ Heado (Toyota-United Pro)
Photo ©: Steve Cohen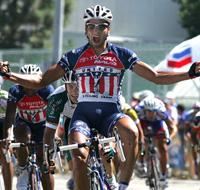 The forty-fifth edition of the Manhattan Beach Grand Prix, with its infamous hot dog-style course came down to another field sprint, which really means the race to the last 180 degree turn just 300 meters from the finish. And coming into that turn with the best position was Toyota-United's sprinting machine Juan Jose Haedo, who out-sprinted Greg Henderson (Health Net-Maxxis) for the NRC win.
"I'm really happy with the team today," said Haedo. "They did a great job for me."
Greg Henderson commented that it was a toe-to-toe battle between his Health Net-Maxxis team and Toyota-United, which makes sense as both companies' head quarters are nearby. "It was really a Health Net versus Toyota show down," he said. "There was an a dangerous break about half-way through, but they didn't have anyone fast in there so they went heavy to chase it down and have a reshuffle."
Coming into the finish, Toyota-United had all eight of their riders on the front for the lead-out to the final turn. "I was caught out of position before the last turn and it cost me a lot of energy to get into position," said Henderson. "I just couldn't get around J.J. after that.'
"There was a guy coming on my right side way too fast and dangerous," said Haedo. "But Henderson and I got through it even and it was a drag race to the line."
"It comes down to a race to that last turn," said Henderson. "Toyota had the numbers and used them well."
The two top sprinters will meet again in less than a week at the criterium national championships outside Chicago. "We'll have a full team there," said Henderson. "If we don't win then, it will be no excuses!"
Photography
For a thumbnail gallery of these images, click here
Images by Steve Cohen/www.sportshooter.com/STEVEC
Images by Mitch Clinton/www.clintonphoto.com
Results
Men Pro/1
 
1 Juan Haedo (Toyota- United Pro Cycling Team)
2 Greg henderson 
3 Kyle Gritters (Health Net presented by Maxxis)
4 Ivan Dominguez (Toyota- United Pro Cycling Team)
5 Jeremiah Wiscovitch (Successfulliving.com Presented by Parkpre)
6 Victor Ayala (Kahala LaGrange)
7 Paul Che (Helens/Trek/VW)
8 Patrick Briggs (California Giant/Village Peddler)
9 Gregg Medinilla (Team DARE)
10 Alexi Martinez (Successfulliving.com Presented by Parkpre)
11 Edgar Yepez (Coates Cyclery/Arce Bros)
12 Rudolph Napolitano (United Cycling Club)
13 Chris DeMarchi (socalcycling.com)
14 Sterling Magnell (Toyota- United Pro Cycling Team)
15 Kevin Suhr (SPIKE Pro Racing)
16 Christopher Hipp (Labor Power)
17 Aram Dellalian (Amgen Cycling Club)
18 Nathaniel Deibler (socalcycling.com)
19 R Curtis Gunn (Successfulliving.com Presented by Parkpre)
20 Jorge Alvarado (ie Bikes Racing/CA Pools)
21 Antony Galvan (Sotheby's/Helen's)
22 Anthony Morrow (socalcycling.com)
23 Ryan Luttrell (SPIKE Pro Racing)
24 Randall Coxworth (Karl Strauss/SDBC)
25 Christian Valenzuela 
26 Chris Daggs (Beyond Bikes/CyclingScience.org)
27 Skyler Bishop (Kodakgallery.com/Sierra Nevada Pro Cycling Team)
28 Gregory Bourque (Karl Strauss/SDBC)
29 Luis Zamudio 
30 Rigoberto Meza (Coates Cyclery/Arce Bros)
31 Josh Horowitz (Kahala LaGrange)
32 Antonio Cruz (Toyota- United Pro Cycling Team)
33 Robert Frank (Team Helens)
34 Louie Amelburu (PaulTracy.com)
35 Frank Sarate (socalcycling.com)
36 Anthony Restuccia (Amgen Cycling Club)
37 Michael Anderson (PaulTracy.com)
38 Jose Garcia 
39 Neil Shirley (Jittery Joes-Zero Gravity Pro Cycling Team)
40 Paul Sumner (GS Lombardi Sports)
41 Gregory Coggin (Century Road Club Association)
42 Adam Livingston (Successfulliving.com Presented by Parkpre)
43 Karl Menzies 
44 Joshua Webster (United Cycling Club)
45 Keith Szolusha (Pacific State Bank/Anderson Homes Cyclin)
46 Osvaldo Olmos (BMC Racing Team)
47 Garrett Peltonen (Health Net presented by Maxxis)
48 Robert Newman (Pacific State Bank/Anderson Homes Cyclin)
49 Marc Yap (Sienna Dev't - Goble Knee Clinic)
50 Sean Sullivan (US Naval Academy Cycling)
 
Wome 1-2 
 
1 Nicky Wangsgard (Colorado Premier Training-Colnago Womens)
2 Shelley Olds (Proman/Paradigm)
3 Taitt Sato (McGuire Cycling Team)
4 Pamela Schuster (Helens/Trek/VW)
5 Alicia Silvera (Ladera Cyclery)
6 Sarah Hammer (South Bay Wheelmen)
7 Lara Kroepsch (TEAm Lipton)
8 Rachel O'Connell (Bicycle Johns Serious Cycling)
9 Susan Hedstrom (McGuire Cycling Team)
10 Martina Sturm (Bicycle Johns Serious Cycling)
11 Deborah Durand (Helens/Trek/VW)
12 Jennifer Wilson (Bicycle Johns Serious Cycling)
13 Anna Webb (Karl Strauss/SDBC)
14 Kara Vidaca (Bicycle Johns Serious Cycling)
15 Dorothy Wong (Bicycle Johns Serious Cycling)
16 Holly Borowski (US Armed Forces)
17 Morgan Kapp (South Bay Wheelmen)
18 Bonnie Bourque (Karl Strauss/SDBC)
19 Elizabeth (Betsy) Galenti (America's Dairyland)
20 Christen King (Argon 18-Champion Systems)
21 Patricia Bell (Morgan Stanley/24 Hr Fitness/Specialized)
22 Dianna Del Fante (Paramount Racing)
23 Julie Adams (PABW Powered by TIBCO)
24 Jennifer Reither (Bicycle Johns Serious Cycling)
25 Cheryl Roth (Helens/Trek/VW)
26 Elis Bradshaw (Metromint Cycling)
27 Sarah Kerlin (Velo Bella-Kona)
28 Coryn Rivera (Major Motion Cycling Club)
29 Beatrice Dormoy (Karl Strauss/SDBC)
30 Miranda Duff (Colorado Premier Training-Colnago Womens)
31 Amy Hutner (Kahala LaGrange)
32 Dara Rogers (Helens/Trek/VW)
33 Emily Zell (Proman/Paradigm)
34 Carine Bester (Kahala LaGrange)
35 Michelle Rhea (Karl Strauss/SDBC)
36 Krista Panaro (ie Bikes Racing/CA Pools)
37 Jamie Hughins (Helens/Trek/VW)
38 Kendall Ryan (Scary Fast Racing)
39 Cynthia Carroll (McGuire Cycling Team)

Cat. 2 Men 
 
1 Thomas (Tommy) Robles (Velo Allegro) 
2 Gary Scott (Team Velocity) 
3 Aron Gadhia (Kahala LaGrange) 
4 Justin Williams (Major Motion Cycling Club) 
5 James Esser (Coates Cyclery/Arce Bros) 
6 Sergio Hernandez (VRC-MS Society) 
7 Christopher Itaya (Cycle Science Racing Team) 
8 Fabian Guzman (South Bay Wheelmen) 
9 Dean Peters (SAFEWAY/G.A.Communications) 
10 Gilbert Correa (socalcycling.com) 
11 Mike Mcmahon (Team Velocity) 
12 Daniel Stevens (Paramount Racing) 
13 Brandon Gritters (Hi-Tech Bikes/5 Star Fish) 
14 Brian Duff (Amgen Cycling Club) 
15 John Tzinberg (Kahala LaGrange) 
16 Harold Martinez (Giant Factory Team) 
17 Randy Bramblett (McGuire Cycling Team) 
18 Julio Flores (Clif Bar/Labor/Steak Knives) 
19 Andy Bestwick (HDCC-Allegiant Airlines/Matt Smith PT) 
20 Billy Cubillas (BikePalace/KellerWilliams/BackOnTrack) 
21 Kenneth Probst (Velo Avanti) 
22 Umberto Baca (Delta Cases) 
23 Eric Losak (VRC-MS Society) 
24 Darin Divine (GS Lombardi Sports) 
25 Nathan Loyal (Sotheby's/Helen's) 
26 Javier Pimentel (South Bay Wheelmen) 
27 John Salskov (Construction Zone The) 
28 Daniel Reback (Team Velocity) 
29 Miguel Barcelo (Team Pro Cyclery) 
30 Andrew Salcedo (Karl Strauss/SDBC) 
 
Cat. 3 Men 
 
1 Greg Modic (Cadence/Parkpre) 
2 Juan Saldana (Major Motion Cycling Club) 
3 Travis Wilkerson (Team Velosport) 
4 Alfredo Cruz (Major Motion Cycling Club) 
5 Aaron Wimberley (First Team Staffing Group Cycling Team) 
6 Edmund Humphreys (Belcal Cycling Club) 
7 Alejandro Saint Jean (Paramount Racing) 
8 George Barthel (Cadence/Parkpre) 
9 Ricardo Cruz Lll (Major Motion) 
10 Simon Nung (Merrill Lynch / Bicycle John's) 
11 Damien Trevino (ie Bikes Racing/CA Pools) 
12 Jon Stark (Big Orange Racing) 
13 Oscar Gutierrez (Team DARE) 
14 Jeffrey Pospisil (South Bay Wheelmen) 
15 Ruben Horta 
16 Jose Blanco 
17 Anthony Waner (Velosport Racing) 
18 Branden Williams (Major Motion) 
19 Mike Davis (City of Bicycles) 
20 Ashante (Sean) Hendricks (City of Bicycles) 
21 John Van Dyke (Paramount Racing) 
22 Tony Tran (Canyon Velo) 
23 Rogelio Horta 
24 Robert Minn (South Bay Wheelmen) 
25 Mark Flores (Team DARE) 
26 Justin Beope (Hi-Tech Bikes/5 Star Fish) 
27 Michael Douglas (UC - Santa Barbara Cycling) 
28 Cameron Webb (Cadence/Parkpre) 
29 Jacques Devore (Sotheby's/Helen's) 
30 Enrique Gutierrez (Team DARE) 
 
Cat. 4 Men 
 
1 Brian Mcculloch (Team Simple Green) 
2 Tracy Michaud (Karl Strauss/SDBC) 
3 Ross Flaharty (Cadence/Parkpre) 
4 Jason Lowetz (Merrill Lynch / Bicycle John's) 
5 Zia Modabber (Cadence/Parkpre) 
6 Ted Cohen (Big Orange Racing) 
7 Samuel Vargas Jr. (Cadence/Parkpre) 
8 Ray Hahn (Amgen Cycling Club) 
9 David Perez (Unattached) 
10 Michael Green (Belcal Cycling Club) 
11 Andrew Bosco (United Cycling Club) 
12 Blake Barrilleaux (Island Boy Racing) 
13 Danny Finneran (Unattached) 
14 Jeff Hatch (Motortabs/Met-rx) 
15 Carlos Leyva (Karl Strauss/SDBC) 
16 Kenny Robertson (Bicycle Johns Serious Cycling) 
17 Mark Scaife (Team Red) 
18 Ernest Villalon (Clif Bar/Labor/Steak Knives) 
19 Bob Rich 
20 Manuel Castillo (Bike Barn Racing Team) 
21 Jeffrey Nichols (Bike Barn Racing Team) 
22 Norberto Galvan (United Cycling Club) 
23 Thomas Ferrara (Swami's Cycling Club) 
24 Scott Peradotto (Fusion Sport) 
25 Jared Shier (U of Southern California Cycling) 
26 Ron Mckiernan 
27 Timothy Aron (Unattached) 
28 Lawrence Fong (Encino Velo Cycling Club) 
29 Robert Lachausse (Citrus Valley Velo) 
30 Blanco Joaquin 
 
Cat. 5 Men 
 
1 Oliver Hutchinson (Unattached) 
2 Douglas Krutil (Karl Strauss/SDBC) 
3 George Korn (Unattached) 
4 Dan Lehnberg (Unattached) 
5 Jonathan Crawford (Helen's) 
6 Johnny Dalton (Team Velocity) 
7 Chris Foster (Unattached) 
8 Jeffrey Dingler (San Diego Bicycle Club) 
9 Michael Worthen (Unattached) 
10 John Tan (City of Bicycles) 
11 Juan Valdivia (Unattached) 
12 Jose Banuelos (Major Motion) 
13 Powell Hamilton 
14 Jack Brunk (Velo Club La Grange Westwood) 
15 Richard Willits (Unattached) 
16 Rene Pulido (Unattached) 
17 Mark Woodward (Team Velosport) 
18 Javier Murphy (South Bay Wheelmen) 
19 Christopher Guyer (Merrill Lynch / Bicycle John's) 
20 Larry Roberts (Unattached) 
21 Byron Katanegie 
22 Tommy Draffen (Unattached) 
23 Gabriel Garcia (Unattached) 
24 David Martinez 
25 Tom Barette (Unattached) 
26 Jeff Mattingly 
27 John Mcintyre 
28 Christian Stoehr 
 
Cat. 3 Women 
 
1 Coryn Rivera (Major Motion Cycling Club) 
2 Dianna Del Fante (Paramount Racing) 
3 Morgan Kapp (South Bay Wheelmen) 
4 Brittney Van Vleet (Bicycle Johns Serious Cycling) 
5 Hilary Crowley (Team Pro Cyclery) 
6 Vera Divenyi (CRC/HILL & CO.) 
7 Moira Gandy (Velosport Racing) 
8 Jamie Hughins (Helens/Trek/VW) 
9 Nancy Seidler (Team Velosport) 
10 Beatrice Dormoy (Karl Strauss/SDBC) 
11 Rita Szeto (NorCal Velo) 
12 Michelle Lapierre (Firestone/Griffen Womens Racing Team) 
13 Courtney Hammond (DeWalt Racing) 
14 Anna Gerber (Swami's Cycling Club) 
15 Sandra Villarruel (Major Motion Cycling Club) 
16 Ryanne Spady (Southern California Velo) 
17 Lisa Young (Tri Power) 
18 Heather Rose (Paramount Racing) 
19 Karen Meske (Karl Strauss/SDBC) 
20 Carine Bester (Kahala LaGrange) 
21 Stacy Griffis (Southern California Velo) 
22 Kelli Jones (Paramount Racing) 
23 Michelle Webster (Velo Allegro) 
24 Stephanie Bleecher (Somerset Wheelmen) 
 
Cat. 4 Women 
 
1 Melanie Dennis (Swami's Cycling Club) 
2 Rae Miller (Kahala LaGrange) 
3 Dena Austin Miller 
4 Angela Liewen-Romeo (Bicycle Johns Serious Cycling) 
5 Peggy Cohen (Cynergy Cycles) 
6 Maike Sander (Unattached) 
7 Ginger Hsieh (Southern California Velo) 
8 Rider Unknown 
9 Amanda Duarte (Karl Strauss/SDBC) 
10 Mimi Sheean (Kahala LaGrange) 
11 Adriana Chavez 
12 Erin Beresini (Unattached) 
13 Michelle King (PaulTracy.com) 
14 Linda Raths (Bicycle Johns Serious Cycling) 
15 Teresa Herrera (United Cycling Club) 
16 Rider Unknown 
17 Maritza Mesa (United Cycling Club) 
18 Ana Odette Castaneda (Kahala LaGrange) 
19 Debbie Betts (Helens/Trek/VW) 
 
Masters 35+ 
 
1 Mike Mcmahon (Team Velocity) 
2 Armin Rahm (Merrill Lynch / Bicycle John's) 
3 Craig Miller (Cozmics) 
4 Gary Scott (Team Velocity) 
5 Douglas Maccready (California Raisins/Central Coast Masters Cycling Team) 
6 Billy Cubillas (BikePalace/KellerWilliams/BackOnTrack) 
7 Peter Sullivan (Amgen Cycling Club) 
8 Mark Noble (Amgen Cycling Club) 
9 Thomas (Tommy) Robles (Velo Allegro) 
10 Simon Nung (Merrill Lynch / Bicycle John's) 
11 John Tzinberg (Kahala LaGrange) 
12 John Hatchitt (VRC-MS Society) 
13 Robert Frank (Team Helens) 
14 Robert Ramirez (ie Bikes Racing/CA Pools) 
15 Jeffrey Johnson (HDCC-Allegiant Airlines/Matt Smith PT) 
16 Jon Stark (Big Orange Racing) 
17 James Robbins (PaulTracy.com) 
18 Roger Worthington (Labor Power) 
19 Stephen Park (Swami's Cycling Club) 
20 Richard Craig (Team Pro Cyclery) 
21 Michael Stroud (Velo Pro/Kona Cycling Team) 
22 Kenny Robertson (Bicycle Johns Serious Cycling) 
23 Christopher Brown (Velo Pro/Kona Cycling Team) 
24 James Stark (ie Bikes Racing/CA Pools) 
25 Kenneth Probst (Velo Avanti) 
26 Thomas Fitzgibbon (Kahala LaGrange) 
27 Babak Saraf (Velo Club La Grange Westwood) 
28 Carlos Ristorcelli (Team Velocity) 
29 Claudio Betti (Budget Pro Bicycles Cycling Team) 
30 Craig Zimmerman (Velo Pro/Kona Cycling Team) 
 
Masters 45+ 
 
1 Gilbert Hatton (South Bay Wheelmen) 
2 Chris Black (Morgan Stanley Cycling Team) 
3 Thomas Gates (Team DARE) 
4 James Edwards (Team Simple Green) 
5 David Prechtl (Radsport Cycling Team) 
6 William Ralph (Amgen Cycling Club) 
7 Steven Strickler (Sonance/Specialized) 
8 Ricky Shorts (Unattached) 
9 Albert Shorts (Velo Allegro) 
10 John Meehan (Radsport Cycling Team) 
11 Richard Pollock (DeWalt Racing) 
12 Henry Schnepf (Sonance/Specialized) 
13 Gary Wall (Team Simple Green) 
14 Lawrence Shannon (Labor Power) 
15 Tim Black (Sonance/Specialized) 
16 Brad House (BikePalace/KellerWilliams/BackOnTrack) 
17 Rick Carrera (Team Simple Green) 
18 Mark Planellas (socalcycling.com) 
19 Joe Gallal (Team Velocity) 
20 Craig Jones (Velo Avanti) 
21 Howard Miller (Paramount Racing) 
22 Jim Pongratz (Sportsman's Team One Racing) 
23 Rodney Malloy (Big Orange Racing) 
24 Lou Deblasio (Karl Strauss/SDBC) 
25 Charles Simmons (Major Motion Cycling Club) 
26 Kim Ulle (Karl Strauss/SDBC) 
27 Steven Hensler 
28 Miguel Diaz (Salazar Construction) 
29 Jesus Garavito (Unattached) 
30 Gordon Carr (South Bay Wheelmen) 
 
Masters 55+ 
 
1 John Rubcic (UC Cyclery) 
2 Richard Lilleberg (South Bay Wheelmen) 
3 Ronald Skarin (Bicycle Johns Serious Cycling) 
4 Gregg Stern (Cynergy Cycles) 
5 Michael Fleming (Team DARE) 
6 Leo Pettus 
7 Phillip Richards (Citrus Valley Velo) 
8 Richard Stahlberg (Big Orange Racing) 
9 Richard Keegan (Ironfly) 
10 Rocco Orsini (South Bay Wheelmen) 
11 Peter Castaneda (Team Edge Cyclesports) 
12 David Lang (Team DARE) 
13 Edgardo Potes (BikePalace/KellerWilliams/BackOnTrack) 
14 Bruce Steele (South Bay Wheelmen) 
15 Ernest Gallardo Sr. 
16 Mark Wisnosky (San Diego Bicycle Club) 
17 Unknown 
18 William Carvin (Velo Avanti) 
19 Robert Richardson (Karl Strauss/SDBC) 
20 Carlos Cruz (Unattached) 
21 Domenick Forte (Merrill Lynch / Bicycle John's) 
 
Masters 60+ 
 
1 Richard Snyder (Sportsman's Team One Racing) 
2 P (Fritz) Tomasello (Team Edge Cyclesports) 
3 John Mckee (Paramount Racing) 
4 A Mario Seri (Kahala LaGrange) 
5 James Heise (South Bay Wheelmen) 
6 David Madison (Santa Clarita Velo) 
7 Robert Paganini (Merrill Lynch / Bicycle John's) 
8 Robert Barney (UC Cyclery) 
9 Joseph Trotter (Karl Strauss/SDBC) 
10 Klaus Lischer (Unattached) 
 


Past Winners

Pro Men
 
2005 Greg Henderson (NZl) Health Net presented by Maxxis
2004 Tyler Farrar (USA) Health Net
2003 Jonas Carney (USA) Prime Alliance
2002 Gordon Fraser (Can) Mercury Cycling Team
2001 Jonas Carney (USA) Prime Alliance
 
Pro Women
 
2005 Ina Teutenberg (Ger) T-Mobile
2004 Tina Pic (USA) Genesis Scuba/FFCC
2003 Becky Quinn (USA) Vaniqa/Red 5
2002 Suzanne Sonye (USA) Saturn Cycling Team
2001 Tina Mayolo (USA) Autotrader.com