89th Coppa Bernocchi - 1.1
Italy, August 23, 2007
2006 Results Results Past winners
Trittico Lombardo
Tre Valli Varesine - August 21
Coppa Agostoni - August 22
Coppa Bernocchi - August 23
Napolitano makes history
By Gregor Brown
Napolitano made it three
Photo ©: Sirotti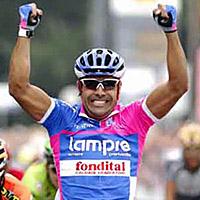 Danilo Napolitano has made history today in the 89th Coppa Bernocchi by scoring three wins in a row. The 26 year-old of Lampre Fondital backed up his wins in 2005 and 2006 with a sprint win over Paride Grillo (Ceramica Panaria-Navigare) and Stage 11 Tour de France winner Robert Hunter (Barloworld).
The finale was marred with a crash in the finale but Napolitano was able to stay safe to celebrate his contract renewal with Lampre and build on early season successes, including the Lido di Camaiore stage in the Giro d'Italia.
The Coppa Bernocchi, following the Tre Valli Varesine and Coppa Ugo Agostoni, concluded the three-day Trittico Lombardo that was taken by Alessandro Bertolini (Serramenti PVC Diquigiovanni-Selle Italia). The Italian finished second in Tuesday's race and won yesterday in the Coppa Agostoni.
Photography
For a thumbnail gallery of these images, click here
Images by Fotoreporter Sirotti
Results - 199.9km
1 Danilo Napolitano (Ita) Lampre - Fondital                       4.41.45  (42.570 km/h)
2 Paride Grillo (Ita) Ceramica Panaria - Navigare
3 Robert Hunter (RSA) Barloworld
4 Luca Paolini (Ita) Liquigas
5 Giosuè Bonomi (Ita) Barloworld
6 Enrico Rossi (Ita) OTC Doors - Lauretana
7 Fabrizio Guidi (Ita) Barloworld
8 Marco Corsini (Ita) Tenax Salmilano
9 Domenico Loria (Ita) Team Universal Caffé - Ecopterol
10 Mattia Gavazzi (Ita) Kio Ene - Tonazzi - DMT

Past winners
2006 Danilo Napolitano (Ita) Lampre-Fondital
2005 Danilo Napolitano (Ita) Team LPR
2004 Angelo Furlan (Ita) Alessio-Bianchi
2003 Sergio Barbero (Ita) Lampre
2002 Daniele Nardello (Ita) Mapei-Quick Step
2001 Paolo Valoti (Ita) Alessio
2000 Romans Vainsteins (Lat) Vini Caldirola
1999 Giancarlo Raimondi (Ita) Liquigas
1998 Fabio Sacchi (Ita) Team Polti
1997 Gianluca Bortolami (Ita)
1996 Fabio Baldato (Ita)
1995 Stefano Zanini (Ita)
1994 Bruno Cenghialta (Ita)
1993 Rolf Sörensen (Den)
1992 Charly Mottet (Fra)
1991 Giorgio Furlan (Ita)
1990 Davide Cassani (Ita)
1989 Rolf Sörensen (Den)
1988 Guido Bontempi (Ita)
1987 Guido Bontempi (Ita)
1986 Roberto Gaggioli (Ita)
1985 Johan Van de Velde (Ned)
1984 Vittorio Algeri (Ita)
1983 Palmiro Masciarelli (Ita)
1982 Silvano Contini (Ita)
1981 Giuseppe Saronni (Ita)
1980 Giuseppe Saronni (Ita)
1979 Valerio Lualdi (Ita)
1978 Giovanni Battaglin (Ita)
1977 Carnelo Barone (Ita)
1976 Franco Bitossi (Ita)
1975 Enrico Paolini (Ita)
1974 Francesco Moser (Ita)
1973 Felice Gimondi (Ita)
1972 Marino Basso (Ita)
1971 Virginio Levati (Ita)
1970 Pietro Guerra (Ita)
1969 Giacinto Santambroggio (Ita)
1968 Franco Bitossi (Ita)
1967 Vittorio Adorni (Ita)
1966 Rafaele Marcoli (Ita)
1965 Adriano Durante (Ita)
1964 Gianni Motta (Ita)
1963 Aldo Moser (Ita)
1962 Pierino Baffi (Ita)
1961 Arturo Sabbadin (Ita)
1960 Giuseppe Fallarini (Ita)
1959 Noé Conti (Ita)
1958 Rik Van Looy (Bel)
1957 Rik Van Looy (Bel)
1956 Vasca Modena (Ita)
1955 Renato Ponzini (Ita)
1954 Fausto Coppi (Ita)
1953 Giorgio Albani (Ita) and Antonio Bevilacqua (Ita)
1952 Primo Volpi (Ita)
1951 Luigi Casola (Ita)
1950 Fiorenzo Crippa (Ita)
1949 Mario Ricci (Ita)
1948 Virgilio Salimbeni (Ita)
1947 Mario Ricci (Ita)
1946 Osvaldo Bailo (Ita)
1945 Sergio Maggini (Ita)
1944 Oreste Conte (Ita)
1942 Glauco Servadei (Ita)
1941 Serverino Canavesi (Ita)
1940 Aldo Bini (Ita)
1939 Adolfo Leoni (Ita)
1938 Cino Cinelli (Ita)
1937 Francesco Albani (Ita)
1936 Enrico Mollo (Ita)
1935 Gino Bartali (Ita)
1934 Pietro Rimoldi (Ita)
1933 B. Negri (Ita)
1932 Marco Giuntelli (Ita)
1930 Eugenio Gestri (Ita)
1929 Allegro Grandi (Ita)
1928 Carlo Galluzzi (Ita)
1927 Giuseppe Pancera (Ita)
1926 Giuseppe Pancera (Ita)
1925 Luigi Mainetti (Ita)
1924 Alfredo Dinale (Ita)
1923 Libero Ferrario (Ita)
1922 Libero Ferrario (Ita)
1921 Angelo Testa (Ita)
1920 Giovanni Tragella (Ita)
1919 Ruggero Ferrario (Ita)

Past winners by Mario Stiehl, www.world-of-cycling.com