Giro d'Italia Donne - 2.1 (W)
Italy, June 30-July 9, 2006
Main Page Results Overall standings Previous Stage Next Stage
Stage 9 - July 8: Abbiategrasso - Abbiategrasso, 88 km
One second in it as Schleicher takes ninth stage
Regina Schleicher (Nürnberger)
Photo ©: CJ Farquharson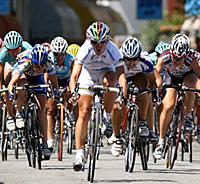 The penultimate stage of the women's Giro d'Italia was won by world champion Regina Schleicher (Nürnberger Versicherung). She won the stage starting and finishing Abbiategrasso (Milan) in a bunch sprint ahead of Giorgia Bronzini (Team FRW) and Rochelle Gilmore (Safi-Pasta Zara Manhattan). The pink jersey stayed with Nicole Brändli, but now Susanne Ljungskog is only one second behind the Swiss defending champion. Tomorrow, the final stage will finish on the climb of the Sanctuary of Madonna del Ghisallo, and will surely be an interesting one.
"I followed my teammate Oenone Wood until 200 metres to go, after this I made the final sprint," said Schleicher, who tomorrow will give her world champion's jersey to the Sanctuary of the Madonna del Ghisallo.
Nicole Brändli commented, "Tomorrow the stage will be very exciting; the end of the Giro will be decided on the last climb where probably I'll make the last attack."
Photography
For a thumbnail gallery of these images, click here
Images by CJ Farquharson/WomensCycling.net
Results
1 Regina Schleicher (Ger) Nurnberger Versicherung         1.59.54
2 Giorgia Bronzini (Ita) Team FRW                                
3 Rochelle Gilmore (Aus) Safi - Pasta Zara Manhattan             
4 Monia Baccaille (Ita) Team Saccarelli Emu                      
5 Malgorzata Wysocka (Pol) SC Michela Fanini Record Rox          
6 Volha Hayeva (Blr) Team Bianchi Alivert                        
7 Katia Longhin (Ita) Top Girls Fassa Bortolo                    
8 Sigrid Corneo (Ita) Nobili Rubinetterie                        
9 Dorte Lohse Rasmussen (Den) Team Bianchi Alivert               
10 Monica Moller (Swe) Bigla Cycling Team                        
11 Evy Van Damme (Bel) Vlaanderen Caprisonne                     
12 Tanja Hennes (Ger) Buitenpoort - Flexpoint                    
13 Elodie Tuffet (Fra) Nobili Rubinetterie                       
14 Sharon Van Dromme (Bel) Vlaanderen Caprisonne                 
15 Gemma Pascual (Spa) Bizkaia - Panda Software                  
16 Edita Pucinskaite (Ltu) Nobili Rubinetterie                   
17 Silva Janildes (Bra) SC Michela Fanini Record Rox             
18 Veronica Andreasson (Swe) Safi - Pasta Zara Manhattan         
19 Zita Urbonaite (Ltu) Safi - Pasta Zara Manhattan              
20 Sofie Goor (Bel) Vlaanderen Caprisonne                        
21 Ine Wannijn (Bel) Vlaanderen Caprisonne                       
22 Alessia Qualta (Ita) Team Saccarelli Emu                      
23 Susanne Ljngskog (Swe) Buitenpoort - Flexpoint                
24 Martina Corazza (Ita) Team FRW                                
25 Annette Beutler (Swi) Buitenpoort - Flexpoint                 
26 Kate Nichols (Aus) Australian National Team                   
27 Karin Aune (Swe) SC Michela Fanini Record Rox                 
28 Francesca Castucci (Ita) SC Michela Fanini Record Rox         
29 Alessandra Dettore (Ita) Team Saccarelli Emu                  
30 Svetlana Bubnenkova (Rus) Colnago - Fenixs                    
31 Iosune Murillo (Spa) Bizkaia - Panda Software                 
32 Liu Yongli (Chn) Giant Pro Cycling                            
33 Miho Oki (Jpn) Nobili Rubinetterie                            
34 Tatiana Antoshina (Rus) Colnago - Fenixs                      
35 Anna Zugno (Ita) Safi - Pasta Zara Manhattan                  
36 Olga Slyusareva (Rus) Colnago - Fenixs                        
37 Charlotte Beker (Ger) Colnago - Fenixs                        
38 Debby Mansveld (Ned) Vlaanderen Caprisonne                    
39 Meng Lang (Chn) Giant Pro Cycling                             
40 Liane Bahler (Ger) Colnago - Fenixs                           
41 Jenny Macpherson (Aus) Australian National Team               
42 Candice Sullivan (Aus) Australian National Team               
43 Modesta Vzesniauskaite (Ltu) Team FRW                         
44 Kate Mercer (Aus) Australian National Team                    
45 Oenone Wood (Aus) Nurnberger Versicherung                     
46 Ying Ruan Xiong (Chn) Giant Pro Cycling                       
47 Lidia Arcangeli (Ita) Bigla Cycling Team                      
48 Emma Johansson (Swe) Bizkaia - Panda Software                 
49 Tania Belvedersi (Ita) Top Girls Fassa Bortolo                
50 Daniela Fusar Poli (Ita) Safi - Pasta Zara Manhattan          
51 Loes Gunnewijk (Ned) Buitenpoort - Flexpoint                  
52 Trine Hansen (Den) Team Bianchi Alivert                       
53 Eneritz Iturriagaech (Spa) Top Girls Fassa Bortolo            
54 Jocelyn Loane (Aus) Australian National Team                  
55 Tatiana Guderzo (Ita) Top Girls Fassa Bortolo                 
56 Noemi Cantele (Ita) Bigla Cycling Team                        
57 Allcla Palop Rubio (Spa) Spanish National Team                
58 Mei Fang Li (Chn) Giant Pro Cycling                           
59 Linda Villumsen (Den) Buitenpoort - Flexpoint                 
60 Nicole Brandli (Swi) Bigla Cycling Team                       
61 Cristina Alcade (Spa) Bizkaia - Panda Software                
62 Anna Henestrosa Roca (Spa) Spanish National Team              
63 Olivia Gollan (Aus) Nobili Rubinetterie                       
64 Tina Liebig (Ger) Nurnberger Versicherung                     
65 Tatiana Stiaykina (Ukr) USC Chirio Forno d'Asolo              
66 Rosario Rodriguez Gomez (Spa) Spanish National Team           
67 Veronica Leal Balderas (Mex) Team Saccarelli Emu              
68 Sabrina Emmasi (Swi) Safi - Pasta Zara Manhattan              
69 Anke Wichmann (Ger) Nurnberger Versicherung                   
70 Emanuela Azzini (Ita) Nobili Rubinetterie                     
71 Vilajosana A Marta (Spa) Nobili Rubinetterie                  
72 Emma Davies (GBr) Vlaanderen Caprisonne                       
73 Arantzazu Azpiroz (Spa) Bizkaia - Panda Software              
74 Nina Ovcharenko (Ukr) Team FRW                                
75 Fabiana Luperini (Ita) Top Girls Fassa Bortolo                
76 Rosane Kirck (Bra) SC Michela Fanini Record Rox               
77 Silvia Parietti (Ita) Safi - Pasta Zara Manhattan             
78 Andrea Graus (Aut) Bigla Cycling Team                         
79 Francesca Tognali (Ita) Team Saccarelli Emu                   
80 Majaw Adamsen (Den) Team Bianchi Alivert                      
81 Naiara Telletxea (Spa) Bizkaia - Panda Software               
82 Luise Keller (Ger) Buitenpoort - Flexpoint                    
83 Lise Christensen (Den) Team Bianchi Alivert                   
84 Zulfia Zabirova (Kaz) Bigla Cycling Team                      
85 Mette Tisser Andersen (Den) Team Bianchi Alivert              
86 Cindy Pieters (Bel) Vlaanderen Caprisonne                     
87 Tetyana Palchynska (Ukr) Team FRW                             
88 Silvia Valsecchi (Ita) Nobili Rubinetterie                    
89 Monika Furrer (Swi) Bigla Cycling Team                        
90 Leticia Gil Parra (Spa) Top Girls Fassa Bortolo               
91 Natalia Boyarskaya (Rus) Colnago - Fenixs                     
92 Sandra Rombouts (Ned) Buitenpoort - Flexpoint                 
93 Wu Yunmei (Chn) Giant Pro Cycling                             
94 Vera Carrara (Ita) USC Chirio Forno d'Asolo                   
95 Maitane Telletxea (Spa) Bizkaia - Panda Software              
96 Silvia Mancini (Ita) Team Saccarelli Emu                      
97 Sabrina Bernardi (Ita) Top Girls Fassa Bortolo                
98 Sabrina Zogli (Ita) USC Chirio Forno d'Asolo                  
99 Jessica Turato (Ita) USC Chirio Forno d'Asolo                 
100 Laure Werner (Bel) Vlaanderen Caprisonne                     
101 Natalie Bates (Aus) Australian National Team                 
102 Ana Garsia (Spa) Spanish National Team                       
103 Anna Sanchis Chafer (Spa) Spanish National Team              
104 Maribel Moreno Allue (Spa) Spanish National Team             
105 Andrea Knecht (Swi) Bigla Cycling Team                       
106 Amanda Spratt (Aus) Australian National Team                 
107 Claudia Marietta (Ita) SC Michela Fanini Record Rox          
108 Wang Li (Chn) Giant Pro Cycling                              
109 Ombretta Ugolini (Ita) Team FRW                              
110 Samantha Profumo (Ita) USC Chirio Forno d'Asolo          0.20
111 Katherine Bates (Aus) Nurnberger Versicherung            1.20
112 Chiara Rozzini (Ita) Team Saccarelli Emu                     
 
General classification after stage 9
 
1 Nicole Brandli (Swi) Bigla Cycling Team                20.39.59
2 Susanne Ljngskog (Swe) Buitenpoort - Flexpoint             0.01
3 Olga Slyusareva (Rus) Colnago - Fenixs                     0.16
4 Edita Pucinskaite (Ltu) Nobili Rubinetterie                0.20
5 Svetlana Bubnenkova (Rus) Colnago - Fenixs                 0.37
6 Fabiana Luperini (Ita) Top Girls Fassa Bortolo             0.53
7 Tatiana Guderzo (Ita) Top Girls Fassa Bortolo              0.56
8 Monia Baccaille (Ita) Team Saccarelli Emu                  1.10
9 Linda Villumsen (Den) Buitenpoort - Flexpoint              1.11
10 Noemi Cantele (Ita) Bigla Cycling Team                    1.12
11 Eneritz Iturriagaech (Spa) Top Girls Fassa Bortolo        1.35
12 Loes Gunnewijk (Ned) Buitenpoort - Flexpoint              1.46
13 Cristina Alcade (Spa) Bizkaia - Panda Software            2.01
14 Volha Hayeva (Blr) Team Bianchi Alivert                   2.04
15 Modesta Vzesniauskaite (Ltu) Team FRW                     2.05
16 Sofie Goor (Bel) Vlaanderen Caprisonne                    2.09
17 Sigrid Corneo (Ita) Nobili Rubinetterie                   2.33
18 Silvia Parietti (Ita) Safi - Pasta Zara Manhattan             
19 Tatiana Stiaykina (Ukr) USC Chirio Forno d'Asolo          2.34
20 Tina Liebig (Ger) Nurnberger Versicherung                 2.36
21 Andrea Graus (Aut) Bigla Cycling Team                         
22 Olivia Gollan (Aus) Nobili Rubinetterie                       
23 Sandra Rombouts (Ned) Buitenpoort - Flexpoint             2.46
24 Karin Aune (Swe) SC Michela Fanini Record Rox             2.50
25 Veronica Andreasson (Swe) Safi - Pasta Zara Manhattan     2.53
26 Lise Christensen (Den) Team Bianchi Alivert               2.54
27 Vilajosana A Marta (Spa) Nobili Rubinetterie              2.56
28 Sharon Van Dromme (Bel) Vlaanderen Caprisonne             3.00
29 Veronica Leal Balderas (Mex) Team Saccarelli Emu          3.08
30 Kate Nichols (Aus) Australian National Team               3.15
31 Meng Lang (Chn) Giant Pro Cycling                         3.19
32 Jocelyn Loane (Aus) Australian National Team              3.32
33 Dorte Lohse Rasmussen (Den) Team Bianchi Alivert          3.37
34 Emma Johansson (Swe) Bizkaia - Panda Software             3.42
35 Oenone Wood (Aus) Nurnberger Versicherung                 3.49
36 Tanja Hennes (Ger) Buitenpoort - Flexpoint                3.56
37 Zita Urbonaite (Ltu) Safi - Pasta Zara Manhattan          4.08
38 Luise Keller (Ger) Buitenpoort - Flexpoint                4.11
39 Elodie Tuffet (Fra) Nobili Rubinetterie                   4.17
40 Anna Henestrosa Roca (Spa) Spanish National Team          4.24
41 Miho Oki (Jpn) Nobili Rubinetterie                        4.30
42 Kate Mercer (Aus) Australian National Team                4.43
43 Naiara Telletxea (Spa) Bizkaia - Panda Software           5.01
44 Emanuela Azzini (Ita) Nobili Rubinetterie                 5.03
45 Giorgia Bronzini (Ita) Team FRW                           5.04
46 Trine Hansen (Den) Team Bianchi Alivert                   5.26
47 Liane Bahler (Ger) Colnago - Fenixs                       5.34
48 Mei Fang Li (Chn) Giant Pro Cycling                       5.35
49 Regina Schleicher (Ger) Nurnberger Versicherung           5.42
50 Annette Beutler (Swi) Buitenpoort - Flexpoint             5.50
51 Rosario Rodriguez Gomez (Spa) Spanish National Team       6.44
52 Lidia Arcangeli (Ita) Bigla Cycling Team                  6.56
53 Jessica Turato (Ita) USC Chirio Forno d'Asolo             7.41
54 Iosune Murillo (Spa) Bizkaia - Panda Software             7.53
55 Vera Carrara (Ita) USC Chirio Forno d'Asolo               8.15
56 Sabrina Emmasi (Swi) Safi - Pasta Zara Manhattan          8.41
57 Daniela Fusar Poli (Ita) Safi - Pasta Zara Manhattan      9.26
58 Charlotte Beker (Ger) Colnago - Fenixs                   10.21
59 Jenny Macpherson (Aus) Australian National Team          12.37
60 Monika Furrer (Swi) Bigla Cycling Team                   13.10
61 Anna Zugno (Ita) Safi - Pasta Zara Manhattan             13.37
62 Katia Longhin (Ita) Top Girls Fassa Bortolo              14.29
63 Ying Ruan Xiong (Chn) Giant Pro Cycling                  14.30
64 Silvia Valsecchi (Ita) Nobili Rubinetterie               14.43
65 Martina Corazza (Ita) Team FRW                           15.46
66 Majaw Adamsen (Den) Team Bianchi Alivert                 16.17
67 Tatiana Antoshina (Rus) Colnago - Fenixs                 16.54
68 Cindy Pieters (Bel) Vlaanderen Caprisonne                17.06
69 Zulfia Zabirova (Kaz) Bigla Cycling Team                 17.24
70 Natalie Bates (Aus) Australian National Team             18.14
71 Ana Garsia (Spa) Spanish National Team                   18.49
72 Anna Sanchis Chafer (Spa) Spanish National Team          18.57
73 Leticia Gil Parra (Spa) Top Girls Fassa Bortolo          19.16
74 Laure Werner (Bel) Vlaanderen Caprisonne                 20.05
75 Rosane Kirck (Bra) SC Michela Fanini Record Rox          20.19
76 Evy Van Damme (Bel) Vlaanderen Caprisonne                21.12
77 Candice Sullivan (Aus) Australian National Team          23.03
78 Monica Moller (Swe) Bigla Cycling Team                   24.40
79 Mette Tisser Andersen (Den) Team Bianchi Alivert         25.46
80 Andrea Knecht (Swi) Bigla Cycling Team                   27.03
81 Katherine Bates (Aus) Nurnberger Versicherung            28.40
82 Alessia Qualta (Ita) Team Saccarelli Emu                 30.24
83 Natalia Boyarskaya (Rus) Colnago - Fenixs                30.35
84 Liu Yongli (Chn) Giant Pro Cycling                       37.44
85 Malgorzata Wysocka (Pol) SC Michela Fanini Record Rox    38.01
86 Francesca Castucci (Ita) SC Michela Fanini Record Rox    38.09
87 Gemma Pascual (Spa) Bizkaia - Panda Software             38.40
88 Nina Ovcharenko (Ukr) Team FRW                           38.48
89 Anke Wichmann (Ger) Nurnberger Versicherung              42.06
90 Tania Belvedersi (Ita) Top Girls Fassa Bortolo           47.48
91 Samantha Profumo (Ita) USC Chirio Forno d'Asolo          48.00
92 Francesca Tognali (Ita) Team Saccarelli Emu              48.08
93 Claudia Marietta (Ita) SC Michela Fanini Record Rox      52.49
94 Maitane Telletxea (Spa) Bizkaia - Panda Software         52.52
95 Amanda Spratt (Aus) Australian National Team             53.03
96 Debby Mansveld (Ned) Vlaanderen Caprisonne               53.20
97 Maribel Moreno Allue (Spa) Spanish National Team         53.44
98 Alessandra Dettore (Ita) Team Saccarelli Emu             54.13
99 Ombretta Ugolini (Ita) Team FRW                          55.25
100 Wu Yunmei (Chn) Giant Pro Cycling                       57.04
101 Ine Wannijn (Bel) Vlaanderen Caprisonne                 57.07
102 Chiara Rozzini (Ita) Team Saccarelli Emu                58.16
103 Rochelle Gilmore (Aus) Safi - Pasta Zara Manhattan      58.19
104 Sabrina Bernardi (Ita) Top Girls Fassa Bortolo          59.05
105 Emma Davies (GBr) Vlaanderen Caprisonne               1.00.07
106 Silva Janildes (Bra) SC Michela Fanini Record Rox     1.01.23
107 Allcla Palop Rubio (Spa) Spanish National Team        1.02.37
108 Tetyana Palchynska (Ukr) Team FRW                     1.03.46
109 Silvia Mancini (Ita) Team Saccarelli Emu              1.03.51
110 Arantzazu Azpiroz (Spa) Bizkaia - Panda Software      1.06.59
111 Sabrina Zogli (Ita) USC Chirio Forno d'Asolo          1.07.01
112 Wang Li (Chn) Giant Pro Cycling                       1.29.24
 
Points classification
 
1 Olga Slyusareva (Rus) Colnago - Fenixs                       55 pts
2 Susanne Ljngskog (Swe) Buitenpoort - Flexpoint               55
3 Nicole Brandli (Swi) Bigla Cycling Team                      52
4 Monia Baccaille (Ita) Team Saccarelli Emu                    50
5 Regina Schleicher (Ger) Nurnberger Versicherung              42
6 Giorgia Bronzini (Ita) Team FRW                              41
7 Sigrid Corneo (Ita) Nobili Rubinetterie                      34
8 Edita Pucinskaite (Ltu) Nobili Rubinetterie                  30
9 Annette Beutler (Swi) Buitenpoort - Flexpoint                29
10 Oenone Wood (Aus) Nurnberger Versicherung                   25
11 Volha Hayeva (Blr) Team Bianchi Alivert                     23
12 Fabiana Luperini (Ita) Top Girls Fassa Bortolo              22
13 Malgorzata Wysocka (Pol) SC Michela Fanini Record Rox       21
14 Eneritz Iturriagaech (Spa) Top Girls Fassa Bortolo          20
15 Tatiana Guderzo (Ita) Top Girls Fassa Bortolo               18
16 Rochelle Gilmore (Aus) Safi - Pasta Zara Manhattan          17
17 Svetlana Bubnenkova (Rus) Colnago - Fenixs                  16
18 Katia Longhin (Ita) Top Girls Fassa Bortolo                 16
19 Vilajosana A Marta (Spa) Nobili Rubinetterie                15
20 Linda Villumsen (Den) Buitenpoort - Flexpoint               15
21 Kate Nichols (Aus) Australian National Team                 15
22 Tanja Hennes (Ger) Buitenpoort - Flexpoint                  15
23 Andrea Graus (Aut) Bigla Cycling Team                       13
24 Noemi Cantele (Ita) Bigla Cycling Team                      12
25 Charlotte Beker (Ger) Colnago - Fenixs                      12
26 Zulfia Zabirova (Kaz) Bigla Cycling Team                    10
27 Cristina Alcade (Spa) Bizkaia - Panda Software               9
28 Trine Hansen (Den) Team Bianchi Alivert                      7
29 Meng Lang (Chn) Giant Pro Cycling                            6
30 Loes Gunnewijk (Ned) Buitenpoort - Flexpoint                 5
31 Sofie Goor (Bel) Vlaanderen Caprisonne                       5
32 Silvia Parietti (Ita) Safi - Pasta Zara Manhattan            5
33 Dorte Lohse Rasmussen (Den) Team Bianchi Alivert             5
34 Jessica Turato (Ita) USC Chirio Forno d'Asolo                5
35 Zita Urbonaite (Ltu) Safi - Pasta Zara Manhattan             3
36 Monica Moller (Swe) Bigla Cycling Team                       3
37 Francesca Castucci (Ita) SC Michela Fanini Record Rox        3
38 Sharon Van Dromme (Bel) Vlaanderen Caprisonne                2
39 Elodie Tuffet (Fra) Nobili Rubinetterie                      2
40 Evy Van Damme (Bel) Vlaanderen Caprisonne                    2
41 Jenny Macpherson (Aus) Australian National Team              1
 
Mountains classification
 
1 Nicole Brandli (Swi) Bigla Cycling Team                       9 pts
2 Edita Pucinskaite (Ltu) Nobili Rubinetterie                   7
3 Fabiana Luperini (Ita) Top Girls Fassa Bortolo                5
4 Andrea Graus (Aut) Bigla Cycling Team                         5
5 Olga Slyusareva (Rus) Colnago - Fenixs                        4
6 Svetlana Bubnenkova (Rus) Colnago - Fenixs                    4
7 Susanne Ljngskog (Swe) Buitenpoort - Flexpoint                2
8 Tatiana Guderzo (Ita) Top Girls Fassa Bortolo                 2
9 Linda Villumsen (Den) Buitenpoort - Flexpoint                 2
10 Noemi Cantele (Ita) Bigla Cycling Team                       1
11 Zulfia Zabirova (Kaz) Bigla Cycling Team                     1
 
Sprints classification
 
1 Olga Slyusareva (Rus) Colnago - Fenixs                       33 pts
2 Monica Moller (Swe) Bigla Cycling Team                       17
3 Jenny Macpherson (Aus) Australian National Team              13
4 Susanne Ljngskog (Swe) Buitenpoort - Flexpoint               10
5 Miho Oki (Jpn) Nobili Rubinetterie                            6
6 Volha Hayeva (Blr) Team Bianchi Alivert                       6
7 Katia Longhin (Ita) Top Girls Fassa Bortolo                   6
8 Noemi Cantele (Ita) Bigla Cycling Team                        6
9 Edita Pucinskaite (Ltu) Nobili Rubinetterie                   6
10 Tatiana Guderzo (Ita) Top Girls Fassa Bortolo                5
11 Linda Villumsen (Den) Buitenpoort - Flexpoint                4
12 Giorgia Bronzini (Ita) Team FRW                              4
13 Alessandra Dettore (Ita) Team Saccarelli Emu                 2
14 Sigrid Corneo (Ita) Nobili Rubinetterie                      2
15 Francesca Castucci (Ita) SC Michela Fanini Record Rox        2
16 Tanja Hennes (Ger) Buitenpoort - Flexpoint                   2
17 Malgorzata Wysocka (Pol) SC Michela Fanini Record Rox        1
18 Svetlana Bubnenkova (Rus) Colnago - Fenixs                   1
19 Nicole Brandli (Swi) Bigla Cycling Team                      1
 
Teams classification

1 Buitenpoort - Flexpoint                                62.02.32
2 Top Girls Fassa Bortolo                                    0.40
3 Bigla Cycling Team                                         0.53
4 Colnago - Fenixs                                           2.25
5 Nobili Rubinetterie                                        2.26
6 Safi - Pasta Zara Manhattan                                5.26
7 Team Bianchi Aliverti                                      6.03
8 Bizkaia - Panda Software                                   6.07
9 Australian National Team                                   7.26
10 Nurnberger Versicherung                                   7.42
11 Giant Pro Cycling                                        13.24
12 Usc Chirio Forno D'asolo                                 15.44
13 Spanish National Team                                    16.15
14 Vlaanderen Caprisonne                                    18.34
15 Team Frw                                                 19.05
16 Team Saccarelli Emu                                      24.17
17 Sc Michela Fanini Record Rox                             42.33