Recently on Cyclingnews.com
Rochester twilight criterium - NE
USA, June 24, 2006
2005 Results Results Past winners
Clarke, Uhl, storm to victories
By Alan Coté
Hilton Clarke (Navigators Insurance).
Photo ©: Allan Fink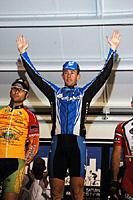 Rochester, NY Australia's Hilton Clarke won a wild pack sprint of 40 riders through this city's downtown streets to claim a win for his Navigator's Insurance team. In the women's race, Sarah Uhl, the reigning Collegiate National Road Champion, won a three-up dash to the line to best the women's field
Now in its third year, the Saturn Rochester Twilight Criterium was included on the US National Racing Calendar for '06. With a crowd estimated at 40,000, and $20,000 on the line in the pro-am men's race, it earned its spot in the limelight.
In the fading evening sun, 102 riders took to the start of the 2 hour pro-am men's race. It was game-on from lap one, with teams including Kodak Gallery / Sierra Nevada, Navigators, TIAA-CREF, and Toyota / United Pro stringing out the field. Meanwhile, privateers like triple Olympic gold medalist Stefan Steinweg of Germany, and the always speedy Jamie Carney lurked in the field. The rubber band stretched and riders were steadily shed off the back, but no moves stuck until a group of 12 broke clear with 26 laps to go.
Jackson Stewart (KodakGallery-Sierra Nevada)
Photo ©: Allan Fink

Present in the mix was Navigator fastman Clarke, along with three Kodak / Sierra Nevada riders. "The Kodak guys started attacking me," said Clarke. "They had the numbers in the break and wanted to play their strategy." The gap swelled to 30 seconds before attacks came from the front of the field and Kodak sprinter Dan Schmatz came across, effecting dooming the group. "We had three guys up there, but not a sprinter" explained Schmatz. It all came back together once again.
With the clock approaching 10:30 pm, the race wound into its final laps. With 5 laps to go, TargetTraining's Frank Pipp snagged the $650 crowd prime, but the cash sprint didn't shake out any breakaways. At the sound of the bell TIAFF-CREF powered the front 4 places of the pack, looking to set-up their sprinter Rahsaan Bahati. But Navigators owned the top 3 spots coming out the last corner, launching Hilton Clarke to a clear win over Kodak's Schmatz.
"I felt terrible out there tonight," said Clarke. "But sometimes it's the races where you feel bad that you end up winning."
The one hour women's race was stacked with talent from Colavita / Cooking Light, Diet Cheerwine, and Victory Brewing. Riding without any teammates, Team Serotta rider Sara Uhl found herself outgunned. "I had to try and put myself in every move," she said. And she found the one that stuck, slipping up the road with New Zealand pursuiter Sarah Ulmer (Colavita) and Victory Brewing's Lauren Franges. As a past junior world champion in match sprints, Uhl had the firepower to comfortably take the win in the three-up sprint.
Photography
For a thumbnail gallery of these images, click here
Images by Allan Fink
Results

Pro 1/2 Men
 
1 Hilton Clarke (Navigators Insurance)               1.33.32
2 Dan Schamtz (Kodak Gallery/Sierra Nevada)                 
3 Sebastian Alexandre (Colavita Olive Oil - Sutter Home)    
4 Vassili Davidenko (Navigators Insurance)                  
5 Rahsaan Bahati (Team TIAA-CREF)                           
6 Frank Pipp (TARGETRAINING)                         
7 Shawn Milne (Navigators Insurance)                 
8 Zach Bell (Rite Aid Pro Cycling)                   
9 Brad Huff (Team TIAA-CREF)                         
10 Martin Gilbert (Kodakgallery.com/Sierra Nevada)   
11 Alejandro Acton (TARGETRAINING)                   
12 Taylor Tolleson (Team TIAA-CREF)                  
13 Mike Friedman (Team TIAA-CREF)                    
14 Tim Lefebvre (D'Ornellas Cycling)                 
15 Jackson Stewart (Kodakgallery.com/Sierra Nevada)  
16 Sterling Magnell (Toyota-United Pro Cycling team) 
17 Siro Camponogara (Navigators Insurance)           
18 Christian Grassman                                
19 Tyler Wren (Colavita/Sutter Home)                 
20 Pete Lopinto (Kodakgallery.com/Sierra Nevada)     
21 Gavriel Epstein (GS Mengoni USA)                  
22 Gerardo Castro (Team Natures Path)                
23 Caleb Fairly (CRCA/Sakonnet Technology U25)       
24 Ryan Dewald (Rite Aid)                            
25 Scott Zwizanski (Kodakgallery.com/Sierra Nevada)  
26 Joshua Carter (Mesa Cycles Racing Team)           
27 Ward Solar (team natures path)                    
28 Bill Elliston (TARGETRAINING)                     
29 Joe Giuliano (Jet Fuel)                           
30 Brandon Crichton (Symmetrics Cycling)             
31 Josh Thornton (Toyota-United Pro Cycling team)    
32 Palma Guido (Colavita)                            
33 Stephan Kincaid (Meredith Group/GPOA/Cannondale)  
34 Guy East (CRCA/Sakonnet Technology U25)           
35 Jason Allen (Kodakgallery.com/Sierra Nevada)      
36 Ryan Roth (Team RACE)                             
37 Cory Burns (b.i.k.e. syracuse)                    
38 Dominique Perras (Kodakgallery.com/Sierra Nevada) 
39 Jesse Anthony (KODAKGALLERY/SIERRA NEVADA)        
40 Stefan Steinweg (GSP1.de)                         
41 Chuck Coyle                                       
42 Ian Manning (JetFuel Cycling Team)                       
43 Bradley Viera (RiteAid)                              0.16
 
Pro/1/2/3 Women
 
1 Sarah Uhl (Penn State)                               58.50
2 Lauren Franges (Victory Brewing Team)                     
3 Sarah Ulmer (Colavita/ Cooking Light Cycling)             
4 Sarah Caravella (TEAm Lipton)                         0.11
5 Kelly Benjamin (Cheerwine)                                
6 Chrissy Ruiter (Victory Brewing Team)               
7 Kacey Manderfield (Wolverine/Redken)                
8 Iona Wynter (Colavita/ Cooking Light Cycling)       
9 Sarah Tillotson (Colavita/ Cooking Light Cycling)   
10 Caitlyn McCullough (Terry Precision)               
11 Erica Allar (Team Fuji)                            
12 Laura Yoisten (Victory Brewing Team)               
13 Sheba Farrin (Hub Racing)                          
14 Megan Guarnier                                     
15 Julia Farell (Wheels of Bloor)                     
16 Tiffany Pezzulo (Team Ivory Homes)                 
17 Gina Voci (Cheerwine)                              
18 Danielle Haulman (Hot Tubes)                       
19 Holli Steelman (Cheerwine)                         
20 Veronica Martinez (Orbea Argentina)                
21 Rebecca Wellons (Gearworks/Spin Arts)              
22 Kathleen Billington (DIET CHEERWINE)               
23 Moriah Macgregor (Dizzy Chicks)                    
24 Nicole Raspa (Hub Racing)                          
25 Meshy Holt (Colavita/ Cooking Light Cycling)       
26 Anne Guzman (Terry Precision Cycling)              
27 Kerry Traynor (Foristar/Handlebars)                
28 Kerry Litka (Terry Precision)                      
29 Nicole Bossie (Cheerwine)                                
30 Tara Ross (Victory Brewing)                          0.20
 
Women Cat 4
 
1 Sarah Krzysiak (Dick Sonnes Racing/ MVBC)            16.47
2 Chelsea Reynolds (Mission in Motion/TVC)                  
3 Chailsie Donnelly (MIM/Tiega Velo)                        
4 Jennifer Wagner (GVCC)                                    
5 Peg Mitchel (Capital Bike Racing Club)                    
6 Heather Wolfe (Vortex Racing)                             
7 Kelly Maineen                                             
 
Cat 5 Men 30+ 
 
1 Brad Crosby (Gold's Gym)                             19.57
2 Tom Joynt (CCY)                                           
3 Michael Corcimiglia (MAC5 Bikes)                          
4 Michael Coyle (NA)                                        
5 Gregg Radak (CCY Racing/Park Ave Bike)                    
6 Keith Buddendeck (Full Moon Vista)                        
7 Dave Hoag                                                 
8 Eric Hansen (R3)                                          
9 Todd Simonson (gvcc)                                      
10 Michael Traxler (NA)                                     
11 Peter Hoag (Independent)                                 
12 Cliff McKay (GVCC)                                       
13 Scott Weiler                                             
14 Eddie Mas (NA)                                           
15 Gordon Jones (NA)                             
16 Sam Ward (ccy)                                           
17 Brian Gee (GVCC/RV&E)                                    
18 Bryan Blake (Onondaga Cycling Club)                      
19 Todd Sazenski                                            
20 Ryan Henry (GMBC/Catamount)                              
21 Jason Weber (A-1 Cycles)                                 
22 Brian Grant (NA)                                         
23 Eric Farnung (NA)                                        
24 Thomas McNamara                                          
25 Jason Hamilton (NA)                                      
 
Cat 5 Men 29 and Under
 
1 Peter Miner                                          16.37
2 Jonathan Young (University of Rochester)                  
3 Brian Lawney (NA)                                         
4 Peter Kocher (Park Ave)                                   
5 Daniel Barney (NA)                                        
6 Sean Kavanagh                                             
7 Loren Bo (Illinois Tech Cycling)                          
8 Tim Howland (Fleet Feet Rochester)                        
9 Michael Prohaska (The Bike Zone)                          
10 Matt Potter (NA)                                         
11 George Privon (NA)                                       
12 Greg Glaser (NA)                                         
13 Danny Zotter (ROG presented by Towners)                  
14 William Stokes (NA)                                      
15 Gregg Griffo (Rog Presented by Touners)                  
 
Junior 14-16
 
1 David Bisenius (Tom's Pro Bike Club)                 23.08
2 Sean Jones (NA)                                           
3 Kyle Hoag                                                 
4 John Linehoun (246838)                                    
 
Junior 17-18
 
1 Robert Schmidt (NERT-CBRC)                           22.17
2 Vince Dejong (Coachchris.ca/Ted Velikonja)                
3 Cheyne Hoag (JW Dundee Ales & Lagers)                     
4 Jonathan Harding (CBRC)                             
5 Ryan Nye (Handlebars/Fortistar)                           
6 Joshua Grossman                                           
7 Dq No Roll Out (Park Ave)                                 
 
Masters Men 35+
 
1 Andy Ruiz (CCB/Volkswagon)                           52.16
2 Garnett Abbey (Dornellas)                   
3 Ed Maset (Pavan Cycling Team)                             
4 Stephen Krisko (TVC)                                  0.11
5 Dan Staffo (Foristar/Handlebars cycling co)               
6 Robert Fraser (ROG Presented by Towners)             
7 Black And Yellow Pinerello                           
8 Gregory Janssen (Nalgene-R3)                         
9 Chris Tirore (BBC/NOCO Express)                      
10 Michael Minerva (Nalgene-R3)                        
11 Michael McKnight (Nalgene/R3)                       
12 Malcolm Eade (D'Ornellas/Delta Graphics RT)         
13 Kirby Klassen (St Catherines cc)                    
14 Robert Walters (COLAVITA RACINGINC.)                
15 Frank Mesi (Fortistar/Handlebars)                   
16 Volodymyr Spantchak (Full Moon Vista)               
17 Bruno Grassi (Pavan Cycling Team)                   
18 Eric Larsson (GVCC Rog-Towners)                     
19 Steve Toorongian (Red Door Cycling)                 
20 Trevor Harrison (Nalgene - R3)                      
21 Michael Bridges (Fortistar pb Handlebars Queen C)   
22 Lee Palmateer (CBRC)                                
23 Attilio Nicosia (job one enterprise-bbc)            
24 Carl Petruzelli (Ivoiptech by Full Moon Vista)      
25 Michael Beaudrie (Full Moon Vista/GVCC)             
26 Keith McPhail (Pedallers)                                
27 Dan Kane (TVC)                                       0.26
28 Stan Skotnicki (Fortistar/Handlebars)            
29 Kenneth Wright (GVCC Full Moon/IVTEC)            
30 Scott Dorfman (Fortistar/Handlebars)             
31 Kevin Mahoney (j w dundee's)                             
32 Jonathan Howard (NALGENE/R3)                         0.49
33 Mike Renneboog (Silverspokes)                            
 
Cat 3/4 Men
 
1 Jay Joslyn (Shickluna)                               45.56
2 Erik Grimm (Full Moon Vista)                          0.02
3 Matt Shechtman (Cornell University)                   
4 Robert Dietrick (JW Dundee's Ale's & Lagers Cycl)     
5 Ed Maset (Pavan Cycling Team)                         0.08
6 Roy Zucchetto (Pavan)                                 0.25
7 Andy August (2073)                                        
8 Dan McKane (TRAILBLAZERS)                                 
9 Ryan Kelly (UNH Cycling)                              
10 Jeff Zygo (ROG Presented by Towners)                 
11 Michael McKnight (Nalgene/R3)                        
12 Mark Polsinelli (Pavan Cycling Team)                 
13 William Nicholson (Colavita-Spokepost.com)           
14 Seth Torrice (Colavita - Spokepost.com)              
15 Cheyne Hoag (JW Dundee Ales & Lagers)                
16 Jeff Busch (North Atlantic Velo / Classbook)         
17 Gary Egan (Full Moon Vista)                          
18 Chris Thompson (PSU cycling)                         
19 Kyle Rothwell (Cycle Solutions)                      
20 Bruce Hayward (CCY/Park Ave Bike)                    
21 Yuri Whitehead (Housatonic Wheel Club)               
22 Aaron Consaul (TRAIL BLAZERS / GVCC)                 
23 Volodymyr Spantchak (Full Moon Vista)                
24 Mick Snyder (JW Dundees)                             
25 Robert Wing (champion system)                        
26 Robert Schmidt (NERT-CBRC)                           
27 Ken Thomas (Foristar/Handlebars)                     
28 Frank Mesi (Fortistar/Handlebars)                    
29 Steven Johnsen (GVCC/CCY Park Ave.)                  
30 Jeff Baker (Foristar Handlebars)                     
31 Tim Bingham (Colavita-Spokepost.com)                 
32 Mark Paris (CCY/Park Ave Bike/GVCC)                  
33 Wayne Bray (Dick Sonne's Racing / MVBC)              
34 Paul Dolan (Essex County Velo)                       
35 Brian Cardona (Nalgene R3)                           
36 Michael Loranty (AG Edwards Cycling Team)            
37 Andrew Macdonald (Pavan Cycling Team)                
38 Brendan Flannagan (Colavita-Spokepost.com)           
39 Jason Urckfitz (Full Moon Vista)                     
40 Bruno Grassi (Pavan Cycling Team)                    0.57