Nevada City Classic - NE
USA, June 19, 2005
Swindlehurst & Howe solo to victory
Burke Swindlehurst (Team Seasilver)
Photo ©: Russ and Nancy Wright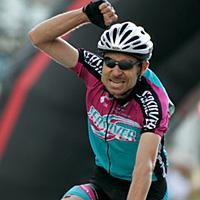 The 45th running of the Nevada City Classic today saw solo wins in both the men's and women's races by Burke Swindlehurst (Team Seasilver) and Barbara Howe (Velo Bella).
In the men's Pro/1/2 race, Webcor Builders, Kodak Gallery/Sierra Nevada, Vitamin Cottage and Team Seasilver had the most balanced teams and looked to control the race in the early going.
But riders like Alex Candelario (Jelly Belly-PoolGel), Aaron Olson (Colavita-Sutter Home), and Steven Cozza (U-23 National Team) didn't have teammates but did have the strength to help shatter the field and eventually formed a lead group with Andy Bajadali (Vitamin Cottage), Swindlehurst, and Ben Jacques-Maynes (Kodak Gallery/Sierra Nevada).
Webcor Builders missed the break, but their chase only succeeded in bringing the gap down enough for Nevada City native Jonathan Baker (Pro Peloton) to make a 4-lap effort to bridge.
With Baker on board, the group of seven quickly became six when Swindlehurst attacked with eight laps to go, quickly opened a lead, and locked up the race win after lapping a group containing several Seasilver teammates.
"I'm familiar with the history of this race," Swindlehurst commented, adding "it's a very prestigious race and I'm proud to win here."
Steven Cozza (USA U-23 National Team)
Photo ©: Russ and Nancy Wright

On the final lap, Bajadali's hard tempo on the climb earned him second place in front of Candelario and Cozza, followed by Olson, Baker, and Jacques-Maynes.
In the women's race earlier in the afternoon, Velo Bella was the only team with more than one rider in the front group, and Melodie Metzger's teamwork allowed Barbara Howe to spring free and solo to a comfortable win.
The Olympic Club's Cynthia Mommsen took second in a close sprint with Taitt Sato (Los Gatos Bicycle Racing Club), with Metzger placing fourth.
In the earlier master's race, Team Spine dominated the action, with Mark Caldwell taking the 45+ and Jeff Angermann winning the 35+. Also in the 35+ race, Team Spine's Michael Hutchinson, Michael Hernandez, and Scott Fonseca took second, fourth, and seventh.
Only US elite national champion Chris Walker (Labor Power) broke up the Team Spine sweep with a third place finish. Jonathan Boyer (Time Factory Team), the first American to race in the Tour de France, placed fifth.
Andy Bajadali (Vitamin Cottage)
Photo ©: Russ and Nancy Wright

The Juniors race went to Eric Riggs (Lombardi Sports), who also put in an impressive show by placing 16th in the pro/1/2 race. The Cat 3 winner was Dana Mosman (Central Valley Cycling).
The Nevada City Classic was the second race of the inaugural NCNCA Premier Series, which continues next Sunday, June 26, the with Fidelity Investments Burlingame Criterium.
Photography
For a thumbnail gallery of these images, click here
Images by Russ and Nancy Wright/www.abbiorca.com
Results (provisional)
Men Pro/1/2
 
1 T. Burke Swindlehurst (Team Seasilver)
2 Andy Bajadali (Vitamin Cottage)
3 Alex Candelario (Jelly Belly-PoolGel)
4 Steven Cozza (USA U-23 National Team)
5 Aaron Olson (Colavita-Sutter Home)
6 Jonathan Baker (Pro Peloton)
7 Ben Jacques-Maynes (Kodak Gallery/Sierra Nevada)
 
Women
 
1 Barbara Howe (Velo Bella)
2 Cynthia Mommsen (Olympic Club)
3 Taitt Sato (Los Gatos Bicycle Racing Club)
4 Melodie Metzger (Velo Bella)