46th Nevada City Classic - NE
USA, June 18, 2006
2005 Results Results Past winners
Moninger, Drumm solo winners at Nevada City
By Josh Kadis
Scott Moninger (HealthNet)
Photo ©: Russ and Nancy Wright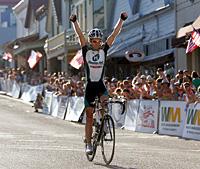 In Sunday's 46th Nevada City Classic, Scott Moninger (Health Net presented by Maxxis) forced the early selections and then rode away from a small group to win in Nevada City for the fourth time in his career.
After the notoriously difficult 1.1-mile course whittled down the field to a group of roughly 20 riders almost instantaneously, Moninger's attack after 30 minutes of the 90-minute race proved to be decisive, and he steadily built a lead while the chase groups splintered behind him.
By the finish, he had lapped all but six other riders.
Behind Moninger, New Zealand national champion Gordon McCauley (Successfulliving.com-Parkpre) took second from Tony Cruz (Toyota-United).
Aaron Olson (Saunier Duval), who made his Grand Tour debut at the Giro d'Italia in May, finished fourth ahead of Andy Jacques-Maynes (Cadence Performance Cycling Centers), 50-year-old cycling legend Ned Overend, and Moninger's teammate Roman Kilun.
Helene Drumm (Proman/Pardigm)
Photo ©: Russ and Nancy Wright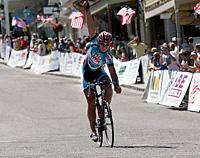 In the women's race, local amateur Helene Drumm (PROMAN/Paradigm) scored an upset over the pros, beating Kim Anderson (T-Mobile) and a trio of Webcor-Platinum riders, Amber Rais, Karen Brems and Cat Malone.
After Moninger and several other racers noted the number of spectators lining the course, race organizer Duane Strawser commented, "This was the best event and the biggest crowd we've had in the last ten years. We're thrilled, and we're already looking ahead to 2007."
Other winners at Nevada City were Aren Timmel (Team Chico) in the Cat 3 men's race, Dan Martin (Safeway/GA Communications) in the Masters 35+ field and Larry Nolan (Discovery Channel Masters) in the 45+ race.
The juniors races, part of the Lance Armstrong Junior Olympic Race Series, went to Micah Herman (Alta Alpina) for 17-18 boys, Taylor Kuphaldt (Team Spine) for 15-16, Davis Bentley (Team Swift) in the 13-14 age group and Joseph Oliveri (EMC/Vellum) for 10-12.
The 46th Nevada City Classic was the fourth of nine races in the Northern California/Nevada Cycling Association's 2006 NCNCA Premier Series, which continues on Sunday with the Fidelity Investments Burlingame Criterium presented by NAIBT Commercial.
Photography
For a thumbnail gallery of these images, click here
Images by Russ and Nancy Wright/www.abbiorca.com
Results
Pro/Cat 1/2 Men  
  
1 Scott Moninger (Health Net Presented By Maxxis)
2 Gordon Mccauley (Successfulliving)
3 Tony Cruz (Toyota-United Pro Cycling Team)
4 Aaron Olson (Saunier Duval Pro Cycling Team)
5 Andy Jacques-Maynes (Cadence Performance Cycling Centers)
6 Edmund Overend (N/A)
7 Roman Kilun (Health Net Presented By Maxxis)
8 Andres Gil (Pacific State Bank/Anderson Homes)
9 Christian Kearney (Rhvilla/Montano Velo)
10 Drew Miller (Successfulliving)
11 Adam Livingston (Team Sucessful)
12 Kayle Leogrande (La Grange)
13 Shane Peltonen (Eclipse Racing)
14 Jesse Moore (Davis Bike Club)
15 Jonathan Baker (Vitamin Cottage Cycling Team)
16 Eric Riggs (Lombardi Sports/Klein)
17 Adam Switters (Lombardi Sports/650 Racing)
18 Stephan Dey (Davis Bike Club)
19 Matthew Willinger (Cal Giant /Village Peddler)
20 Skylor Bishop (Kodak Gallery/Sierra Nevada Cycling)
21 Reny Townsend (Etna Brewing/Desalvo Cycles)
22 Todd Hennings (Pacific State Bank / Anderson Homes)
23 Daniel Ramsey (Successfulliving)
24 Bob Newman (Pacific State Bank / Anderson Homes)
25 Dan Sweet (Davis Bike Club)
26 Micheal Hernay (Safeway / Ga Communications)
27 Joesph Pinkirton (Vitamin Cottage Cycling Team)
28 Matt Ream (Reno Wheelmen)
29 Doran Mori (Solano Avenue/Soule Cycling)
30 Mike Margraf (Webcor / Alto Velo)
31 Joshua Snead (Rhvilla.Com/Montanovelo)
  
Women  
  
1 Helene Drumm (Proman/Paradigm)
2 Kim Anderson (T-Mobile)
3 Amber Rais (Webcor-Platinum)
4 Karen Brems (Webcor-Platinum)
5 Cat Malone (Webcor-Platinum)
6 Cynthia Corroll (Mcguire Cycling Team)
7 Stella Carey (Kelly)
8 Kristin Drumm (Proman/Paradigm)
9 Shelley Olds (Proman/Paradigm)
10 Jenni Tafya (Pabw Powered By Tibco)
11 Sarah Kerlin (Velo Bella)
12 Maria Monica (Mcguire Cycling Team)
13 Brianne Burgess (Pabw Powered By Tibco)
14 Molly Van Houweling (Metromint Cycling)
15 Ginger Buller (Newman's Own)
16 Sarah Maile (University Of Montana)
17 Marian Jamison (N/A)
18 Lauren Tompkins (Easton Specialized)
19 Jamie Crawford (Pabw Powered By Tibco)
20 Erin Dunn (Alto Velo/Webcor)
21 Amy Mcguire (Metromint Cycling)
22 Lindsay Segbetrs (Nor Cal Velo)
23 Natasha Perry (Santa Cruz Spokesman)
24 Peggy Prendergast (Alto Velo)
  
Cat. 3 Men  
  
1 Aren Timmel (Team Chico)
2 Jonz Norine (Owens Healthcare)
3 Jason Walker (Therapeutic Associates)
4 David Yakaitis (Motionbased/Garmin)
5 Christopher Coble (Ffbc)
6 Peter Dinolfo (Webcor/Alto Velo)
7 David Vuilleumier (Davis Bike Club)
8 Jason King (Team Spine)
9 Chad Timmerman (Reno Wheelmen)
10 Paul Carter (Pegasus Bicycle Works / Allegiant Air)
11 Vincent Owens (Central Valley Cycling)
12 Peter Graf (N/A)
13 Jonathan Carlson (Metromint Cycling)
14 Jmes Allen (Steve Larsen's Wheelworks)
15 Julian Martinez (Tieni Duro)
16 Ryan Parnes (Sawtooth Velo)
17 Rick Bradley (Rio Strada)
  
Junior Men  
  
1 Josef Nygaard (Team Swift)
2 Joseph Oliveri (Emc/ Vellum)
1 Davis Bentley (Team Swift)
2 James Laberge (Gs Lombardi Sports)
3 Cody Kaiser (Team Spine)
4 Cody Tapley (Davis Bike Club)
5 Andrew Jr. Lanier (San Jose Bicycle Club)
1 Taylor Kuphaldt (Team Spine)
2 Jeremy Ferguson (N/A)
3 Tyler Brandt (Team Swift)
4 Ethan Weiss (Team Swift)
5 Nate Byrom (X-Men)
6 Dylan Clark (Radsport Cycling Team)
7 Chris Stastny (Davis Bike Club)
8 Brandon Fischmann (Alta Alpina Cycling Club)
1 Micah Herman (Alta Alpina)
2 Trevor Thompson (Team Spine)
3 Collin Samaan (Team Spine)
4 Alejandro Martinez (California Giant)
5 Tyler Gough (Tieni Duro)
6 Joe Trujillo (Team Spine)
7 Nicholas Jerabek (Tieni Duro)
8 Josha Olmstead (Team Spine)
9 Brandon Castillo (Team Spine)
10 Fabiendior Heinz (Alta Alpina)
11 Heath Medeiros (Alta Alpina)
12 Luke Ramseth (Sierra Express)
13 Mike Runa (Alta Alpina)
  
Master Men 35+  
  
1 Dan Martin (Safeway/G.A. Comm)
2 Jeff Angermann (Team Spine)
3 Brian Bosch (Central Valley Cycling)
4 Nathan Parks (Emc/Vellum Cycles)
5 Rich Thurman (Unattached)
6 Eric Easterling (Central Valley Cycling)
7 Jeff Caton (Crc/Hill And Co.)
8 Dominic Giampaolo (Webcor/Altovelo)
9 Kyle Glerum (Safeway/G.A. Communications)
10 Craig Roemer (Team Clover)
11 Gerald Roberts (Alcal)
12 Joe Oliveri (Emc/ Vellum)
13 Dean Peters (Safeway/Ga Communications)
14 Mitchell Hutchinson (Team Spine)
15 Rich Maile (Short Bus Racing)
16 Jason Dunlap (Sierra Express)
17 Mark Sasser (Central Valley Cycling)
18 Ron Castia (Emc/Vellum Cycles)
19 Kenny Burt (Unattached)
20 Chuch Ross (Sierra Express)
21 Monte Boyle (Ritchey/Fuji)
22 John Fairbanks (Team Sacramento)
23 Daryl Spano (San Jose Bicycle Club)
24 Max Mack (Unattached)
25 Andrew Nevitt (San Jose Bicycle Club)
26 Rodger Marquis (Team Spine)
27 Aaron Hunter (San Jose Bicycle Club)
28 Gustavo Gomez (Alto Velo)
29 Charles Pockell-Wilson (Morgan Stanley/24/Specialized)
30 Carlos Casillas (Davis Bike Club)
31 Michael Rowe (Easton-Specialized)
32 Bluise Mahes (Unattached)
33 Manuel Prado (International Christian Cycling Club)
34 Andrew Hardardt (Peninsula Velo/Kondra Systems)
35 Wayne Solomon (Central Valley Cycling)
36 Peter Krogh (Unattached)
  
Master Men 45+  
  
1 Larry Nolan (Discovery Channel/Masters Cycling Team)
2 Henry Kramer (Unattached)
3 Patrick Tafoya (Safeway/Ga Communications)
4 Ken Watkins (Team Clover)
5 Craig Lindberg (Sierra Express/Tonc)
6 Bubba Melcher (Team Clover)
7 Thomas Coulter (Rio Strada Racing)
8 Ted Thomas (Unattached)
9 Larry Hampson (Newman's Own Organics)
10 Norm Kreiss (Team Clif Bar)
11 Larry Broberg (Unattached)
12 Don Sheff (Unattached)
13 Philip Hankins (Team City)
14 Rick Kalb (Sierra Express/Tonc)
15 John Seivert (Sacramento Golden Wheelmen)
16 Will Hansen (University Of Montana)


Past winners


     Men                                        Women
2005 T. Burke Swindlehurst (Team Seasilver)     Barbara Howe (Velo Bella)