72nd Giro del Lazio - 1.HC
Italy, August 5, 2006
2005 Results Results Past winners
Figueras flies to Giro del Lazio win
By Tim Maloney, European Editor
Giuliano Figueras (Lampre-Fondital)
Photo ©: Sirotti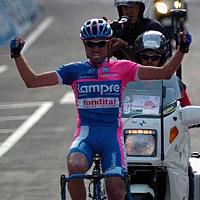 Lampre-Fondital's Giuliano Figueras was victorious in the 72nd Giro del Lazio today in Rocca Priora. Figueras attacked from a group of 17 riders with three kilometres to go on the final ascent and his fellow Lampre rider Damiano Cunego was the perfect team-mate as he defended the Figueras' lead from the other chasing riders. 30 year-old Figueras, who was 1997 U23 World Champ and is in his eighth pro season, took his 14th career victory today.
How it unfolded
Under a beautiful clear cielo azzuro, the 72nd edition of the Giro del Lazio started in Zagarolo, south of Rome in the Province of Frosinone. The race headed northwest across the Prenestini hills, then through the beautiful Castelli Romani rolling hills south of Rome, before finishing in Rocca Priora.
104 riders started the 196km race at 11:12 and 2005 Giro del Lazio winner Filippo Pozatto's Quick.Step team didn't send a squad to defend the Italian talent's title in what was a race with only Italian teams for the 2006 edition. Principal climbs of the day for the GPM were Ponti Doganella after 146.7km (528 metres) and the ascent to Rocca di Papa via the climb of Campi di Annibale after 183.9km (755 metres).
Damiano Cunego (Lampre-Fondital)
Photo ©: Sirotti

With 42km to go, three riders were away before the day's second GPM to Campi di Annibale - Cuccinotta (Tenax-Salmilano), Marinangeli (Naturino) and Milram milkman Dyudya. 1'25" behind was the main gruppo and on the ascent, it was Lampre-Fondital's Giuliano Figueras on the attack to try and blow the race apart for his leader Cunego, followed by Tonti and Nocentini (Acqua & Sapone), Cunego, Giordani (Naturino) and Anza (Selle Italia), while Liquigas-Bianchi was forced to make chase for Paolini and Garzelli.
At 25km to go, a big group of 21 riders had formed up front, with five Naturino riders including local lad Giordani, Garzelli and Paolini (Liquigas-Bianchi), Lele Sella and Luca Mazzanti, Cunego, Figueras and Comesso (Lampre-Fondital), Arkyeev and Tonti (Acqua & Sapone), Team Milram's Celestino and Visconti, Selle Italia's Anza and Missaglia (Selle Italia), and Bossoni (Tenax-Salmilano). On the Cappuccini climb a few clicks later, Cunego went on the attack but he was covered closely and didn't get much of a gap.
With 20km to race, 1999 World U23 champ Leo Giordani counter-attacked strongly and the long, lean Roman, who knew the local roads like a plate of penne arrabiata, had grabbed a 20" lead over the chasers as he pounded through the vineyards of Frascati before the penultimate ascent of the day up the Rocca Priora climb to 729m. Milram's Visconti and Lampre-Fondital's Toto "Cannonball" Commesso were chasing at the front of the 22 chasers and at the summit of Rocca Priora, the Roman rider just had an 10" lead with 6km to race.
The podium
Photo ©: Sirotti

Once Giordani was reeled in, his team-mate Ratti tried a classic counter move, but it was nothing doing for the other Naturino man as Panaria's Sella quickly covered his move. With 4km to go, the road turned right and began to ascend again as GP Camaiore winner Paolini hit the front to give a hand to Garzelli. Suddenly, Figueras attacked as he had on the ascent of Campi di Annibale and got a good gap of 100m. Figueras was in good form as he had recently won a stage at the Brixia Tour, but his move was designed to help Cunego sit back and let the others bring him back.
As the final climb to Rocca Priora entered a thick forest with 3km to race, Figueras was powering away with 100m lead and it was Selle Italia riders Missaglia and Anza who were trying to bring him back with 2km to go. Cunego was riding like a stopper as Figueras continued to gain ground. Under the 1km kite, Figueras was flying and his 10" lead had doubled. 15" later, it was Cunego who took second place to make it one-two for the Lampre-Fondital squad, with Panaria's Sella outsprinting Bossoni for third.
Photography
For a thumbnail gallery of these images, click here
Images by Fotoreporter Sirotti
Results - 196.0 km

1 Giuliano Figueras (Ita) Lampre - Fondital                  5.12.14
2 Damiano Cunego (Ita) Lampre - Fondital                        0.20
3 Emanuele Sella (Ita) Ceramica Panaria - Navigare                  
4 Paolo Bossoni (Ita) Team Tenax - Salmilano                        
5 Stefano Garzelli (Ita) Liquigas                                   
6 Mirko Celestino (Ita) Team Milram                                 
7 Santo Anza (Ita) Selle Italia - Diquigiovanni                     
8 Giuseppe Muraglia (Ita) Team L.P.R.                           0.24
9 Alexandr Arekeev (Rus) Acqua & Sapone - Caffe' Mokambo        0.32
10 Andrea Tonti (Ita) Acqua & Sapone - Caffe' Mokambo               
11 Domenico Quagliarella (Ita) Ceramica Flaminia                0.38
12 Cristian Gasperoni (Ita) Naturino-Sapore Di Mare             0.40
13 Eddy Ratti (Ita) Naturino-Sapore Di Mare                     0.42
14 Andrea Masciarelli (Ita) Acqua & Sapone - Caffe' Mokambo     0.47
15 Gabriele Missaglia (Ita) Selle Italia - Diquigiovanni        0.50
16 Massimiliano Gentili (Ita) Naturino-Sapore Di Mare           1.22
17 Daniele De Paoli (Ita) Team L.P.R.                           2.54
18 Luca Paolini (Ita) Liquigas                                      
19 Luca Mazzanti (Ita) Ceramica Panaria - Navigare                  
20 Valerio Agnoli (Ita) Naturino-Sapore Di Mare                 3.20
21 Leonardo Giordani (Ita) Naturino-Sapore Di Mare              3.54
22 Salvatore Commesso (Ita) Lampre - Fondital                   5.07
23 Giovanni Visconti (Ita) Team Milram                              
24 Gabriele Bosisio (Ita) Team Tenax - Salmilano                5.11
25 Rigoberto Uran (Col) Team Tenax - Salmilano                      
26 Raffaele Ferrara (Ita) Team 3C Casalinghi Jet Androni        5.51
27 Sergio Marinangeli (Ita) Naturino-Sapore Di Mare             9.05
28 Roberto Petito (Ita) Team Tenax - Salmilano                      
29 Luis Felipe Laverde Jimenez (Col) Ceramica Panaria - Navigare    
30 Massimo Giunti (Ita) Naturino-Sapore Di Mare                     
31 Krzysztof Szczawinski (Pol) Ceramica Flaminia                    
32 Fabio Sabatini (Ita) Team Milram                                 
33 Alessandro Bertuola (Ita) Team Tenax - Salmilano                 
34 Alessandro Bertolini (Ita) Selle Italia - Diquigiovanni          
35 Sergio Barbero (Ita) Selle Italia - Diquigiovanni                
36 Branislav Samoilav (Blr) Acqua & Sapone - Caffe' Mokambo         
37 Antonio Quadranti (Ita) Naturino-Sapore Di Mare                  
38 Ruslan Pidgornyy (Ukr) Team Tenax - Salmilano                    
39 Manuele Spadi (Ita) Ceramica Flaminia                            
40 Alessandro Spezialetti (Ita) Liquigas                            
41 Andriy Grivko (Ukr) Team Milram                              9.50
42 Carlos José Ochoa VEN Team L.P.R.                           13.28
43 Miguel Angel Rubiano Chavez (Col) Ceramica Panaria - Navigare    
44 Giuseppe Di Grande (Ita) Miche                                   
45 Daniele Pietropolli (Ita) Team Tenax - Salmilano                 
46 Paolo Valoti (Ita) Team L.P.R.                                   
47 Marco Velo (Ita) Team Milram                                     
48 Giancarlo Ginestri (Ita) Team Tenax - Salmilano                  
49 Przemyslaw Niemiec (Pol) Miche                                   
50 Paolo Tiralongo (Ita) Lampre - Fondital                          
51 Danilo Di Luca (Ita) Liquigas                                    
52 Luca Ascani (Ita) Naturino-Sapore Di Mare                        
53 Enrico Gasparotto (Ita) Liquigas                                 
54 Andrea Pagoto (Ita) Ceramica Panaria - Navigare                  
55 Giairo Ermeti (Ita) Team L.P.R.                             15.39
56 Elia Rigotto (Ita) Team Milram                                   
57 Carlo Scognamiglio (Ita) Team Milram                             
58 Niklas Axelsson (Swe) Selle Italia - Diquigiovanni               
59 Philippe Schnyder (Swi) Selle Italia - Diquigiovanni             
60 Rinaldo Nocentini (Ita) Acqua & Sapone - Caffe' Mokambo          
61 Stefano Cavallari (Ita) Acqua & Sapone - Caffe' Mokambo          
62 Michele Gobbi (Ita) Team Milram                                  
63 Claudio Cucinotta (Ita) Team Tenax - Salmilano                   
64 Volodymyr Dyudya (Ukr) Team Milram                               

Past Winners
2005 Filippo Pozzato (Ita) Quick Step                210 kms in 5.04.59
2004 Juan Antonio Flecha Giannoni (Spa) Fassa Bortolo 
2003 Michele Bartoli (Ita) Fassa Bortolo               
2002 Paolo Bettini (Ita) Mapei-Quick Step
2001 Massimo Donati (Ita) Tacconi Sport - Vini Caldirola
2000 Max Sciandri (Gbr)
1999 Sergio Barbero (Ita)
1998 Andrea Tafi (Ita)
1997 Alessandro Baronti (Ita)
1996 Andrea Tafi (Ita)
1995 Pascal Richard (Swi)
1994 Maurizio Fondriest (Ita)
1993 Pascal Richard (Swi)
1992 Gianni Bugno (Ita)
1991 Andrea Tafi (Ita)
1990 Maurizio Fondriest (Ita)
1989 Charly Mottet (Fra)
1988 Charly Mottet (Fra)
1987 Roberto Pagnin (Ita)
1986 Urs Zimmermann (Swi)
1985 Bruno Leali (Ita)
1984 Francesco Moser (Ita)
1983 Silvano Contini (Ita)
1982 Dag-Erik Pedersen (Ned)
1981 Gianbattista Baronchelli (Ita)
1980 Bernt Johansson (Swe)
1979 Silvano Contini (Ita)
1978 Francesco Moser (Ita)
1977 Francesco Moser (Ita)
1976 Roger De Vlaeminck (Bel)
1975 Roger De Vlaeminck (Bel)
1974 Roberto Poggiali (Ita)
1973 Giovanni Battaglin (Ita)
1972 Martin Van den Bossche (Bel)
1971 Franco Mori (Ita)
1970 Michele Dancelli (Ita)
1969 Falviano Vicentini (Ita)
1968 Giancarlo Polidori (Ita)
1967 Felice Gimondi (Ita)
1966 Michele Dancelli (Ita)
1965 Franco Bitossi (Ita)
1964 Bruno Mealli (Ita)
1963 Adriano Durante (Ita)
1962 Nino Defilippis (Ita)
1961 Bruno Mealli (Ita)
1960 Giuseppe Fallarini (Ita)
1959 Diego Ronchini (Ita)
1958 Nino Defilippis (Ita)
1957 Ercole Baldini (Ita)
1956 Fiorenzo Magni (Ita)
1955 Loretto Petrucci (Ita)
1954 Angelo Conterno (Ita)
1953 Giorgio Albani (Ita)
1952 Dante Rivola (Ita)
1951 Fiorenzo Magni (Ita)
1950 Annibal Brasola (Ita)
1949 Virgilio Salimbeni (Ita)
1948 Pitro Giudici (Ita) and Ugo Tognarelli (Ita)
1947 Michele Motta (Ita)
1946 Zoarino Guidi (Ita)
1945 Gino Bartali (Ita)
1943 Quirino Tocaccelli (Ita)
1942 Osvaldo Bailo (Ita)
1941 Adolfo Leoni (Ita)
1940 Gino Bartali (Ita)
1939 Mario Vicini (Ita)
1938 Cesare Del Cancia (Ita)
1937 Gino Bartali (Ita)
1936 Rinaldi Gerini (Ita)
1935 Giuseppe Martano (Ita)
1934 Renato Scorticati (Ita)
1933 Giovanni Valetti (Ita)
 
Past winners by Mario Stiehl, www.world-of-cycling.com