71st Giro del Lazio - 1.HC
Italy, August 6, 2005
2004 Results Results Past winners
Pozzato makes it two
Filippo Pozzato (Quick.Step)
Photo ©: Sirotti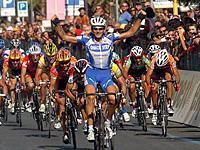 Following his victory last Sunday in the HEW Cyclassics-Hamburg, Filippo Pozzato (Quick.Step) has won the 71st Giro del Lazio. He beat Murilo Fischer (Naturino-Sapore di Mare) and Krzysztof Szczawinski (Ceramica Flaminia) in the final bunch sprint.
"This is an important win for me as it shows I've been able to find a certain winning consistency," said Pozzato. "This morning both [Luca] Paolini and I decided that this race was going to be ours, but unfortunately he had to pull out of the race due to breathing problems. At around about 30 kilometres from the finish, Bettini pulled up alongside me telling me to rest assured that the team was ready to bring me up to the final sprint. When a champion such as Paolo is close to you and believes in you, everything becomes a lot easier.
"I want to dedicate this victory to the team and to all of the people that have been close to me during the last few months, months were I have done a lot of work but gained little. These wins are for them."
Filippo Pozzato will now race the Clasica San Sebastian followed by the Deutschland Tour. "Maybe the Clasica San Sebastian is a bit too tough for me, but I think time has come for me to prove myself also in this kind of race."
Photography
For a thumbnail gallery of these images, click here
Images by Fotoreporter Sirotti
Results - 210 km
1 Filippo Pozzato (Ita) Quick Step                                   5.04.59 (41.31 km/h)
2 Murilo Fischer (Bra) Naturino-Sapore di Mare                              
3 Krzysztof Szczawinski (Pol) Ceramica Flaminia                             
4 Danilo Di Luca (Ita) Liquigas-Bianchi                                     
5 Maxim Iglinskiy (Kaz) Domina Vacanze                                      
6 Stefano Garzelli (Ita) Liquigas-Bianchi                                   
7 Fortunato Baliani (Ita) Ceramica Panaria-Navigare                         
8 Massimiliano Mori (Ita) Naturino-Sapore di Mare                           
9 Rinaldo Nocentini (Ita) Acqua & Sapone-Adria Mobil                        
10 Giuseppe Muraglia (Ita) Team L.P.R.                                      
11 Manuele Spadi (Ita) Ceramica Flaminia                                    
12 Fabio Borghesi (Ita) Miche                                               
13 Paolo Bailetti (Ita) Team Androni Giocattoli-3C Casalinghi               
14 Raffaele Illiano (Ita) Colombia-Selle Italia                             
15 Bo Hamburger (Den) Acqua & Sapone-Adria Mobil                            
16 Philippe Schnyder (Swi) Colombia-Selle Italia                            
17 Blazej Janiaczyk (Pol) Team Androni Giocattoli-3C Casalinghi             
18 Simone Masciarelli (Ita) Acqua & Sapone-Adria Mobil                      
19 Matej Jurco (Svk) Domina Vacanze                                         
20 Massimo Giunti (Ita) Fassa Bortolo                                       
21 Paolo Valoti (Ita) Domina Vacanze                                        
22 Francisco J Vila Errandonea (Spa) Lampre-Caffita                         
23 Marco Gili (Ita) Colombia-Selle Italia                                   
24 David Mcpartland (Aus) Tenax-Nobili Rubinetterie                         
25 Pavel Tonkov (Rus) Team L.P.R.                                           
26 Salvatore Commesso (Ita) Lampre-Caffita                                  
27 Giuliano Figueras (Ita) Lampre-Caffita                                   
28 Luca Mazzanti (Ita) Ceramica Panaria-Navigare                            
29 Kjell Carlstr÷m (Fin) Liquigas-Bianchi                                   
30 Giancarlo Ginestri (Ita) Tenax-Nobili Rubinetterie                       
31 Oscar Mason (Ita) Liquigas-Bianchi                                       
32 Massimiliano Gentili (Ita) Naturino-Sapore di Mare                   0.13
33 Serhiy Honchar (Ukr) Domina Vacanze                                      
34 Andrea Tonti (Ita) Lampre-Caffita                                    0.17
35 Andrea Masciarelli (Ita) Acqua & Sapone-Adria Mobil                      
36 Massimo Iannetti (Ita) Naturino-Sapore di Mare                           
37 Massimo Mazzanti (Ita) Team Androni Giocattoli-3C Casalinghi             
38 Valerio Agnoli (Ita) Naturino-Sapore di Mare                             
39 Christian Murro (Ita) Tenax-Nobili Rubinetterie                          
40 Damiano Cunego (Ita) Lampre-Caffita                                      
41 Volodymir Gustov (Ukr) Fassa Bortolo                                 0.21
42 Vincenzo Nibali (Ita) Fassa Bortolo                                      
43 Ruslan Pidgornyy (Ukr) Tenax-Nobili Rubinetterie                         
44 Emanuele Sella (Ita) Ceramica Panaria-Navigare                           
45 Luis Felipe Laverde Jimenez (Col) Ceramica Panaria-Navigare              
46 Paolo Tiralongo (Ita) Ceramica Panaria-Navigare                          
47 Domenico Pozzovivo (Ita) Ceramica Panaria-Navigare                       
48 Giovanni Visconti (Ita) Domina Vacanze                                   
49 Lorenzo Bernucci (Ita) Fassa Bortolo                                     
50 David John Betts (Aus) Tenax-Nobili Rubinetterie                         
51 Mauro Facci (Ita) Fassa Bortolo                                          
52 Daniele De Paoli (Ita) Team L.P.R.                                   0.31
53 Alessandro Spezialetti (Ita) Lampre-Caffita                          0.38
54 Davide Bramati (Ita) Quick Step                                          
55 Pasquale Muto (Ita) Miche                                                
56 Paolo Bettini (Ita) Quick Step                                           
57 Ivan Degasperi (Ita) Team L.P.R.                                         
58 Sergio Ghisalberti (Ita) Domina Vacanze                              2.15
59 Claudio Astolfi (Ita) Acqua & Sapone-Adria Mobil                         
60 Andrea Noe' (Ita) Liquigas-Bianchi                                       
61 Fabian Cancellara (Swi) Fassa Bortolo                                    
62 Francesco Failli (Ita) Naturino-Sapore di Mare                           
63 Morris Possoni (Ita) Lampre-Caffita                                      
64 Daniele Masolino (Ita) Team L.P.R.                                   2.32
65 Massimo Amichetti (Ita) Miche                                            
66 Massimiliano Martella (Ita) Ceramica Flaminia                            
67 Konstantin Klyuev (Rus) Team Androni Giocattoli-3C Casalinghi            
68 Franco Pellizotti (Ita) Liquigas-Bianchi                                 
69 Dario David Cioni (Ita) Liquigas-Bianchi                                 
70 Cristian Gasperoni (Ita) Naturino-Sapore di Mare                         
71 Nicola Scattolin (Ita) Team Androni Giocattoli-3C Casalinghi             
72 Timothy Jones (Zim) Tenax-Nobili Rubinetterie                            
73 Devis Miorin (Ita) Liquigas-Bianchi                                      
74 Przemyslaw Niemec (Pol) Miche                                        3.50
75 Antonio Quadranti (Ita) Naturino-Sapore di Mare                          
76 Maurizio Varini (Ita) Ceramica Flaminia                                  
DNF Alexandr Arekeev (Rus) Acqua & Sapone-Adria Mobil                       
DNF Alessandro Donati (Ita) Acqua & Sapone-Adria Mobil                      
DNF Leonardo Moser (Ita) Acqua & Sapone-Adria Mobil                         
DNF Andrea Rossi (Ita) Acqua & Sapone-Adria Mobil                           
DNF Marco Osella (Ita) Team Androni Giocattoli-3C Casalinghi                
DNF Marco Marcato (Ita) Team Androni Giocattoli-3C Casalinghi               
DNF Juan Pablo Magallanes A. (Mex) Team Androni Giocattoli-3C Casalinghi    
DNF Fabio Boccialoni (Ita) Ceramica Flaminia                                
DNF Daniele Migliorati (Ita) Ceramica Flaminia                              
DNF Kirill Golubev (Rus) Ceramica Flaminia                                  
DNF Stefano Guerrini (Ita) Ceramica Flaminia                                
DNF Salvatore Tribisonna (Ita) Ceramica Flaminia                            
DNF Guido Trombetta (Ita) Ceramica Flaminia                                 
DNF Julio Alberto Perez Cuapio (Mex) Ceramica Panaria-Navigare              
DNF Volodymyr Zagarodnj (Ukr) Domina Vacanze                                
DNF Fabio Sacchi (Ita) Fassa Bortolo                                        
DNF Matteo Tosatto (Ita) Fassa Bortolo                                      
DNF Eddy Mazzoleni (Ita) Lampre-Caffita                                     
DNF Matteo Bono (Ita) Lampre-Caffita                                        
DNF Charles Wegelius (GBr) Liquigas-Bianchi                                 
DNF Leonardo Caneschi (Ita) Miche                                           
DNF Maurizio Carta (Ita) Miche                                              
DNF Antonio D'aniello (Ita) Miche                                           
DNF Giairo Ermeti (Ita) Miche                                               
DNF Manuel Mattiuz (Ita) Miche                                              
DNF Alberto Tacconi (Ita) Miche                                             
DNF Luca Ascani (Ita) Naturino-Sapore di Mare                               
DNF Filippo Simeoni (Ita) Naturino-Sapore di Mare                           
DNF Luca Paolini (Ita) Quick Step                                           
DNF Stefano Zanini (Ita) Quick Step                                         
DNF Davide Vigano' (Ita) Quick Step                                         
DNF Ivan Santaromita (Ita) Quick Step                                       
DNF Mads Christensen (Den) Quick Step                                       
DNF Leonardo Scarselli (Ita) Colombia-Selle Italia                          
DNF Mariano Giallorenzo (Ita) Colombia-Selle Italia                         
DNF Trent Wilson (Aus) Colombia-Selle Italia                                
DNF Alberto Tiberio (Swi) Team L.P.R.                                       
DNF Daniele Contrini (Ita) Team L.P.R.                                      
DNF Dmitri Konyshev (Rus) Team L.P.R.                                       
DNF Ivan Fanelli (Ita) Team L.P.R.                                          
DNF Mikhaylo Khalilov (Ukr) Team L.P.R.                                     
DNF Gabriele Bosisio (Ita) Tenax-Nobili Rubinetterie                        



Past winners
2004 Juan Antonio Flecha Giannoni (Spa) Fassa Bortolo 
2003 Michele Bartoli (Ita) Fassa Bortolo               
2002 Paolo Bettini (Ita) Mapei-Quick Step
2001 Massimo Donati (Ita) Tacconi Sport - Vini Caldirola
2000 Max Sciandri (Gbr)
1999 Sergio Barbero (Ita)
1998 Andrea Tafi (Ita)
1997 Alessandro Baronti (Ita)
1996 Andrea Tafi (Ita)
1995 Pascal Richard (Swi)
1994 Maurizio Fondriest (Ita)
1993 Pascal Richard (Swi)
1992 Gianni Bugno (Ita)
1991 Andrea Tafi (Ita)
1990 Maurizio Fondriest (Ita)
1989 Charly Mottet (Fra)
1988 Charly Mottet (Fra)
1987 Roberto Pagnin (Ita)
1986 Urs Zimmermann (Swi)
1985 Bruno Leali (Ita)
1984 Francesco Moser (Ita)
1983 Silvano Contini (Ita)
1982 Dag-Erik Pedersen (Ned)
1981 Gianbattista Baronchelli (Ita)
1980 Bernt Johansson (Swe)
1979 Silvano Contini (Ita)
1978 Francesco Moser (Ita)
1977 Francesco Moser (Ita)
1976 Roger De Vlaeminck (Bel)
1975 Roger De Vlaeminck (Bel)
1974 Roberto Poggiali (Ita)
1973 Giovanni Battaglin (Ita)
1972 Martin Van den Bossche (Bel)
1971 Franco Mori (Ita)
1970 Michele Dancelli (Ita)
1969 Falviano Vicentini (Ita)
1968 Giancarlo Polidori (Ita)
1967 Felice Gimondi (Ita)
1966 Michele Dancelli (Ita)
1965 Franco Bitossi (Ita)
1964 Bruno Mealli (Ita)
1963 Adriano Durante (Ita)
1962 Nino Defilippis (Ita)
1961 Bruno Mealli (Ita)
1960 Giuseppe Fallarini (Ita)
1959 Diego Ronchini (Ita)
1958 Nino Defilippis (Ita)
1957 Ercole Baldini (Ita)
1956 Fiorenzo Magni (Ita)
1955 Loretto Petrucci (Ita)
1954 Angelo Conterno (Ita)
1953 Giorgio Albani (Ita)
1952 Dante Rivola (Ita)
1951 Fiorenzo Magni (Ita)
1950 Annibal Brasola (Ita)
1949 Virgilio Salimbeni (Ita)
1948 Pitro Giudici (Ita) and Ugo Tognarelli (Ita)
1947 Michele Motta (Ita)
1946 Zoarino Guidi (Ita)
1945 Gino Bartali (Ita)
1943 Quirino Tocaccelli (Ita)
1942 Osvaldo Bailo (Ita)
1941 Adolfo Leoni (Ita)
1940 Gino Bartali (Ita)
1939 Mario Vicini (Ita)
1938 Cesare Del Cancia (Ita)
1937 Gino Bartali (Ita)
1936 Rinaldi Gerini (Ita)
1935 Giuseppe Martano (Ita)
1934 Renato Scorticati (Ita)
1933 Giovanni Valetti (Ita)


Past winners by Mario Stiehl, www.world-of-cycling.com