Univest Grand Prix - NE
Souderton, Pennsylvania, USA, September 17, 2005
2004 Results Results Past winners Univest GP Criterium
Heredia wins 8th annual Univest GP
Domincan amateur first UGP victor from Central America
Melito Heredia celebrates
Photo ©: Koqui Fung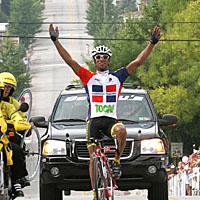 Melito Heredia of the Dominican Republic/Toga Bike team crossed the finish line alone to win the 2005 Univest Grand Prix road race. Heredia, who works forty hours a week in a New York City bicycle shop, went out on the attack early in the 100-mile event and shed his breakaway companions with 21 miles remaining.
After besting an elite breakaway of 12 riders from Poland, France, Germany with a large contingent of Americans, Heredia commented that " the level of competition at Univest is very high. "I was familiar with the international style of racing from races that I did with the Dominican National team but this was very difficult." Heredia becomes the first rider from Central America to win the UGP after outlasting a concerted chase mounted by eventual second place getter Alvaro Targuedila (UPMC-ACT) of Uruguay and Rhode Island's Amos Brumble (CCB/Volkswagon/Time) who finished third and was the first American.
Heredia was active all day, setting out with 20 other riders in the decisive move that escaped the 120 rider strong field just 15-miles into the 60-mile opening circuit through Montgomery county. Speaking about his aggressive tactics, attacking the remnants of the original 20-man split with seven laps of the three mile finishing circuit remaining, Heredia said that he "didn't want to miss out on an opportunity. When I felt good, I attacked. My legs were cramping with two laps to go but I was motivated because it would be a long ride home if I didn't win."
Dan Bowman (TIAA-CREF) of Durango, CO, worked hard in the winning breakaway and was rewarded with the Clemens Family Markets Young Rider Award given to the top rider who is under the age of 23. Bowman, who just returned to the United States after racing in the Tour de l'Avenir (U26 Tour de France) compared the competition in Pennsylvania to that in Europe favorably saying that "coming back from the Avenir, I expected the racing in America to be a bit easier, but this surprised me. The more events that there are like this in the States, the better we're going to do in Europe."
Photography
For a thumbnail gallery of these images, click here
Images by Koqui Fung
Images by Marco Quezada/www.marcoquezada.com
Results

Pro Men road race
 
1 Melito Heredia (GS Gotham/Toga)                    3.52.44
2 Alvaro Tardaguila (UPMC-ACT)                          0.49
3 Amos Brumble (CCB/Volkswagen/Time)                    0.53
4 Krzysztof Mermer (Poland/Doylestown Hospital)         0.59
5 Anthony Colby (TARGETRAINING)                             
6 Dan Greenfield (Louis Garneau)                        1.00
7 Dan Bowman (TIAA-CREF)                                    
8 Garrett Peltonen (Advantage Benefits-Endeavour)       1.01
9 Gregor Willwohl (Germany/Etta Mae's Antiques)         1.22
10 Bobby Lea (Northwestern Mortgage/FUJI)                   
11 Frank Pipp (Advantage Benefits-Endeavour)            1.33
12 Dawid Krupa (Poland/Doylestown Hospital)             1.34
13 Wendy Cruz (UPMC-ACT)                                    
14 Tom Peterson (Broadmark Capital)                         
15 Maikel Paas (Holland/Yum Yum Bake Shops-Wolf)            
16 Michael Norton (Team Nerac.com)                          
17 Chad Hartley (TIAA-CREF)                             1.35
18 Mike Lange (TIAA-CREF)                               1.55
19 Scott Zwizanski (Kodak Gallery/Sierra Nevada)        2.39
20 Edward Brignole (LSV/Kelly Benefit Strategies)       2.43
21 Predrag Prokic (Serbia/Aerospace Engineering)        2.44
22 David Guttenplan (AG Edwards-Roswell Velo)           2.46
23 Peter Morse (Century Road Club Association)              
24 Ward Solar (Team Cobblestone)                            
25 Maxime Vives (National SG/Espoirs Laval)             2.47
26 Jenning Huizenga (Holland/Yum Yum Bake Shops-Wolf)       
27 Tadeusz Korzeniewski (Poland/Doylestown Hospital)        
28 Christoph Herby (Snow Valley)                            
29 Chris Rozdilsky (Fiordifrutta/Speciality RT)             
30 Sebastien Boulangue (France/Alderfer Auction Company)    
31 Hendrik Werner (Germany/Etta Mae's Antiques)         2.50
32 Karl Menzies (Advantage Benefits-Endeavour)          2.59
33 Wojciech Kalemba (Poland/Doylestown Hospital)            
34 Arnaud Godet (France/Alderfer Auction Company)           
35 Craig Dodson (Team Cobblestone)                      3.00
36 Garcia Morel (GS Gotham/Toga)                            
37 Mike Friedman (Northwestern Mortgage/FUJI)               
38 Jackson Stewart (Kodak Gallery/Sierra Nevada)            
39 Jason Beerman (Champion System)                          
40 Esad Hasanovic (Serbia/Aerospace Engineering)            
41 Andy Guptill (CRCA/Sakonnet Technology U25)              
42 Todd Yezefski (TIAA-CREF)                                
43 Adrian Gerrits (Tri-State Velo)                          
44 Jason Baer (Louis Garneau)                               
45 Roger Aspholm (Champion System)                          
46 Gerardo Castro (Team Cobblestone)                        
47 Chris Jones (Century Road Club Association)              
48 Peter Penzell (Team Cobblestone)                     3.01
49 Brian Bibens (AG Edwards-Roswell Velo)                   
50 Harm Jansen (Helen's RPM)                            3.11
51 Matt Cooke (LSV/Kelly Benefit Strategies)            3.12
52 Neal Stansbury (Tri-State Velo)                      3.37
53 Bart Torre (Tri-State Velo)                          4.05
54 Zach Bolian (Tri-State Velo)                         4.17
55 Blake Caldwell (TIAA-CREF)                           6.22
56 Marco Duchting (Germany/Etta Mae's Antiques)         7.22
57 John Delong (Snow Valley)                            8.50
58 Matthew White (Fiordifrutta/Speciality RT)           8.51
DNF Colin Sandberg (Meredith Group/GPOA)                    
DNF Jeremie Galland (France/Alderfer Auction Company)       
DNF Jonathan Maquaire (France/Alderfer Auction Company)     
DNF Renaud Pioline (France/Alderfer Auction Company)        
DNF Frank Kwanten (Holland/Yum Yum Bake Shops-Wolf)         
DNF Wouter Mol (Holland/Yum Yum Bake Shops-Wolf)            
DNF Roel De Vries (Holland/Yum Yum Bake Shops-Wolf)         
DNF Tomasz Lesniak (Poland/Doylestown Hospital)             
DNF Philipp Ketzge (Germany/Etta Mae's Antiques)            
DNF Shawn Willard (Serbia/Aerospace Engineering)            
DNF Eddy Hilger (Advantage Benefits-Endeavour)              
DNF Wes Hartman (Advantage Benefits-Endeavour)              
DNF James Schneider (AG Edwards-Roswell Velo)               
DNF Hayden Brooks (AG Edwards-Roswell Velo)                 
DNF Philip Gaimon (AG Edwards-Roswell Velo)                 
DNF Pleasure Jackson (Broadmark Capital)                    
DNF Solomon Woras (Broadmark Capital)                       
DNF Troy Critchlow (Broadmark Capital)                      
DNF Patrick Walsh (CCB/Volkswagen/Time)                     
DNF Alex Bialiauski (CCB/Volkswagen/Time)                   
DNF Jake Hollenbach (CCB/Volkswagen/Time)                   
DNF Matthew O'keefe (CCB/Volkswagen/Time)                   
DNF Kenneth Lane Herrick (Champion System)                  
DNF David Sommerville (Champion System)                     
DNF Jerry Kapko (Champion System)                           
DNF Sonke Thiel (Century Road Club Association)             
DNF Gavriel Epstein (Century Road Club Association)         
DNF Zoltan Tizla (Century Road Club Association)            
DNF Chris Kuhl (CRCA/Sakonnet Technology U25)               
DNF Lee Rosenthal (CRCA/Sakonnet Technology U25)            
DNF Peter Horn (CRCA/Sakonnet Technology U25)               
DNF Brian Vaughan (Cycling Center)                          
DNF Rudy Robaina (Cycling Center)                           
DNF Travis Hagner (Cycling Center)                          
DNF Adam Carr (Cycling Center)                              
DNF Michael Cody (Fiordifrutta/Speciality RT)               
DNF Chris Peck (Fiordifrutta/Speciality RT)                 
DNF Eugene Boronow (GS Mengoni)                             
DNF Jason Bremer (GS Mengoni)                               
DNF Lisban Quintero (GS Mengoni)                            
DNF Roselvert Marte (GS Mengoni)                            
DNF Karl Bordine (Helen's RPM)                              
DNF Kenneth Toman (Helen's RPM)                             
DNF Dominique Perras (Kodak Gallery/Sierra Nevada)          
DNF Chris Hardee (LSV/Kelly Benefit Strategies)             
DNF Christopher Beck (LSV/Kelly Benefit Strategies)         
DNF Andrew Wulfkuhle (LSV/Kelly Benefit Strategies)         
DNF Josh Dillon (Louis Garneau)                             
DNF Damon Parke (Louis Garneau)                             
DNF Dan Cassidy (Louis Garneau)                             
DNF Geoffrey Rosebrock (Manulife Financial)                 
DNF Owen Nielson (Manulife Financial)                       
DNF Curtis Staples (Manulife Financial)                     
DNF Colin Barry (Manulife Financial)                        
DNF Rob Hacker (Meredith Group/GPOA)                        
DNF Ryan Graff (Meredith Group/GPOA)                        
DNF Jared Babik (Meredith Group/GPOA)                       
DNF Nate Piekielek (Meredith Group/GPOA)                    
DNF Bill Short (Northwestern Mortgage/FUJI)                 
DNF Jame Carney (Northwestern Mortgage/FUJI)                
DNF Josh Kerkhof (Northwestern Mortgage/FUJI)               
DNF Todd Hageman (Park City Cycling Academy)                
DNF Seth Hansley (Park City Cycling Academy)                
DNF Jesse Gordon (Park City Cycling Academy)                
DNF Ryan Fleming (Park City Cycling Academy)                
DNF Allan Butler (Park City Cycling Academy)                
DNF Marc-Wayne Addison (National SG/Espoirs Laval)          
DNF Carl Desroches (National SG/Espoirs Laval)              
DNF Charly Vives (National SG/Espoirs Laval)                
DNF Peter Baker (Snow Valley)                               
DNF Ryan Dewald (Snow Valley)                               
DNF Brad Viera (Snow Valley)                                
DNF Alejandro Acton (TARGETRAINING)                         
DNF Mark Anderson (TARGETRAINING)                           
DNF Bill Elliston (TARGETRAINING)                           
DNF Louis Secreto (Alliance Environmental/MLC)              
DNF Dan Wilson (Alliance Environmental/MLC)                 
DNF Nick Shaffer (Alliance Environmental/MLC)               
DNF Ari De Wilde (Team Nerac.com)                           
DNF John Hanson (Team Nerac.com)                            
DNF David Werling (Team Nerac.com)                          
DNF Mike Margarite (GS Gotham/Toga)                         
DNF Carlos Almonte Juan (GS Gotham/Toga)                    
DNF Christopher Wilson (Tri-State Velo)                     
DNF Joseph Papp (UPMC-ACT)                                  
DNF Mateo Sasso (UPMC-ACT)                                 


Pro women road race
 
1 Leeanne Manderson (Hub Racing)                         1.06.33
2 Sarah Carivella (T.E.A.M. Fuji)                               
3 Heather Labance (Skylands Cycling)                            
4 Sarah Tillotson (ABD Cycling)                                 
5 Erica Allar (T.E.A.M. Fuji)                                   
6 Katherine Lambden (TEAm Lipton)                               
7 Hiroko Shimada (Velo Bella)                                   
8 Tricia Carnila (Verducci/Breakaway Racing)                0.01
9 Mara Miller (Somerset Wheelmen)                               
10 Brooke O'connor (Hub Racing)                                 
11 Nichole Wangsgard (Subway)                                   
12 Mandy Lozano (BMW-Bianchi)                                   
13 Kim Geist (Victory Brewing Cycling Team)                     
14 Lynda Maldonado (Tri-State Velo/Amoroso's/Victor)            
15 Melissa Petty (T.E.A.M. Fuji)                                
16 Elizabeth Begosh (Velo Bella)                                
17 Kristy Scheffenecker (Velo Bella)                            
18 Kirsten Robbins (Victory Brewing Cycling Team)               
19 Kate Sherwin (Victory Brewing Cycling Team)                  
20 Marcie Massaro (Velo Bella)                                  
21 Elena Collazo Maria (Tri-State Velo/Amoroso's/Victor)    0.02
22 Elizabeth Tyrell (Somerset Wheelmen)                         
23 Sheba Farrin (Hub Racing)                                0.04
24 Lenore Imhof (Colavita Racing)                           0.35
25 Tara Walhart (Verducci/Breakaway Racing)                 3.12
DNF Nina Santiago (ACT-UPMC)                                    
DNF Lauren Shirock (East Coast Velo/South Mtn Cycle)            
DNF Cory Bemis (Hub Racing)                                     
DNF Michele Bote (Hub Racing)                                   
DNF Betsy Sellers (Revolution/Rock Creek Racers)                
DNF Jacqueline Paull (Team Alliance Enviromental)               
DNF Diane Castor (Velo Bella)                                   
DNF Nonnie Howard (Verducci / Breakaway Racing)                 

Past winners

Men
 
2003 Ted Huang (USA) Webcor Cycling Team
2002 Todd Herriott (USA) CRCA/Think Racing
2001 Not held
2000 Bert Dewaele (USA)
 
Men
 
2003 Ashley Kimmet (USA) Colavita Womens Elite Cycling Team
2002 Jeannie Longo (Fra)
2001 Not held
2000 Leigh Hobson (Can)