GP Schwarzwald - 1.1
Germany, June 4, 2005
2004 Results Results Past winners
Super-strong performance by Wegmann
Fabian Wegmann (Gerolsteiner)
Photo ©: Mani Wollner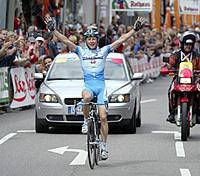 Gerolsteiner's young climbing specialist Fabian Wegmann has won the fourth edition of the Grand Prix Schwarzwald, held over seven laps of a testing 23 km circuit. Wegmann made the front group of 12 on the second lap, and proved to be the strongest of them all, getting rid of all but three others with 70 km to go, then dropping them on the final circuit. In second place was Fortunato Baliani (Panaria), ahead of J÷rg Ludewig (Domina - Vacanze) and Mitja Mahoric (Perutnina Ptuj). Jan Ullrich (T-Mobile) won the bunch sprint for fifth, but was 3'42 down on the winner.
"We are naturally all very happy," said Gerolsteiner DS Christian Henn. "Above all for Fabian, it was important that he won a race again. And how he did it was bear-strong.
"It was a totally strong show of teamwork. Because we always controlled the race. We had a man in every attack. At first, the early attack was a bit risky. But Fabian was the strongest and he could fortunately pull it off."
Photography
For a thumbnail gallery of these images, click here
Images by Mani Wollner/www.foto-grafik-satz.de
Results - 162.4 km
1 Fabian Wegmann (Ger) Gerolsteiner                          4.19.25 (37.561 km/h)
2 Fortunato Baliani (Ita) Ceramica Panaria - Navigare           0.50
3 J÷rg Ludewig (Ger) Domina - Vacanze                           1.01
4 Mitja Mahoric (Slo) Perutnina Ptuj                            1.06
5 Jan Ullrich (Ger) T-Mobile                                    3.42
6 Bj÷rn Glasner (Ger) Team Lamonta                                  
7 Tomislav Danculovic (Cro) Perutnina Ptuj                          
8 John Gadret (Fra) Jartazi Revor Team                              
9 Alessandro Vanotti (Ita) Domina - Vacanze                         
10 RenÚ Weissinger (Ger) Volksbank Leingruber Ideal                 
11 Denis Kostyuk (Ukr) Jartazi Revor Team                           
12 Hrvoje Miholjevic (Cro) Perutnina Ptuj                       3.46
13 Van De Wouwer, Kurt (Bel) Mrbookmaker - Sports Tech              
14 Matija Kvasina (Cro) Perutnina Ptuj                              
15 Holger Sievers (Ger) Team Lamonta                                
16 Ronny Scholz (Ger) Gerolsteiner                                  
17 Tobias Steinhauser (Ger) T-Mobile                            3.49
18 Corey Sweet (Aus) Team Comnet - Senges                       3.53
19 Gabriele Bosisio (Ita) Tenax - Nobili Rubinetterie           3.57
20 Sven Montgomery (Swi) Gerolsteiner                           4.05
21 Bj÷rn Papstein (Ger) Team Lamonta                            4.20
22 Pascal HungerbŘhler (Swi) Volksbank Leingruber Ideal         4.26
23 Massimo Demarin (Cro) Perutnina Ptuj                         6.22
24 Gianluca Tonetti (Ita) Tenax - Nobili Rubinetterie           6.35
25 Guilaume Auger (Fra) R.A.G.T. Semences                       7.14
26 Sven Krauss (Ger) Gerolsteiner                               7.22
27 Nick Gates (Aus) Davitamon - Lotto                               
28 Harald Morscher (Aut) Volksbank Leingruber Ideal                 
29 Wim Vansevenant (Bel) Davitamon - Lotto                          
30 Murilo Antonio Fisher (Bra) Naturino - Sapore Di Mare            
31 Alexander Bazhenov (Rus) Naturino - Sapore Di Mare               
32 Giancarlo Ginestri (Ita) Tenax - Nobili Rubinetterie             
DNF Markus Zberg (Swi) Gerolsteiner                                 
DNF Volker Ordowski (Ger) Gerolsteiner                              
DNF Beat Zberg (Swi) Gerolsteiner                                   
DNF Markus Burghardt (Ger) T-Mobile                                 
DNF AndrÚ Korff (Ita) T-Mobile                                      
DNF Daniele Nardello (Ger) T-Mobile                                 
DNF Stephan Schreck (Ger) T-Mobile                                  
DNF Steffen Wesemann (Ger) T-Mobile                                 
DNF Peter Van Petegem (Bel) Davitamon - Lotto                       
DNF FrÚdÚric Amorison (Bel) Davitamon - Lotto                       
DNF Jan Kuyckx (Bel) Davitamon - Lotto                              
DNF Bert Roesems (Bel) Davitamon - Lotto                            
DNF Leon Van Bon (Ned) Davitamon - Lotto                            
DNF Alessandro Bertolini (Ita) Domina - Vacanze                     
DNF Cristian Bonfanti (Ita) Domina - Vacanze                        
DNF Angelo Furlan (Ita) Domina - Vacanze                            
DNF Enrico Grigoli (Ita) Domina - Vacanze                           
DNF Luca Solari (Ita) Domina - Vacanze                              
DNF David Boucher (Fra) Mrbookmaker - Sports Tech                   
DNF Camille Bouquet (Fra) Mrbookmaker - Sports Tech                 
DNF Ben Day (Aus) Mrbookmaker - Sports Tech                         
DNF Julien Laidoun (Fra) Mrbookmaker - Sports Tech                  
DNF Gorik Gardeyn (Bel) Mrbookmaker - Sports Tech                   
DNF Francesco Planckaert (Bel) Mrbookmaker - Sports Tech            
DNF Kristof Trouve (Bel) Mrbookmaker - Sports Tech                  
DNF Christian Murro ITL Tenax - Nobili Rubinetterie                 
DNF Corrado Serina ITL Tenax - Nobili Rubinetterie                  
DNF Cristiano Frattini (Ita) Tenax - Nobili Rubinetterie            
DNF David Mcpartland (Aus) Tenax - Nobili Rubinetterie              
DNF Scott Davis (Aus) Tenax - Nobili Rubinetterie                   
DNF Mariano De Fino Silveiro (Ita) Naturino - Sapore Di Mare        
DNF Gian Matteo Fagnini (Ita) Naturino - Sapore Di Mare             
DNF Francesco Failli (Ita) Naturino - Sapore Di Mare                
DNF Sergio Marinangeli (Ita) Naturino - Sapore Di Mare              
DNF Mirko Allegrini (Ita) Ceramica Panaria - Navigare               
DNF Ruben Guillermo Bongiorno (Arg) Ceramica Panaria - Navigare     
DNF Moises Aldape Chavez (Mex) Ceramica Panaria - Navigare          
DNF Sergiy Matveyev (Ukr) Ceramica Panaria - Navigare               
DNF Aitor Galdos Alonso (Spa) Ceramica Panaria - Navigare           
DNF Alejandro Alberto Borrajo (Arg) Ceramica Panaria - Navigare     
DNF Emilien-Benoit Berges (Fra) R.A.G.T. Semences                   
DNF Xavier Herrine (Bel) R.A.G.T. Semences                          
DNF Olivier Kaisen (Bel) R.A.G.T. Semences                          
DNF Guillaume Lernould (Bel) R.A.G.T. Semences                      
DNF Benjamin Levecot (Fra) R.A.G.T. Semences                        
DNF SÚbastien Minard (Fra) R.A.G.T. Semences                        
DNF Eddy Seigneur (Fra) R.A.G.T. Semences                           
DNF Petr Bencik (Cze) Ed' System - Zvvz                             
DNF Milan Kadlec (Cze) Ed' System - Zvvz                            
DNF Xavier Pache (Swi) Ed' System - Zvvz                            
DNF Marcel Klaus, (Swi) Ed' System - Zvvz                           
DNF Andreas Dietziker (Swi) Ed' System - Zvvz                       
DNF Florian Stalder (Swi) Ed' System - Zvvz                         
DNF Kamil Vrana (Cze) Ed' System - Zvvz                             
DNF Jiri Nesveda, (Cze) Ac Sparta Praha                             
DNF Radek Becka, (Cze) Ac Sparta Praha                              
DNF Martin Hebik (Cze) Ac Sparta Praha                              
DNF Libor Hlavac (Cze) Ac Sparta Praha                              
DNF Martin Pecenka (Cze) Ac Sparta Praha                            
DNF Petr Pucelik (Cze) Ac Sparta Praha                              
DNF Richard Faltus (Cze) Ac Sparta Praha                            
DNF Steffen Weigold (Ger) Team Lamonta                              
DNF Stefan Cohnen (Ned) Team Lamonta                                
DNF Uwe Hardter (Ger) Team Lamonta                                  
DNF Christoph Koch (Ger) Team Lamonta                               
DNF Philipp Mamos (Ger) Team Lamonta                                
DNF Vasilis Anastopoulos (Gre) Volksbank Leingruber Ideal           
DNF Fraser Mac Master (NZl) Volksbank Leingruber Ideal              
DNF Tyson Apostol (USA) Volksbank Leingruber Ideal                  
DNF Thomas Oredsson (Den) Volksbank Leingruber Ideal                
DNF Igor Abakoumov (Bel) Jartazi Revor Team                         
DNF Heath Blackgrove (NZl) Jartazi Revor Team                       
DNF Johan Svensson (Swe) Jartazi Revor Team                         
DNF Stefan Wijnands (Bel) Jartazi Revor Team                        
DNF David Derepas, (Fra) Jartazi Revor Team                         
DNF Maxim Rudenko, (Ukr) Jartazi Revor Team                         
DNF Markus Eichler (Ger) Team Comnet - Senges                       
DNF Frank Dressler (Ger) Team Comnet - Senges                       
DNF Wolfram Wiese (Ger) Team Comnet - Senges                        
DNF Elnathan Heizmann (Ger) Team Comnet - Senges                    
DNF Konstantin Schubert (Ger) Team Comnet - Senges                  
DNF Stefan Heiny (Ger) Team Comnet - Senges                         



Past Winners
2004 Marcus Fothen (Ger) Gerolsteiner
2003 Torsten Hiekmann (Ger) Team Telekom    
2002 J°rgen Bo Petersen (Den) EDS-fakta  
 
Past winners by Mario Stiehl, www.world-of-cycling.com