Bob Cook Memorial Mt Evans Hillclimb - NE
Denver, CO, USA, July 23, 2005
Boulder's Moninger makes it five on Mt. Evans
By Erik Hultgren
Miller leads around a switchback
Photo ©: Beth Seliga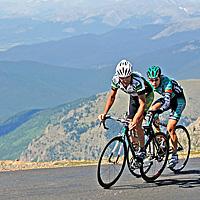 The annual Bob Cook Memorial Bike Race up Mt. Evans is the highest finishing bicycle race in the United States and possibly the world. With warm temperatures and sunny skies, the race was a far cry from last year's cold and stormy conditions.
Riders of all levels made their way 28 miles up the mountain, from citizens on the Fun Ride through to professional racers. The race is known for its brutal distance and elevation gain, running from Idaho Springs to the very top of the mountain. Over 1,000 riders took on the challenge this year.
The men's Pro race saw Boulder resident Scott Moninger score his fifth victory on the 14,000ft+ peak. Moninger is one of America's most successful domestic racers, with nearly 200 professional victories to his credit. A fearsome climber, Mt. Evans is one of his favorite races of the year.
"This race is special to me, and I think it defines Colorado bike racing." The race is a memorial for Bob Cook, a talented young Colorado bike racer who lost his fight with cancer in 1981. By winning the race five times, Moninger is now tied for the most wins with Cook and former Pro Mike Engleman.
Moninger's win did not come easily. Team TIAA-CREF (a development team of Under-26 riders that has competed in Europe this year) went on the attack early, sending National Champ Ian MacGregor up the road in the early stages. A chase group containing Moninger, former World Mountain Bike Champion Ned Overend, Boulder racer Burke Swindlehurst, and Arizona climbing specialist Drew Miller raised the pace dramatically, reeling MacGregor in and leaving the rest of the field behind. Moninger and Miller attacked above tree-line to distance themselves from Overend and Swindlehurst, before Moninger then dropped Miller to solo in for his victory.
"We made a big effort to drop Burke and Ned, and Drew and I just kept trading pulls", recounted Moninger. "I could tell Drew was having a hard time staying on my wheel when I was on the front, so I was confident I could win the race. Drew and I have gone to the line before, and nine times out of ten I'll win the sprint, so I think Drew was content to ride in for second."
Photography
For a thumbnail gallery of these images, click here
Images by Beth Seliga/

Results

Men Pro/1/2
 
1 Scott Moninger (Health Net/Maxxis Cycling Team)     1.52.50
2 Drew Miller (Landis Trek VW)                           0.12
3 Burke Swindlehurst (Seasilver)                         1.48
4 Ned Overend (Specialized)                              1.50
5 Jason Donald (RMCEF )                                  4.41
6 Mitch Moreman (Rocky Mtn Choc Factory)                 5.39
7 Jonathan Baker (Pro Peloton Racing)                        
8 Scott Nydam (Sports Garage/SOMA)                           
9 Ian MacGregor (TIAA-CREF/5280 Magazine)                6.05
10 Paul Esposti (Haulín Ass Race Team)                   6.41
11 Dan Bowman (TIAA-CREF/5280 Magazine)                  6.52
12 Patrick Brown (Trek/VW - JDR)                         7.17
13 Michael Lange (TIAA-CREF/5280 Magazine)               7.24
14 Blake Caldwell (TIAA-CREF/5280 Magazine)              9.05
15 Dan Porter (Team Rio Grande)                          9.33
16 Frank Overton (GS CIAO / Al's Barber Shop)            9.40
17 Jeffrey Hartmann (Pro Peloton Racing)                10.15
18 Stephen Shepherd (Flag Velo)                         10.16
19 Pete Dahle (Paragon Telluride)                       10.40
20 Grant Berry (Team Rocky Mtn Chocolate Factory)       11.31
21 Mike Janelle (Tokyo Joe's / GoLite)                  11.34
22 Jeff Vibert (Denver Boulder Couriers )               13.27
23 Joseph Saperstein (Colorado Premier Training)        14.16
24 David Robinson (TIAA-CREF/5280 Magazine)             14.32
25 Paul Thomas (Laguna Beach Cyclery)                        
26 Mark Schwab (Excel Sports)                                
27 Courtney Guck (Haulín Ass Race Team)                 14.41
28 Barkley Robinson (Team Rio Grande)                        
29 Corey Collier (Rocky Mounts - Izze Racing)           16.10
30 Trevor Krueger (Team Rocky Mtn Choc Factory)         16.41
31 Evan Ruzanski (Trek/VW - JDR)                        16.53
32 David Schulhofer (Bike n Sport Racing)               17.25
33 Phil Gronniger (Kansas City Bicycle Club)            17.34
34 Kenny Souza (Clif Bar)                               17.55
35 Brent Dickinson (Schwab Cycles/Torelli )             18.09
36 Lance Sulzen (Team X Cycling)                             
37 Michael Allen (Ruby Canyon Racing)                   18.23
38 John Matthews (Unattached)                           19.17
39 Michael Schilling (Vitamin Cottage Cycling Team)     19.21
40 Eric Fostvedt (Excel Sports)                         20.03
41 Tim Duggan (TIAA-CREF/5280 Magazine)                 20.22
42 Christian McCarthy (Vitamin Cottage Cycling Team)    20.35
43 Michael Nunez (Rocky Mtn Choc Factory)                    
44 Tom Zirbel (Sports Garage/SOMA)                      21.05
45 Brian Hutchison (Haulín Ass Race Team)               21.17
46 Mark Merritt (Lincoln Bicycle Company)               21.39
47 Rowdy Clagg (Sports Garage/SOMA)                     22.11
48 Jeffrey Dickinson (Schwab Cycles/Torelli )           23.34
49 Derek Strong (Haulín Ass Race Team)                  24.28
50 Scott Romero (Crazy Cat Cyclery)                     25.20
51 Scott Price (HLHAP)                                  25.38
52 Jason Bremer (GS Mengoni)                            26.04
53 Brian Krombein (Valdoro Mountain Lodge)              26.22
54 Cody Stephenson (Fort Lewis College)                 28.05
55 Daniel van der Laan (Unattached)                     28.32
56 Alex Howes (Team 5280 Magazine)                      29.45
57 Cuitlahuac Ayala Nuvarro ()                          30.04
58 Matt Desmond (Bike n Sport Racing)                   31.43
59 Robert Hurston (Front Rangers)                       32.07
60 Brandon Weil (Unattached)                            33.37
61 Josh Johnson (Big shark Racing)                      34.24
62 Darian Founds (Team Hammer Gel)                      35.51
63 Russell Tolle ()                                     36.32
64 Lynn Neir (KCBC)                                     37.27
65 Joseph Cooper (Team Louisville Cyclery)              38.05
66 Rodney James (Unattached)                            39.45
67 Andy Malcolm ()                                    1.07.29
68 Tony Comforti (Unattached)                         1.12.27
 
Women Cat 1/2/3
 
1 Mara Abbott (Sports Garage)                         2.20.10
2 Tammy Jacques ()                                       1.29
3 Susan Williams (CZE Coaching)                          2.15
4 Marisa Aspland ()                                      3.47
5 Christy Kopasz ()                                      4.25
6 Jennifer Gersbach ()                                   7.52
7 Carla Flores (Southern Mortgage Racing)                9.05
8 Lisa Matlock (Tamarack)                               10.14
9 Jennifer Martin (Southern Mortgage Racing)            12.45
10 Maatje Benassi (Excel Sports)                        16.13
11 Jilayne Lovejoy (Excel Sports)                       16.58
12 Irene Mercer (Tamarack Resort)                       18.50
13 Lisa Dougherty (New Mexico Velo Sport)               26.25
14 Noel Weddle (Velo Bella & Velo Junction)             29.42
15 Erin Huck (Southern Mortgage Racing)                 31.51
16 Shannon Smith (Rocky Mounts - Izze Racing)                
17 Sonja Evers (GDI)                                    34.37
18 Kim Weins ()                                         40.45
19 Susan Einberger (Boulder Women's Cycling Team)       46.14
20 Carla Davis (Boulder Women's Cycling Team)           52.18