Recently on Cyclingnews.com
38th Bob Cook Memorial Mt Evans Hill Climb - NE
Colorado, USA, July 24, 2004
2003 Results Results Past Winners
Danielson smashes Mt. Evans record
By Charles Howe
Tom Danielson (Fassa Bortolo)
Photo ©: Beth Seliga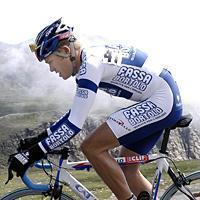 Neither fog, rain, nor snow deterred Fassa Bartolo professional Tom Danielson as he chopped a full four minutes and ten seconds off the Mike Engleman's 12-year-old course record for this storied hillclimb race, now in its 43rd year (39th edition). Danielson, 26, who is presently on hiatus from his European schedule as he prepares to compete in the Tour of Spain next September, came into the race with modest expectations of breaking the mark and claiming the $500 bonus for doing so. "Given the weather, gradient inconsistencies, and the altitude change, it is too much to count on. Instead, I am focusing on doing a good race to test my form," he said in a pre-race note via e-mail, while noting that he had never ridden the Mt. Evans climb.
Obviously, the 'test' went well, given the chilly, foggy race conditions that had one old race hand flatly predict the record would not fall. Indeed, Race Director Beth Wrenn-Estes and Chief Referee Dan MacLeod paid a 4 a.m. visit to the summit finish area the morning of the race to verify that the road was open and the previous day's snow accumulation had been cleared away. Climatic concerns would prove unfounded, however, as the full-up race field of 1,000 entrants (797 finishers) was treated to a visually sumptuous feast of cloud, sun, and crystal blue skies en route to the 14,120 foot high finish. From the race start in Idaho Springs, the net elevation gain was over 6,500 feet in 27.7 miles.
Every rider had to contend with the dense fog
Photo ©: Beth Seliga

37-year-old Colorado resident Scott Moninger (Health Net) came in second among all men to claim the title of Colorado State Hillclimb Champion, which served as some consolation for his 8 minute, 40 second deficit to the victorious Danielson.
Topping the women's field was 40-year-old Olympian Ann Trombley, who competed in the mountain bike race in Sydney four years ago. Originally from the Marin County, California birthplace of mountain biking, Trombley is a 10-year in-state resident, and so claimed the Colorado Women's Hillclimb Championship.
The weather prevented the race photographer from moving around the mountain as usual so the women's finish was missed but Ann was captured on the podium during the award's ceremony. The weather usually cooperates to get all the category but with the winter in July weekend it was hard to get everything covered.
The race also served as the first-ever National Hillclimb Championship, held under the sanction of the Federation of Independent Associations for Cycling (FIAC). As FIAC license holders, Moninger and Trombley were crowned FIAC National Hillclimb Champions for 2004.
Danielson is a lonely figure
Photo ©: Beth Seliga

Photography
Images by Beth Seliga/www.3catsphoto.com
Results

Senior Men P 1-2
 
1 Tom Danielson (Fassa Bortolo)                                   1.41.20
2 Scott Moninger (Health Net Pro Cycling Team)                       8.40
3 Drew Miller (White Mountain Road Club)                             9.35
4 Mitch Moreman (Hassle Free Sports)                                10.55
5 Christopher Brennan (JDR-Trek/VW)                                 12.05
6 Cody Peterson (AST Cycling Team)                                  12.42
7 Anthony Colby (AST)                                               13.15
8 Jonathan Baker (Pro Peloton Racing)                               13.36
9 Tom Zirbel (AMOS Cycling Team)                                    13.57
10 Tim Duggan (TIAA-CREF/5280)                                      14.24
11 Alex Hagman (Fort Frames/Smith/ACC)                              15.33
12 Ian Macgregor (TIAA-CREF/5280)                                   16.10
13 Jason Tullous (Grand Canyon Cycling)                             17.20
14 Greg Krause (Bike Source Multisport)                             18.05
15 Ryan Hamity (Rocky Mtn Cycling Education Foundation)             18.35
16 Ryan Lynch (Giant/Ciber/Oso)                                          
17 Pete Dahle (Unattached)                                          19.20
18 Travis Jones (Twin Peaks Racing Team)                                 
19 Patrick Brown (JDR-Trek/VW)                                           
20 Leroy Popowski (Iowa City Cycling Club)                          20.24
21 Thomas Meiser (Unattached)                                            
22 Johan Levin (Intermountain Color)                                20.53
23 Sam Horn (Intermountain Color)                                   21.52
24 Blake Caldwell (TIAA-CREF/5280)                                  21.59
25 Michael Larsen (Pro Peloton Racing)                              22.03
26 Dirk Friel (Vitamin Cottage Cycling Team)                        22.38
27 Richard Hatch (UW-Cycling)                                       24.38
28 Matthew Pacocha (Tokyo Joes/RRV)                                 25.38
29 Jon Tarkington (Vitamin Cottage Cycling Team)                    27.22
30 Dan Porter (Team Rio Grande)                                     27.40
31 Paul Sumich (I-BIKE.)                                            29.50
32 Angetti Sheldrake (TIAA-CREF/5280)                               30.13
33 Michael Schilling (Vitamin Cottage Cycling Team)                 31.05
34 Barkley Robinson (Team Rio Grande)                               31.21
35 Cody Stephenson (Fort Lewis College)                             32.01
36 Joseph Cooper (Colorado Velo - Denver Spoke)                     32.24
37 Scott Romero (Crazy Cat Cyclery)                                 33.06
38 Evan Ruzanski (JDR-Trek/VW)                                      33.54
39 Joshua Puyear (Pro Peloton Racing)                               34.05
40 Andrew Edwards (AMOS Cycling Team)                               34.39
41 Christian Reidys (Team Ochsner)                                  35.25
42 Sean Bragstad (Vitamin Cottage Cycling Team)                     35.31
43 David Aschwanden (Boulder/Denver Couriers)                       36.11
44 Jeffrey Dickinson (Schwab Cycles/Torelli)                        37.00
45 Lew Perna (Schwab Cycles/Torelli)                                37.10
46 Eugene Dougherty (New Mexico Velo Sport)                         37.34
47 Scott Price (WMRC)                                               42.16
48 Joseph Pinkerton (Vitamin Cottage Cycling Team)                  42.22
49 Logan Garey (Unattached)                                         44.14
50 Michael Parks (Unattached)                                       49.50
51 Shawn Harshman (Rocky Mtn Cycling Education Foundation)          50.47
52 Sheldon Deeny (TIAA-CREF/5280)                                 1.16.44
 
Senior Men 3
 
1 Tejay Van Garderen (Team Rio Grande)                            2.00.59
2 Mike Porter (Optic Nerve/Lee'Äôs Cyclery)                          1.11
3 Kevin Soller (Century Tel/VRAD)                                    1.37
4 Jack Swift (Red Rocks Velo)                                        1.40
5 J.J. Clark (Stein Erickson Sport)                                      
6 Paul Esposti (Unattached)                                          1.59
7 Fred Hankinson (Gulf Coast Cycling Association)                    2.11
8 John Carnie (Swift Cycling)                                        2.21
9 Scott Nydam (Totally Wired)                                        2.31
10 Doug Manno (Haul'Äôn Ass Racing Team)                             2.37
11 Mike Skellion (EZ Rollers)                                        3.51
12 Charles Knoll (Unattached)                                        5.28
13 Alex Howes (TIAA-CREF/5280)                                       5.51
14 Rowdy Clagg (Swift Cycling)                                       5.55
15 Curt Chesney (Unattached)                                         6.11
16 Michael Brown (FCCC- Lee'Äôs Cyclery)                             6.39
17 Brian Hutchison (FCCC- Lee'Äôs Cyclery)                           7.14
18 Joshua Smith (Century Tel/VRAD)                                       
19 Louis Brescia (FCCC- Lee'Äôs Cyclery)                             8.26
20 Taylor Shelden (Century Tel/VRAD)                                10.35
21 Ewam De Freitas (Haul'Äôn Ass Racing Team)                       11.13
22 Derek Strong (Haul'Äôn Ass Racing Team)                               
23 Brian Barrett (GCCA)                                             11.22
24 Shane Roark (Pro Peloton Racing)                                      
25 Brad Bingham (Century Tel/VRAD)                                  11.52
26 Brent Webb (Christiancycling.com)                                12.19
27 Ted Geist (No Hair.com)                                               
28 Herb Jonhson (San Diego Bicycle Club)                            12.53
29 Thomas Hopson (GS Boulder Cycling)                                    
30 Joseph Saperstein (FCCC- Lee'Äôs Cyclery)                        13.13
31 Hal Clark (Tokyo Joe'Äôs)                                        13.28
32 Eric Jones (Colorado Velo - Denver Spoke)                        13.57
33 Braden Kappius (TIAA-CREF/5280)                                  14.20
34 Jonathan Garcia (Rocky Mounts Racing)                                 
35 Bill Stalhuth (Pro Peloton Racing)                               15.47
36 Scott Bartel (Century Tel-Vrad)                                  16.15
37 Matthew Clark (GS Boulder Cycling)                               16.28
38 Dave Harber (ACME Racing)                                        16.58
39 Mike Reyes (Jamba Juice/Fuji)                                    17.24
40 Ryan Artale (Giant/Ciber/OSOEnergy)                              18.47
41 Graeme Galyer (Denver Boulder Couriers)                          18.53
42 Keith Ashmore (Durango Wheel Club)                               19.56
43 Barry Schmidt (FCCC- Lee'Äôs Cyclery)                            20.46
44 Chris Jung (FuentesDesign.com)                                   20.49
45 Ben Truitt (SEAR/Cont'Äôl Homes-Campus Cycles)                   22.00
46 Ryan Amirault (Rocky Mtn Cycling Education Foundation)           22.08
47 Paul Des Rosiers (Swift Cycling)                                 22.41
48 Jarred Berger (Lincoln Bicycle Company)                          23.16
49 Teddy Hockenberry (Children of America/Procycles)                24.17
50 John Paul Robb (Vitamin Cottage Cycling Team)                    24.26
51 Scott Wenzel (Rocky Mounts Racing)                               24.48
52 Shane Braley (Children of America/ProCycles)                     25.34
53 Richard Verderame (New Mexico Velo Sport)                        25.49
54 Joel Howes (Schwab Cycles/Torelli)                               25.52
55 Rob Salcido (Simple Green)                                       26.04
56 Mark Beaty (Swift Cycling)                                       26.38
57 Bryce Lawson (Century Tel/VRAD)                                  28.07
58 Emil Marinov (Vitamin Cottage Cycling Team)                      28.31
59 Todd Johnson (Denver Boulder Couriers)                           30.47
60 Matthew Breagy (Excel Sports)                                    31.46
61 Bronson Duenas (trailcentral)                                    32.25
62 Richard Mccurdy (No Hair.com)                                         
63 Jim Hallberg (Bike Source Multisport)                            32.44
64 Jeffrey Rice (San Luis Valley Cycling Club)                      33.44
65 Mark Adams (Haul'Äôn Ass Racing Team)                            35.27
66 Matthew Opperman (Pro Peloton Racing)                            36.27
67 Jason Kingsbury (Team Kaos)                                      36.46
68 Jamie Kilcoyne (GS CIAO / Al'Äôs Barbershop)                     37.29
69 Morgan Wim                                                       40.06
70 Carlos Vulgamott (No-Hair.com)                                   41.35
71 Chad Headlee (LBC/Highgear)                                      45.09
72 Bruce Triplett (Unattached)                                      45.41
73 Brad Seaman (Swift Cycling)                                      46.53
74 David Gladstone (Trek Racing)                                    47.17
75 Bob Green (FCCC- Lee'Äôs Cyclery)                                50.03
76 Jon Randell (High Gear)                                          50.49
78 Chris Martel (Bike Source Multisport)                            57.21
 
Senior Men 4
 
1 David Hatch (Logan Race Club)                                   1.56.38
2 Rolf Eisinger (CU Cycling)                                         9.46
3 Gus Carlson (SMBA)                                                     
4 Stephen Dey (Unattached)                                          10.28
5 Walker Savidge (Wheatridge Cyclery)                               12.18
6 Kevin Witt                                                        13.28
7 Raik Huster (Fahrschule Huster)                                   14.59
8 Angus Morton (Port macquarie, Australia)                          16.09
9 Pablo Calderon-Rodriquez (Unattached)                             16.20
10 Eric Fostvedt (GS Boulder Cycling)                               16.27
11 Kent Evans (Eastside Wheelmen)                                   16.31
12 Daniel Summerhill (Rocky Mtn Cycling Education Foundation)       16.47
13 Kelly Magelky (Sports Garage)                                    17.18
14 Yoshinoku Yabe (Fiets)                                           17.35
15 Brian Rawlings (San Luis Valley Cycling Club)                    17.46
16 Sam Carlson (SMBA)                                               18.23
17 Daniel Macfarlane (Colorado Velo - Denver Spoke)                 18.41
18 Daniel Crane (CSU Tri)                                           19.03
19 Nick Ramey (Velonews)                                                 
20 Elliot Dickerson (CU Cycling)                                    19.20
21 Mike Engelhardt (Roadrunners Cycling Club)                       19.42
22 Adam Hodges (Unattached)                                         19.58
23 Stephen Beville (ECV)                                            20.21
24 Michael Ray                                                           
25 Mark Lowe (Big Ring Cycles)                                      20.42
26 Jeremy Ramsey (Bike Source)                                      21.53
27 Drew Bryenton (Purdue University)                                22.05
28 Ethan Johnson (Balance Bar/Devo)                                 22.13
29 Tim Lucking                                                      22.20
30 Keagan Rowley (CU Cycling)                                       22.52
31 Josh Oberleas (SEAR Cycling)                                     23.58
32 Sean Yarbrough (Wheat Ridge Cyclery)                             24.23
33 Fin Doyle (Bomber Industries)                                    25.11
34 Kirk Framke (Bike Source)                                        25.20
35 Ryan Bentley                                                     25.28
36 Jorge Rodriguez                                                  25.43
37 Bo Randolph (SSWSC Cycling Club)                                 25.58
38 Timothy Hurtgen (SEAR./Campus Cycles)                            26.03
39 Mark Huang (Team Rio Grande)                                     26.44
40 Alan Enos (Rocky Mountain Athletics)                             26.54
41 Rob Sharp                                                        27.17
42 Derek Nickum (SSWSC Cycling Club)                                     
43 Dan Weiler (Team Louisville Cyclery)                             27.52
44 Colin Cares (SMBA)                                               28.19
45 Cortino Garcia (Amino Vital)                                     28.28
46 Brian Overstreet (CU Cycling)                                    29.27
47 Aubrey Miller (Peloton Cycles)                                   30.18
48 Bryan Myers                                                      30.27
49 Garrett Downs                                                    30.39
50 Rich Ruhser (Red Rocks Velo)                                     30.44
51 Eric Truman (Haul'Äôn Ass Racing Team)                           30.56
52 Russell Warnecke                                                      
53 Lance Loehding (Comotion)                                        31.08
54 Brady Wimmer (Unattached)                                        31.16
55 Joel Price (Unattached)                                          31.41
56 Alan Simons (Bike Source)                                        31.45
57 Doug Loechell                                                    31.50
58 Tom Propst (Eastside Wheelmen)                                        
59 Daniel Mckinnon (Denver Boulder Couriers)                             
60 Ed Kirby (Unattached)                                            32.20
61 Carl Ham                                                         33.39
62 Grant Blakeman (Unattached)                                      33.46
63 Campbell Ilfrey                                                  34.30
64 Kevin Baker                                                      34.32
65 Gregory Wagenfuhr                                                     
66 Chris Smithwick (Jamba Juice/Fuji)                               35.02
67 Scott Tanner (A Racers Edge)                                     35.15
68 Casey Hill (CSU Triathlon)                                       35.26
69 Tom Fiersten (Haul'Äôn Ass Racing Team)                               
70 Brad Hanson (AMOS Cycling Team)                                  35.48
71 Jared Shuttleworth (Husker Road Club)                            36.20
72 Peter Hart                                                       36.33
73 Karl Lavtar (Unattached)                                         36.38
74 Ryan Legg (Cycling Club of Nebraska)                             36.53
75 Paul Bradley (Pikes Peak Velo Racing)                            37.30
76 Sal Hernandez (Unattached)                                            
77 Michael Roseberry                                                37.40
78 Keith Nordstrom                                                  37.51
79 Kurt Reschke                                                     37.53
80 Jonathan Fidelak (Team Louisville Cyclery)                       38.00
81 Greg Proctor (Colorado Velo - Denver Spoke)                      38.49
82 Jason Fraze (International Christian Cycling Club)               39.09
83 James Temte                                                           
84 Michael Fitch (Haul'Äôn Ass Racing Team)                         39.46
85 Robert Powell (SRAM/Rockshox)                                    40.05
86 Eric Long                                                        40.51
87 Chris Busacca (WednesdayWorlds.com)                              41.27
88 Morgan Larsson (Intermountain Color/CK Wenershot)                41.48
89 Zachary Jones (Rocky Mountain Road Club)                              
90 Randy Sutton (Unattached)                                        42.09
91 James Stevens (FCCC- Lee'Äôs Cyclery)                            42.22
92 Jeremy Collins (no-hair.com)                                     42.58
93 Ted Harlan                                                       43.21
94 Jeremy Graston (Unattached)                                      43.37
95 Nathan Kirkland                                                  43.43
96 Ken Wilhelm (FCCC- Lee'Äôs Cyclery)                              43.53
97 Stephen Ogle                                                     44.49
98 Jeff Fithian                                                     44.58
99 Per Larson                                                       45.05
100 Steven Massara (Highgear/LBC/CCW)                               45.29
101 Mike Davis (Louisville Velo Club)                               45.39
102 Jeffrey Schmitz (Unattached)                                    45.41
103 Dipak Patel                                                     45.48
104 Dennis Newell (Velo del Norte)                                  46.22
105 Thomas Day                                                      47.30
106 Jay Rezac (Bike Rox Boulder)                                    47.40
107 Joshua Felix                                                    48.00
108 Bob Africa                                                      48.25
109 Andrew Hawkes (SMBA)                                            48.36
110 Nate Johnson (GS Boulder Cycling)                               49.04
111 Jeff Stiner (Eastside Wheelmen)                                 49.58
112 Darrin Lester                                                        
113 Jack Lavier (Optic Nerve/Lee'Äôs Cyclery)                       50.32
114 Neal Rogers (VeloNews)                                          50.54
115 Troy Tanner (Rocky Mounts Racing)                                    
116 Aaron Hayden                                                    51.07
117 Charles Forst                                                   51.27
118 Jim Wood (Focus Fitness/Sportz Outdoors)                        51.37
119 Francisco Rocha (Front Rangers Cycling Club)                         
120 Tim Williams (Unattached)                                            
121 Kyle Bush (Bike Source)                                         51.48
122 Blair Simpson (Unattached)                                      53.22
123 Tory Wells (Unattached)                                         53.30
124 James Barry (SEAR/Cont'l Homes-Campus Cyclery)                  54.29
125 Matty Boyles (Madzie'Äôs D.)                                    54.40
126 Everett Mcewan (Unattached)                                     55.28
127 Davis Glasscock (Team Rio Grande)                               56.13
128 Jerome Haas (FCCC- Lee'Äôs Cyclery)                             56.16
129 Evan Schneider (ACME Racing)                                    58.02
130 Tom Stuhr (Lincoln Bicycle Company)                                  
131 Robert Auston (Colorado Velo - Denver Spoke)                    58.25
132 Jimmy Wills (Purdue University)                                 58.43
133 Paul Combest (Christiancycling.com)                             58.49
134 Michael Farrell (Team ProCycling/Fuji)                        1.00.34
135 Joey Luther (Swift Cycling)                                   1.00.47
136 Andrew Keffer (Cycling Club of NE/High Gear)                  1.02.48
137 Herve Richaud (Unattached)                                    1.02.57
138 Addison Gooding (SSWSC Cycling Club)                                 
139 Duncan Howland (Lakewood Racing Team)                         1.03.09
140 Timothy Hazelroth (Minneapolis Bicycle Racing Club)           1.04.09
141 Ryan Fonkert (Pikes Peak Velo Racing)                         1.05.53
142 Charles Weinbeck                                              1.06.13
143 Andrew Zakel (Unattached)                                     1.06.20
144 Kyohsuke Iida (Fiets)                                         1.06.54
145 Gordon Henning                                                1.07.45
146 Brendan Rowley (University of Colorado)                       1.08.38
147 Jeff Katz                                                     1.08.42
148 Richard Thomas (Unattached)                                   1.09.04
149 Scott Ohm (Optic Nerve/Lee'Äôs Cyclery)                       1.12.04
150 Matthew Kotzin (Unattached)                                   1.15.57
151 Martin Nagel (CU Triathlon Team)                              1.20.55
152 Steve Lester                                                  1.23.08
153 Jim Chesebro                                                  1.23.13
154 Parker Macy (Ionic Cycles)                                    1.24.27
155 Gregg Wollenhaupt (Husker Road Club)                          1.24.55
156 Jared Price                                                   1.39.16
157 David Sweedler                                                1.42.02
158 Bill Sallaz (Team Rio Grande)                                 1.45.34
 
Senior Men 35+
 
1 John Hagerty (Paragon Telluriders Velo Club)                    2.04.30
2 Dennis Farrell (Red Rocks Velo)                                    1.35
3 Bart Sheldrake (Team ProCycling/Fuji)                              2.23
4 Charlie Hayes (Excel Sports)                                       3.00
5 Danny Sullivan (Red Rocks Velo)                                    4.15
6 Scott Hill (Bicycle Outfitters)                                    4.25
7 John Barrett (boho-Vermin RC)                                      6.04
8 Zgliczynski Gregorz                                                6.24
9 Mike Hogan (Team Louisville Cyclery)                               6.35
10 Richard Rodriquez (Colorado Velo - Denver Spoke)                  6.50
11 Jeff Vibert (Denver Boulder Couriers)                             7.52
12 Karl Kiester (Cody Racing)                                            
13 Greg Finnoff (Rio Grande)                                         8.58
14 Michael Scanlon (Hub of Aspen)                                    9.56
15 Richard Hoehler (Unattached)                                     10.30
16 Lilburn Shaw (Valdoro Mountain Lodge Cycling Team)               11.05
17 Jonathon Finnoff                                                 12.27
18 Steve Stewart (Excel Sports)                                     12.34
19 Byron Nix (Vitamin Cottage Cycling Team)                              
20 Bob Dahl (Valdoro Mountain Lodge Cycling Team)                        
21 Craig Hofer (Red Rocks Velo)                                     12.46
22 Brian Reise (Dogs at large/Mad Dog MEdia)                        12.50
23 Pete Swenson (Tokyo Joe'Äôs)                                     12.56
24 Donald Spence Jr (Team Rio Grande)                               15.53
25 Michael Kingery (Valdoro Mountain Lodge Cycling Team)            16.43
26 Dean Carson (Team Columbus)                                      17.13
27 Edward Schaub (Unattached)                                       17.18
28 Paul Dodson (SEAR/Cont'l Homes-Campus Cycles)                    18.35
29 Todd Hopgood (Paragon Ski & Sport/Telluriders)                   19.01
30 Steven Deroma (Southwest Velodrome Association)                  19.05
31 Thomas Adams (ICCC)                                              19.14
32 Brian Clary (Pikes Peak Velo Racing)                             19.35
33 Chris Phenicie (Unattached)                                      21.19
34 Steve Presta (SEAR/Cont'l Homes-Campus Cycles)                   22.08
35 Eric Anderson (GS Boulder Masters Cycling Team)                  22.26
36 Joseph Mastoras (Paragon/Telluriders Velo Club)                  22.28
37 Derrick Nickel (Schwab Cycles/Torelli)                           24.38
38 Peter Rehn (Chick'Äôs Harley-Davidson)                           24.59
39 Stephen Jarrett (Cycling Club of NE/Highgear)                    25.50
40 Ted Zenzinger (Red Rocks Velo)                                   26.45
41 Eric Ray (Swift Cycling)                                         27.14
42 Jim Reuter (Green Mountain Sports)                                    
43 Andy Rodriquez (Unattached)                                      28.09
44 Jeff Agamenoni (Echelon Cycling Club)                            28.29
45 James Guest (Telluriders)                                        28.45
46 Bruce Whitesel (Team ProCycling/Fuji)                                 
47 Kevin Barker (Jamba Juice/Fuji)                                  30.45
48 Mike Moher (Beaver Creek Resort)                                 31.07
49 Jonny Love (Kind Cyclist)                                        32.19
50 Dan Hatton (San Luis Valley CC)                                  33.24
51 Christopher Schmidt (Colorado Velo - Denver Spoke)               33.36
52 Richard Klusman (SEAR/Cont'l Homes-Campus Cycles)                38.20
53 Bill Johnson (Unattached)                                        38.51
54 Jeff Skates (SEAR/Cont'l Homes-Campus Cycles)                    56.51
55 Armen Karagoz (Unattached)                                       59.30
56 George Zdravecky (Vitamin Cottage)                             1.13.32
 
Senior Men 35+,4
 
1 Daniel Teodoru (Great Adventure sports)                         2.11.57
2 Dan Miller (Simple Green)                                          4.51
3 Kevin Shelden (Great Adventure Sports)                                 
4 Peter Ismert (Lakewood Racing Team)                                5.24
5 Robert Dwyer                                                       5.38
6 Colin Meadows (TEAM Bloomington/Bacardi Rum)                       8.16
7 James Gilbert (Unattached)                                        11.01
8 Kyle Boschen (Red Rocks Velo)                                     11.28
9 Gordon Smith                                                      11.58
10 Pete Baker (Red Rocks Velo)                                      12.49
11 Doug Thormahlen (Team Mobile Cyclery)                            13.17
12 Tim Kalisch (Lakewood Racing Team)                               13.43
13 Mark Horton (SEAR/Cont'l Homes-Campus Cyclery)                   14.47
14 Scott Caruso                                                          
15 Geoff Hickcox (Durango Wheel Club)                               17.13
16 Thomas Dooley                                                    19.21
17 David Balaban (Simply Fit)                                       19.39
18 Curtt Ammerman (Unattached)                                      20.46
19 Michael Bowers (Colorado Velo - Denver Spoke)                    21.50
20 Bob Swadley (SEAR/Cont'l Homes-Campus Cyclery)                   21.58
21 Douglas Mcghee (Red Rocks Velo)                                  22.24
22 Jim Bergman (Eastside Wheelmen)                                  22.39
23 Mark Eller                                                       23.30
24 Brian Hollister                                                  23.46
25 Terry Hamm (Christiancycling.com)                                24.06
26 John Crimaldi                                                    24.31
27 Darrell Tyler (Eastside Wheelmen)                                24.37
28 Todd Borth                                                       25.21
29 Olaf Sander                                                           
30 Gregory Everett (Rocky Mounts Racing)                            25.34
31 Steve Ruskaup (SEAR/Cont'l Homes-Campus Cyclery)                 25.53
32 Brad Tucker (SEAR/Cont'l Homes-Campus Cycles)                    26.03
33 Keith Walberg (Wheatland Cycling)                                26.35
34 James Boudreau                                                   27.06
35 Eric Mueffelman (Paragon/Telluriders)                            27.59
36 David Ruttledge (Zia Velo)                                            
37 Lance Miller (Jamba Juice/Fuji)                                  29.06
38 Kevin Mackey (SEAR/Cont'Äôl Homes-Campus Cycles)                 29.43
39 Robin Hunt (Colorado Velo - Denver Spoke)                        31.35
40 Michael Spak (Lakewood Racing Team)                              34.41
41 Sky Hansen (Unattached)                                          35.15
42 John Brumley (IronClad)                                          35.29
43 Alan Christie (Pro Peloton Racing)                               35.35
44 Tom Stouffer (Unattached)                                             
45 David Twinam (Christiancycling.com)                                   
46 Carl Brackpool                                                   36.26
47 Rob Roth (Pikes Peak Velo)                                       36.45
48 Eric Buhs (AG Edwards/Revolution Cycling Team)                   37.27
49 Hector Leyba (Pikes Peak Velo)                                   39.53
50 John Gehring (Unattached)                                        40.46
51 Steve Autry (Red Rocks Racers)                                   41.18
52 Roberto Barrio (Crazy Cat Cyclery)                               41.46
53 Brian Meadows (Lakewood Racing Team)                             42.13
54 Eddie Metro (FCCC/NCTC)                                          42.58
55 Michael Goodwin                                                  43.07
56 Gary Bohn (SEAR/Cont'l Homes-Campus Cyclery)                     43.54
57 Jeffrey Dean (Team Mobile Cyclery)                               46.43
58 Rodney Wilson (Independent Rehabiliation)                        49.08
59 Rick Newman                                                      49.40
60 Robert Claus (Team Louisville Cyclery)                           49.46
61 Dan Sonnasyn                                                     50.28
62 Michael Shasberger (SEAR/Cont'l Homes-Campus Cycles)             52.15
63 Steve Parcell                                                    52.33
64 David Decker (Unattached)                                        52.46
65 David Cann (unattached)                                          52.48
66 Doug Felkley (Unattached)                                        55.45
67 Brian Moffett (Team Mobile Cyclery)                              56.32
68 Pieter Schouten (Jamba Juice/Fuji)                               57.26
69 Montie Miller                                                    57.40
70 Todd Wilson (Unattached)                                         59.29
71 Andrew Snow (Ninis Taqueria Race Team)                         1.02.44
72 Anthony Moats (Unattached)                                     1.06.11
73 Artor Golebiewski                                              1.10.39
74 Antonio Rodriguez (Colorado Velo - Denver Spoke)               1.13.28
75 Robert Fester (Lakewood Racing Team)                           1.23.26
 
Senior Men 45+
 
1 Jimi Gibson (Simple Green)                                      2.06.02
2 Robert Hatch (Logan Race Club)                                         
3 Steve Crowley (Schwab Cycles/Torelli)                              0.19
4 Dan Armijo (Olev Rapido)                                           1.19
5 Mike Danaher (Co. Bicycle Racing Seniors)                          2.56
6 Robin Gregory (Schwab Cycles/Torelli)                              3.11
7 Peter Marshall (Simple Green)                                      4.55
8 Wayne Watson (Vitamin Cottage Cycling Team)                        5.16
9 Terry Purcell (GS Boulder Masters Cycling Team)                    5.46
10 Doug Johnson (Excel Sports)                                       8.27
11 Mark Blaser (Owens Healthcare)                                    9.57
12 Dennis Haberkorn (GS Boulder Masters Cycling Team)               10.42
13 Paul Mack (GS Boulder Masters Cycling Team)                           
14 Rick Montgomery (Bingham's Northshore Cycling)                   11.00
15 Greg Brumley (San Luis Valley Cycling Club)                      12.24
16 Bruce Hodgkins (Excel Sports)                                    12.43
17 William Simmons (GS Boulder Masters Cycling Team)                12.52
18 Gary Thacker (Team Louisville Cyclery)                           14.35
19 Craig Terry                                                      14.56
20 Joe Carcich (Eastside Wheelmen)                                  17.04
21 Jon Spar (Olev Rapido / Sportz Outdoor)                          19.19
22 Pat Zeller (Schwab Cycles/Torelli)                               20.36
23 Ken Reardon (Team Rio Grande)                                    20.46
24 Robert Bieterman (Simple Green)                                  23.54
25 Walt Lee (Eastside Wheelmen)                                     25.38
26 Chris Leggere (Mojo Wheels)                                      26.36
27 Harry Kent (Estes Cycling Club)                                  27.05
28 Andy Hornbaker (Pikes Peak Velo Racing)                          27.15
29 Brian Grzelak (Unattached)                                       27.30
30 William Pearson                                                  27.52
31 Rob Johnston                                                     28.10
32 William Mills (Red Rocks Velo)                                   29.22
33 Carl Yarbrough (Unattached)                                      31.47
34 Tj Johnston                                                      32.26
35 Dean Cahow (DFL Racing)                                               
36 John Desisto (Unattached)                                        33.10
37 Brad Olwin (Schwab Cycles/Torelli)                               33.15
38 Dennis Weinbeck (Wheatland Cycling Team)                         33.53
39 Timothy Crossen (Front Rangers Cycling Club)                     34.24
40 Steven Meleski (Poison Spider)                                   36.03
41 John Leffler                                                     36.36
42 Michael Maisonpierre                                             37.00
43 Paul Bauersfeld (Swift Cycling)                                  37.06
44 Phil Davis (Colorado Velo - Denver Spoke)                        38.35
45 Mike Brewer (Unattached)                                         41.16
46 Loch Ethridge (SEAR/Cont'l Homes-Campus Cycles)                  41.48
47 Jon Mcclurg (Rocky Mounts Racing)                                42.51
48 Kris Errett (Lakewood Racing Team)                               44.57
49 Terence Lucius (Colorado Velo - Denver Spoke)                    45.31
50 Bruce Liddiard                                                   46.59
51 David Morton (Port Macquane Cycle Club)                          48.05
52 Dave Kennedy (Front Rangers Cycling Club)                        52.38
53 Joe Wright (Unattached)                                          56.02
55 Jim Stutzman (Unattached)                                        58.56
56 Tom Boyle (Unattached)                                         1.01.29
57 Tom Mckinnon (Swift Cycling)                                   1.05.27
58 Mark Alvis (Unattached)                                        1.53.22
 
Senior Men 55+
 
1 John Haney (PCCC)                                               2.22.50
2 Ronn Smith (Unattached)                                            1.25
3 John Phillips                                                      9.59
4 Bob Hughes (Unattached)                                           14.24
5 Carl Reed (Team Rio Grande)                                       15.00
6 Bill Mackay (Alpine Cycling Club)                                 15.41
7 J. Michael Brown (Team Telluride)                                 19.43
8 Jack Avigael (Alamo)                                              21.32
9 Gary Peterson (SEAR/Cont'Äôl Homes-Campus Cycles)                 23.09
10 Rick Abbott (Team Louisville Cyclery)                            24.12
11 Jim Dlouhy (Team Louisville Cyclery)                             27.02
12 Robert Havrda (Durango Wheel Club)                               31.22
13 Tomas Duran (Pikes Peak Velo)                                    31.39
14 Cameron Walker (Casper Wheel)                                    32.43
15 Thomas Myers (Unattached)                                        32.54
16 Philip Coons (Co. Bicycle Racing Seniors)                        32.56
17 Fran Scannell (LRT)                                              40.35
18 James Kinsinger (GS Boulder Masters Cycling Team)                47.46
19 Larry Ingram (Co. Bicycle Racing Seniors)                        51.49
20 Richard Bagienski (Durango Wheel Club)                           53.19
21 Randall Wheelock (Unattached)                                    55.39
22 Tony Heacock (Durango Wheel Club)                                57.27
23 Erik Nordenson (Cyclocrosworld.com)                            1.03.41
 
Senior Men 65+
 
1 William Meyers (Lakewood Racing Team)                           2.50.18
2 David Bickel (Co. Bicycle Racing Seniors)                         43.29
 
Senior Women Open
 
1 Ann Trombley (Excel Sports)                                     2.19.03
2 Susan Williams (Merlin)                                            0.37
3 Katrina Grove (EQUIPE RONA)                                        1.39
4 Shannon Tupa (Tokyo Joe'Äôs)                                       4.39
5 Irene Mercer                                                       4.48
6 Allison Lusby (Unattached)                                         6.04
7 Sarah Tescher (3D)                                                 7.43
8 Jane Ziegler (Velo Bella)                                          7.58
9 Patricia Newell (Velo del Norte)                                   8.47
10 Jennifer Martin (La Forza)                                        9.58
11 Catherine Walberg (Kenda)                                        10.39
12 Carla Flores (Lakewood Racing Team)                              11.09
13 Sharon Allpress (Colorado Velo - Denver Spoke)                   14.37
14 Jane Despas (Buyers Choice Real Estate)                          15.07
15 Trish Heisdorffer (Klein/WRC)                                    18.10
16 Carmen Small (Boulder Women'Äôs Cycling Team)                    20.39
17 Betsy Cordes (Black Hill Domestiques)                            21.10
18 Maatje Benassi (Excel Sports)                                    21.31
19 Kathrin Weidemann (Unattached)                                   23.52
20 Heather Jones (Colorado Velo - Denver Spoke)                     24.54
21 Irene Beyerlein (Team Ochsner)                                   26.20
22 Anne Lannan (Sports Garage/Titus)                                29.11
23 Renee Eastman (Vitamin Cottage Cycling Team)                     31.59
24 Deanna Huff (La Forza)                                           32.40
25 Laura Danley (Team Rio Grande)                                   40.48
26 Victoria Sama (Moots)                                            44.25
27 Martha Pomares (Rocky Mountain Road Club)                        45.35
 
Senior Women 1/2
 
1 Ann Trombley (Excel Sports)                                     2.19.03
2 Susan Williams (Merlin)                                            0.37
3 Katrina Grove (EQUIPE RONA)                                        1.39
4 Irene Mercer                                                       4.48
5 Allison Lusby (Unattached)                                         6.04
6 Sarah Tescher (3D)                                                 7.43
7 Jane Ziegler (Velo Bella)                                          7.58
8 Jennifer Martin (La Forza)                                         9.58
9 Catherine Walberg (Kenda)                                         10.39
10 Carla Flores (Lakewood Racing Team)                              11.09
11 Sharon Allpress (Colorado Velo - Denver Spoke)                   14.37
12 Jane Despas (Buyers Choice Real Estate)                          15.07
13 Maatje Benassi (Excel Sports)                                    21.31
14 Kathrin Weidemann (Unattached)                                   23.52
15 Irene Beyerlein (Team Ochsner)                                   26.20
16 Anne Lannan (Sports Garage/Titus)                                29.11
17 Renee Eastman (Vitamin Cottage Cycling Team)                     31.59
18 Victoria Sama (Moots)                                            44.25
 
Senior Women 3
 
1 Shannon Tupa (Tokyo Joe'Äôs)                                    2.23.42
2 Patricia Newell (Velo del Norte)                                   4.08
3 Trish Heisdorffer (Klein/WRC)                                     13.31
4 Carmen Small (Boulder Women'Äôs Cycling Team)                     16.00
5 Betsy Cordes (Black Hill Domestiques)                             16.31
6 Heather Jones (Colorado Velo - Denver Spoke)                      20.15
7 Deanna Huff (La Forza)                                            28.01
8 Laura Danley (Team Rio Grande)                                    36.09
9 Martha Pomares (Rocky Mountain Road Club)                         40.56
 
Senior Women 4/Senior Women 35+
 
1 Emily Reader (Bike Source)                                      2.38.13
2 Elizabeth Heerwagen (Telluriders)                                  3.12
3 Terrie Clouse (Title 9 Sports)                                     6.07
4 Kay Rice (COBRAS)                                                  6.31
5 Martha Iverson (Durango Wheel Club)                                7.37
6 Adrienne Brian                                                     8.40
7 Debra Hutson                                                      11.36
8 Terri Wickstrom (Colorado Velo - Denver Spoke)                    12.03
9 Michelle Hatch                                                    12.44
10 Cynthia Ortman (Durango wheel Club)                              12.51
11 Karen Dlouhy (La Forza)                                          13.07
12 Alexandra Kendall (Valdoro Mountain Lodge Cycling Team)          13.48
13 Jamie Thomas (Unattached)                                        17.12
14 Linda Paris (Durango Wheel Club)                                 17.24
15 Annie Fox                                                        17.49
16 Deirdre Garvey (Team Louisville Cyclery)                         18.15
17 Eleanor Hamre (Co. Bicycle Racing Seniors)                       19.02
18 Pam Leamons (La Forza)                                           20.21
19 Erika Lindholm (Rocky Mountain Road Club)                        20.36
20 Kathy Tucker (SEAR/Cont'Äôl Homes-Campus Cycles)                 20.51
21 Frances Summerhill (La Forza)                                    21.06
22 Lisa Jhung (Adventure Sports Magazine)                           21.17
23 Ericka Schoengarth (Title 9)                                     21.29
24 Denise Beaudoin Howe (Lakewood Racing Team)                      21.46
25 Kelly Parcell (Unattached)                                       23.49
26 Lark Birdsong (Colorado Velo - Denver Spoke)                     31.56
27 Sarah Hersh (SEAR/Cont'Äôl Homes-Campus Cycles)                  32.11
28 Mindi Seaman (Swift Cycling)                                     37.11
29 Carin Hollis (Optic Nerve/Lee'Äôs Cyclery)                       38.48
30 Amy Wissman                                                      39.14
31 Vickie Marlatt (Peloton Cycles)                                  40.47
32 Lori Kohls (Optic Nerve/Lee'Äôs Cyclery)                         41.59
33 Carol Austin (Unattached)                                        42.44
34 Amy Kleiner (Festival in the Park/Colorado Road Club)            44.34
35 Barbara Brazes                                                   46.02
36 Julie Cousins (Unattached)                                       52.47
37 Michelle Hsu (Title 9 Sports)                                    58.28
 
Senior Women 4
 
1 Denise Beaudoin Howe (Lakewood Racing Team)                     2.59.59
2 Lark Birdsong (Colorado Velo - Denver Spoke)                      10.10
3 Lori Kohls (Optic Nerve/Lee'Äôs Cyclery)                          20.13
4 Julie Cousins (Unattached)                                        31.01
 
Senior Women 35+
 
1 Terri Wickstrom (Colorado Velo - Denver Spoke)                  2.50.16
2 Alexandra Kendall (Valdoro Mountain Lodge Cycling Team)            1.45
3 Annie Fox                                                          5.46
4 Deirdre Garvey (Team Louisville Cyclery)                           6.12
5 Erika Lindholm (Rocky Mountain Road Club)                          8.33
6 Kelly Parcell (Unattached)                                        11.46
7 Carol Austin (Unattached)                                         30.41
8 Barbara Brazes                                                    33.59
 
Senior Women 45+
 
1 Kay Rice (COBRAS)                                               2.44.44
2 Adrienne Brian                                                     2.09
3 Cynthia Ortman (Durango wheel Club)                                6.20
4 Frances Summerhill (La Forza)                                     14.35
 
Senior Women 55+
 
1 Martha Iverson (Durango Wheel Club)                             2.45.50
 
Juniors
 
1 Alex Coelho (Team Rio Grande)                                     56.33
2 Julian Kyer (Pro Peloton Racing)                                   1.05
3 Will Flanagan (Front Rangers Cycling Club)                         2.57
4 Steve Worsley (ROP/ Ridge View Academy)                            3.18
5 Tyler Gallup (North Metro Cycling)                                 3.51
6 Andrew Simms (Rocky Mtn Cycling Education Foundation)              3.52
7 Andrew Barker (Jamba Juice / Fuji)                                 4.26
8 Gabriel Bershenyi (Front Rangers Cycling Club)                     4.27
9 Clint Mitchell (Front Rangers Cycling Team)                        5.52
10 Trevor Bell (Unattached)                                          5.54
11 Garrison Schulte (Unattached)                                     5.57
12 Aaron Stockton (Unattached)                                       6.44
13 Austin Mcknight (Rocky Mtn Cycling Education Foundation)          7.22
14 Corey Riedel (Unattached)                                         7.26
15 Danielle Haulman (Rocky Mtn Cycling Education Foundation)         7.29
16 Jordan Poquette (Rocky Mtn Cycling Education Foundation)          7.50
17 Lachlan Morton (Port Macquarie, Australia)                        9.25
18 Carlos Soltero (ROP/ Ridge View Academy)                         11.16
19 Ivan Rocha (Front Rangers Cycling Club)                          11.17
20 Patrick Stockton                                                 11.31
21 Connor Simmons (Rocky Mtn Cycling Education Foundation)          13.24
22 Garrett Stockton                                                 15.37
23 Morgan Ryan (Scary Fast Racing)                                  17.08
24 Kevin Buehler (ROP/ Ridge View Academy)                          17.21
25 Isiha Quintana (Ridgeview Academy)                               17.22
26 Jeremy Erbsen (Rocky Mtn Cycling Education Foundation)           18.24
27 Ethan Bell (Grand Valley Velo)                                   21.07
28 Hannah Hausman (Rocky Mountain Cycling Education Foundation)     21.57
29 Jeremy Long (Front Rangers Cycling Club)                         22.35
30 Mario Rodriquez (ROP/ Ridge View Academy)                        23.07
31 Harry Morgan (ROP/ Ridge View Academy)                           23.49
32 Damian Ornales (ROP/ Ridge View Academy)                         26.35
33 Levin Zars (Unattached)                                          30.55
34 Nathan Hausman (Unattached)                                      35.58
35 Rebecca Thorsness (Medicine bow Nordic Association)              37.06
36 Sarah Autry (Red rocks Velo)                                     40.31
37 Joe Haulman (Front Rangers Cycling Club)                         48.04
38 Kendall Ryan (Scary Fast Racing)                                 48.27
39 Zack Gould (Rocky Mtn Cycling Education Foundation)              51.44
 
Junior Men 10-12
 
1 Lachlan Morton (Port Macquarie, Australia)                      1.05.58
2 Levin Zars (Unattached)                                           21.30
3 Nathan Hausman (Unattached)                                       26.33
4 Joe Haulman (Front Rangers Cycling Club)                          38.39
5 Zack Gould (Rocky Mtn Cycling Education Foundation)               42.19
 
Junior Men 13-14
 
1 Andrew Barker (Jamba Juice / Fuji)                              1.00.59
2 Ivan Rocha (Front Rangers Cycling Club)                            6.51
3 Patrick Stockton                                                   7.05
4 Connor Simmons (Rocky Mtn Cycling Education Foundation)            8.58
5 Garrett Stockton                                                  11.11
6 Morgan Ryan (Scary Fast Racing)                                   12.42
7 Jeremy Erbsen (Rocky Mtn Cycling Education Foundation)            13.58
8 Ethan Bell (Grand Valley Velo)                                    16.41
 
Junior Men 15-16
 
1 Julian Kyer (Pro Peloton Racing)                                  57.38
2 Will Flanagan (Front Rangers Cycling Club)                         1.52
3 Tyler Gallup (North Metro Cycling)                                 2.46
4 Gabriel Bershenyi (Front Rangers Cycling Club)                     3.22
5 Trevor Bell (Unattached)                                           4.49
6 Aaron Stockton (Unattached)                                        5.39
7 Austin Mcknight (Rocky Mtn Cycling Education Foundation)           6.17
8 Corey Riedel (Unattached)                                          6.21
9 Jordan Poquette (Rocky Mtn Cycling Education Foundation)           6.45
10 Isiha Quintana (Ridgeview Academy)                               16.17
11 Jeremy Long (Front Rangers Cycling Club)                         21.30
12 Damian Ornales (ROP/ Ridge View Academy)                         25.30
 
Junior Men 17-18
 
1 Steve Worsley (ROP/ Ridge View Academy)                           59.51
2 Andrew Simms (Rocky Mtn Cycling Education Foundation)              0.34
3 Clint Mitchell (Front Rangers Cycling Team)                        2.34
4 Garrison Schulte (Unattached)                                      2.39
5 Carlos Soltero (ROP/ Ridge View Academy)                           7.58
6 Kevin Buehler (ROP/ Ridge View Academy)                           14.03
7 Mario Rodriquez (ROP/ Ridge View Academy)                         19.49
8 Harry Morgan (ROP/ Ridge View Academy)                            20.31
 
Junior Women 10-12
 
1 Sarah Autry (Red rocks Velo)                                    1.37.04
2 Kendall Ryan (Scary Fast Racing)                                   7.56
 
Junior Women 13-14
 
1 Hannah Hausman (Rocky Mountain Cycling Education Foundation)    1.18.30
2 Rebecca Thorsness (Medicine bow Nordic Association)               15.09
 
Junior Women 17-18
 
1 Danielle Haulman (Rocky Mtn Cycling Education Foundation)       1.04.02
 
Citizen Men 19-29
 
1 Max Fulton (Unattached)                                         2.25.44
2 Lee Brinckerhoff                                                   9.46
3 Will Campbell                                                     12.56
4 Bryan Mahler                                                      15.46
5 Josef Talbert                                                     19.28
6 Jeffrey Thomas                                                    21.16
7 Dan Jones                                                         25.53
8 Brad Colburn                                                      27.09
9 Chris Wilson                                                      32.43
10 John Spranger                                                    41.39
11 Michael Pitrusu                                                2.00.35
 
Citizen Men 30-39
 
1 Daniel Bisque                                                   2.17.20
2 Gregory Dobbin                                                     1.40
3 Hakan Bergstrand                                                       
4 Steve Juarez (Northern Co. Tri Club)                               5.30
5 Mike Roehrs                                                        5.55
6 Matt Sheremeta (Celo Pacific)                                      7.50
7 William Baker                                                      8.45
8 Aaron Egge                                                         9.10
9 Marc Peruzzi                                                      10.20
10 Eric Sorenson                                                    11.18
11 Michael Mcgann                                                   11.30
12 Ram Mikulas                                                      12.13
13 Darin Peery                                                      14.24
14 Rob Pierce                                                            
15 Andy Doyle                                                       18.59
16 Douglas Edmundson (Unattached)                                   19.28
17 Chris Peterson                                                   19.30
18 Nathan Adams                                                     20.10
19 Perkins Miller                                                   20.30
20 Michael Sampliner                                                22.15
21 Todd Roebken                                                     23.41
22 Kevin O'Äôbrien                                                  24.35
23 Manny Lorenzo                                                    25.20
24 Flint Ogle                                                       26.55
25 Scott Wallace                                                    27.52
26 Gary Holt (Bikesource Multisport)                                29.07
27 Brett Goett                                                      29.40
28 Leonard Danaher                                                  30.35
29 Bjorn Johns                                                      32.14
30 Richard Saxton                                                   32.25
31 Becker Dirk                                                      32.31
32 Will White                                                       33.14
33 Herschel Bunch                                                   33.27
34 Dave Nespoli                                                     33.49
35 Mark Homlish                                                     34.17
36 Toby Hemmerling                                                  34.38
37 Bill Koehler                                                     35.03
38 John Hancher                                                     37.25
39 Jacques Lemond (Pinnacle Peak Cyclery)                           39.33
40 Erik Hekkert                                                     41.41
41 Steve Brunett                                                    45.03
42 Brad Beck                                                        45.19
43 Chris Holmes                                                     46.58
44 Peter Szuch                                                      49.07
45 Scott Luinstra (Apartment Finders Int'Äôl)                       49.20
46 John Hess                                                        51.06
47 David Wood                                                       53.18
48 Michael Ware                                                     56.32
49 Aaron Dailey                                                   1.01.26
50 Gary Jewett                                                    1.02.13
51 Skip Warburton                                                 1.11.05
52 Skip Thurman                                                   1.15.15
53 Richard Todd                                                   1.22.37
54 Brett Berlin                                                   1.26.08
55 Ryan Watson                                                    1.31.43
56 Donald Becker (Rocky Mountain Cycling Club)                    1.33.34
57 Matthew Novak                                                  1.51.19
58 Derek Brown                                                    2.08.59
59 Scott Danfelser                                                2.23.04
 
Citizen Men 40-49
 
1 Scott Oberbreckling                                             2.23.15
2 David Twynam                                                       1.13
3 Paul Stern                                                         1.55
4 Steve Carroll                                                      6.03
5 Bruce Gorr                                                         6.10
6 Sean Clifford                                                      6.50
7 Peter Thron (REC)                                                  7.45
8 Daniel Dunning                                                         
9 Ron Cushing                                                        9.02
10 Chris Cardova                                                    10.00
11 Douglas Inskeep                                                       
12 Paul Hamer                                                       10.28
13 Gib Weiskopf                                                     12.15
14 Frank Matson (Base 2 Studios)                                    13.43
15 Raymond Mosier                                                   14.00
16 Paul Jensen                                                           
17 Paul Swanno                                                      16.50
18 Daryl Frost                                                      18.15
19 Jay Reinsma                                                      19.07
20 Bob Vanwetter                                                    19.20
21 Jeff Lantz                                                       21.10
22 Tom Hudson (Cheyenne Velo)                                       22.55
24 Dale Arnold                                                      24.44
25 Scott Anderson                                                   24.45
26 John Stoddard                                                    25.13
27 Mike Miller (Handlebar & Grill)                                  25.35
28 Reid Ackerman                                                    25.47
29 Craig Winfield                                                   26.02
30 Dean Neuwirth                                                    26.30
31 Clint Talbott                                                    26.55
32 Randy Farris (Farris Cutsom Homes)                               27.19
33 Steve Bisque                                                     30.09
34 Delane Watson                                                         
35 Keith Mullineaux                                                 30.58
36 Tom Evans                                                        32.38
37 Keith Davidson                                                   36.01
38 Rob Kaufman                                                      36.20
39 Lee Schelonka                                                    37.13
40 Gordon Fletcher                                                       
41 Roger Lynn                                                       37.44
42 Scott Tracy                                                      39.24
43 Scott Sutton (Texas Wheels Cycling Club)                         39.58
44 Greg Smoak                                                       40.15
45 Ron Metzner                                                      41.03
46 Wayne Sheldrake                                                  42.16
47 Duane Duggan (Re/MAX of Boulder)                                 43.35
48 Patrick Griffin                                                  46.49
49 Sterling Moss                                                    47.53
50 George Chumbley                                                  48.31
51 Dwight Smith                                                     54.51
52 Michael Pascal (RCRC)                                            56.53
53 John Woodard                                                     57.28
54 Patrick Yougquist                                                58.17
55 Steve Struempler (Vitamin Cottage Cycling Team)                  58.56
56 Rob Gustke                                                     1.00.33
57 David Gehlert                                                  1.02.25
58 Brad Decessna                                                  1.03.28
59 Stockton Baker                                                 1.03.50
60 Michael O'Äôneill                                              1.14.06
61 John Deutchbein                                                1.15.17
62 Frank Traditi                                                         
63 Clif Miskell                                                   1.15.46
64 Tom Langston                                                   1.18.50
65 Rick Hirsch                                                    1.19.19
66 Tom Mcgonagle (Woodies)                                        1.22.20
67 Guy Driver                                                     1.25.50
68 Duplicate Of 1165.02                                           1.47.58
69 Chris Lawson                                                   1.56.56
70 Alex Nedleman (RMRR)                                           2.23.27
71 John Molberg                                                   2.30.24
72 Lloyd Moon                                                     2.36.35
73 Mike Holm                                                      2.41.01
 
Citizen Men 50-59
 
1 Bill Zinsky                                                     2.31.00
2 Kevin Kilgore                                                      6.15
3 Jan Silfverskiold                                                  8.18
4 Bill Schneider                                                    10.19
5 Pete Pitrone (Worlds Gym of Castle Rock)                          12.45
6 John Falconer                                                     15.10
7 Craig Farson                                                      16.00
8 Gary Sawyer                                                            
9 Tom Scrimgeour (Boulder Nordic Club)                              20.44
10 Art Bollen (Old Hide)                                            24.05
11 George Pales                                                     25.10
12 Chip Merrow (Bicyclel Peddl'Äôr)                                 25.39
13 Hugh Pixler                                                      29.45
14 Mark Eberhart                                                    45.27
15 Cory Kramer                                                      45.46
16 Mark Tuma                                                      1.09.59
17 William Young                                                  1.12.04
18 Duplicate Of 1215.02                                           1.18.22
19 Jeff Beckerman                                                 1.29.52
20 John Shields                                                   1.37.47
 
Citizen Men 60-69
 
1 Clifford Zwillich (Vitamin Cottage Cycling Team)                3.11.11
2 Scott Bernheim (Rocky Mtn. Cycling Club)                          24.54
 
Citizen Women 19-29
 
1 Jennifer Price                                                  2.39.00
2 Lindsay Krause (BikeSource Multisport)                             9.35
3 Sara Talbert                                                      17.22
4 Allison Gelvin                                                    19.27
5 Erin Vandalen                                                   1.03.54
6 Kre Reischel                                                    2.08.34
 
Citizen Women 30-39
 
1 Karin Carestia (Backcountry Brewpub & Pizzeria)                 2.26.38
2 Jennifer Shinn                                                     5.39
3 Christina Brazdzinnas                                              9.22
4 Caroline Szuch                                                    22.39
5 Lyn Simon                                                         25.47
6 Shannon Derby (Mountain'Äôs Edge)                               1.11.54
7 Melinda Marquis                                                 1.23.00
8 Elizabeth Bornhorst                                             1.45.40
 
Citizen Women 40-49
 
1 Patricia Campbell                                               2.42.00
2 Dana Derichsweiler                                                 3.12
3 Sue Stokes                                                         4.50
4 Ellen Miller (Beaver Creek Resort)                                 6.35
5 Jarmila Gorman                                                     8.04
6 Bette Long                                                        10.15
7 Beth Nesis                                                        25.17
8 Jean Carpenter (Outspokin)                                      1.07.58
9 Joann Weaver                                                    1.19.15
10 Cynthia Stone-Brossman                                         1.27.31
11 Carolyn Ann Wilber                                             1.31.55
 
Citizen Women 50-59
 
1 Cheryl Weill                                                    4.51.44

Past winners
2003 Jon Vaughters (USA) Prime Alliance
2002 Scott Moninger (USA) Mercury