Recently on Cyclingnews.com
37th Bob Cook Memorial Mt Evans Hill Climb - NE
Colorado, USA, July 25, 2003
2002 Results Results Past Winners
Vaughters claims hat-trick at Mt. Evans
By Charles Howe
Jonathan Vaughters (Prime Alliance)
Photo: © Beth Seliga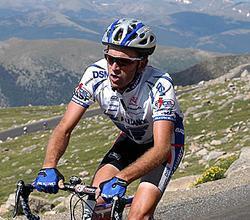 It was deja vu all over again - well, sort of - at the 37th annual Bob Cook Memorial/Mt. Evans Hillclimb. With last year's winner, Scott Moninger, serving out a controversial suspension, the second- and third-place finishers from 2002 moved up a notch, as Jonathan Vaughters (Prime Alliance) zoomed away from breakaway companion Drew Miller just before the final switchback for his third win in the event, after a duel which saw a relatively slow pace. Vaughters' winning time was nearly 4 minutes over the course record of 1:45:30, set by Mike Engleman in 1992.
Tough
Photo: © Beth Seliga

In the women's race, last year's second-place winner, Allison Lusby, also moved up in the absence of 2002 winner Kim Bruckner. Lusby, 28, a former track and cross-country runner at CU-Boulder who is in only her second year of racing, shaved 33 seconds off her time from last year, coming in at 2:09:29, which is the 4th fastest winning performance since the women's category was added in 1976. Her talents were discovered when she was working part-time in the Velogear warehouse by its manager, Mac Caldwell, who has served as her coach. Surprisingly, Lusby rode unattached until last June, when she was signed by the World of Difference cycling team, which is sponsored by the on-line magazine of the same name. Lusby plans to compete in the Mt. Washington Hillclimb in New Hampshire next month.
Two-up
Photo: © Beth Seliga

Pristine morning skies and abundant sunshine greeted the 928 entrants (793 finished) in the 28 mile race, which travels North America's highest paved auto road to the finish at 14,120 feet above sea level, a gain of 6,550' from the start in Idaho Springs. With its spectacular vistas (Tony Rominger once called it the most beautiful mountain he ever climbed), the race route is a fitting memorial for native Coloradan and five-time winner Bob Cook, who died tragically from brain cancer in 1981, aged 23. Cook's first win on the mountain came when he was still a junior, and among his other accomplishments, he was a member of the first U.S. National Team to compete in Europe.
Photography
Images by Beth Seliga/www.3catsphoto.com
Results

Senior Men Pro/1/2
 
1 Jonathan Vaughters (Prime Alliance)                            1.49.29
2 Drew Miller (Trek VW)                                             0.05
3 Marc Gullickson (Excel Sports)                                    2.36
4 Andrew Bajadali (OFOTO/Lombardi Sports)                           4.08
5 Mitch Moreman (Dean Bicycles)                                     6.16
6 John Osguthorpe (Healthy Choice / Guru's)                         6.26
7 Jon Tarkington (Vitamin Cottage Cycling Team)                         
8 Anthony Colby (Trek SOS/Honey Stinger)                            6.38
9 Blake Caldwell (5280/Subaru)                                          
10 Jon Stierwalt (Team Rio Grande)                                  8.17
11 Pete Dahle (Paragon Telluriders)                                 8.46
12 Michael Wilk (Cicli Casati Cycling Team)                         8.54
13 Ian MacGregor (Duane Duggan RE/MAX)                              9.07
14 Christopher Brennan (Jimmy D. Racing)                            9.46
15 Mike Allen (Grand Valley Velo/Elam Racing)                           
16 Jeffrey Hartmann (Jimmy D. Racing)                              10.45
17 Patrick Brown (Gary Fisher/Subaru)                              11.30
18 Nate Busch (Jimmy D. Racing/TREK VW All Stars)                       
19 Mitch Westall (Cicli Casati Cycling Team)                            
20 Patrick Sullivan (GS CIAO)                                      12.01
21 Cale Redpath (Team Dean)                                        12.07
22 Kevin Nicol (Team Rio Grande)                                   12.23
23 Mark Schwab (Excel Sports)                                      13.21
24 Sheldon Deeny (Rocky Mtn Cycling Education Foundation)          13.25
25 Nathan Dills (Soma Cycling Team)                                     
26 Andrew Ames (Excel Sports)                                      13.30
27 Andrew Manart (5280/Subaru)                                     13.36
28 Tim Duggan (Duane Duggan RE/MAX)                                13.47
29 Nick Martin (Elam/Trek/VW)                                      14.18
30 Frank Overton (Pro Peloton Velo)                                15.04
31 Paul Thomas (MONEX)                                             15.16
32 Greg Drake (Webcor Pro Cycling)                                 16.00
33 Christopher Stockburger (Team Rio Grande)                       16.21
34 Barkley Robinson (Schwab Cycles/Torelli Velo Project LLC)       16.29
35 Brian Chimileski (Duane Duggan RE/MAX)                          16.38
36 Colin Rooney (Durango Wheel Club/Ecaps Hammer Gel)              17.00
37 Jeff Wardell (Louisville Velo Club)                             17.10
38 Ross Delaplane (Valdoro Mountain Lodge Cycling Team)            17.54
39 Zachary Vestal (Jimmy D. Racing)                                18.57
40 Josh Bezecny (SOBE / Cannondale)                                19.18
41 Ryan Lynch (CU Cycling)                                         20.03
42 Sam Horn (NZMBA)                                                21.08
43 Michael Huffman (Valdoro Mountain Lodge Cycling Team)           21.44
44 Lew Perna (Schwab Cycles/Torelli Velo Project LLC)              22.26
45 Brian Krombein (International Christian Cycling Club)           23.10
46 Travis Jones (Twin Peaks Racing Team)                           23.36
47 Joseph Siciliano (Team Rio Grande)                              23.52
48 Andy Clark (Team Rio Grande)                                         
49 Ian Prichard (Schwab Cycles/Torelli Velo Project LLC)           24.28
50 Robin Thurston (Front Rangers)                                  26.06
51 Joseph Pinkerton (Vitamin Cottage Cycling Team)                 26.23
52 Robin Rasmussen (Durango Wheel Club)                            26.42
53 Thad Stocker (Team Rio Grande)                                  26.47
54 Rodney James                                                    27.13
55 Jeffrey Luedtke (Husker Road Club)                              28.07
56 Stephen Prokopiw (Summit County Cycling Club)                   30.19
57 Daniel DePaemelaere (Rocky Mtn Cycling Education Foundation)    31.49
58 Shawn Harshman                                                       
59 Ben Huff (Vitamin Cottage Cycling Team)                         32.21
60 Eric Reber (Cicli Casati Cycling Team)                          39.11
61 J.P. Partland (Kissena Cycling Club)                            40.50
62 Phil Horwitz (P4OC)                                             44.03
63 Jay Salazar (Front Rangers Cycling Team)                        44.58
 
Senior Women Open
 
1 Allison Lusby (worldofdifference.com)                          2.09.29
2 Jennifer Martin (La Forza)                                       12.54
3 Teri Cady (TLC)                                                  14.05
4 Megan Monroe (Americas Dairyland)                                14.48
5 Christy Kopasz (Intermountain Cycling Organization)              15.32
6 Kate Furze (La Forza)                                            17.58
7 Betsy Cordes                                                     18.04
8 Jilayne Lovejoy (Excel Sports)                                   19.14
9 Carla Flores (Lakewood Racing Team)                              20.38
10 Lisa Dougherty (Jamba Juice)                                    24.34
11 Andrea Dvorak (University of Virginia)                          24.46
12 Ann Schofield (Team Rio Grande)                                 26.19
13 Inge McClory (Boulder Womens Cycling Team)                      26.21
14 Shannon Edson (Excel Sports)                                    26.32
15 Gretchen Johnson                                                27.47
16 Renee Eastman (Vitamin Cottage Cycling Team)                    28.37
17 Lyn Franklin (Tokyo Joe's)                                      28.39
18 Pam Hinton (Freeskate/Big Shank)                                30.33
19 Missy Thompson (Vitamin Cottage Cycling Team)                   31.49
20 Marianne Faker (Bicycle Warehouse)                              33.37
21 Martha Meyer (Vitamin Cottage Cycling Team)                     34.29
22 Leslie Lowery-Abate (Valdoro Mountain Lodge Cycling Team)       37.59
23 Angela Graf (Excel Sports)                                      38.55
24 Carla Davis (Boulder Women's Cycling Team)                      43.36
25 Colleen Fallon (Boulder Women's Cycling Team)                   43.56
26 Catherine Johnson (Pro Peloton Velo)                            43.57
27 Nichole Wangsgard (La Forza)                                    45.17
28 Eszter Horanyi                                                  47.36
29 Nicky Van Bulck (Valdoro Mountain Lodge Cycling Team)           49.08
30 Deanna Koryczan (La Forza)                                      54.53
31 Beth Jordan (Boulder Women's Cycling Team)                    1.01.30
32 Mary Rudy (La Forza)                                          1.03.33
 
Juniors
 
1 Alex Howes (Lakewood Racing Team)                                55.58
2 Miles Burnett (International Christian Cycling Club)              0.10
3 Bryce Lawson (Rocky Mtn Cycling Education Foundation)             0.12
4 Daniel Summerhill (Rocky Mtn Cycling Education Foundation)        1.28
5 Daniel Flint (Front Rangers Cycling Team)                         1.30
6 Alex Coelho (Rocky Mtn Cycling Education Foundation)              1.59
7 Jared Border (Ridge View Cycling)                                 2.48
8 Elliot Dickerson                                                  3.42
9 Will Flanagan (Front Rangers Cycling Club)                        4.08
10 Nathan Cupps (International Christian Cycling Club)              5.23
11 Mikkel Christensen (Lakewood Racing Team)                        6.53
12 James Anderson (Horsetooth Racing Team)                          7.10
13 Austin McKnight (Rocky Mtn Cycling Education Foundation)         7.22
14 Clint Mitchell (Front Rangers Cycling Team)                      8.07
15 Julian Kyer                                                      8.10
16 Emil Marinov (Bike Source)                                       8.36
17 Davis Glasscock (Horsetooth Racing Team)                         9.07
18 Forest Gillette (Ridge View Cycling)                             9.26
19 Tyler Gallup (Team Cornerstone)                                  9.56
20 Francisco Rocha (Front Rangers)                                  9.57
21 Timothy Shecter (Ridge View Cycling)                            11.22
22 Waid Wynn (Front Rangers Cycling Team)                          12.47
23 Trevor Bell (Grand Valley Velo)                                 13.02
24 Ty Olwin (Rocky Mtn Cycling Education Foundation)               14.30
25 Joshua Burke (Quattro Assi)                                     14.32
26 Jose Arias (Ridge View Cycling)                                 14.33
27 Dustin Rowe (Ridge View Cycling)                                15.57
28 Jeremy Long (Front Rangers Cycling Club)                        18.37
29 Ivan Rocha (Front Rangers)                                      18.38
30 Drayson Bowman                                                  19.41
31 Danielle Haulman (La Forza)                                     21.22
32 Netana Hotimsky (Grand Valley Velo)                             22.17
33 Jericho Hajduk (Grand Valley Velo)                              22.36
34 Zachary Hobbs (Horsetooth Racing Team)                          23.37
35 Felix Cruz (Ridge)                                              24.44
36 Hannah Hausman                                                  29.22
37 Christopher Allen (Ridge View Cycling)                          33.23
38 Brian Geisick (Ridge)                                           33.30
39 Ashley Ooley (Rocky Mtn Cycling Education Foundation)           35.28
40 Jon Anderson (Horsetooth Racing Team)                           40.02
41 Ethan Bell (Grand Valley Velo)                                  40.29
42 Joseph Autry (Red Rock Racers)                                  40.30
43 Joe Haulman (Front Rangers Cycling Club)                        52.02
44 Sarah Autry (Red Rock Racers)                                   52.17
 
Junior Men 10-12
 
1 Ty Olwin (Rocky Mtn Cycling Education Foundation)              1.10.28
2 Ivan Rocha (Front Rangers)                                        4.08
3 Ethan Bell (Grand Valley Velo)                                   25.59
4 Joseph Autry (Red Rock Racers)                                   26.00
5 Joe Haulman (Front Rangers Cycling Club)                         37.32
 
Junior Men 13-14
 
1 Daniel Summerhill (Rocky Mtn Cycling Education Foundation)       57.26
2 Alex Coelho (Rocky Mtn Cycling Education Foundation)              0.31
3 Austin McKnight (Rocky Mtn Cycling Education Foundation)          5.54
4 Francisco Rocha (Front Rangers)                                   8.29
5 Drayson Bowman                                                   18.13
6 Jon Anderson (Horsetooth Racing Team)                            38.34
 
Junior Men 15-16
 
1 Alex Howes (Lakewood Racing Team)                                55.58
2 Bryce Lawson (Rocky Mtn Cycling Education Foundation)             0.12
3 Will Flanagan (Front Rangers Cycling Club)                        4.08
4 Nathan Cupps (International Christian Cycling Club)               5.23
5 James Anderson (Horsetooth Racing Team)                           7.10
6 Clint Mitchell (Front Rangers Cycling Team)                       8.07
7 Julian Kyer                                                       8.10
8 Emil Marinov (Bike Source)                                        8.36
9 Davis Glasscock (Horsetooth Racing Team)                          9.07
10 Tyler Gallup (Team Cornerstone)                                  9.56
11 Waid Wynn (Front Rangers Cycling Team)                          12.47
12 Trevor Bell (Grand Valley Velo)                                 13.02
13 Jose Arias (Ridge View Cycling)                                 14.33
14 Jeremy Long (Front Rangers Cycling Club)                        18.37
15 Jericho Hajduk (Grand Valley Velo)                              22.36
16 Christopher Allen (Ridge View Cycling)                          33.23
 
Junior Men 17-18
 
1 Miles Burnett (International Christian Cycling Club)             56.08
2 Daniel Flint (Front Rangers Cycling Team)                         1.20
3 Jared Border (Ridge View Cycling)                                 2.38
4 Elliot Dickerson                                                  3.32
5 Mikkel Christensen (Lakewood Racing Team)                         6.43
6 Forest Gillette (Ridge View Cycling)                              9.16
7 Timothy Shecter (Ridge View Cycling)                             11.12
8 Joshua Burke (Quattro Assi)                                      14.22
9 Dustin Rowe (Ridge View Cycling)                                 15.47
10 Zachary Hobbs (Horsetooth Racing Team)                          23.27
11 Felix Cruz (Ridge)                                              24.34
12 Brian Geisick (Ridge)                                           33.20
 
Junior Women 10-12
 
1 Hannah Hausman                                                 1.25.20
2 Sarah Autry (Red Rock Racers)                                    22.55
 
Junior Women 13-14
 
1 Danielle Haulman (La Forza)                                    1.17.20
2 Ashley Ooley (Rocky Mtn Cycling Education Foundation)            14.06
 
Junior Women 15-16
 
1 Netana Hotimsky (Grand Valley Velo)                            1.18.15
 
Senior Men 3
 
1 Tom Zirbel                                                     1.58.25
2 Alex Hagman (Fort Frames / Hagman Architects)                     0.32
3 Peter Stetina (5280/Subaru)                                       0.39
4 Jeff Vibert (Boulder/Denver Couriers)                             2.03
5 Ryan Hamity (CU Cycling)                                          2.23
6 Tejay van Garderen                                                2.31
7 Wesley Hobson                                                     4.06
8 Nick Gould (Santa Cruz Bicycles)                                  4.28
9 Ian Stanford (Swift Cycling)                                      4.30
10 Nicholas Cady (Louisville Cyclery)                               4.52
11 Mark Merritt (AG Edwards)                                        5.12
12 Daniel Barry (Vitamin Cottage Cycling Team)                      5.39
13 Fred Hankinson (Gulf Coast Cycling Association)                  6.13
14 Trevor Krueger (Pearl Izumi/DEAN)                                6.23
15 Brian Hutchison (Fort Collins Cycling and Racing Club)           6.55
16 Jack Swift (Red Rocks Velo)                                          
17 Grant Berry (3D Racing)                                          7.05
18 Collin Becker (CU Cycling)                                       7.27
19 Chuckie V (Club Solo)                                                
20 Matt Cooke (Snow Valley)                                         7.53
21 Nick Payne (Green Mountain Sports Velo)                              
22 Paul Saladino (Pro Peloton Velo)                                 9.50
23 Bill Stalhuth (Pro Peloton Velo)                                10.12
24 Miles Venzara (Team 505/Trek/Honey Stinger)                          
25 Derek Strong (Haul N Ass Racing Team)                           10.35
26 Brent Webb (International Christian Cycling Club)               10.48
27 Eric Ray (Swift Cycling)                                        10.54
28 Andy Johnson                                                         
29 Aaron Adams (Laurel Street Racing)                                   
30 Craig Wu (Vitamin Cottage Cycling Team)                         11.17
31 Darian Founds (New Mexico Velo Sport)                           11.46
32 Don Williams (Colorado Velo - Denver Spoke)                     12.16
33 Eric Jones (Colorado Velo - Denver Spoke)                       12.22
34 Doug Johnson (Excel Sports)                                     12.57
35 Charles Knoll (No-Hair.com)                                     13.47
36 Joseph Giampaolo                                                14.08
37 Andrew Biglow                                                   14.18
38 Brian Barrett (GCCA)                                            14.37
39 Jeff Ofsanko (Swift Cycling)                                    14.50
40 Ronald Pasquini                                                 15.48
41 Doug Manno (Haul N Ass Racing Team)                             16.31
42 John Langston (Fort Collins Cycling and Racing Club)            16.54
43 Braden Kappius (5280/Subaru)                                         
44 Scott Damman (Excel Sports)                                          
45 Robert Crain (Blue Rain Cycling Team)                           17.35
46 Matt Faker (Bicycle Warehouse)                                  19.20
47 Russell Kappius (Tokyo Joe's)                                   19.36
48 Bret Hunter (Haul N Ass Racing Team)                            19.44
49 Peter Rehn (Chick's Harley-Davidson)                                 
50 James Herbert (Cicli Casati Cycling Team/Jamba Juice)                
51 Jeff Oakey (GS CIAO)                                            20.26
52 Greg Finnoff                                                    21.02
53 Stephen Lunney (Valdoro Mountain Lodge Cycling Team)            21.23
54 Seth Rubin (Team Mobile Cyclery)                                     
55 Matthew Breagy (Excel Sports)                                   22.26
56 Robert Karman (Excel Sports)                                    23.25
57 John Parker (New Mexico Velo Sport)                             23.34
58 Jeb Dunnuck                                                     24.12
59 Peter Hudnut (Colorado College)                                      
60 Todd Johnson (Denver/Boulder Couriers)                          24.20
61 Eric Liprandi (Laurel Street Racing)                            25.09
62 Nicholas Legan (Pro Peloton Velo)                               25.14
63 Nat Ross (Subaru/Gary Fisher)                                   25.58
64 Jamie Kilcoyne (GS CIAO)                                        26.03
65 Torin Priem (GS CIAO)                                           28.14
66 Darin Busse (International Christian Cycling Club)              28.53
67 Michael Cimbura (AST Cycling Team)                              29.37
68 Richard Klusman (SEAR/Cont'l Homes-Campus Cycles)               30.23
69 Armando Galarraga (Excel Sports)                                30.41
70 Andrew Stokes (Laurel Street Racing)                            31.08
71 Mark Brackenbury (Highgear/LBC)                                 32.20
72 Matson Tew (Rocky Mounts)                                       33.52
73 Will Calkins (Swift Cycling)                                    34.16
74 John Leybourne (SEAR/Cont'l Homes-Campus Cycles)                34.44
75 David Middlekauff (Haul N Ass Racing Team)                      35.43
76 Mark Adams (Colorado Velo - Denver Spoke)                            
77 John Shippey (GS CIAO)                                          37.26
78 Kristopher Epps (Huskers Road Club)                             37.30
79 Daniel Folmar (Maplewood Bicycle)                               40.50
80 Bernard Vachon                                                  46.04
81 Eric Lundberg (Absolute Bikes)                                  48.12
82 Henrik Groth Petersen (Swift Cycling)                           50.34
83 David Haar (International Christian Cycling Club)               56.14
84 Marc Morelli (Lakewood Racing Team)                             59.12
85 Matthew Stallings (Team Rio Grande)                           1.14.28
86 Patrick Storey (Boulder/Denver Couriers)                      1.14.58
 
Senior Men 4
 
1 Greg Krause (Bike Source)                                      1.59.30
2 Louis Brescia (Fort Collins Cycling and Racing Club)              8.29
3 Mike Porter                                                       9.04
4 Wade Newsom                                                       9.39
5 Ryan Hamilton (Dean Bicycles)                                     9.58
6 Greg Anderson                                                         
7 Seppi Daburger (SV Wacker Burghausen)                                 
8 Kent Evans (East Side Wheelmen)                                  10.09
9 Scott Nydam (Totally Wired)                                      10.23
10 Derick Williamson (CTS)                                         10.46
11 Mark Lowe                                                       11.20
12 Jason Marks (Racer's Edge)                                           
13 Ryan Bentley                                                    11.39
14 John Rehorst (Scheels Sports)                                   12.02
15 Davin Anderson (CU Triathlon)                                   12.16
16 John Paul Robb (Vitamin Cottage Cycling Team)                   14.03
17 Todd Haavind (Lakewood Racing Team)                             14.45
18 Cortino Garcia                                                  15.18
19 Pablo Calderon-Rodriquez                                        15.34
20 Orion Cannon (SLV Cycling Club)                                 15.51
21 Scott Kornfield                                                 16.02
22 Ryan Amirault (Colorado Velo - Denver Spoke)                    16.06
23 Eric Martin                                                          
24 Daniel Teodorv (Great Adventure Sports)                         16.30
25 Luke Blair (Casper Wheelmen)                                    16.48
26 Bryson Sewell (Velo Del Norte)                                  17.55
27 Eirik Endeve                                                    18.01
28 Daniel MacFarlane                                               18.11
29 Erik Bergstrom (Fort Collins Cycling and Racing Club)           18.24
30 Kam Zardouzian (GS CIAO)                                             
31 Steve Hadley (Durango Wheel Club)                                    
32 Michael Brown (Fort Collins Cycling and Racing Club)            18.32
33 John Drake (Red Rocks Velo)                                     18.48
34 Brad Bingham (Pedal Power)                                      18.50
35 Jay Foss                                                        18.56
36 Dustin Sperber (Screaming Beagle)                               19.10
37 Robert Powell (RockShox)                                        19.58
38 Edward Schaub                                                   20.02
39 Eric Truman (SEAR/Cont'l Homes-Campus Cycles)                   20.18
40 Kirk Framke                                                          
41 David Schoenwald (White Line Cycling Club)                      20.41
42 Mark Beaty (Vitamin Cottage Cycling Team)                            
43 Matthew Clark (Pro Peloton Velo)                                20.53
44 Hans Bakker                                                     21.46
45 Brian Murray                                                    23.03
46 Justin Maka (CSU Cycling)                                            
47 Mike Armstrong (Aspen Velo)                                     23.16
48 Graeme Galyer (Comotion Sports / Yeti)                          23.22
49 Paul Ruhling (Durango Wheel Club)                               23.30
50 Timothy Nylen (Michigan)                                        23.36
51 Sean Smith                                                      24.06
52 Dave Muscianisi (King of the Rockies)                                
53 Paul Armstrong                                                  24.21
54 Michael Pritchard (Aspen Bike tours & Rentals)                  24.31
55 Randy Sutton                                                    25.19
56 Terry Jennings (Colorado Velo - Denver Spoke)                   25.41
57 Kurt Strohmeier (Athletes Under Construction)                        
58 John Luif (Red Rocks Velo)                                      26.00
59 Kevin Krajewski (Colorado Velo - Denver Spoke)                  26.12
60 Gary Desmond                                                    26.40
61 Eric Ludemann                                                        
62 Brad Roberts                                                         
63 Brian Opansky (Swift Cycling)                                   26.57
64 Tim Lucking                                                     27.15
65 Tim Miller (Rocky Mountain Road Club)                           27.31
66 David Ochs                                                      27.36
67 Jeremy Ramsey (Highlands Ranch Cycling)                         27.42
68 Jeff Stiner                                                     29.21
69 Patrick O'Hearn (CU Cycling)                                    29.38
70 Christopher White (Aspen Cycling Club)                          30.44
71 Stephen Ogle                                                    31.13
72 Chris Settje (Louisville Velo Club)                             31.17
73 Steven DeRoma                                                   31.21
74 Campbell Ilfrey                                                 32.02
75 Dan Jones                                                       32.16
76 Charles Corbin (Colorado Velo - Denver Spoke)                   32.32
77 Jeff Mitchem (Louisville Velo Club)                             33.01
78 Sam Blasiak                                                          
79 Alan Enos                                                       33.24
80 Dan Sonnesyn                                                    33.39
81 James Sharpe (Trek Racng Team)                                  33.57
82 Lance Miller (Cicli Casati Cycling Team/Jamba Juice)            34.03
83 Mike Thompson (GS CIAO)                                         34.16
84 Federico Medina (Green Mountain Sports Velo)                    34.53
85 Steven Dean (Fort Collins Cycling and Racing Club)              35.23
86 Adam Maerz (Storagetek)                                         36.11
87 Mike Miller (Lakewood Racing Team)                              37.19
88 Christopher Cummings (Hammer Racing)                            37.25
89 Mike Harper (Laurel Street Racing)                              37.39
90 Thomas Propst                                                   37.48
91 Daniel Page (Twin Peaks Racing Team)                            37.57
92 Craig Keller                                                    41.40
93 Chad Roberts                                                    41.49
94 Ben Pryhoda (Louisville Velo Club)                              42.03
95 Aaron Ross                                                      42.39
96 Mario Estrada                                                   42.56
97 Ken Wilhelm (Fort Collins Cycling and RacingClub)               43.57
98 Jay Richardson (TTH)                                                 
99 Steve Loewenkamp                                                44.51
100 Steve Schwarting (Louisville Velo Club)                        45.08
101 Brandon Cooper (Pro Peloton Velo)                                   
102 Lukas Jeter (Green Mountain Sports Velo)                            
103 Chris Busacca                                                  45.59
104 Charlie Wicker (Team Cracker)                                  47.07
105 James Todd                                                     48.37
106 Stephane Niquet (Rocky Mountain Road Club)                     49.09
107 Keagan Rowley (CU Cycling)                                     49.24
108 Cris Willett                                                   50.06
109 Parker Macy (Ionic Cycles)                                     50.35
110 Jack Lavier (Laurel Street Racing)                             51.02
111 David Gladstone                                                51.26
112 Lee Shaw                                                       52.36
113 JJ Gee (East Side Wheelmen)                                    53.09
114 Eric Peltier                                                   54.44
115 Mark Wagner (BCWF)                                             55.06
116 Timothy Madden  (Laurel Street Racing)                         57.00
117 Gregg Wollenhauft (Husker Road Club)                           58.32
118 Jeremy Allen (Colorado Velo - Denver Spoke)                    59.10
119 Mark Flatley (Athlete's Under Construction)                  1.00.40
120 Jeff Lee                                                     1.01.04
121 Daniel Roper (Rock N Roll Sports)                            1.01.38
122 Michael Bar (Century Road Club)                              1.02.14
123 Matt Rose                                                    1.02.38
124 Chris Mader                                                  1.03.25
125 Peter Shaffer                                                1.06.39
126 Henry Arboleda (Louisville Velo Club)                        1.09.04
127 Dan Schuetz                                                  1.11.04
128 Jeromy Vigil (Laurel Street Racing)                          1.11.23
129 Alex Mora (Land Of Oz)                                       1.12.39
130 Jim McChesney                                                1.12.46
131 David Self (Durango Wheel Club)                              1.15.15
132 Carl Gose                                                    1.15.50
133 Robert Stellick (Pikes Peak Velo Racing)                     1.20.42
134 Matt McAdams                                                 1.30.44
135 Brett Hobson (UNC cycling Club)                              1.49.39
136 Herb Beaven III (International Christian Cycling Club)       1.50.27
 
Senior Men 35+
 
1 Benito Quintana (KHSNM.com)                                    2.01.54
2 Steve Crowley (Cody Racing Team)                                  0.23
3 John Haggerty (Team Telluride)                                    0.49
4 Danny Sullivan (Red Rocks Velo)                                   1.00
5 Mike Hogan (Louisville Velo Club)                                 1.46
6 Bart Sheldrake (Cody Racing Team)                                 2.14
7 Dennis Farrell (Red Rocks Velo)                                   3.29
8 Brian Todeschini (GS Boulder Masters Cycling Team)                4.09
9 Franck Abate (Valdoro Mountain Lodge Cycling Team)                4.12
10 Tim Godby (Louisville Velo Club)                                 4.22
11 Ted MacBlane (The Hub of Aspen)                                  4.48
12 Joseph Cooper (Colorado Velo / Denver Spoke)                     4.58
13 Daniel Underkofler (GS Boulder Masters Cycling Team)             5.58
14 Butch Peterson (Hub of Aspen)                                    6.42
15 Michael Scanlon (Hub Of Aspen)                                   7.07
16 Herb Johnson (San Diego Bicycle Club)                            7.15
17 Dwight Hall (Team Rio Grande)                                    8.40
18 Bob Weiner (Express Yourself Racing Team)                        9.51
19 Brian Clary (Pikes Peak Velo Racing)                            10.18
20 Brian Reise (Dogs at Large)                                     10.46
21 Cary Gold                                                       10.51
22 Dean Carson (Team Columbus)                                          
23 Dan Armijo (Olev Rapido)                                        11.05
24 Donald Spence Jr (Team Rio Grande)                              11.16
25 Joseph Mastoras (Paragon Ski & Sport)                           11.31
26 Scott Hill (Bicycle Outfitters)                                 12.35
27 Frank Hibbitts (Cody Racing Team)                               13.20
28 John Holcombe (Team Rio Grande)                                 13.41
29 Richard Rodriquez (Colorado Velo - Denver Spoke)                14.09
30 Mark Copeland (Pro Peloton Velo)                                14.20
31 Moher Mike (Beaver Creek Resort Racing)                         14.43
32 Derrick Nickel (Cody Racing Team)                               15.03
33 Michael Kingery (Valdoro Mountain Lodge Cycling Team)           15.17
34 Drew Geer (GS Boulder Masters Cycling Team)                     15.20
35 Mike Hegdal (Team Rio Grande)                                   16.52
36 Tom Koenig (WRC/Specialized)                                    17.17
37 Jonny Love (Kind Cyclist)                                       17.29
38 Greg Hughes                                                     17.54
39 James Yorgason (Ogden One Cycling Club)                         18.23
40 Timothy Bellio (Valdoro Mountain Lodge Cycling Team)            18.47
41 Joel Howes (Cody Racing Team)                                   19.51
42 Timothy Fonseca (Team Rio Grande)                               20.51
43 Thomas Hunter (Vitamin Cottage Cycling Team)                    21.03
44 Armen Karagoz                                                        
45 Eric Anderson (GS Boulder Masters Cycling Team)                 21.24
46 Tom Gardner (Trek/VW)                                           22.10
47 Harris Rosenthal (Colorado Velo - Denver Spoke)                 23.06
48 Greg Berland                                                    23.43
49 Rod Yoder                                                       24.30
50 Michael Williams (Fort Collins Cycling and Racing Club)         26.14
51 Craig Kinstle (ZG Velo)                                         26.33
52 Christopher Stout (Valdoro Mountain Lodge Cycling Team)         31.13
53 Andy Rodriguez                                                  31.38
54 Chris Macbeth (Team Rio Grande)                                 33.38
55 Jared Shutterworth (Husker Road Club)                           34.27
56 Ted Zenzinger (Lakewood Racing Team)                            36.55
57 Todd Wilderman                                                  40.13
58 Brad Larsen (Twin Peaks Racing Team)                            45.27
59 Brett Ploessel (SEAR/Cont'l Homes-Campus Cycles)                45.54
60 Richard Squires (Red Rocks Velo)                                55.15
 
Senior Men 35+,4
 
1 Jeffrey Gillings                                               2.17.09
2 Brad Fink (Simple Green/MAZDA)                                    1.24
3 Daniel Piergentili                                                1.28
4 Greg Brumley (san luis valley cycling club)                       4.24
5 Phil Ensign                                                       5.08
6 Andrew Ferguson (Trek 505 / Honey Stinger)                        7.47
7 Doug Thormahlen (Team Mobile Cyclery)                             7.52
8 Sam Linzell (Lakewood Racing Team)                                8.30
9 Michael Harding                                                   9.39
10 Adam Feerst                                                     11.38
11 John DeSisto                                                    13.23
12 Douglas McGhee                                                  13.47
13 Peter Ismert                                                    13.54
14 Kyle Boschen (WRC/Specialized)                                  14.06
15 Tom Anderson (Java Jake/Land of Oz Bicycles)                    15.04
16 James Guest                                                     15.23
17 Ken Golden (Durango Wheel Club)                                 15.52
18 Richard Hoehler                                                 16.00
19 Edward Cortright (Team Mobile Cyclery)                               
20 Ed Yousse (Big Ring Cycles)                                     16.24
21 Ken Reardon                                                     17.31
22 Sam Noffziger                                                   17.46
23 Michael Schrock                                                      
24 Brad Tucker (SEAR/Cont'l Homes-Campus Cycles)                   18.14
25 Michael Ehredt (Shaklee)                                        18.18
26 Steve Parcell                                                   19.05
27 Randy Knoche (GGBC)                                             19.50
28 John McManus (Durango Wheel Club)                                    
29 Bobby Ahlen                                                     21.45
30 Tim Bresnahan                                                   22.24
31 Todd Hopgood (Paragon Ski and Sport)                            22.37
32 Tim Kalisch (Lakewood Racing Team)                                   
33 James Park (Santa Clarita Velo)                                 23.09
34 Steve Autry (Flag velo)                                         23.25
35 Ward Bill (Paragon)                                             23.34
36 Dave Kalzenshev                                                 24.56
37 Tom Fiersten (Haul N Ass Racing Team)                           25.07
38 Keith Biehl (North Hills Velo)                                  25.53
39 Brian Meadows                                                   26.22
40 Michael Spak (Lakewood Racing Team)                             26.51
41 Brent Buenger (Red Rocks Velo)                                  27.03
42 Rick Newman                                                     27.23
43 Dan Sidor (Green Mountain Sports)                                    
44 Mark Elms (CiClismo SA)                                         28.32
45 Rob Rowland (SEAR/Cont'l Homes-Campus Cycles)                   29.00
46 Jon McClurg (Rocky Mounts Racing)                               31.12
47 Stuart Corbridge (Duane Duggan / Remax)                         34.13
48 Michael Bowers (Colorado Velo - Denver Spoke)                   35.03
49 Neal Mynatt (Durango Wheel)                                     36.34
50 Courtney Pullen (Co. Bicycle Racing Seniors)                    38.18
51 Jack Robinson                                                   38.32
52 David Decker                                                    39.20
53 NA                                                              40.12
54 Mark Holmes (squadra coppi)                                     41.11
55 Jonathan MIntz (Ringling Bicycles)                              41.53
56 Jonathan Day                                                    43.05
57 Robert Fester (Lakewood Racing Team)                            46.31
58 Steven Noon (Velo Allegro)                                      46.33
59 Tim Downing (Louisville Velo Club)                              47.53
60 Theodore Pearl                                                  55.27
61 Greg Esparza (Fort Collins Cycling and RacingClub)              59.33
62 Michael Shasberger (SEAR/Cont'l Homes-Campus Cycles)          1.09.19
63 Geoffrey Lutz                                                 1.28.27
 
Senior Men 45+
 
1 Jimi Gibson (Simple Green/MAZDA)                               2.01.14
2 Karl Kiester (Cody Racing Team)                                   1.36
3 Lindsay Blount (Simply Fit)                                       3.09
4 Terry Purcell (GS Boulder Masters Cycling Team)                   7.31
5 Jim Dickerson (Cody Racing Team)                                  7.54
6 Wayne Watson (Vitamin Cottage Cycling Team)                       8.11
7 Mike Danaher (Co. Bicycle Racing Seniors)                         9.02
8 Craig Terry                                                       9.56
9 Paul Mack (GS Boulder Masters Cycling Team)                      10.55
10 Raymond Cribar (GS Boulder Masters Cycling Team)                     
11 Gary Thacker (Louisville Velo Club)                             11.43
12 Dennis Haberkorn (GS Boulder Masters Cycling Team)              12.20
13 Mike Slattery (Bite Me Racing)                                  12.28
14 William Kellagher (Simple Green/MAZDA)                          13.00
15 Joseph Suess (Colorado Velo - Denver Spoke)                     13.24
16 Brad Olwin (Cody Racing Team)                                        
17 Joe Carcich (East Side Wheelmen)                                15.23
18 Pete Baker (Red Rocks Velo)                                     15.42
19 Robert Bieterman (Simple Green/MAZDA)                           15.58
20 Robin Gregory (Colorado Velo - Denver Spoke)                    16.06
21 William Simmons (Simple Green/MAZDA)                            20.32
22 Mario Plaza                                                          
23 Vance Oracion (Casper Wheelmen)                                 21.11
24 Russell Asleson (Dogs At Large Velo)                                 
25 Ken Brecheisen (Rocky Mountain Road Club)                       21.47
26 Rick Montgomery (Bingham's Northshore Cycling)                  22.15
27 Richard Verderame (New Mexico Velo Sport)                       22.55
28 Harry Kent (Estes Cycling Club)                                 23.10
29 Gordy Devers                                                    23.55
30 Eric Perryman (Lakewood Racing Team)                            27.47
31 Chris Orton (Team Rio Grande)                                   28.00
32 Nathaniel Cobb (Team Ochsner)                                   28.09
33 Buzz Burrell (Boulder Trail Runners)                            28.47
34 Phil Davis (Colorado Velo - Denver Spoke)                       29.20
35 Jon Ronat (Lakewood Racing Team)                                30.18
36 Doug Squires (Red Rocks Velo)                                   30.58
37 Gary Christlieb                                                 31.07
38 Rob Johnston (Rico Velo)                                        31.41
39 Robin Hunt (Colorado Velo - Denver Spoke)                       33.18
40 Jeff Whitlock (Elam Construction)                               33.59
41 David Balaban (Simply Fit)                                      34.07
42 George Knaggs (Boulder CHAOS)                                   34.55
43 Mike Brewer                                                     35.41
44 Eddie Morandi (Poison Spider Bicycles)                          36.25
45 Dave Sherrer                                                    37.40
46 Nick Coy                                                        38.36
47 David Mulica (Red Rocks Velo)                                   41.32
48 Paul Braun (Front Rangers Cycling Team)                         42.29
49 Larry Cornman (GS CIAO)                                         44.47
50 J. Michael Brown (Tellurider's Velo Club)                       45.24
51 Chip Chilson (Vitamin Cottage Cycling Team)                     47.07
52 Terry Akins (Louisville Velo Club)                              48.36
53 Hector Leyba (Pikes Peak Velo)                                  49.34
54 John Bouzis (Casper Wheelmen)                                   50.38
55 Kurt Andersen (Lakewood Racing Team)                            53.48
56 Charles Waterfield                                              55.51
57 John Boland (Team Ochsner)                                      56.54
58 Patrick Dennis                                                  57.44
59 Jack McDonald (Lakewood Racing Team)                          1.03.42
60 Bruce Gary (St. Louis Cyclones)                               1.24.39
 
Senior Men 55+
 
1 John Phillips                                                  2.21.22
2 John Haney (Park City Cycling Club)                               3.48
3 Jonathon Montag (GS Boulder Masters Cycling Team)                 4.32
4 Bruce Bates                                                       9.19
5 Kenneth Stamm (Durance Cycleworks)                                    
6 Donald Haywood (Fort Collins Cycling and Racing Club)            16.05
7 Scott Tucker (Lakewood Racing Team)                              18.46
8 Dan Herk (Team Rio Grande)                                       20.16
9 Don Heinig                                                       22.41
10 Gary Peterson (Comotion Sport/YETI Racing)                      24.26
11 David Chrislip (Swift Cycling)                                  28.03
12 James Kinsinger (GS Boulder Masters Cycling Team)               29.54
13 Fred McCubbin                                                   32.36
14 Michael Raber                                                   35.54
15 Jerry McIntosh (Team Rio Grande)                                35.56
16 Richard Bagienski (Durango Wheel Club)                          42.58
17 Wayne Boyles (Team Rio Grande)                                  47.32
18 Erik Nordenson (Cyclocrosworld.com)                             48.22
19 Rick Abbott (Co. Bicycle Racing Seniors)                        55.07
20 Jim Hoffmeister (Poison Spider Bike Shop)                     1.05.10
21 Alan Boisvert (Co. Bicycle Racing Seniors)                    1.10.22
22 Tom Stocker (Lakewood Racing Team)                            1.35.48
23 Ken Strohson                                                  2.33.38
 
Senior Men 65+
 
1 Alan Stockland                                                 2.44.25
2 David Bickel (Co. Bicycle Racing Seniors)                        43.23
 
Senior Women 1/2
 
1 Allison Lusby (worldofdifference.com)                          2.09.29
2 Jennifer Martin (La Forza)                                       12.54
3 Megan Monroe (Americas Dairyland)                                14.48
4 Christy Kopasz (Intermountain Cycling Organization)              15.32
5 Kate Furze (La Forza)                                            17.58
6 Jilayne Lovejoy (Excel Sports)                                   19.14
7 Carla Flores (Lakewood Racing Team)                              20.38
8 Lisa Dougherty (Jamba Juice)                                     24.34
9 Andrea Dvorak (University of Virginia)                           24.46
10 Renee Eastman (Vitamin Cottage Cycling Team)                    28.37
11 Pam Hinton (Freeskate/Big Shank)                                30.33
12 Missy Thompson (Vitamin Cottage Cycling Team)                   31.49
13 Martha Meyer (Vitamin Cottage Cycling Team)                     34.29
14 Leslie Lowery-Abate (Valdoro Mountain Lodge Cycling Team)       37.59
15 Angela Graf (Excel Sports)                                      38.55
16 Colleen Fallon (Boulder Women's Cycling Team)                   43.56
17 Mary Rudy (La Forza)                                          1.03.33
 
Senior Women 3
 
1 Teri Cady (TLC)                                                2.23.34
2 Ann Schofield (Team Rio Grande)                                  12.14
3 Inge McClory (Boulder Womens Cycling Team)                       12.16
4 Shannon Edson (Excel Sports)                                     12.27
5 Gretchen Johnson                                                 13.42
6 Lyn Franklin (Tokyo Joe's)                                       14.34
7 Carla Davis (Boulder Women's Cycling Team)                       29.31
8 Catherine Johnson (Pro Peloton Velo)                             29.52
9 Nichole Wangsgard (La Forza)                                     31.12
10 Eszter Horanyi                                                  33.31
11 Nicky Van Bulck (Valdoro Mountain Lodge Cycling Team)           35.03
12 Deanna Koryczan (La Forza)                                      40.48
13 Beth Jordan (Boulder Women's Cycling Team)                      47.25
 
Senior Women 4/Senior Women 35+
 
1 Bev Zimmerman                                                  2.25.20
2 Cindy O'Neill (Dogs At Large Velo)                                4.20
3 Stacie Froelich (Boulder Women's Cycling Team)                    9.05
4 Kelly Handel                                                     13.26
5 Trish Heisdorffer (WRC/Specialized)                              13.38
6 Kiirsten Styvar (Casper Wheelman)                                14.32
7 Melody Serra (Higlands Ranch Cycling Club)                       15.54
8 Cathy Johnson (Louisville Velo Club)                             18.28
9 Linda Krelle (Garden of the Gods Breakfast Club)                 19.25
10 Robin Waterman (Harvard Cycling Team)                           20.07
11 Luisa Sullivan                                                  22.59
12 Beth Hoffmeister                                                23.05
13 Adrienne Brian (San Diego Cyclo-Vets)                           23.21
14 Lauren Heilig (Trek Racing)                                     25.16
15 Tracey Jacobs                                                   25.30
16 Karen Dlouhy (La Forza)                                         25.49
17 Susan Einberger (Clif Bar)                                      26.02
18 Valerie Poulin                                                  26.34
19 Pam Leamons (La Forza)                                          27.22
20 Cynthia Brown (Laurel Street Racing)                            28.07
21 Martha Pomares (Rocky Mountain Road Club)                       28.46
22 Anne Dillon                                                     29.19
23 Carin Hollis                                                    29.59
24 Denise Beaudoin Howe (Lakewood Racing Team)                     30.33
25 Martha Iverson (Durango Wheel Club)                             30.50
26 Polly Cambron (Eastside Wheelmen)                               31.25
27 Deirdre Garvey (Louisville Velo Club)                           34.10
28 Sonja Evers (Pikes Peak Velo)                                   34.45
29 Jo Campbell (Colorado Velo - Denver Spoke)                      35.54
30 Debra Hutson                                                    37.07
31 Krista Hall (Laurel Street Racing)                              38.19
32 Patsy Shaffer (Boulder Womens Cycling Team)                     39.06
33 Elizabeth Heerwagen                                             39.24
34 Kelly Walker                                                    42.51
35 Cindy Bero (Colorado Velo - Denver Spoke)                       45.13
36 Gina Doerner (Durango Wheel Club)                               53.00
37 Sara Campbell (University OF Wyoming)                           56.46
38 Stephanie Simpkins (Colorado College)                           59.50
39 Eleanor Hamre (Co. Bicycle Racing Seniors)                    1.17.10
40 Cynthia Girard                                                1.20.05
41 Britten Chase                                                 1.24.39
 
Senior Women 4
 
1 Stacie Froelich (Boulder Women's Cycling Team)                 2.34.25
2 Kelly Handel                                                      4.21
3 Kiirsten Styvar (Casper Wheelman)                                 5.27
4 Melody Serra (Higlands Ranch Cycling Club)                        6.49
5 Cathy Johnson (Louisville Velo Club)                              9.23
6 Robin Waterman (Harvard Cycling Team)                            11.02
7 Lauren Heilig (Trek Racing)                                      16.11
8 Susan Einberger (Clif Bar)                                       16.57
9 Valerie Poulin                                                   17.29
10 Carin Hollis                                                    20.54
11 Denise Beaudoin Howe (Lakewood Racing Team)                     21.28
12 Polly Cambron (Eastside Wheelmen)                               22.20
13 Patsy Shaffer (Boulder Womens Cycling Team)                     30.01
14 Elizabeth Heerwagen                                             30.19
15 Sara Campbell (University OF Wyoming)                           47.41
16 Stephanie Simpkins (Colorado College)                           50.45
17 Britten Chase                                                 1.15.34
 
Senior Women 35+
 
1 Bev Zimmerman                                                  2.25.20
2 Cindy O'Neill (Dogs At Large Velo)                                4.20
3 Trish Heisdorffer (WRC/Specialized)                              13.38
4 Luisa Sullivan                                                   22.59
5 Adrienne Brian (San Diego Cyclo-Vets)                            23.21
6 Tracey Jacobs                                                    25.30
7 Cynthia Brown (Laurel Street Racing)                             28.07
8 Anne Dillon                                                      29.19
9 Deirdre Garvey (Louisville Velo Club)                            34.10
10 Sonja Evers (Pikes Peak Velo)                                   34.45
11 Jo Campbell (Colorado Velo - Denver Spoke)                      35.54
12 Krista Hall (Laurel Street Racing)                              38.19
13 Kelly Walker                                                    42.51
14 Cindy Bero (Colorado Velo - Denver Spoke)                       45.13
15 Gina Doerner (Durango Wheel Club)                               53.00
16 Cynthia Girard                                                1.20.05
 
Senior Women 45+
 
1 Linda Krelle (Garden of the Gods Breakfast Club)               2.44.45
2 Beth Hoffmeister                                                  3.40
3 Karen Dlouhy (La Forza)                                           6.24
4 Pam Leamons (La Forza)                                            7.57
5 Martha Pomares (Rocky Mountain Road Club)                         9.21
6 Martha Iverson (Durango Wheel Club)                              11.25
7 Debra Hutson                                                     17.42
 
Senior Women 65+
 
1 Eleanor Hamre (Co. Bicycle Racing Seniors)                     3.42.30
 
Citizen Men 19-29
 
1 Dave Fagan                                                     2.24.05
2 Jason Prigge                                                      4.27
3 Chris Case                                                        5.16
4 Ted Romero                                                        8.30
5 Leonardo Bortolotto                                              11.31
6 Marshall Kettner                                                 12.29
7 Tory Wells                                                       14.25
8 Matthew Taylor                                                   14.54
9 Jonathon Mullen                                                  21.36
10 Anthony Pigliacampe                                             22.45
11 Scott Eklund (Aspen Bike Tours & Rentals)                       24.00
12 Ian Housman                                                     25.43
13 Nate Kratberger (Finn town flats)                               30.59
14 Chris Zimmermann (Finn town Flats)                              31.25
15 JD Graziano                                                     35.16
16 Eric Hewit                                                      35.37
17 Nathaniel Leeds                                                 41.06
18 Mark Visnack                                                    47.05
19 Jonathan Gibbons                                                51.14
20 Matt Ambroziak                                                1.05.43
21 Mark Blubaugh                                                 1.07.20
22 Jeff Caplins                                                  1.11.52
 
Citizen Men 30-39
 
1 Clark Fitzsimmons                                              2.13.05
2 Daniel Bisque                                                     1.18
3 Leroy Matticks                                                    4.23
4 Trent Duncan                                                      4.42
5 Norm Helm                                                         6.35
6 Gregory Dobbin                                                    7.37
7 Mike Engelhardt                                                   8.01
8 D. Read Spear (Flying Fetzers)                                   13.12
9 Aaron Dallas                                                     13.50
10 Perry Donnafield                                                14.08
11 Randy Crews                                                     14.24
12 Perkins MIller                                                  14.32
13 Robert Wood                                                     14.43
14 HÃ¥kan Bergstrand                                               15.27
15 William Baker                                                   16.11
16 Stephen Yeager                                                  16.16
17 Geoff Shaffer                                                   18.03
18 Brendan Dalles                                                  18.11
19 Chris Peterson                                                  19.26
20 Al Stoltz                                                       19.59
21 David Langerud                                                  20.22
22 Daniel Dunning                                                  20.25
23 David Steinman                                                  21.02
24 Sean Razee                                                           
25 Steve Peterson                                                  21.18
26 Garrett Downs                                                   21.44
27 Aaron Egge                                                      21.59
28 Kevin Van Pelt                                                  23.41
29 Stephen Luckey (Wonder Boy)                                          
30 Andy Doyle                                                      24.19
31 Marc Peruzzi                                                    25.25
32 Jason Wildt                                                          
33 Everett McEwan                                                       
34 Frank LoFrisco                                                  26.42
35 Steve Muller                                                    26.54
36 Eric Fredrickson                                                27.16
37 Dave Nespoli                                                    29.06
38 Douglas Edmundson                                               29.37
39 Jonathan Kersha                                                 29.44
40 Brett Goett                                                     31.10
41 Anthony Carestia                                                31.20
42 Chris Holmes                                                    31.49
43 Mark Kozlowski                                                  32.43
44 Matt Robinson                                                   32.54
45 Michael McGann                                                  33.45
46 Len Danaher                                                     33.47
47 Paul Salyers                                                    34.39
48 Steven Fossel                                                   34.54
49 Craig Nockels                                                   37.24
50 Bob Kelder                                                      38.02
51 Joshua Martinsons                                               38.34
52 Peter Schouten                                                       
53 Brad Beck                                                       39.29
54 Kevin Smith                                                     39.34
55 Benet Stricca                                                   41.08
56 Greg Werner                                                     41.49
57 Benjamin Fibbe                                                  42.11
58 Erik Welch                                                           
59 Kevin O'Brien                                                        
60 Steve Knobel                                                    42.25
61 Rick Padgett                                                    43.38
62 Sean Clifford                                                   44.46
63 Tim Clark                                                       45.00
64 Mike Berg                                                       46.28
65 Andrew Grey                                                     47.56
66 Juan Marrufo                                                    48.16
67 Matt Oetting                                                    49.26
68 John Woodard                                                    49.57
69 Andrew Zakel                                                    50.20
70 David Visnazk                                                   52.06
71 John Seaberg                                                    54.21
72 Steen Gilbertson                                                54.49
73 Todd Overley                                                    55.32
74 Gordon Fletcher                                                 58.45
75 Kingdon Hawes                                                   59.18
76 John Schiefer                                                 1.00.23
77 Dave Gehlert                                                  1.09.12
78 David Appel                                                   1.15.28
79 Ryan Holtz                                                    1.16.43
80 David Hendrix                                                 1.19.38
81 David Wood                                                    1.22.01
82 Mark Scott                                                    1.24.28
83 Tom Langston                                                  1.26.04
84 Frank Nowak                                                   1.26.34
85 Matt Blanchard                                                1.26.44
86 Morgan McNally                                                1.35.08
87 Scott Becker                                                  1.37.00
88 Chris Frazier                                                 8.20.23
 
Citizen Men 40-49
 
1 Jeff Rhodes                                                    2.21.46
2 Jay Reinsma (Go Fast)                                             1.28
3 Jeff Herran (Heber Mtn Sports)                                    1.42
4 James Wood                                                        2.55
5 Lee Schelonka                                                     3.16
6 Bryan Boldt                                                       4.11
7 Martin Appenzeller                                                6.19
8 Hugo Doetsch (Bicycle Outfitters)                                 6.46
9 Paul Stern                                                        8.50
10 Peter Thron (Ride Em Cowboys)                                    9.44
11 Arch Wright                                                     10.04
12 Raymond Mosier                                                  13.35
27 Randy Knoche (GGBC)                                             15.13
14 Mark Skinner (SLU Cycling Club)                                 16.27
15 Steven Langion                                                       
16 Frank Matson                                                    17.41
17 Dale Lembke                                                     17.56
18 Rick Neitenbach                                                 18.43
19 Scott Anderson                                                  19.52
20 Ricky McDonald                                                  20.29
21 John Lindner                                                    20.40
22 Lance McDonald                                                  21.50
23 Paul Jensen                                                     22.04
24 Wade Smith                                                      22.55
25 Tom Hudson (Cheyenne Velo)                                      23.01
26 Matt Ikle (San Luis Valley Cycling Club)                        25.54
27 Victor Padilla                                                  26.26
28 Stephen Bisque                                                  27.07
29 Jeffrey Lantz                                                   27.25
30 Jeffrey Thomas                                                  27.47
31 Rick Cordes                                                     31.49
32 Scott Lewis                                                     32.14
33 Jeff Katz (White Mtn. Road Club)                                33.11
34 David Hajduk (Grand Valley Velo)                                33.39
35 Sterling Moss                                                   34.10
36 Delane Watson                                                   34.37
37 Casey Vandenoever                                               34.44
38 Scott Thornock                                                  36.57
39 Robert Tracy                                                    39.51
40 Roger Lynn                                                      42.18
41 Gary Debus (Highlands Ranch Cycling club)                       42.52
42 Dwight Smith                                                    44.00
43 Stocker Cary (The Finn Town Flats)                              45.44
44 John Berendes                                                   46.43
45 Duane Duggan (RE/MAX of Boulder)                                46.51
46 Bill Becker                                                     47.05
47 David Hersey                                                    47.33
48 Joseph Pilotti                                                  49.03
49 Stephen Cantar                                                  52.27
50 Paul Weeman                                                     53.19
51 Bill McDonnell                                                  56.23
52 Reed Ackerman (Citizen Fat Guys)                                57.53
53 Sandy Spencer                                                 1.01.39
54 Ken Huff                                                      1.05.10
55 Peter Charczenko                                              1.06.00
56 Michael Schlierf                                              1.07.36
57 Andrew McKee                                                  1.10.45
58 Frank Traditi                                                 1.23.12
59 Max Teehee                                                    1.36.48
60 Guy Driver                                                    1.38.49
61 Christopher McCune                                            1.45.00
62 Doug Turner                                                   1.52.15
63 Ken Paul                                                      2.27.13
 
Citizen Men 50-59
 
1 Ronn Smith                                                     2.21.59
2 Jim McDonald (Columbia Bike Club)                                20.16
3 Jeff Beckerman                                                   16.03
4 Pete Pitrone                                                     16.31
5 Jim Curfman (Ride-Em Cowboys)                                    18.10
6 Tom Scrimgeour (Boulder Nordic Club)                             30.45
7 Paul Armstrong                                                   32.14
8 Glenn Roesler                                                    32.25
9 Mike Wilson                                                      35.41
10 Alan Overmier                                                   44.19
11 DeHaven Mark                                                    52.14
12 Harold Bielstein                                                52.18
13 Mark Eberhart                                                   53.06
14 Jerry Mandello (West Palm Beach Bicycle Club)                   58.41
15 Scott Bernheim (Stealth)                                      1.01.17
16 Scott Coburn                                                  1.10.26
17 Bruce Burrey                                                  1.21.31
18 Frank Wells                                                   1.43.57
 
Citizen Men 60-69
 
1 Clifford Zwillich                                              3.11.35
2 Christopher Schaufele                                            11.59
3 Milan Stolka                                                     46.45
 
Citizen Women 19-29
 
1 Lori Miller                                                    2.58.16
2 Mimi Westphalen                                                  17.53
3 Jodie Lush (Aspen Bike tours & Rentals)                          20.58
4 Laura Morris (Aspen Bike Tours)                                  25.04
5 Josephine Sandler                                              3.02.49
 
Citizen Women 30-39
 
1 Karin Carestia                                                 2.28.32
2 Jennifer Shinn                                                    2.44
3 Kelly Kelder                                                     18.30
4 Christina Brazdziunas                                            34.43
5 C. Paige Smith                                                   40.53
6 Cammie Muller                                                    41.06
7 Traci Thelen                                                     43.07
8 Darcy Haar (ICCC)                                                55.14
9 Karen White                                                      57.18
10 Anji Yetman                                                   1.15.36
11 Sara Richman                                                  1.32.03
12 Christine Shields                                             1.32.53
 
Citizen Women 40-49
 
1 Ellen Guthrie (New Moon Media/Spin Cycle Bikes)                2.45.59
2 Janet Slate                                                      20.12
3 Jarmila Gorman                                                   20.19
4 Julie Gazmararian                                                31.13
5 Robin Hoff                                                       46.10
6 JoAnn Weaver                                                   1.05.02
 
Citizen Women 50-59
 
1 Deborah McCabe                                                 3.16.09

Past winners
2002 Scott Moninger (USA) Mercury