3rd Historic Roswell Criterium - NE
USA, May 2, 2004
2003 Results Results Past winners
Pic and Henderson win in Roswell
Greg Henderson (Health Net)
Photo ©: Bill Parsons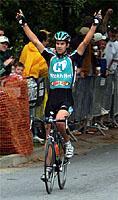 Despite overcast skies and sometimes wet, windy conditions, over 4,000 spectators braved the chilly spring weather to watch the professional and amateur bicycle races at the 3rd annual Nalley Lexus Historic Roswell Criterium. Dahlonega's Tina Pic, the U.S. National Criterium Champion riding for the Genesis Scuba/FFCC women's cycling team, won her third consecutive Nalley Lexus criterium. In the final of seven races, Greg Henderson (New Zealand), of the HealthNet Pro Cycling presented by Maxxis team, won the Men's Pro 1 event.
With over 350 elite racers from across the U.S. and abroad, several local athletes fared well at this year's Nalley Lexus Historic Roswell Criterium. In the Men's Category 2/3 race, all three podium finishers were from Georgia. Creed Sewell (Atlanta, Ga.) of Trek VW Freeflight won the race, followed by Larry Waters (Cumming, Ga.) of Nalley Lexus in second and Reid Peacock (Decatur, Ga.) of Nalley Lexus in third. In the Men's Category 3 / 4 race won by David Banks of NZ Standard, second place was won by Wesley Garland (Marietta, Ga.) of Nalley Lexus and third was won by Chad Arnholt (Athens, Ga.) of the John Deere team.
The Pro Women
Photo ©: Alicia Frese-Klenk

"I did the (Dodge) Tour de Georgia and to be honest it's taken five or six days to recover. Once you come into form like that, you're real strong," said Henderson, a two-time Olympian for New Zealand and winner of 7 World Cup Track gold medals. He was part of a four-man break that lasted over half of the 80-minute race, and then sprinted past Thad Dulin (Clemson, SC) of the Colavita Olive Oil pro cycling team in the final lap. "Coming from a track background, I was pretty sure I was going to stay away. I was confident that I'd be able to take him (Dulin) in a jump. That's pretty much what I did at the finish, I made sure to slow the sprint down as much as I possibly could. I did the (Dodge)."
In addition to the professional races, close to 110 children participated in youth races and the Children's Bicycle Safety Rodeo, hosted by the Kiwanis Club of Historic Roswell and Harry's Farmers Market. All children received medals, t-shirts and special prizes following the popular Shimano Youth Series/ RBC Centura Kids Races, for all children ages five to 12. All proceeds from this year's event benefited the Roswell Recreation Association. The Roswell Recreation Association was formed in the early 1950's and has recently helped to fund the purchase of property for the Roswell Area Park and Grimes Bridge Park.
Photography
Images by Alicia Frese-Klenk/FreseFrame Photography
Images by Bill Parsons/North Chattanooga Cycle Club
Results
Men

1 Greg Henderson (Healthnet)
2 Thad Dulin (Colavita Bolla Cycling Team)
3 Ben Jaques-maynes (Sierra Nevada)
4 Gustavo Artacho (Colavita Bolla Cycling Team)
5 Juan Jose Haedo (Colavita Bolla Cycling Team)
6 Jonas Carney (Jelly Belly)
7 Hayden Godfrey (Healthnet)
8 David McCook (Mcguire Pro Cycling)
9 Dan Schmatz (Healthnet)
10 Chad Hartley (Jittery Joes Cycling Team)
11 Alex Candelario (Jelly Belly)
12 Steve Tilford (Mcclaren/wholefoods)
13 Jason Waddell (Sharper Image)
14 Brice Jones (Healthnet)
15 Frank Pipp (Endeavour Cycling)
16 Emile Abraham (Aerospace Engineering)
17 Russell Hamby (Sierra Nevada)
18 Chris Pic (Jittery Joes Cycling Team)
19 Jake Rosenberger (Jittery Joes Cycling Team)
20 Radisa Cubric (OLP Racing)
21 Nathan Mitchell 
22 Adam Hodges Myerson (Sharper Image)
23 Agnetti Sheldrake (Tiaa/cref)
24 Andrew Manart (Tiaa/cref)
25 Matt Dubberley (Sierra Nevada)
26 John Murphy (Nalley Lexus / A. G. Edwards)
27 Johhny Sundt (Jittery Joes Cycling Team)
28 David Guttenplan (Locos/georgia Cyclo Sport)
29 Eric Wohlberg (Sierra Nevada)
30 Jedd Schneider (Nalley Lexus / A. G. Edwards)
31 Chad Gibson (OLP Racing)
32 Dan Larson (Cycle Science)
33 Andy Crater (Monex)
34 Timothy Henry (Nalley Lexus / A. G. Edwards)
35 Gordon Mccauley (Monex)
36 Stephen Spencer (Nccc/krystal)
37 Joey Coddington (Cane Creek)
38 Tyler Wren (Colavita Bolla Cycling Team)
39 Nathaniel Cornelius (Subway Express)
40 Bill Stolte (Hrrc/mcclaren)
41 Matthew Svatek (Sharper Image)
42 John Green (kalahari)
43 Sebastian Alexandre (Colavita Bolla Cycling Team)
44 Kyle Gritter (Monex)
45 Reid Peacock (Nalley Lexus / A. G. Edwards)
46 Boyd Johnson (GPOA/ESSM)
47 Jeff Shirey (John Deere)
48 Phil Southerland (Locos/georgia Cycle Sport)
49 cameron Hughes (Subway Express)
50 Christian Foster (Subway Express)
51 Brian Bibbens (Nalley Lexus / A. G. Edwards)
52 David Richter (Subway Express)
53 Allen Thompson (Ga Velo / Bicycles Unlimited)
54 Chris Foster (Subway Express)
55 Gord Fraser (Healthnet)
56 Jay Ku (Tiaa/cref)
57 Tyler Farrar (Healthnet)
58 John Lieswyn (Healthnet)
59 Remi McManus (Subway Express)

Women 1-2-3  

1 Tina Mayolo-Pic (Genesis Scuba)
2 Megan Long (ORBRU/The Bicycle Store)
3 Shannon Hutchison (Colavita Bolla)
4 Gina Grain (Victory Brewing)
5 Christina Dekraay (Team Fuji)
6 Emily Gloeckner (tds schwalbe)
7 Rebecca Mcclintock (Colavita Bolla)
8 Kathleen Billington (Team Fuji)
9 Charmion Breon (Colavita Bolla)
10 Anne Samplonius (tds schwalbe)
11 Emma Rickards (Victory Brewing)
12 Andrea Ratkovic (tds schwalbe)
13 Jennifer Green (Travel Girl)
14 Brook Oconner (Colavita Bolla)
15 Nicole Bossie (Team Fuji)
16 Lauren Franges (Victory Brewing)
17 Shawn Heidgen (tds schwalbe)
18 Megan Monroe (tds schwalbe)
19 Grace Fleury (Genesis Scuba)
20 Kristy Scheffenacker (colavita)
21 Tracy Sproule (Colavita Bolla)
22 Alexis Brown (Genesis Scuba)
23 Iona Wynter (Genesis Scuba)
24 Esther Davis (Orbea)
25 Elizabeth Morse (ORBU/ The Bicycle Store)
26 Karen Masson (Travel Girl/ Nally Lexus)
27 Kim Sawyer (Travel Girl)
28 Deborah Borden (Travel Girl/ Nally Lexus)

Men 2-3  

1 Creed Sewell (Trek Vw Freeflite)
2 Larry D. Waters (Nalley Lexus / A. G. Edwards)
3 Reid Peacock (Nalley Lexus / A. G. Edwards)
4 Steven Broglio (Nalley Lexus)
5 Jeff Shirey (John Deere)
6 Nathan Race (Reality Bikes)
7 Tim Barrett (Narc/free Flite)
8 Todd Henriksen (Krystal/nccc)
9 Zach Taylor (Hot Tubes)
10 John Garland (@ The Hub/Ga Velo)
11 Kevin Underwood (Carolina Volkswagen)
12 Jonathan Matey (Ag Edwards/nalley Automotive)
13 James Sharp (Symed / Moab)
14 Hoyt Halverson (nccc/krystal cycling)
15 Wes Parrish (Reality Bikes.com)
16 Robert Johnston (nccc/krystal sycling)
17 John Hayes (Fort Lewis)
18 Alan Rigby (Knox Velo)
19 Jay Charles (Colivita/bolla)
20 Shane Lawson (Freewheelers Of Spartanburg)
21 Tim Buxton (Knox Velo)
22 Ben Carter (Cat/cliff Bar)
23 Rick Fugua (Kalahari)
24 Stephen Carhart (Nalley Lexus)
25 Ben Abney (Low Country VW / Bianchi)
26 Mark Jellous (Cycles De Oro)
27 Todd Fryburger (Buckhead Velo)
28 Barry Lancaster (Symed/moab)
29 Eric Anderson (Reality Bikes)
30 Thomas Bass (Nalley Lexus)
31 Gray Skinner (Sonic/gran Fondo)
32 Sean Weddell (Just Fresh Clif Bar)
33 Jeremy Krupat (Kalahari)
34 Jonathan Baggett (Kalahari)
35 Travis Hagner (Kalahari)
36 Jim Carrara (Freewheelers Of Spartanburg)
37 Hank Beaver (Ga Southern University)

Men 4  

1 Daniel Banks (Nz Standard/ L5 Flyers)
2 Wesley Garland (Nalley Automotive Group)
3 Chad Arnholt (John Deere)
4 Dylan Wilson (John Deere)
5 Chance Regina (Cycloworks)
6 Brian Doege (Bicycle Sport)
7 scott hannan (Maxxis-Spokepost.com)
8 Jeremy Krupat (Kalahari)
9 Jake Kiser (John Deere)
10 Clint Batson 
11 Rick Fugua (Kalahari)
12 Clint Tomasino (Atlanta Pro Bicycles)
13 Jim Carrara (Freewheelers Of Spartanburg)
14 Dana Hamric (Reality Bikes)
15 Jafer Beizer (Hot Tubes)
16 thomas brown (Hot Tubes)
17 Nate Zukas (Colvita South)
18 Brent Faulk 
19 Shane Lawson (Freewheelers Of Spartanburg)
20 Andrei Moskalev (Nalley Auto/roswell Velo)
21 David Hurt 
22 Jared Wright (Nalley HRC)
23 Kyle Shipp (Bay City Breakers)
24 Eric Davis (Bvc-jakes Ice Cream)
25 John Carr (Cumberland Transit)
26 Adam Dewitt (Clemson)
27 Brent Swanson (Team Athena)
28 Matthew Coy (Roswell Velo)
29 Carl Weaver (Nalley)
30 John Litz (Highlands)
31 Chris Mccrory (Narc)
32 Bryan Schoeffler (Colorado Altitude Training)
33 Starling Bridges (John Deere)
34 Barry Sobel (Roswell Velo)
35 Brad Harper (Cycleworks)
36 Andy Scarano (Bicycles Unlimited)
37 Cy Hedrick (Cliff Bar/cannondale)
38 Bryan Holloway (Cycle Works Atlanta)
39 Jon Cheaves (John Deere)
40 Brian Lord (Bicycle Outfitters)
41 Daryl Reynolds (John Deere)
42 Jason Wilson (All3Sports)

Masters 30+  

1 David LeDuc (Mercy Cycling)
2 Tony Scott (Tortilla's La Guadalupana)
3 Scott Patterson (La Guadalupana Tortillas/ffcc)
4 James Sharp (Symed / Moab)
5 GW Wenzel (Velo Voodoo)
6 Jeffrey Warncke (Se Masters Velo/americast)
7 John Robertson (La Guadalupana Tortillas)
8 Gregory Fink (Jakes Ice Cream)
9 John Kavan (Big Wheeler Bicycle Club)
10 Victor Weaver (Knox Velo)
11 Glen Edridge (Forum Cycling)
12 Doug Pomeranz (Genesis Scuba)
13 Marti Aparicio (atomic)
14 Keith Lamberson (Peidmont Better Vision)
15 Neil Kopitsky (Piedmont Better Vision)
16 Darren Comer (Atlanta Pro Bikes)
17 Scott Demyer (Buckhead Velo Club)
18 Richard Bayman (Buckhead Velo)

Masters 40+  

1 David LeDuc (Mercy Cycling)
2 Radisa Cubric (OLP Racing)
3 Andres Castro (AthensGA)
4 Steven Carrell (Cane Creek/ Smith Barney)
5 Doug Pomeranz (Genesis Scuba)
6 Eric May (Cyclesworks)
7 David Magloire (The Bike Shop)
8 David Hauck (Velo Voodoo)
9 Mark Sommers (Dc Velo)
10 keith hutton 
11 Todd Fryburger (Buckhead Velo)
12 Karsten Bicknese (fourm)
13 Stephen Foley (La Guadalupana)
14 Erick Flores (Team Velosport)
15 Timothy Farrar 
16 Steve Sperry (Smith Barney)
17 Robert Rivers (Cane Creek Components)
18 Gilbert Shillcutt (Velo Voodoo)
19 Rudy Johnson (Narc Freeflight)
20 Jeff Allums (Carolina Velo)
21 Andrew Carroll (WatkinsvilleGA)
22 GW Wenzel (Velo Voodoo)
23 John Kavan (Big Wheeler Bicycle Club)



Past winners
2003 Jonas Carney (Prime Alliance)   Tina Mayolo-Pic (Diet Rite)
2002 Henk Vogels (Aus) Mercury       Tina Mayolo (USA) Diet Rite