2nd Historic Roswell Criterium - NE
USA, May 4, 2003
2002 Results Results Past winners
Carney Wins the Battle, Mayolo-Pic Just Too Fast
By Kristy Scrymgeour
Mike Tillman
Photo: © Bill Parsons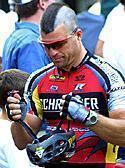 Controversy dampened the win for Prime Alliance rider Jonas Carney tonight, when riders from both Navigators and Schroeder Iron protested the sprint finish in the Historic Roswell Criterium in Roswell, Georgia. The protest was in vain however, and Carney walked away with his first victory for 2003.
Lined with restaurants, cafés and galleries, the quaint town of Historic Roswell was well prepared for a full day of racing as the townspeople flocked to watch the cycling for the second year running. The cyclists did their utmost to put on a show as the men's race was aggressive from the beginning, the first attack coming only half a lap into the race.
Sprint primes and constant attacks kept the race lively and by lap ten a two man break had formed with Trent Klasna (Saturn) and Greg Henderson (7UP-Maxxis) getting a good gap on the field. Navigators, realizing immediately that they had made a mistake by missing the move, put their team on the front in an attempt to get close enough for one of their riders to bridge across. It took 13 laps and the help of Schroeder Iron to make a dent in the gap, as Klasna and Henderson showed the strong form they have been demonstrating for the past few weeks.
Navigators in hot pursuit
Photo: © Bill Parsons
By lap 25 the break was caught and counters immediately followed. A few other breaks were formed, but were quickly swallowed up until a group of nine got a gap. From this nine, Gustavo Artacho (Colavita-Bolla) made a solo attack with about ten laps to go. Frank Travieso (Aerospace Engineering) joined him not long after, and the two gained a significant 15 seconds on the field. Prime Alliance and 7UP were not willing to let this stay away and drove the peloton to bring it back.
With the field back together it was Eric Wohlberg (Saturn) leading the penultimate lap, letting teammate, Chris Horner, take over with half a lap remaining. Prime Alliance was ready to lead out their sprinter Carney as other teams fought for wheels and position coming into the last corner. Up the finishing straight it was Carney coming off the wheel of his teammate, Alex Candelario, to take the win from Miguel Meza (SchroederIron), in what was a very controversial finish.
Schroeder Iron gives chase
Photo: © Bill Parsons

"This is dirty stuff", said Vassili Davidenko (Navigators), "Jonas was sitting on the wheel of Alex [Candelario] and he started to leave a gap. When we tried to go up on his inside he just pushed us into the barriers. It is not right. He can do this type of thing on the track, I don't care, but it's not going to happen here on the road".
Meza also had complaints, "I was on Carney's wheel and he was leaving a gap, so I tried to go around him and he just threw his bike at me, it wasn't safe. We are all fighting for a victory, but we want to race safe."
Carney defended himself though, "There was a lot of fighting going on in the last few laps. There is a common courtesy when somebody's team is doing a leadout, you don't roll up their inside and try to knock their sprinter off the leadout's wheel. I don't do that, it is not professional. I had Davidenko coming up on my inside, Meza was coming up on my inside, they tried to steal my teammate's wheel and I wasn't going to let them protest. If they are going to ride like that and then protest, they are just being crybabies."
Jonas Carney
Photo: © Bill Parsons

Horner also disagreed with the protest, "They are just babbling, I saw the whole sprint, it was totally clean. I was on the front coming around the corner, Alex came off my wheel and he had Jonas on his. I was right there and I didn't see anything."
The women's race saw another aggressive day of racing today as Diet Rite, TDS, Genesis Scuba and Colavita-Bolla all put themselves amongst the action in their 20 lap race. Kori Kelly (Diet Rite) and Anne Samplonius (TDS) both made solo attempts during the race to get away, but mirroring yesterday's criterium in Shelby, North Carolina, the race came down to a field sprint.
As with the men's race there was a lot of fighting for position coming into the last corner with some riders getting caught up, but it was again Tina Mayolo-Pic (Diet Rite) powering down the finishing straight holding off her opponents for at least 400 metres to take the win from Shannon Hutchinson (Colavita-Bolla) and Gina Grain (Victory Brewing).
"I felt better today than I did yesterday", said a smiley Mayolo-Pic, "but once again it is my team I have to thank. They were active all day which allowed me to sit in and rest for the finish. We are really getting it together this year and it feels great that we all know each other so well and can rely on each other in the races".
Photography
Images by Bill Parsons/North Chattanooga Cycle Club
Results
Women
 
1 Tina Mayolo-Pic (Diet Rite)
2 Shannon Hutchinson (Colavita-Bolla)
3 Gina Grain (Victory Brewing)
4 Nicole Freedman (Team Basis)
5 Megan Long (The Bicycle Store)
6 Ashley Kimmet (Colavita-Bolla)
7 Esther Davis
8 Kathleen Underwood (Fuji)
9 Iona Wynter (Genesis Scuba)
10 Emily Gloeckner (TDS)
11 Joanne Kiesanowski (Diet Rite)
12 Kathleen Billington (Fuji)
13 Anne Samplonius (TDS)
14 Tracy Sproug (Colavita-Bolla)
15 Candice Blickem (Genesis Scuba)
16 Lauren Franges (Victory Brewing)
17 Tania Duff Miller (Diet Rite)
18 Helen Kelly (TDS)
19 Leigh Valletti (Genesis Scuba)
20 Shawn Heidgen (TDS)
21 Lauren Gaffney (Team Basis)
22 Grace Fleury (Genesis Scuba)
23 Rachel Couch (Valdora Mtn Lodge Cycling Team)
24 Marianne Holt (Roswell Velo - Nalley)
25 Kim Sawyer (Roswell Velo - Nalley)
26 Kori Kelly (Diet Rite)
27 Veronica Martinez (Victory Brewing)
28 Christine White (TDS)
 
Men
 
1 Jonas Carney (Prime Alliance)
2 Miguel Meza (Schroeder Iron)
3 Alex Candelario (Prime Alliance)
4 Vassili Davidenko (Navigators)
5 Jeff Hopkins (Jittery Joe's)
6 Robbie Ventura (USPS)
7 Chris Horner (Saturn)
8 Jason Waddell (Mathis Brothers)
9 Kevin Monahan (7UP-Maxxis)
10 Henk Vogels (Navigators)
11 Chris Pic (7UP-Maxxis)
12 Roberto Gaggioli (Monex)
13 Hayden Godfrey (7UP-Maxxis)
14 Jacob Erker (Schroeder Iron)
15 Brent Dawson (Jelly Belly)
16 Chad Hartley (Jittery Joe's)
17 Nieko Biskner (Sierra Nevada)
18 Marty Northstein (Navigators)
19 Jeff Angermann (Webcor)
20 Chris Frederick (Aerospace Engineering)
21 John Murphy (Krystal)
22 Oleg Grinchkine (Navigators)
23 Chuck Coyle (Vitamin Cottage)
24 Jesse Lawler (Jittery Joe's)
25 Svein Tuft (Prime Alliance)
26 Ryan Guay (Navigators)
27 Josh Seldman (Krystal)
28 Johny Sunt (Jittery Joe's)
29 Radisa Cubric (Clifbar-Evergreen)
30 Mark Light (Lite Bites)
31 Karl Bordine (Colavita-Bolla)
32 Peter Knudsen (Schroeder Iron)
33 Shawn Willard (Colavita-Bolla)
34 Dane Jankowiak (Schroeder Iron)
35 Patrick O'Donnell (Team West Virginia)
36 Steve McUjiak (US Armed Forces)
37 Greg Henderson (7UP-Maxxis)
38 Mark Walters (Navigators)
39 Rich Harper (Cane Creek)

Past winners
2002 Henk Vogels (Aus) Mercury       Tina Mayolo (USA) Diet Rite