Geelong Tour - 2.9.2
Australia, February 22-25, 2004
Stage 1 - February 22: Port Arlington time trial, 8km
Mactier takes tour opener
By Mikkeli Godfree in Port Arlington
Defending champ Olivia Gollan
Photo ©: Mikkeli Godfree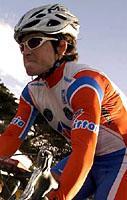 After four hours of thinking she had come second to fellow pursuiter, Kate Bates (NSWIS), track specialist Katie Mactier (Jayco) scored a great win in the prologue of the Geelong Women's Tour after a timing glitch was discovered and altered. Mactier beat a super high-quality, 93 rider field, including world #2 and current German TT champ, Judith Arndt (Nürnberger), world #3 Mirjam Melchers (World Team) and pursuit super-star Sarah Ulmer (NZ).
Before the race, last year's stage one and overall tour winner, Olivia Gollan (AIS) commented that although a really strong field was present, "there are many uncertainties at this end of the season - this prologue will give a really good indication of who is going well." Citing the short, flat course as her reasoning, defending champ Gollan indicated that she would be looking, not to the international stars, but to the pursuiters, Kate Bates and Katie Mactier (Jayco) to win the prologue.
Although finishing 20th at 37secs (and possibly jeopardising her chances at back-to-back tour wins), Gollan was right on target with her predictions as the pursuiters shone, Mactier taking the win and Bates eventually being placed fourth. However, with all 93 riders finished, Bates was initially declared the victor by four seconds over Mactier. It was not until 10:30pm that the results were altered, showing that Bates had in fact posted the fourth-fastest time behind Mactier, Kathy Watt (Freedom Machine) and Louise Yaxley (Jayco).
How it unfolded
With the afternoon sun shining, and a fresh but stable southerly crosswind blowing, neither end of the start-list was favoured by the conditions. As if the conditions didn't provide enough equity, the race organisers introduced a seemingly unprecedented rule which stipulated that riders were only allowed to race on standard road bikes (as dictated by UCI road rules), without disk wheels, tri-spokes or time trial bars.
With many of the hitters at the bottom end of the start-list, American Stacey Peters (T-Mobile) held the early lead. However, when Brit Emma Davies posted a new fastest time, a full half an hour after Peters, she only held it for five minutes and for the next hour many fastest times were set and deposed.
By the time the dust had settled, Bates was somewhat cruelly declared the victor and given the winner's spotlight. Although surely fuming over the timing glitch which, when rectified, bumped her off the podium into fourth, the 21 year old posted a super-hot 10:31, only ten seconds behind the winner, easily giving Bates the U23 leader's jersey.
Katie Mactier (Jayco)
Photo ©: Mikkeli Godfree

When Cyclingnews spoke to Mactier by phone, late Sunday night (while she was on her wind-trainer!), her feelings were mixed. Although elated at being the new (and rightful) prologue winner and tour leader, she was very conscious of what Bates was going through, "I really feel for Kate, she is a great training partner and friend and it is a terrible thing to be told that you have won only to have it pulled from beneath you. She still did a fantastic ride. Personally, I sort of had that feeling that I had ridden a fast prologue - and when I heard Kate had taken four seconds out of me I thought she must have been flying."
Although, like Bates, Mactier's goal is the pursuit race at the Athens Olympics, she is very excited about the rest of the tour, "I'll be giving it everything from here on in. I know there are a lot of hungry girls here and, although I am doing my track thing, I don't want them to forget I can race the road!"
The win was particularly sweet for Mactier because the prologue covered some of the course that made up the 2001 National Championship road race, which she won. "The course was fabulous and very special to me."
Remarking on the no-TT-bikes ruling, Mactier said she felt like she was racing in an armchair compared to her TT bike, "It was very strange, but I think it made for very interesting racing...at least I have finally found that my narrow shoulders are good for something!"
Second placed Kathy Watt put in a very good performance today. The bronze medallist at the 2004 National TT Championships showed here that she can also put in a good ride over 8km. Watt remarked, "I was pretty happy seeing as though I wasn't on my TT bike! It was good to be close to Katie Mactier because she is obviously very fast over that distance." Like Mactier, Watt is also aiming at an Olympic TT, though hers is on the road.
Monday sees the tour head back into Geelong for the first road stage, a 1hr criterium held on the same course as the fourth stage of the Bay Criteriums. Riders like Olivia Gollan, who set up her 2003 tour win on this course, and Rochelle Gilmore, who won the Bay Criterium stage here just over a month ago will surely go into this race with some confidence, but with 93 riders and some fantastic local and international quality, sparks will surely fly.
Photography
Images by Mikkeli Godfree/Cyclingnews.com
Images by John Veage
Results
1 Katie Mactier (Aus) Jayco                  10.21
2 Kathy Watt (Aus) Freedom Machine            0.03
3 Louise Yaxley (Aus) Jayco                   0.06
4 Katherine Bates (Aus) NSWIS                 0.10
5 Oenone Wood (Aus) AIS                       0.11
6 Sara Carrigan (Aus) QAS                     0.20
7 Sarah Ulmer (NZl) New Zealand               0.22
8 Margaret Hemsley  (Aus) Nürnberger          0.23
9 Deirdre Barry (USA) T Mobile                0.24
10 Kristin Armstrong (USA) T Mobile           0.24
11 Amy Safe (Aus) AIS                         0.26
12 Mirjam Melchers (Ned) World team           0.28
13 Manon Jutras (Can) SATS                    0.28
14 Amber Neben (USA) T Mobile                 0.31
15 Judith Arndt  (Ger) Nürnberger             0.31
16 Melissa Holt (NZl) New Zealand             0.32
17 Alison Wright (Aus) Nobili - Fanini        0.32
18 Emma Davies (GBr) Great Britain            0.36
19 Stacey Peters (USA) T Mobile               0.37
20 Olivia Gollan (Aus) AIS                    0.37
21 Hayley Rutherford (Aus) Nobili - Fanini    0.39
22 Natalie Bates (Aus) AIS                    0.40
23 Alexis Rhodes (Aus) NSWIS                  0.41
24 Lynn Gaggioli (USA) T Mobile               0.41
25 Lorian Graham (Aus) AIS                    0.42
26 Tina Mayola Pic (USA) Jayco                0.42
27 Sara Symington (GBr) SATS                  0.42
28 Linda Capello (Aus) Body Torque            0.43
29 Tetyana Stiajkina (Ukr) Ukraine            0.43
30 Emma James (Aus) SATS                      0.44
31 Kimberly Bruckner (USA) T Mobile           0.45
32 Jenny Macpherson (Aus) Body Torque         0.47
33 Miyoko Karami (Jpn) Japan                  0.48
34 Rachel Heal (GBr) Great Britain            0.49
35 Leonie Aisbett (Aus) NSWIS                 0.53
36 Johanna Buick (NZl) New Zealand            0.54
37 Petra Rossner (Ger) Nürnberger             0.55
38 Frances Newstead (GBr) Great Britain       0.55
39 Miho Oki (Jpn) Japan                       0.56
40 Cathy Marsal (Fra) Nobili - Fanini         0.57
41 Cristine Foster (Aus) Body Torque          0.57
42 Kateryna Krasova (Ukr) Ukraine             0.57
43 Joanne Kiesanowski (NZl) New Zealand       0.57
44 Jessica Ridder (Aus) FRF Couriers          0.59
45 Rosalind Reekie - May (NZl) New Zealand    1.00
46 Michelle Hyland (NZl) Avanti               1.01
47 Meredith Miller (USA) SATS                 1.01
48 Nicole Freedman  (Isr) World team          1.01
49 Kirsty Robb (NZl) Avanti                   1.02
50 Jessica Phillips (USA) Nürnberger          1.02
51 Jessie Maclean (Aus) NSWIS                 1.02
52 Helen Kelly (Aus) Jayco                    1.02
53 Trixi Worrack (Ger) Nürnberger             1.03
54 Hiroko Shimada (Jpn) Japan                 1.03
55 Caroline James (GBr) Great Britain         1.04
56 Susie Wood (NZl) Avanti                    1.05
57 Katie Brown (Aus) NSWIS                    1.05
58 Madeleine Lindberg  (Swe) Nürnberger       1.06
59 Laura Bortolozzi (Aus) FRF Couriers        1.09
60 Kym Shirley (Aus) Nobili - Fanini          1.09
61 Emma Rickards (Aus) Freedom Machine        1.09
62 Belinda Goss (Aus) Jayco                   1.10
63 Jennifer Findlay (Aus) QAS                 1.11
64 Christine Riakos (Aus) FRF Couriers        1.13
65 Narrelle Peterson (Aus) Body Torque        1.14
66 Akemi Morimoto (Jpn) Japan                 1.14
67 Valentyna Karpenko (Ukr) Ukraine           1.16
68 Naomi Williams (Aus) AIS                       
69 Karen Hopkinson  (Aus) Body Torque         1.17
70 Bridgett Evans (Aus) Freedom Machine       1.18
71 Kate Nichols (Aus) FRF Couriers            1.18
72 Anna Perrin (Aus) QAS                      1.20
73 Iryna Chuzhynova (Ukr) Ukraine             1.22
74 Toni Bradshaw (NZl) Avanti                 1.23
75 Kirsty Bortilin (Aus) Freedom Machine      1.23
76 Rochelle Gilmore (Aus) SATS                1.24
77 Tanja Hennes (Ger) World team              1.26
78 Julie Pekarkova (Cze) World team               
79 Nadene Boyle (NZl) Avanti                  1.27
80 Iryna Simonova (Ukr) Ukraine               1.29
81 Ayumu Otsuka (Jpn) Japan                   1.30
82 Zoe Southwell (Aus) FRF Couriers           1.30
83 Hannah Banks (Aus) QAS                     1.32
84 Oxana Kashchyshyna (Ukr) Ukraine           1.41
85 Nina Davies (GBr) Great Britain            1.42
86 Kerryn Charman (Aus) Body Torque           1.44
87 Charlotte Goldsmith (GBr) Great Britain    1.47
88 Michelle Kiesanowski (NZl) Avanti              
89 Desiree Schuler (Ger) World team           1.53
90 Karina Sorensen (Den) SATS                 2.06
91 Natasha Harrigan (Aus) FRF Couriers        2.17
92 Louisa Judd (Aus) Freedom Machine          2.34
93 Emi Onoyama (Jpn) World team               2.35