Univest Grand Prix - 1.6
Souderton, Pennsylvania, September 20, 2003
2002 Results Results Past winners
Webcor's Huang wins Univest Grand Prix
Colavita's Kimmet takes the win in the women's race
Ted Huang (Webcor) celebrates his win
Photo ©: Celia Cole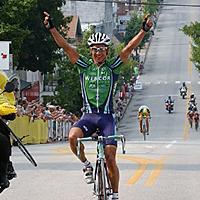 The Americans swept the men's and women's races at the 6th running of the Univest Grand Prix, with Ted Huang coming in first in 3:56:35 followed by Kevin Bouchard-Hall (Hawley-atabike.com) and Matthew Svatek (Team Sportsbook.com) five seconds later. The 100 mile race was contested by an international field of 171 cyclists from 15 nations.
Throughout the men's race, the French Team dominated with three teammates exchanging the lead, but when the race reached the final laps, Huang bridged the gap to the leaders and sprinted away, staying away for the win.
32 year-old Huang was coming off an excellent 12th place finish at last weekend's T-Mobile International in San Francisco. Bouchard-Hall on the other hand had been preparing for the Univest GP in Belgium. Svatek recently made the cross-over from cross-country skiing and cements his reputation as a newcomer-to-watch with his performance.
The women's race was won in a sprint by Ashley Kimmet (Coalvita Women's Elite Cycling Team) in 1:37:00, with local favorite Laura Van Gilder (Team Saturn) crossing the line second and Liza Rachetto (ICO) in third.
The women raced fast and in a pack with former track champion Sarah Uhl, Team Saturn, winning Leidy's Sprint Competition while setting up her teammate Van Gilder. Kimmet proved to be the strongest on the 200 meter climb finish after 20 laps of a 2.6 kilometer circuit.
Men's Premiums
Rosenberger's Dairies Best Climber Award: Ian Dille (Team Snow Valley)
Leidy's Premium Pork Products Best Sprinter Award: Scottie Weiss (West Virginia Elite Team)
Bergey's Dealerships First American Award: Ted Huang
Clemen's Markets Local Winner Award: Rob Hacker (Doylestown)
WFMZ-69 Team Award: WEBCOR
Sparta Youth Award: Kevin Bouchari
Women's Premiums
Rosenberger's Dairies Best Climber Award: Susan Palmer-Komar (Geneses Scuba/FFCC)
Leidy's Premium Pork Products Best Sprinter Award: Sarah Uhl (Team Saturn)
Photography
Images by Zui Hanafusa/www.miyashojicycling.org
Images by Celia Cole/www.sportsshooter.com/celiacole
Results

Pro Men, 105 miles / 160 km
 
1 Ted Huang (USA) Webcor Cycling Team                      3.56.35
2 Kevin Bouchard-Hall (USA) Hawley-atabike.com                0.05
3 Matthew Svatek (USA) Team Sportsbook                        0.09
4 Craig Upton (NZl) CRCA/Breitling/Tradeware Racing
5 Mike Dietrich (USA) Fiordifrutta/Wheelworks
6 Ian Dille (USA) Team Snow Valley
7 Stig Somme (Nor) Jet Fuel Coffee Cycling Team
8 Giancarlo Ginestri (Ita) Highgear Cycling Team              0.20
9 James Mattis (USA) Webcor Cycling Team
10 Cameron Huges (Aus) LeMond Captain Cra-Z Soap
11 Pieter Ghyllebert (Bel) Belgium-Etta Mae's Antiques Co.
12 Alex Lavallee (Can) Volkswagen Trek
13 Pascal Lievens (Bel) Belgium-Etta Mae's Antiques Co.
14 Sylvan Lavergne (Fra) France-Alderfer Auction Co.
15 Jon Hamblen (USA) Fiordifrutta/Wheelworks
16 Frank Kwanten (Ned) Holland-YumYum Bake Shops              1.02
17 Ludovic Vanhee (Fra) France-Alderfer Auction Co.           1.21
18 Sebastien Gredy (Fra) France-Alderfer Auction Co.
19 Bruno Langlois (Can) Volkswagen Trek                       2.00
20 Emeito Heredia (Dom) Toga Bikes
21 Scottie Weiss (USA) West Virginia Elite Team
22 Chad Hartley (USA) Ready Pak-KMK Sports                    2.28
23 Laurent Mangel (Fra) France-Alderfer Auction Co.           2.44
24 Jesse Lawler (USA) Ready Pak-KMK Sports                    3.27
25 Martin Gilbert (Can) Volkswagen Trek
26 Waclaw Godyicki (USA) Ideal Tile/Brielle Cyclery           3.28
27 Eneas Reyre (USA) LeMond Captain Cra-Z Soap
28 Philip Wong (USA) Essex County Velo                        3.29
29 Russell Langley (USA) Team Snow Valley                     3.57
30 Niki Terpstra (Ned) Holland-YumYum Bake Shops              3.58
31 Josh Beck (USA) Team Sportsbook                            3.59
32 Nicolas Vuillemin (Fra) France-Alderfer Auction Co.        4.03
33 Tim Henry (USA) West Virginia Elite Team
34 Jason Baer (USA) Hawley-atabike.com                        4.23
35 Dario Falquier (USA) Webcor Cycling Team                   4.37
36 Mike Barton (USA) Chiropractic/Papa Wheelies
37 Jeff Angermann (USA) Webcor Cycling Team                   5.01
38 Jonathan Bruno (USA) Essex County Velo
39 Christopher Hedges (Ber) Team Snow Valley
40 Rob Hacker (USA) Team Lite Bites Cycling                   5.02
41 Kevin Miller (Can) Jet Fuel Coffee Cycling Team            5.06
42 Bill Innes (USA) LeMond Captain Cra-Z Soap                 5.08
43 Bart Torre (USA) GS Mengoni
44 Doug Ollerenshaw (USA) Broadmark Capitol Cycling Team
45 Peter Fairbanks (USA) Jet Fuel Coffee Cycling Team         5.09
46 Chris Peck (USA) Fiordifrutta/Wheelworks                   5.10
47 Pieter Duyck (Bel) Belgium-Etta Mae's Antiques Co.         5.26
48 Rafal Urzedowski (Pol) Highgear Cycling Team               5.38
49 Ryan Mckinney (USA) Team Snow Valley
50 Leigh Palmer (Aus) LeMond Captain Cra-Z Soap               5.39
51 Eugene Boronow (USA) GS Mengoni
52 Robert Rigg (USA) CRCA/Breitling/Tradeware Racing
53 Klaas Vermaut (Bel) Belgium-Etta Mae's Antiques Co.        5.41
54 Bjorn Obenbrink (Ger) Highgear Cycling Team                5.46
55 Serdio Rolando (Dom) Toga Bikes
56 Peter Hult (USA) Essex County Velo
57 Amos Brumble (USA) CCB/Volkswagen                          5.55
58 Ryan Roth (Can) Jet Fuel Coffee Cycling Team               6.03
59 Jonathan Wirsing (USA) Team Snow Valley                    6.04
60 Ian Stuart (USA) Saturn Development
61 Josh Taylor (USA) Alderfer's Smoked Meats Allstar          6.05
62 Matthew Bonin (Can) Team suburban home sales/Wolver
63 Jason Schneider (USA) GS Mengoni
64 Jason Bremer (USA) GS Mengoni
65 Kevin Molloy (USA) CRCA/TEAM SAKONNET
66 Roger Aspholm (Fin) CRCA/Breitling/Tradeware Racing        6.06
67 Brian Trdina (USA) Team Lite Bites Cycling
68 Edwin Morel (Dom) Toga Bikes                               6.07
69 Eric Slick (USA) Team Lite Bites Cycling
70 Brian Schaning (USA) Saturn Development                    6.08
71 Roosevelt Marte (Dom) GS Mengoni                           6.21
72 Adam Pantastico (USA) Ideal Tile/Brielle Cyclery
 
Mountains
 
1 Ian Dille (Team Snow Valley)                                   40 pts
2 James Mattis (Webcor Cycling Team)                             20
3 Sig Somme (Jet Fuel Coffee Cycling Team)                       17
4 Ted Huang (Webcor Cycling Team)                                13
5 Xavier Pache (France-Alderfer Auction Co.)                     10
6 Nicolas Vuillemin (France-Alderfer Auction Co.)                10
7 Kevin Bouchard-Hall (Hawley atabike.com)                        5
8 Sebastien Gredy (France-Alderfer Auction Co.)                   5
9 Sylvan Lavergne (France-Alderfer Auction Co.)                   3
10 Ben  Raby (ABD Cycling Team)                                   3
 
Sprints
 
1 Xavier Pache (France-Alderfer Auction Co.)                     20
2 Scottie Weiss (West Virginia Elite Team)                       18
3 Alex Lavellee (Volkswagon Trek)                                10
4 Eneas Reyre (LeMond Captain Cra-Z-Soap)                        10
5 Mike Jones (West Virginia Elite Team)                          10
6 Ludovic Vanhee (France-Alderfer Auction Co.)                   10
7 Lionel Syne (Webcor Cycling Team)                               8
8 Giancarlo Ginestri (Highgear Cycling Team)                      5
9 Frank Kwanten (Holland-Yum Yum Bake Shop)                       5
10 Ian Dille (Team Snow Valley)                                   3
11 Laurent Mangel (France-Alderfer Auction Co.)                   3
12 Sebastien Gredy (France-Alderfer Auction Co.)                  3
13 Craig Wilcox (Broadmark Capitol Cycling Team)                  3
 
Elite Women, 33 miles / 55 km
 
1 Ashley Kimmet (USA) Colavita Womens Elite Cycling Team    1.37.00
2 Laura Van Gilder (USA) Saturn
3 Liza Rachetto (USA) ICO
4 Candice Sullivan (USA) Australian Women's Development
5 Susan Palmer-Komar (Can) Geneses Scuba/FFCC
6 Kate Nichols (Aus) Australian Women's Development
7 Sarah Uhl (USA) Saturn
8 Tara Parsons (USA) CRCA/EAS
9 Anne Marie Miller (USA) CRCA/Verizon Wireless
10 Heather Albert (USA) Team Basis
11 Jessica Ridder (Aus) Australian Women's Development
12 Hiroko Shimada (Jpn) Unattached
13 Kristen Lasasso (USA) Rona-Esker
14 Jacqueline Paull (USA) Colovita Women's Elite Cycling
15 Anna Milkowski (USA) Gearwords/SpinArts
16 Merrill Collins (Can) La bicicletta-J Lindeberg
17 Katherine Lambden (USA) CRCA/Gotham
18 Elizabeth Tyrell (USA) Somerset Wheelmen
19 Stephanie Williams (Aus) Australian Women's Development
20 Becky Koh (USA) CRCA/Radical Media
21 Sarah Chubb Sauvayre (USA) CRCA/Sanchez-Metro
22 Kristy Scheffenacker (USA) Team Snow Valley                0.18
23 Brenda Bahnson (USA) IF/Wheelworks                         0.39
24 Elizabeth Bogosh (USA) Team Snow Valley
 
Mountains
 
1 Susan Palmer-Komar (Geneses Scuba/FFCC)                        30 pts
2 Jessica Ridder (Australian Women's Development)                11
3 Laura Van Gilder (Saturn)                                      10
4 Heather  Albert (Team Basis)                                    3
 
Sprints
 
1 Sarah Uhl (Saturn)                                             30
2 Kate Nichols (Australian Women's Development)                  13
3 Kristy Scheffenacker (Team Snow Valley)                         5
4 Jessica Ridder (Australian Women's Development)                 3
5 Liza Rachetto (ICO)                                             3

Past winners

Men
 
2002 Todd Herriott (USA) CRCA/Think Racing
2001 Not held
2000 Bert Dewaele (USA)
 
Women
 
2002 Jeannie Longo (Fra)
2001 Not held
2000 Leigh Hobson (Can)