3rd Paris-Corrèze - 2.3
France, September 26-28, 2003
Main Page Results Previous Stage
Stage 3 - September 28: Besse - Ussel, 168.2 km
Vasseur holds lead on Fritsch's day of glory
By Jean-François Quénet in Ussel
Vasseur has trouble with the bottle
Photo: © JF Quenet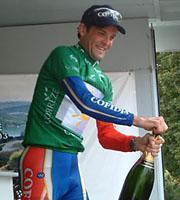 It's a pity that former Tour de France winner Laurent Fignon couldn't organise Paris-Nice for more than two years, because he's got real talent and passion for that job and he knows how to create an excellent atmosphere in a race and offer very tactical courses. It's not a coincidence that Paris-Corrèze has only had worthy winners in three years of existence. "This race is at the right place on the UCI calendar just before the World's, it guarantees the motivation of the riders," Fignon commented.
After Thor Hushovd and Baden Cooke, Cédric Vasseur isn't an up and coming champion because he's aged 33. But the yellow jersey in the 1997 Tour de France had six wins on his record book before this year and he has now doubled that! Paris-Corrèze is the second overall stage race win in his career after the Hessen Rundfahrt earlier this month.
As in its first two editions, the race to French president Jacques Chirac's original region crowned a young guy [it was Andy Flickinger's first win in a stage last year]. Nicolas Fritsch's win in stage 3 here today is a similar boost for the future of French cycling. Fritsch went away with 120km to go and covered almost 80 on his own with a lead over 5 minutes when he crossed the finishing line for the first time with 17km to go. "I've seen a magnificent effort from Fritsch today, Fignon stated. We have discovered a young and very promising rider."
Fritsch scored his first win in the Tour du Finistère on September 1. But he revealed himself to the world of cycling when he came 3rd in the Tour of Switzerland overall last year. "I took part in my first Tour de France this year," the FDJeux.com rider said. "It has helped me to progress a lot. Since I've completed it, I have a lot more confidence in myself. I was very frustrated yesterday because I came here in order to convince French national selector Charly Bérard to take me in the team for the World's and I missed the right move. Today I did my best. No way that I would have stayed in the bunch. I think I've showed enough."
Initially he made the break with team-mate Sandy Casar. FDJeux.com also had Baden Cooke in the chasing group with Franck Pencolé and Jeremy Hunt (Oktos), Christophe Le Mével (Crédit Agricole), Laurent Brochard (Ag2r), Koos Moerenhout (Lotto-Domo) and Laurent Lefèvre (Jean Delatour). It was very much team work and this is a well deserved 25th victory this year for Marc Madiot.
Another team who did a perfect job was Cofidis. "I have to say a great thank you to my team-mates, they've all been fabulous at the front of the peloton," Vasseur declared. It was a good experience for beginners Ben Johnson and Damien Monier. Now Vasseur can focus on the world championship. He's in the best shape of his life but he doesn't want to be considered as the only leader of the French team, nor as a favourite for the rainbow title. But anyone who has seen him on a bike this week can testify that he is a valuable leader and a possible winner in Hamilton next month.
Photography
Images by Jean-Francois Quenet
Results
1 Nicolas Fritsch (Fra) FDJeux.com                         3.56.41 (42.639 km/h)
2 Sébastien Hinault (Fra) Credit Agricole                     2.29
3 Baden Cooke (Aus) FDJeux.com
4 Franck Renier (Fra) Brioches La Boulangère
5 Michael Skelde (Den) Team fakta
6 Cédric Vasseur (Fra) Cofidis-Le Crédit par Téléphone
7 Aart Vierhouten (Ned) Lotto-Domo
8 Médéric Clain (Fra) Cofidis-Le Crédit par Téléphone
9 Patrice Halgand (Fra) Jean Delatour
10 Samuel Dumoulin (Fra) Jean Delatour
11 Eddy Lembo (Fra) Palmans-Collstrop
12 Gorik Gardeyn (Bel) Lotto-Domo
13 Christophe Rinero (Fra) MBK-Oktos-Saint-Quentin
14 Bastiaan Giling (Ned) Rabobank TT III
15 Plamen Stoyanov (Bul) BigMat
16 Christophe Agnolutto (Fra) Ag2r-Prevoyance
17 Ludovic Auger (Fra) Big.Mat-Auber 93
18 Benny De Schrooder (Bel) Palmans-Collstrop
19 Frédéric Gabriel (Fra) MBK-Oktos-Saint-Quentin
20 Alexei Sivakov (Rus) Big.Mat-Auber 93
21 Janek Tombak (Est) Cofidis-Le Crédit par Téléphone
22 Pierre Bourquenoud (Swi) Jean Delatour
23 Anthony Geslin (Fra) Brioches La Boulangère
24 Mark Scanlon (Irl) Ag2r-Prevoyance
25 Marek Rutkiewicz (Pol) Cofidis-Le Crédit par Téléphone
26 Jens Voigt (Ger) Credit Agricole
27 Rik Verbrugghe (Bel) Lotto-Domo
28 Mickael Pichon (Fra) FDJeux.com
29 Olivier Bonnaire (Fra) French U23 National Team
30 Walter Beneteau (Fra) Brioches La Boulangère
31 Andrey Mizourov (Kaz) MBK-Oktos-Saint-Quentin
32 Frédéric Bessy (Fra) Cofidis-Le Crédit par Téléphone
33 Jeremy Roy (Fra) FDJeux.com
34 Mathieu Sprick (Fra) French National U23 Team
35 Andy Flickinger (Fra) Ag2r-Prevoyance
36 Laurent Brochard (Fra) Ag2r-Prevoyance
37 Maxime Mederel (Fra) French National U23 Team
38 Benoît Poilvet (Fra) Credit Agricole
39 Stéphane Goubert (Fra) Jean Delatour
40 Jean-Cyril Robin (Fra) FDJeux.com
41 Geoffrey Lequatre (Fra) French National U23 Team
42 Sylvain Chavanel (Fra) Brioches La Boulangère
43 Pavel Broutt (Rus) Lokomotiv
44 Nicolas Dulac (Fra) Jean Delatour
45 Laurent Lefevre (Fra) Jean Delatour
46 Axel Merckx (Bel) Lotto-Domo
47 Uwe Hardter (Ger) Gerolsteiner                             2.46
48 Nicolas Vogondy (Fra) FDJeux.com
49 Stéphane Barthe (Fra) MBK-Oktos-Saint-Quentin              2.53
50 Fredrik Modin (Swe) Team fakta                             3.06
51 Eddy Seigneur (Fra) Jean Delatour                          3.07
52 Yoann Le Boulanger (Fra) MBK-Oktos-Saint-Quentin           3.11
53 Maryan Hary (Fra) Brioches La Boulangère                   3.14
54 Laurent Lefevre (Fra) Jean Delatour                        3.17
55 Joost Posthuma (Ned) Rabobank TT III
56 Theo Eltink (Ned) Rabobank TT III
57 Christophe Le Mevel (Fra) Credit Agricole
58 Niels Scheuneman (Ned) Rabobank TT III
59 Pieter Weening (Ned) Rabobank TT III                       3.21
60 Sandy Casar (Fra) FDJeux.com
61 Koos Moerenhout (Ned) Lotto-Domo                           4.08
62 Thomas Dekkers (Bel) Rabobank TT III                       4.09
63 Franck Pencole (Fra) MBK-Oktos-Saint-Quentin               5.00
64 Rory Sutherland (Aus) Rabobank TT III                      9.56
65 Bernhard Kohl (Aut) Rabobank TT III
66 Serguei Klimov (Rus) Lokomotiv                            11.15
67 Stéphane Berges (Fra) Ag2r-Prevoyance
68 Sergeï Krushevskiy (Uzb) MBK-Oktos-Saint-Quentin
69 Cyril Lemoine (Fra) French National U23 Team

Final general classification

1 Cédric Vasseur (Fra) Cofidis-Le Crédit par Téléphone    12.22.30
2 Christophe Rinero (Fra) MBK-Oktos-Saint-Quentin             0.20
3 Rik Verbrugghe (Bel) Lotto-Domo                             2.45
4 Patrice Halgand (Fra) Jean Delatour                         3.14
5 Christophe Agnolutto (Fra) Ag2r-Prevoyance
6 Mickael Pichon (Fra) FDJeux.com                             3.15
7 Médéric Clain (Fra) Cofidis-Le Crédit par Téléphone         4.42
8 Benoit Poilvet (Fra) Crédit Agricole                        4.48
9 Sylvain Chavanel (Fra) Brioches La Boulangère               5.52
10 Frédéric Gabriel (Fra) MBK-Oktos-Saint-Quentin             7.17
11 Mathieu Sprick (Fra) French National U23 Team              7.46
12 Ludovic Auger (Fra) Big.Mat-Auber 93                      11.53
13 Nicolas Fritsch (Fra) FDJeux.com                          36.02
14 Baden Cooke (Aus) FDJeux.com                              38.34
15 Sébastien Hinault (Fra) Crédit Agricole                   38.38
16 Benny de Schrooder (Bel) Palmans-Collstrop                38.39
17 Alexei Sivakov (Rus) Big.Mat-Auber 93                     38.40
18 Laurent Brochard (Fra) Ag2r-Prevoyance                    38.42
19 Bas Gilling (Ned) Rabobank TTIII                          38.44
20 Gorik Gardeyn (Bel) Lotto-Domo