3rd Paris-Corrèze - 2.3
France, September 26-28, 2003
Main Page Results Previous Stage Next Stage
Stage 2 - September 27: Montluçon - Besse, 172.8 km
Cédric Vasseur is France's number 1 for the World's
By Jean-François Quénet in Besse/St-Anastaise
Cedric Vasseur
Photo: © JF Quenet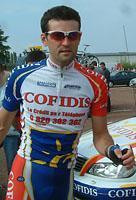 It was a mountain stage in Paris-Corrèze today and Cédric Vasseur proved again that he is France's number 1 rider prior to the world championship. He claimed his fifth win this year after the final stage of the Dauphiné, a stage in the Tour du Limousin, and a stage and the GC in the Hessen Rundfahrt. He also showed his good condition recently when he came 2nd in the GP Van Steenbergen in Belgium.
"I didn't really start today's stage with the intention of winning it," Vasseur said. "Yesterday, I rode to my hotel after the finish for a total of 257 kilometres on my bike because I don't want suffer from a lack of miles at the end of the world championship and have any regrets.
"Our Cofidis team had no one in the first breakaway this morning, there was a bit of a panic through our ear pieces and David Moncoutié sacrificed himself to bridge the gap. Since Dave Millar said his words at the Tour de France, Cofidis really rides like a team and there's even a great friendship among us now. When the 15 men went away, I just followed the move. Because almost all the teams were represented in the front, it was obvious that no one would chase."
The breakaway included Vasseur and Clain (Cofidis), Verbrugghe (Lotto-Domo), Pichon and Wilson (FDJeux.com), Sprick and Patour (French national espoirs team), Rinero (Oktos), Halgand and Edaleine (Jean Delatour), Agnolutto (Ag2r), Peschel (Gerolsteiner), Chavanel (La Boulangère), Koehler (Palmans-Collstrop), Ludovic Auger (BigMat) and Poilvet (Crédit Agricole).
The great French hope Sylvain Chavanel went away with 60 kilometres to go. "That was the same mistake I did yesterday," Vasseur suggested. "He should have learned from my experience. When I saw him attacking, I didn't worry at all. We were five chasing behind him so it was easier for us to share the turns. However, it took us a long time to catch him."
It happened in the final 20 kilometres, as former Tour de France king of the mountains Christophe Rinero was first to come across the line with one lap to go and an exhausted Chavanel crossed with the complete white face of a rider who hunger flatted. As he's flying at the moment, Vasseur overtook Rinero as well and finished on his own. His advantage of 20 seconds on GC should allow him to win the second stage race of his career in Ussel on Sunday.
"I'm a pupil of Lance Armstrong since I rode the 2000 Tour de France with him at US Postal so I got to learn how to secure an overall classification," Vasseur said. The Frenchman was left behind from the Postal train in 2001 and quit the team afterwards, but Cédric and Lance got to talk to each other again during this year's Tour for the first time since then.
Now Vasseur is focussing on the World's. He'll captain the French team in Hamilton. He's also the best chance for France to get a medal in Canada. "But Paolo Bettini doesn't care about the winner of Paris-Corrèze," supposes Vasseur. Watch out, there's always a surprise guest in the breakaway for the world title and Vasseur definitely has the condition to be the one!
Photography
Images by Jean-Francois Quenet
Results
1 Cédric Vasseur (Fra) Cofidis-Le Crédit par Téléphone     4.23.40 (39.322 km/h)
2 Christophe Rinero (Fra) MBK-Oktos-Saint-Quentin             0.12
3 Rik Verbrugghe (Bel) Lotto-Domo                             2.33
4 Christophe Agnolutto (Fra) Ag2r-Prevoyance                  2.58
5 Patrice Halgand (Fra) Jean Delatour
6 Mickael Pichon (Fra) FDJeux.com                             2.59
7 Médéric Clain (Fra) Cofidis-Le Crédit par Téléphone         4.26
8 Benoît Poilvet (Fra) Credit Agricole                        4.32
9 Sylvain Chavanel (Fra) Brioches La Boulangère               5.37
10 Philippe Koehler (Fra) MBK-Oktos-Saint-Quentin             7.01
11 Mathieu Sprick (Fra) French National U23 Team
12 Frédéric Gabriel (Fra) MBK-Oktos-Saint-Quentin
13 Matthew Wilson (Aus) FDJeux.com                            7.46
14 Uwe Peschel (Ger) Gerolsteiner                            11.37
15 Ludovic Auger (Fra) Big.Mat-Auber 93                      12.33
16 Kilian Patour (Fra) French U23 National Team              22.38
17 Christophe Edaleine (Fra) Jean Delatour                   38.24
18 Gert Vanderaerden (Bel) Palmans-Collstrop
19 Alexei Sivakov (Rus) Big.Mat-Auber 93
20 Benny De Schrooder (Bel) Palmans-Collstrop
21 Bernhard Kohl (Aut) Rabobank TT III
22 Erwin Thijs (Bel) Palmans-Collstrop
23 Michael Rich (Ger) Gerolsteiner                           38.28
24 Theo Eltink (Ned) Rabobank TT III
25 Joost Posthuma (Ned) Rabobank TT III
26 Laurent Brochard (Fra) Ag2r-Prevoyance
27 Marek Rutkiewicz (Pol) Cofidis-Le Crédit par Téléphone
28 Yves Delarue (Fra) Big.Mat Auber 93
29 Jeremy Roy (Fra) FDJeux.com
30 Mathieu Claude (Fra) French U23 National Team
31 Cyril Lemoine (Fra) French National U23 Team
32 Pierre Bourquenoud (Swi) Jean Delatour
33 Bastiaan Giling (Ned) Rabobank TT III
34 Robert Förster (Ger) Gerolsteiner
35 Hans De Clercq (Bel) Lotto-Domo
36 Andrey Mizourov (Kaz) MBK-Oktos-Saint-Quentin
37 Frederik Penne (Bel) Palmans-Collstrop
38 Thierry De Groote (Bel) Palmans-Collstrop
39 Alexei Markov (Rus) Lokomotiv
40 Ben Johnson (Aus) Cofidis-Le Crédit par Téléphone
41 Pavel Broutt (Rus) Lokomotiv
42 Jens Voigt (Ger) Credit Agricole
43 Maxime Mederel (Fra) French National U23 Team
44 Geoffrey Lequatre (Fra) French National U23 Team
45 Leif Hoste (Bel) Lotto-Domo
46 Gorik Gardeyn (Bel) Lotto-Domo
47 Steffen Weigold (Ger) Gerolsteiner
48 Pieter Weening (Ned) Rabobank TT III
49 Frédéric Bessy (Fra) Cofidis-Le Crédit par Téléphone
50 Damien Monier (Fra) Cofidis-Le Crédit par Téléphone
51 Sandy Casar (Fra) FDJeux.com
52 Serguei Klimov (Rus) Lokomotiv
53 Rory Sutherland (Aus) Rabobank TT III
54 Sébastien Talabardon (Fra) Big.Mat-Auber 93
55 Plamen Stoyanov (Bul) Big.Mat-Auber 93
56 Aart Vierhouten (Ned) Lotto-Domo
57 Sergeï Krushevskiy (Uzb) MBK-Oktos-Saint-Quentin
58 Alexander Serov (Rus) Lokomotiv
59 Kevin Van Impe (Bel) Lotto-Domo
60 Olivier Bonnaire (Fra) French U23 National Team
61 Uwe Hardter (Ger) Gerolsteiner
62 Janek Tombak (Est) Cofidis-Le Crédit par Téléphone
63 Niels Scheuneman (Ned) Rabobank TT III
64 Franck Pencole (Fra) MBK-Oktos-Saint-Quentin
65 Sébastien Talabardon (Fra) Big.Mat-Auber 93
66 Julien Guiborel (Fra) Credit Agricole
67 Sebastian Lang (Ger) Gerolsteiner
68 Axel Merckx (Bel) Lotto-Domo
69 Jörgen Bo Petersen (Den) Team fakta
70 Jean-Cyril Robin (Fra) FDJeux.com
71 Guillaume Auger (Fra) Big.Mat-Auber 93
72 Andy Flickinger (Fra) Ag2r-Prevoyance
73 Gabriel Rasch (Nor) Team Ringerike
74 Kurt Asle Arvesen (Nor) Team fakta
75 Anthony Geslin (Fra) Brioches La Boulangère
76 Sébastien Hinault (Fra) Credit Agricole
77 Walter Beneteau (Fra) Brioches La Boulangère
78 Michael Skelde (Den) Team fakta
79 Koos Moerenhout (Ned) Lotto-Domo
80 Christophe Le Mevel (Fra) Credit Agricole
81 Stéphane Auge (Fra) Credit Agricole
82 Thomas Dekkers (Bel) Rabobank TT III
83 Stéphane Berges (Fra) Ag2r-Prevoyance
84 Maryan Hary (Fra) Brioches La Boulangère
85 Julien Mazet (Fra) French National U23 Team
86 Jérôme Pineau (Fra) Brioches La Boulangère
87 Nicolas Dulac (Fra) Jean Delatour
88 Nicolas Fritsch (Fra) FDJeux.com
89 Yoann Le Boulanger (Fra) MBK-Oktos-Saint-Quentin
90 Erkki Putsepp (Est) Ag2R-Prevoyance
91 Eddy Lembo (Fra) Palmans-Collstrop
92 Stéphane Barthe (Fra) MBK-Oktos-Saint-Quentin
93 Mark Scanlon (Irl) Ag2r-Prevoyance
94 Nicolas Vogondy (Fra) FDJeux.com
95 Laurent Lefevre (Fra) Jean Delatour
96 Samuel Dumoulin (Fra) Jean Delatour
97 Laurent Lefevre (Fra) Jean Delatour
98 Ludovic Turpin (Fra) Ag2r-Prevoyance
99 Stéphane Goubert (Fra) Jean Delatour
100 Jeremy Hunt (GBr) MBK-Oktos-Saint-Quentin
101 Baden Cooke (Aus) FDJeux.com
102 Fredrik Modin (Swe) Team fakta
103 Eddy Seigneur (Fra) Jean Delatour
104 Franck Renier (Fra) Brioches La Boulangère

General classification after stage 2

1 Cédric Vasseur (Fra) Cofidis-Le Crédit par Téléphone      8.23.20
2 Christophe Rinero (Fra) MBK-Oktos-Saint-Quentin              0.20
3 Rik Verbrugghe (Bel) Lotto-Domo                              2.45
4 Patrice Halgand (Fra) Jean Delatour                          3.14
5 Christophe Agnolutto (Fra) Ag2r-Prevoyance
6 Mickael Pichon (Fra) FDJeux.com                              3.15
7 Médéric Clain (Fra) Cofidis-Le Crédit par Téléphone          4.42
8 Benoit Poilvet (Fra) Crédit Agricole                         4.48
9 Sylvain Chavanel (Fra) Brioches La Boulangère                5.52
10 Frédéric Gabriel (Fra) MBK-Oktos-Saint-Quentin              7.17
11 Mathieu Sprick (Fra) French National U23 Team               7.46
12 Matt Wilson (Aus) FDJeux.com                                8.02
13 Uwe Peschel (Ger) Gerolsteiner                              8.31
14 Ludovic Auger (Fra) Big.Mat-Auber 93                       11.53
15 Kilian Patour (Fra) French National U23 Team               12.49
16 Philippe Koehler (Fra) Palmans-Collstrop                   19.11
17 Christophe Edaleine (Fra) Jean Delatour                    23.38
18 Baden Cooke (Aus) FDJeux.com                               38.38
19 Benny de Schrooder (Bel) Palmans-Collstrop                 38.39
20 Geert Vanderaerden (Bel) Palmans-Collstrop                 38.40