US Elite National Championships - CN
Pennsylvania, USA, May 21-22, 2003
Main Page Results Previous Race Next Race
Race 2 - May 21: Elite men's time trial, 34km
Baldwin earns stars and stripes
By Kristy Scrymgeour
Huzzah!
Photo: © Andy Lee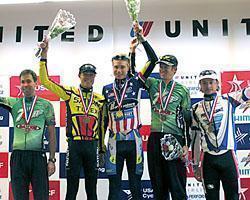 Chris Baldwin conquered a strong men's field today in the National Time Trial Championships in Seven Springs Pennsylvania, when he powered home in an amazing time of 46 minutes 56 secondsto claim his first ever stars and stripes jersey.
Baldwin beat out top riders like Saturn's Tom Danielson, Jason McCartney, John Lieswyn (7UP-Maxxis) and Prime Alliance's Danny Pate on a very challenging 34 kilometer course. "The course was not like anyone expected," Baldwin told Cyclingnews echoing the sentiments of his fiancée and winner of the women's race Kimberley Bruckner (T-Mobile). "It was very hilly and challenging and you had to ride conservatively," said Baldwin. Although trouble with the cables on his bike may have made a conservative ride a little difficult, Baldwin didn't seem to mind. "Our mechanic Mike had to change my rear derailleur five minutes before the race. It was a good thing actually because it was funny and it made me relax. On the first climb I tried to change it down to the small ring but it wouldn't go, so I had to ride the race in the 55, maybe it helped."
On whether he expected this win Baldwin was adamant. "No, I really had no confidence before the start. I have been lacking confidence all year. I think I was just the rider who had a good day today." Baldwin was happy for his fiancée Bruckner though. "I am really proud of Kimberley. She was so nervous before the start and she worked really hard for this over the winter, it's great for her," he said.
The pro men now have a few weekends of criterium racing before they head to Philadelphia for the Wachovia Series, of which the USPRO Championships is a part, while the amateur men will race for the Elite National championships tomorrow.
Photos
Images by Andy Lee/usacycling.org
Results
1 Chris Baldwin (Navigators)                    46.56.38
2 Tom Danielson (Saturn)                         0.41.99
3 Jason McCartney (7 UP/Maxxis)                  0.46.33
4 John Lieswyn (7 UP/Maxxis)                     0.48.50
5 Danny Pate (Prime Alliance)                    0.50.68
6 Christopher Horner (Saturn)                    0.51.56
7 Jonathan Vaughters (Prime Alliance)            1.39.72
8 Doug Ziewacz (7 up/Maxxis)                     1.41.27
9 Adham Sbeih (Sierra Nevada Clif Bar)           1.54.33
10 Zachary Walker (Olympic Club)                 2.45.17
11 Bryan Smith (ISCORP/Childrens Hospital)       3.08.88
12 Kevin Nicol (Team Rio Grande)                 3.32.08
13 Jacob Rosenbarger (Jittery Joes)              3.46.51
14 Mike Jones (West Virginia Go Mart)            3.57.39
15 Gardie Jackson (Healthy Choice/Guru's)        4.00.53
16 Michael Ley (Team Rio Grande)                 4.22.94
17 Michael Luther (Colavita Bolla)               4.28.65
18 Ryan Blickem (Aidas Border Bandits)           4.31.34
19 Dale Suttle (Back Yard Burgers)               4.35.95
20 Sandy Perrins (Healthy Choice/Guru's)         4.45.47
21 Jeffrey Miller (Nittany Valley Velo)          4.46.13
22 Craig Wilcox (Broadmark Capital)              4.54.22
23 Chad Hartley (Jittery Joes)                   4.59.04
24 Michael Norton (Breitling Tradeware)          5.16.78
25 Brian Ecker (Recycled Cycles)                 5.36.05
26 Thad Dulin (Colavita Bolla)                   5.42.16
27 Daniel Larson (Cycle Science)                 5.46.19
28 Michael Kehrberg (West Virginia GoMart)       5.53.21
29 Jeffrey Schroetlin (Spin City Cycling)        6.10.58
30 Todd Coglon (Broadmark Capital)               6.32.54
31 Jason Bremer (GS Mengoni USA)                 6.37.19
32 Calvin Allan (Broadmark Capital)              6.46.98
33 Wayne Puckett (Monta Vista Velo)              7.06.02
34 Joseph Dantoni (Cycles de Oro)                7.23.51
35 Zachary Zimmerman (Bike Doctor/Cannondale)    7.44.47
36 Doug Greek (Ozark Cycling Club)               8.14.49
37 Amos Brumble (CCB/Volkswagon)                 8.36.95
38 Nicholas Reistad (ISCORP/Childrens Hospital)  8.50.25
39 Anthony Settel (CRCA - Conrads)               9.04.65
40 Charles Huff (Ozark Cycling Club)             9.09.55
41 Matt Murray (Wolverine Sports Club)           9.52.56
42 Brian King (Trek/VW/Goodales)                10.19.50
43 Brian Adams (Breitling Tradeware)            10.28.69
44 Bill Gottberg (ACA/Team Cycleworks)          10.48.99
45 Brian Wieczorek (Freddie Fu)                 12.01.61
46 Tim Edwards (Honey Stinger/Spiner)           16.11.28
47 John Crawford (US Filter/Culligan)           18.32.08
48 Alan Romefelt (Lateral Stress Velo)          29.48.06
 
Miltary
 
1 George Ganoung (US Armed Forces/NCVC)         51.50.20
2 Steve Mlujeak (US Armed Forces)                0.51.35
3 Peter Penzell (US Armed Forces)                0.54.08
4 Trent Hornus (US Armed Forces)                 2.19.98
5 Garrett Wonders (US Armed Forces)              2.55.71
6 Kent Wheeler (US Armed Forces)                 4.10.05
7 John Law (US Armed Forces)                     4.43.95
8 Lee Slater (US Armed Forces)                   5.15.43
9 Paul Langlois (US Coast Guard)                 5.59.21
10 Sean Coleman (US Armed Forces/CSC)            6.23.14
11 Eric Obergfell (US Armed Forces)              7.34.25
12 Troy Heineman (Cochise County Cycling)        8.40.35