Recently on Cyclingnews.com
US Elite National Championships - CN
Pennsylvania, USA, May 21-22, 2003
Race 1 - May 21: Elite women's time trial, 34km
T-Mobile Sweeps the Time Trial
By Kristy Scrymgeour
Huzzah!
Photo: © Andy Lee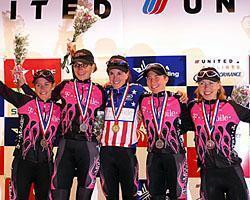 T-Mobile took the first five places at the US National Time Trial Championships today in Seven Springs, Pennsylvania, with Kimberly Bruckner successfully defending her title for the second year running.
The challenging course covered 34 kilometers and was hilly and technical, suffering the added challenge of occurring on a cold, miserable day. "The course was so hard," Bruckner told Cyclingnews. "It was nothing like I had prepared for. The course profile that we were sent showed it was gradually undulating, but in fact it was really hilly; some of the girls nearly used road bikes instead of time trial bikes. It was a good course for me though, I knew I had to conserve on the way out, you just can't go flat out like you can on a flat course, so I made sure I had something left on the way home."
Bruckner has been looking forward to this race all year. "I was really nervous before the race. I really wanted to defend my title here, so I'm really happy now, and it's even better that my teammates and my fiancé (Navigators rider Chris Baldwin) did so well too. I was so excited for Chris and he was thrilled."
Bruckner won the time trial in a time of 53 minutes 20 seconds (34km/h), 25 seconds ahead of teammate Dedet Demet-Barry and another 9 seconds ahead of Amber Neben. Demet-Barry was very happy with her second placing, having just stepped off the plane from Spain where she has been getting in some good training miles with husband Michael Barry. Neben, coming of a successful European campaign where she wore the yellow jersey in the Gracia Orlova Tour in the Czech Republic was simply ecstatic that her team placed one through five. "It's just exciting that everyone did so well. We have a very talented squad," sha said.
With no rest for the wicked, the girls face another hard day in the road race tomorrow. The course is difficult once again and riders will complete three laps of a 43 kilometer loop which is consistently undulating. The Pro men will head home and have another couple of weeks to prepare for their National Championships which are held in Philadelphia on June 8 as part of the Wachovia Series, leaving the amateur men to have their day in the sun - or the cold and gloom, if today's weather continues.
Photos
Images by Bill Parsons
Images by Andy Lee/usacycling.org
Results

1 Kimberly Bruckner (T-Mobile)                  53.20.82
2 Deidre Barry (T-Mobile)                        0.24.50
3 Amber Neben (T-Mobile)                         0.33.62
4 Kristin Armstrong (T-Mobile)                   1.16.76
5 Katrina Grove (T-Mobile)                       2.06.16
6 Tina Mayolo-Pic (Diet Rite)                    2.48.56
7 Mari Holden (T-Mobile)                         3.37.03
8 Kori Kelly (Diet Rite)                         4.02.30
9 Grace Fleury (Genesis Scuba/FFCC)              4.03.09
10 Brooke Ourada (Team Goldys)                   4.33.68
11 Kimberly Anderson (T-Mobile)                  4.49.57
12 Dorothy Cowden (T-Mobile)                     5.03.08
13 Stacey Peters (T-Mobile)                      5.09.30
14 Sarah Konrad (Basis)                          5.09.86
15 Heather Albert (Basis)                        5.30.09
16 Pamela Moalli-Rytel (ESSM/GPOA Cycling)       5.43.20
17 Kate Maher (Basis)                            6.00.16
18 Jennifer Stevens (Vaniqa/Red 5 Racing)        6.09.83
19 Rhonda Quick (Vaniqa/Red 5 Racing)            6.18.76
20 Carla Koehler (Minute Maid/Dansani)           6.46.30
21 Kristin Johnson (T-Mobile)                    7.26.10
22 Carla Hukee (Team Zombies)                    7.36.44
23 Maggie Shirley (Genesis Scuba/FFCC)           7.41.65
24 Tina Skelly-Kunstbeck (LSV/Trek/VW)           8.01.65
25 Candice Blickem (Genesis Scuba/FFCC)          8.02.09
26 Lara Kroepsch (T-Mobile)                      9.28.53
27 Betsy Sellers (Revolution/Rock Creek)        10.33.48
28 Brooke O'Connor (Colavita Bolla)             10.47.42
29 Mary Georgetti (NEBC/Cycleloft)              11.15.02
30 Miranda Moon (Team Rubicon/United)           11.17.95
31 Debbie Dust (Jamba Juice)                    14.18.53
 
Espoir women
 
1 Magen Long (The Bicycle Store)                59.36.64
2 Megan Elliott (Saturn Cycling Team)            0.31.67
3 Lauren Franges (Tri-State Velo/Amoroso)        1.05.95
4 Allie Warfel (Integrity Rides)                 4.35.19
5 Sarah Hammer (T-Mobile)                        5.14.88
6 Lauren Gaffney (Basis)                         6.07.73