Boucles de la Mayenne - 2.6
France, June 19-22, 2003
Main Page Results Previous Stage Next Stage
Stage 3 - June 21: Louverné-Larchamp, 83 km
Rabobank's young guns hold it again
By Jean-François Quénet in Larchamp
Dekker still dancing on the pedals
Photo: © Jeff Quénet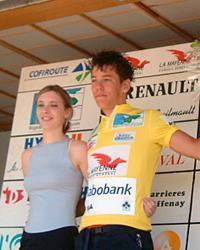 For the second time in a row, Rabobank has managed to keep the yellow jersey despite strong attacks from the French riders. 47.2 kilometres were covered in the first hour. "This is unbelievable because the course was always up and down and the wind wasn't pushing us, race leader Thomas Dekker explained. It was very hard to control the race. There are a lot of good riders here."
The Boucles de la Mayenne are a smooth combination of 6 TT3, 11 French division 1 teams (which form the highest level of amateur French cycling) and some locals as well. When Rabobank managed to create a big group ahead, they got caught by a quick reaction from Vendée U and Nantes 44 Cyclisme. With only 10km to go, a breakaway was successful. Eight riders were able to keep eight seconds lead to the finish line and the winner of stage 2, Renaud Dion from St-Etienne, was close to doubling up, but Samuel Gicquel, 26, from Jean Floc'h ended up being the fastest.
"I'm usually quite good in a small group sprint finish", Gicquel explained. He already beat out Australian hope Simon Gerrans for a stage win in the Tour of Normandy earlier this year. He'll be highly motivated for the French championship next week in Plumelec very close to his home town of Locminé in Brittany.
The Boucles de la Mayenne remain very open with two stages to go, another short one on Saturday afternoon and the hilly come back to Laval on Sunday.
Photos
Images by Jean-François Quénet
Results
1 Samuel Gicquel (Fra) Jean Floc'h           1.41.44
2 Renaud Dion (Fra) EC St-Etienne
3 Freddy Ravaleu (Fra) VC Loudun
4 Kees Jeurissen (Ned) Van Hemert Groep
5 Mathieu Sprick (Fra) Vendée U
6 Jérôme Rouyer (Fra) SC Sarreguemines
7 Yvonnick Bolgiani (Fra) VC Loudun
8 David Lelay (Fra) VC Roubaix
9 Anthony Ravard (Fra) Vendée U                 0.08
10 Samuel Rouyer (Fra) SC Sarreguemines
11 Fabian D'Evola (Bel) RC Pesant Liège
12 Ludovic Draux (Bel) RC Pesant Liège
13 John Nilsson (Swe) AVC Aix
14 Karolis Volungevicius (Ltu) EC St-Etienne
15 Reto Leupp (Swi) Macandina
16 Kevin Lalouette (Fra) CC Nogent-sur-Oise
17 Jelle Van Groezen (Ned) Van Hemert Groep
18 Alexandre Matveev (Mol) EC Mayenne
19 Dennis Smit (Ned) Van Hemert Groep
20 Jorg Strauss (Swi) Macandina
21 Christophe Diguet (Fra) Nantes 44 Cyclisme
22 Jeremy Dartus (Fra) Crédit Agricole espoirs
23 Mattias Carlsson (Swe) Team Ringerike
24 Mickael Chicault (Fra) Pays de la Loire
25 William Bonnet (Fra) France pursuit

General classification after stage 2a

1 Thomas Dekker (Ned) Rabobank                5.56.06
2 Bas Gilling (Ned) Rabobank                     0.01
3 David Lelay (Fra) VC Roubaix                   0.02
4 Sandro Guttinger (Swi) Macandina               0.04
5 Mattias Carlsson (Swe) Team Ringerike          0.08
6 Renaud Dion (Fra) EC St-Etienne                0.09
7 Samuel Gicquel (Fra) Jean Floc'h
8 Tom Southam (GBr) Nantes 44 Cyclisme           0.10
9 Jérôme Neuville (Fra) France pursuit
10 Christophe Thébault (Fra) Jean Floc'h         0.11
11 Kees Jeurissen (Ned) Van Hemert Groep
12 Frédéric Lecrosnier (Fra) Jean Floc'h
13 John Gadret (Fra) VC Roubaix                  0.15
14 Mathieu Sprick (Fra) Vendée U                 0.18
15 Samuel Bonnet (Fra) CC Nogent-sur-Oise
16 Denis Robin (Fra) Crédit Agricole espoir
17 Franck Champeymont (Fra) AVC Aix              0.19
18 Samuel Plouhinec (Fra) AVC Aix                0.21
19 Olivier Maignan (Fra) EC St-Etienne           0.22
20 Jorg Strauss (Swi) Macandina
21 Camille Bouquet (Fra) VC Roubaix
22 Jean Zen (Fra) Vendée U
23 Anthony Langella (Fra) Bressuire AC           0.23
24 Stéphane Conan (Fra) Bretagne U
25 Rony Martias (Fra) Vendée U                   0.24
26 Olivier Martinez (Fra) AVC Aix                0.25
27 Dominique Rault (Fra) Jean Floc'h
28 Cédric Coutouly (Fra) Crédit Agricole espoir
29 Jonathan Dayus (GBr) Team Ringerike
30 Andrew Jackson (GBr) EC St-Etienne