Recently on Cyclingnews.com
Boucles de la Mayenne - 2.6
France, June 19-22, 2003
Main Page Results Previous Stage Next Stage
Stage 2 - June 20: Laval - St-Berthevin-Évron, 182 km
Thomas Dekker's quick come back
By Jean-Francois Quenet
Comeback kid: Thomas Dekker
Photo: © Jeff Quénet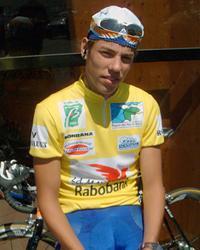 Thomas Dekker from Rabobank has made an impressive impact at the start of the Boucles de la Mayenne, newly upgraded to category 6. "I broke my hand in Waregem in March and I had to keep my arm in plaster for six weeks," he said. "Then I spent most of the following three weeks doing my exams at school. I came back for the Vuelta Lleida last week in Spain and I helped Jukka Vastaranta who came 2nd and won two stages."
Dekker himself won the first stage of the Boucles de la Mayenne on Thursday night ahead of his team-mate Bas Gilling. In stage 2, Rabobank had a lot of work to do along with AVC Aix and Crédit Agricole, who were behind the breakaway formed by 12 riders after 85km. They got a maximum lead of three and a half minutes and were about to be caught by the bunch when seven of them restarted their action with 12km to go. Renaud Dion, 25, from EC St-Etienne, won the sprint.
"It's good to see that the form is back just before the French championship", he said. But some riders like Briton Tom Southam (Nantes 44) did a lot of work for very little bonus at the end.
Photos
Images by Jean-François Quénet
1 Renaud Dion (Fra) EC St-Etienne               4.06.03
2 Samuel Bonnet (Fra) CC Nogent-sur-Oise           
3 Mattias Carlsson (Swe) Team Ringerike
4 Jean Zen (Fra) Vendée U
5 Christophe Diguet (Fra) Nantes 44 Cyclisme
6 Frédéric Lecrosnier (Fra) Jean Floc'h
7 Tom Southam (GB) Nantes 44 Cyclisme              0.03
8 Simon Gerrans (Aus) Team Ringerike               0.08
9 Geoffroy Lequattre (Fra) Crédit Agricole espoirs
10 Julien Smink (Ned) Van Hermert Groep
11 Karolis Volongevicius (Lit) EC St-Etienne
12 Jonathan Dayus (Fra) Team Ringerike
13 Alexandre Naulleau (Fra) Vendée U
14 Jorg Strauss (Swi) Macandina
15 Samuel Plouhinec (Fra) AVC Aix
16 Vincent Freulon (Fra) Pays de la Loire
17 Camille Bouquet (Fra) VC Roubaix
18 Samuel Gicquel (Fra) Jean Floc'h
19 Bas Giling (Ned) Rabobank
20 Mickael Chicault (Fra) Pays de la Loire

General classification after stage 1

1 Thomas Dekker (Ned) Rabobank                  4.14.14
2 Bas Gilling (Ned) Rabobank                       0.01
3 Sandro Guttinger (Swi) Macandina                 0.04
4 Mattias Carlsson (Swe) Team Ringerike            0.08
5 Tom Southam (Fra) Nantes 44 Cyclisme             0.10
6 Jérôme Neuville (Fra) France pursuit             
7 David Lelay (Fra) VC Roubaix
8 Christophe Thébault (Fra) Jean Floc'h            0.11
9 Frédéric Lecrosnier (Fra) Jean Floc'h
10 John Gadret (Fra) VC Roubaix                    0.15
11 Samuel Bonnet (Fra) CC Nogent                   0.18
12 Denis Robin (Fra) Crédit Agricole espoirs       0.18
13 Franck Champeymont (Fra) AVC Aix                0.19
14 Kees Jeurissen (Ned) Van Hemert Groep
15 Samuel Plouhinec (Fra) AVC Aix                  0.21
16 Renaud Dion (Fra) EC St-Etienne
17 Olivier Maignan (Fra) EC St-Etienne
18 Jorg Strauss (Swi) Macandina                    0.22
19 Camille Bouquet (Fra) VC Roubaix
20 Jean Zen (Fra) Vendée U