Wendy's International Classic - NE
Ohio, USA, July 24-27, 2003
Main Page Results Previous Stage
Stage 4 - July 27: The Wendy's International Cycling Classic, 50/35 miles
McCormack flies Stars & Stripes high
The women's race was attack-filled
Photo: © Mark Zalewski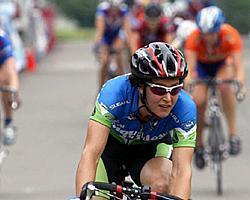 Saturn's Mark McCormack knows that by pulling on the Stars & Stripes jersey as the USPRO Road Champion he is effectively pulling on a bulls eye. "It's a burden, but one that I wouldn't give up for the world," he says. In the highlight event of this series, the USPRO Champion would have to shoulder most of that burden himself, as he was with only one teammate while other teams were flush with riders and support. "I was jealous of the teams with feeders -- having a bottle with cold water in it would have been nice," said McCormack.
The team with the biggest and most talented contingent was West Virginia, who brought both their Pro and Elite Amateur teams. Riding point for West Virginia was former Elite Champion and solo-break specialist Paul Martin, who was coming off a good showing at Superweek and a win at Four Bridges of Elgin. Also in the field from West Virginia was sprinter Patrick O'Donnell, U.S. Elite Crit. Champion Jim Baldesare, and former Champion Ben Sharpe. At 1.1 miles long, with a fast descent and tough climb back up to the start/finish, the course for this event looked more like a small circuit road race than a crit. But how many road races see a breakaway lap the field... twice? The officials earned their money on this one trying to keep it straight. At a few points the announcers seemed unsure of everything but the direction of the race course, and with good reason. Eleven riders were up a lap on the field; then six of those broke again and put a second lap on the field; and within these breaks, riders in the middle or off the back would catch on to make things even more confusing.
The only understandable thing about the break was who was in it. As expected, McCormack and Martin made the cut, as well as two of Martin's West Virginia teammates from the Elite squad. One of the other two along for the ride was former Indiana University Little 500 rider Todd Cornelius (Team Bloomington/Touchstone Energy). Cornelius, racing in his first full season with a team, felt a little bit of adrenaline as he rode in the break with McCormack. "I was just trying to keep it together. It was beyond nervousness -- I was in some pretty good company."
As the race evolved, the numeric advantage certainly went to West Virginia's three riders in the break of six. But McCormack wasn't going to let them ride away without a fight. "Jeff [Braumburger] attacked [first] as we tried to give ourselves a shot to get away from him," said Martin. "We countered each other but Mark followed everything. When it got down to four I got away with Mark but I let it come back together, because I knew I couldn't win a sprint against him."
The six remained together within the main pack until the final lap of the 50 mile race. West Virginia readied themselves to try a final barrage of attacks to drop the veteran USPRO Champ. "With one to go they started attacking hard," said McCormack. "I didn't want to give them an inch to demoralize them."
Driving up the climb to the finish the final time, McCormack charged ahead of the other five and most of the pack to take the win in convincing fashion, followed closely by Paul Martin. Martin's teammates, amateurs Brian Sheedy and Jeff Braumburger, finished third and sixth respectively. "The West Virginia Elite riders were racing like pros today," said Martin of his helpers. Todd Cornelius finished a strong fourth.
Mark McCormack has his immediate sights set on the New York City Invitational next weekend. "The races are the perfect preparation for New York." After that he plans to help the Saturn team add another Stars & Stripes jersey to the team closet at the USPRO Criterium Championship at Downers Grove, IL in mid-August.
Images by Mark Zalewski/www.showchoir.net
Results
Pro-I-II Men
 
1 Mark McCormack (Saturn)
2 Paul Martin (West Virginia)
3 Brian Sheedy (West Virginia)
4 Todd Cornelius (Team Bloomington)
5 Chris Foster (Back Yard Burgers)
6 Jeff Braumberger (West Virginia)
7 Shaun O'Neill (Midland)
8 Kyle Wamsley (Team Fugi Bikes)
9 Juan Aagdo (Colavita-Bolla)
10 Dan Larson (Cycle Science)
11 Nic Brown (Lemond Fitness)
12 Tim Swain (Savage Hill)
13 Pat O'Donnell (West Virginia)
14 Rory McAdams (Mapei-Team Diabetic)
15 Brett Park (Olympus)
16 Russ Folaer (Tri-Tech)
17 Mark Warno (Evolution/Pedal-N-Spoke)
18 Dave Wenger (West Virginia)
19 Nathanael Ziccardi (Tri-Tech)
20 Al Senft (NUVO/BAP)
 
Women I-II-III
 
1 Lauren Franges (Victory Brewing)
2 Nicole DeMars (Victory Brewing)
3 Catherine Powers (Snow Valley)
4 Julia Oh (Wheelworks)
5 Gina Grain (Victory Brewing)
6 Elizabeth Begosh (Team Snow Valley)
7 Sheba Farrin (LSV/TREK/VW)
8 Nicole Freedman (Team Basis)
9 Kendra Keelay (Valdoro Mt. Lodge)
10 Lori Palmer (Team Florida)
11 Ann Turrin (Victory Brewing)
12 Jenette Williams (West Virginia)
13 Elizabeth Morse (OBRU/The Bicycle Store)
14 Anne Lannan (Valdoro Mt. Lodge)
15 Kathy Fortin (Olympus)
16 Laura Summers (Hudson Valley Velo Club)
17 Leeanne Marderson (Freddie Fu)
18 Shani Bloch (Team Basis)
19 Kristy Scheffenacker (Team Snow Valley)
20 Susan Hefler (LSV/TREK/VW)