Wendy's International Classic - NE
Ohio, USA, July 24-27, 2003
Main Page Results Previous Stage Next Stage
Stage 3 - July 26: The Harrison West Cycling Classic, 45/30 miles
This third event of the series consisted of a Women's 1/2/3 and a Men's Pro/1/2 on an "L" shaped criterium course with brick pave down one of the side-stretches, just to make things interesting.
O'Donnell continues sprint workshop
By Mark Zalewski
USPRO champ Mark McCormack
Photo: © Mark Zalewski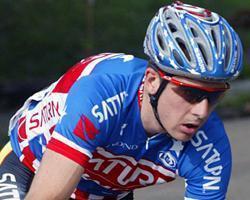 With thighs the size of your average tree trunk, Patrick O'Donnell (West Virginia) is quietly sprinting his way to multiple victories this season. Of course, when your breakaway laps the field, it makes life a bit easier. Then you look over your shoulder and see the Stars & Stripes jersey of the current USPRO Road Champion Mark McCormack (Saturn) and you realize that this isn't some local parking lot crit.
McCormack's plan was to sit patiently and wait. "I like to sit at the back early," said McCormack. "The guys who had teammates kept the pace really high." McCormack was here with only one teammate, the young up and coming rider Rahsaan Bahati.
Due to the high pace, set mainly by West Virginia, breaks had a tough time getting away. Eventually a group containing O'Donnell and three others escaped, and the rest of the team took control of the pack. McCormack tried to bridge up to this break as it took a lap on the field. However, soon after the four reintegrated into the pack, one of them jumped off the front again, but the West Virginia team jumped into action and covered for their teammate. Then other lapped riders shot off the front in attempts to catch the McCormack group and un-lap themselves, but it was just too late.
The pack
Photo: © Mark Zalewski

Coming into the last turn, a crash took out a few riders. O'Donnell hurriedly looked around for the three other riders with him on the lap. He took the four-up sprint with ease, adding his second win at Wendy's along with a huge win a little more than a week ago at Superweek. "I really felt good today," said O'Donnell. "I was in the right spot and [the break] worked really well together."
Freedman squeaks out three-up sprint
The women started the racing first, with U.S. National Crit. Champion Nicole Freedman (Basis) highlighting the field. Nicole seems to make friends wherever she races, and Columbus is no exception. Most of the local fans shouted support for the Boston native as she led the field around the course.
Nicole is starting to come into form this season after a slow start. "The winter was hard -- I was in cruise control," said Freedman. Her new team, Basis, was formed over the winter by Nicole, who had previously ridden for the Rona Cycling Team. "We didn't have much money in the beginning, but now we have some great sponsors." This team also has a different philosophy than most pro teams -- one of teaching and development through the pairing of veterans like Freedman with up and coming racers. "We never buy riders -- we have riders that chose to be on the team and who we get along with."
The action on the course saw different combinations of riders forming breaks. The big initiators of these moves were teams like Basis, Freddie Fu and Victory Brewing -- but nothing seemed to stick in the beginning. Whenever a break would go, someone would have a reason to chase it down. Finally, a break formed that didn't have a Basis rider represented but did include Lauren Franges (Victory Brewing) and Rebecca McClintock (Colavita-Bolla). "There was a bad combination of riders up the road," said Freedman. "It was my turn to chase, and I was able to bridge up." After that, the break rolled to the end. Into the last lap, everyone had their eyes on Nicole and McClintock.
But it was Lauren Franges that took the initiative by attacking the break. Freedman immediately grabbed her wheel and the rest filed behind. "Lauren led most of the last lap," said Freedman. "I didn't feel too well... (I ate an entire pizza earlier in the day!), but I didn't want to get bundled [behind] so I went too early with about 200 meters to go. [After that] you just gotta go harder!"
It came down to a photo finish between Freedman, Gina Grain (Victory Brewing) and McClintock -- and that is the order in which they finished.
Photography
Images by Mark Zalewski/www.showchoir.net
Results

Pro-I-II Men
 
1 Pat O'Donnell (West Virginia)
2 Juan Aagdo (Colavita-Bolla)
3 Daniel Larson (Cycle Science)
4 Anthony Chapman (R&R Sport)
5 Mark Hekmon (Alger Racing)
6 Mark McCormick (Saturn)
7 Brian Sheedy (West Virginia)
8 Nic Brown (Lemond Fitness)
9 David Wenger (West Virginia)
10 Rory McAdams (Mapei-Team Diabetic)
11 Sebastian Alexandre (Colavita-Bolla)
12 David Chernosky (Team Columbus)
13 Marco Aledia (Torelli Bikes/Ma Records.com)
14 Nathanael Ziccardi (Tri-Tech)
15 Stefan Kadar (Akrom)
16 Mark Warno (Evolution/Pedal-N-Spoke)
17 Rahsaan Bahaty (Saturn)
18 Al Senft (NUVO/BAP)
19 Todd Cornelius (Team Bloomington)
20 Kyle Wamsley (Team Fugi Bikes)
 
Women I-II-III
 
1 Nicole Freedman (Team Basis)
2 Gina Grain (Victory Brewing)
3 Rebecca McClintok (Colavita-Bolla Racing)
4 Julia Oh (Wheelworks)
5 Catherine Powers (Team Snow Valley)
6 Lauren Franges (Victory Brewing)
7 Sheba Farrin (LSV/TREK/VW)
8 Leeanne Marderson (Freddie Fu)
9 Shani Bloch (Team Basis)
10 Kristy Scheffenacker (Team Snow Valley)
11 Kathy Fortin (Olympus Bikes)
12 Shannon Hutchison (Colavita-Bolla Racing)
13 Lenora Felker (Freddie Fu)
14 Sandy Espeseth (Victory Brewing)
15 Jenette Williams (West Virginia)
16 Anne Lannan (Valdoro Mt. Lodge)
17 Laura Summers (Hudson Valley Velo Club)
18 Elizabeth Begosh (Team Snow Valley)
19 Kele Hulse (Team Basis)
20 Tracy Sproule (Colavita-Bolla Racing)