Recently on Cyclingnews.com
Tattersall's Cup #1: Tour of Mt Baw Baw (NE)
Australia, July 30, 2003
2002 Results Results Past Winners
McLachlan in blast from the past
By Rod Morris
Robert McLachlan
Photo: © Mikkeli Godfree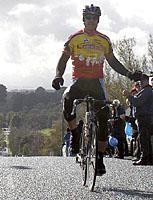 Barcelona Olympian Robert McLachlan has snatched the early lead in the 2003 Tattersall's Cup Cycling Series, by winning the open race on the programme, the Tour of Mt Baw Baw. Held on Wednesday, July 30 over 130 km, McLachlan turned the clock back more than a decade to show his class.
Now 32 and riding for the Victorian-based Caravello Joinery Cycling Club, McLachlan was part of a small breakaway group, which put some considerable distance into the starting field of 97 cyclists. McLachlan, a noted road rider more than 10 years ago only returned to the saddle in February this year, but is already showing promise of bigger things to come.
Victorian Robert Tighello, who, with two wins and one minor placing has the most successful history in the Tattersall's Cup, started strongly with a second spot behind McLachlan, while Dominic Gatto took third place. Last year's winner of the Tour of the Tamar, Peter Milostic of NSW was fourth and a late inclusion in the series - Trent Stephenson - was fifth.
The Tattersall's Cup is a five race series throughout late July and all of August. The four events remaining are:
Great Grampians Little Desert Classic, 125.8 km, August 6
Tour of the Otway Ranges, 186.8 km, August 13
Tour of the La Trobe Valley, 127.8 km, August 20
Tour of the Tamar, 150 km, August 27
Craig Gordon claimed early honours in the King of the Mountain title, while Trent Stephenson is the leader in the Sprint Championship.
Photography
Images by Mikkeli Godfree
Results, 130km
1 Robert McLachlan
2 Robert Tighello
3 Dominic Gatto
4 Peter Milostic
5 Trent Stephenson
Past winners
2002 Phillip Thuaux 

2001 Caleb Manion (Tasmania)
2000 Leigh Egan (Shepparton)


Past winners courtesy of Mario Stiehl, www.world-of-cycling.com