Southbank Cycling Grand Prix Criterium - NE
Brisbane, December 7, 2002
2002 Results Elite Men's report & results Past winners
Graham gives the blokes a serve
By John-Michael Flynn in Brisbane
Queenslander Lorian Graham almost stole the show in the B Grade race
Photo ©: John-Michael Flynn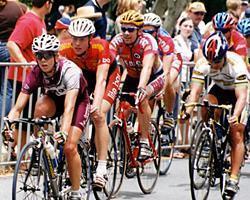 Mark Roland's victory in the Grand Prix Criterium at Southbank may have been seen as an upset, but there were just as many noses out of joint in the preceding B Grade men's race, which was almost won by a woman.
After being named in the AIS women's road team during the week, Queensland's Female Road Cyclist Of the Year Lorian Graham turned her back on racing the girls, opting for the toughest hit-out possible against an all-male field.
The twenty six year-old Queensland Academy of Sport rider was in the action early, brandishing the skills gained through a decade of go-kart racing, as she kept the blokes in check on the tight Southbank street circuit.
"Right now it's important for me to get the toughest race hitouts possible," said Graham. "If that means racing the blokes, then that's what I have to do, because when it comes time to race overseas, the competition's going to be even tougher."
The tenacious Queenslander proved she was every bit as good as her male rivals, almost stealing the race with a solo breakaway in the dying stages. Eventually run-down in a sprint finish, the top ten result was still enough to earn plenty of respect from the blokes.
"If I had someone to go with me when I broke away it might have been a different story," Graham said after the race. "But still, what I came her for was a hard race and that's what resulted, so in terms of the bigger picture it shows everything is on track."
Graham's training schedule is centred on next month's national road titles in Victoria, where the Queenslander won't be content with anything less than a podium performance in the women's road race.
Photography
Images by John-Michael Flynn
Images by Heath Carney
Images by James Worrell
Images by Michael Gall
Results

Elite Men
 
1 Mark Roland
2 Christian Lademann
3 David Betts
4 Bradley McGee
5 Allan Davis
6 Robbie McEwen
7 Baden Cooke
8 Jeremy Betts
9 Tony Mann
10 Daniel Newnham
 
Women
 
1 Wendy Habermann
2 Diane Monk
3 Bridget Evans
 
B Grade Men
 
1 Jeff Harris
2 Todd Dawson
3 Nathan Seage
4 Daniel McCulloch
5 Tim Bartlett
 
C Grade Men
 
1 Shane Meulling
2 Tim Golding
3 Brendan O'Connell

Past winners
2002 Matt White (Aus) US Postal