An interview with Baden Cooke
Big Boy Baden
By Gabriella Ekström
Both with a spring in their step
Photo: © Tom Balks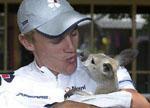 Clearly the sprinting revelation of the 2002 road season, Big Boy Baden Cooke is sprinting down the path to success, leaving many of his more experienced rivals gasping for breath and answers. Cyclingnews correspondent Gabriella Ekström talks to the prodigious 23 year old less than a week out from the World Road Championships in Zolder - to be held on a circuit right to the Cookie Monster's liking.
This year's Tour de France saw the clash of the titans - a fight between Eric Zabel and Robbie McEwen, where the Australian pulled the bigger gear. In their shadows rode another Australian sprinter - Baden Cooke. "Cookie", who turns 24 during the Worlds, earned himself a centre spread or two in the cycling papers with his bunch galloping prowess.
Half a dozen top ten finishes in Le Tour speaks for itself, and his second placing behind McEwen on Champs Elysees was the final crown on his three week trip to world fame. A pretty impressive result, especially when remembering that the sprinters don't get that many chances, and not all flat stages end in bunch sprints. He has also learnt an important lesson: nothing really seems to count until you have done it in the Tour.
He has now earned the respect of his fellow riders and the love of the Australian public, as well as a few European fans. Can he be hungry for more? Well, you can always do with more. Another very important race is coming up, and it looks like it will be a race for the sprinters. Mario Cipollini has been flying through the fall, and everything seems set for an Italian world champion, but there are a few other riders who would like to have a say otherwise.
Guimard's bet for a future World Champ
Photo: © Jean-François Quénet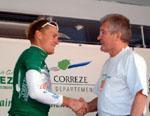 Cyrille Guimard was recently quoted by Jean-François Quénet, saying that he "saw a World Champion in Cooke". 18 months ago, I spoke with Cooke about adapting as a pro, and about his future plans. He now admits that he has reached far beyond the point where he could imagine himself to be today. Has he actually reached so far that he thinks it's possible for him to win the World Championships?
"I think Cipo is going to be very hard to beat, he is probably going the fastest he has ever gone, and I am sure that he will have heaps of help," analyses Cooke, "but I think I have a chance of winning the race - if I rode the perfect race. My best chance of winning would probably be if the race broke up and guys like Cipo would end up more isolated."
He is also positive about the road team selected by Australia. Riding for any other country, he could very well be the sprinter with capital S, but not every other national team has two previous green jersey holders in it.
"In my opinion, this team is by far the best that Australia has ever put together, so I am hoping that we also get our best ever result. I have yet to see the course, but I will ride it Thursday before the race. It is flat indeed, and that means it is good for me."
Amazing 1st season in Europe
Photo: © AFP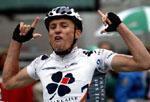 Whatever happens in the Worlds, he can still look back on a pleasant season. Five wins has been added to his palmarès, not to mention the top placings in the Tour sprints. Baden himself agrees when I call his season amazing. "Really amazing. This was my first full season as a euro pro, and I would never have guessed it would be so successful. I feel like I have really found my legs this year, and I know which races to target. The Tour was obviously a huge success for me. I went in with no pressure, and I was basically there to learn. I did learn a hell of a lot about myself, how to recover and how to conserve energy."
Finishing the Tour was of great importance to Cooke. In an interview by Cyclingnews during the Tour, he said that the only thing that could stop him was illness or injury. Luckily he had none of it.
"By the end, my mind had really had enough, and I wanted to stop! Physically, I think my body was in a groove, and I wasn't getting any more tired each day, so I think my body held up well."
Except for his fine sprinting abilities, Baden has other interesting aspects. In some ways, he is part of a new era in cycling. What does he see as his own gift to cycling?
"I think cycling is taking a new path generally, and I want help continue making the sport more healthy," he answers frankly.
Finally, the question we have all been waiting for. Who will win the Worlds - Cipollini, McEwen, Van Petegem... Cooke?
Recent interviews with Baden Cooke
September 2002 - Jean-François Quénet and Cyrille Guimard on Baden Cooke
July 2002 - The Cookie Monster during the Tour de France: Part 1
July 2002 - The Cookie Monster during the Tour de France: Part 2