Team TORQ diary
The TORQ team
Photo ©: Evan Jeffery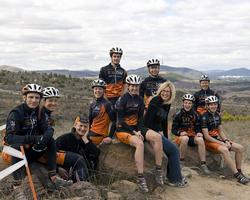 The UCI-registered Australian TORQ/VIS mountain bike team team, features some of Australia's top racers and future stars, including VIS scholarship recipients like Tory Thomas, Robbie Hucker, and Cal Britton.
For 2008-2009, TORQ racers are targeting the Australian MTB National Series, National Championships and Oceania Continental Championships. The team's top priority is racing Olympic distance cross country events, but it is also mixing things up with some short track, marathon and endurance events - and maybe even some road races. Some members will head abroad for the World Cups – an important part of Australian national team selection process for the 2009 World Championships to be held in Canberra, Australia.
Dan McConnell, who represented Australia at the 2008 Olympic Games in Beijing, China, is perhaps the team's most well-known member. James Maebus, Katherine O'Shea, Joanna Wall, Luke Fetch, Steele von Hoff, Paul Weymouth are also on the roster. Members will take turns writing diary entries.
May 16, 2009
Trying out the European World Cups
Going Solo (with dad)
Cal Britten gets his first taste of international racing
Photo ©: Trevor Britten
While Dan (McConnell) and Katherine (O'Shea) were flying the flag at Terra Australis and the South Africa World Cup opener, I've been over here in Europe living the hard life - drinking brilliant coffee and eating lots of good food. Obviously it hasn't all been lounging around.
I got here the week before round one of the Racer Bike Cup Series (previously the Swiss Cup). For the week leading up to the race we stayed in Sulzberg, a small town in Austria just above Bregenz. If you're ever in the neighbourhood do yourself a favour, PACK A BIKE! The riding is brilliant; it would rate as one of the top places I have ever been for cycling. The roads are fast, quite and picturesque and there are so many of them. The area also happened to be covered in snow yet was warm enough to leave the leg warmers at home, nothing like riding along with snow beside you for as far as the eye can see.
The Racer Bike Cup race on Sunday went well. Really I'd have to say it was my first taste of senior international competition. As the gun went, we charged out of the blocks, so much faster than I'm used to starting back home. I had a creeper of a first lap, and second lap, and third lap... but then I started to feel good. I passed riders for the rest of the race and ended up a very surprising and happy 14th (fourth Under 23), a very solid start to my overseas campaign.
Pushing hard in the fast-paced start loop
Photo ©: Russell Baker

The following week I spent in France with Dad, riding lots of bergs and doing the tourist thing in between (but mainly riding bergs). I had a weekend without racing so I focused on clocking up some big kilometers and getting in some good intensity without the number plate. Again the training was fantastic, and riding Tour de France climbs like Col De Izoard was a fantastic experience - even if the top few kilometers were still closed due to snow. The week included two five-hour epics with more mountains than you can poke multiple sticks at.
Then it was time to meet up with the rest of the Torq crew. Dan McConnell, Katherine O'Shea and "spectator/racer extraordinaire" John Groves were the first to arrive, followed not so closely by the team funny man/makeshift manager Ray Lacis (we think he might have flown to Europe from Australia via Antarctica).
One of the highlights of the first week would have to be the generosity of Continental - they gave our team an enormous amount of gear which saw us more excited than kids in a lolly shop. Having such a massive selection of tyres at our disposal was a huge advantage. No matter what the weather did, we had it covered. (The only downside of this was our growing problem of fitting everything in our small Renault van.
Our first outing as a team was round two of the Bundisliga series in Munsingen. The start list read like a World Cup so we knew the racing was going to be tough! Due to the large numbers, Under 23 men raced separately from the elite men, so I was up first. The start of my race was pretty straightforward and I managed to get myself into a good group around the top 20. I stayed there for the rest of the race with the same few riders none of us giving each other any chances to get clear. I ended up the race in 20th and was reasonably happy with the result given the quality of the field and the closeness of the race.
Offenburg - my first Euro World Cup
The start of Cal Britten's first Euro World Cup.
Photo ©: Trevor Britten

We got ourselves a very nice farmhouse in Durbach (a small town just out of Offenburg), the accommodation was very comfortable and best of all the owners kept on bringing over all the wine we could drink.
Offenburg was my first European World Cup, it had 240 starters, so I knew it was gonna be a hard start. After a few very nervous minutes on the start line the gun fired, I got off to an ok start holding my 70th position; it wasn't until halfway around the start loop I started to get passed. My legs felt very good, but I rode too conservatively at the start.
In the end I came good to late and my charge up with field was halted by the 80% flag been pulled out. I was pretty annoyed to say the least as I was no where near been lapped (only eight minutes behind the leaders going into the final lap). So that was my first Euro World Cup experience. Note to self: don't hold anything back.
Houffalize - my second World Cup
There were a LOT of Australian mountain bikers racing
Photo ©: Russell Baker

It was then time for the World Cup circus to move onto Houffalize. Again we found ourselves staying in a nice little farm house (this time minus the wine). Special praise needs to go to Dan and Grover who managed to somehow cook a roast dinner with only one electrical appliance working at a time in the entire house. Needless to say, the meal was served over several courses as food was cooked in single batches. Well done boys!
My legs felt good in the lead up to Sunday's race and my bike was running beautifully thanks to GT mechanic and all round legend Mark. Unfortunately my legs didn't pull up so well race day. The start was hectic, and I found myself loosing ground immediately. I was on a total shocker.
I was struggling to even get up the brutal climbs, but I turned myself inside out to still pulled out a reasonable result. To much disappointment, I was once again pulled with a lap to go. I missed the cut by less than 10 seconds and was shattered. In the end, it was probably merciful of them to not send me out for another lap, I was in that bad shape.
It was a very disappointing result for me as I really felt this was a great course for me.
Home time
Our time in Belgium ended and it was time for me to part ways with Dan, Kat, Ray and Grover. I was to be on my way home while those lucky buggers get to head to the UK to stay with Torq founder Matt Hart, and then continue there trip with Bike the Rock festival and finally the World Cup Round in Madrid. For me, now its time to get back in the gym and get buff.
Over and out,
Cal Britten
Photography
For a thumbnail gallery of these images, click here
Images by Trevor Britten
Images by Russell Baker
See Cyclingnews' full coverage of the Oceania Championships.