Team TORQ diary
The TORQ team
Photo ©: Evan Jeffery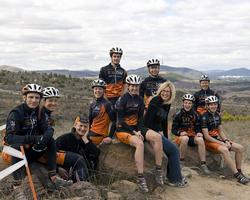 The UCI-registered Australian TORQ/VIS mountain bike team team, features some of Australia's top racers and future stars, including VIS scholarship recipients like Tory Thomas, Robbie Hucker, and Cal Britton.
For 2008-2009, TORQ racers are targeting the Australian MTB National Series, National Championships and Oceania Continental Championships. The team's top priority is racing Olympic distance cross country events, but it is also mixing things up with some short track, marathon and endurance events - and maybe even some road races. Some members will head abroad for the World Cups – an important part of Australian national team selection process for the 2009 World Championships to be held in Canberra, Australia.
Dan McConnell, who represented Australia at the 2008 Olympic Games in Beijing, China, is perhaps the team's most well-known member. James Maebus, Katherine O'Shea, Joanna Wall, Luke Fetch, Steele von Hoff, Paul Weymouth are also on the roster. Members will take turns writing diary entries.
April 3, 2009
Going Oceanic
Katherine O'Shea heads out the elite women's field
Photo ©: Tony Fetch
Two weekends ago, the TORQ team was in Thredbo, NSW, for the 2009 Oceania Championships. TORQ Nutrition founder Matt Hart was out from United Kingdom, so everyone was out to show him just how talented and amazing the Australian wing of the TORQ Nutrition team is.
With the Australian National Series complete, the Oceanias were a great excuse to spend the weekend in the high country and have a laugh. There was definitely still a serious side to the weekend, too, with a fair swag of UCI points up for grabs. The brand new cross country course was tough to say the least. The main grass climb was a killer, and by the time you got to the top, you were seeing stars! And if the course itself wasn't hard enough, the snakes that popped out for a look certainly made up for it!
Jo Wall chases hard
Photo ©: Tony Fetch

The cross country women were up first on Saturday morning with Katherine [O'Shea], Tory [Thomas] and Jo [Wall] flying the flag for Torq Nutrition. Although expectations were high, as it often happens, not everything went quite to plan.
Jo flatted just after the start loop, and although she fixed her tyre in record speed, she'd lost too much time and also her dream for the title. Katherine and Tory were riding together in third and fourth and in contact with the leaders, Australian National Champion Rowena Fry and Zoe King. In the final laps, Rowena turned up the pace and secured the win, with Zoe 2:29 back.
Jenny King had a blinder coming home in third position with Katherine on her tale to claim fourth position. Tory was suffering and suffered hard to cross the line in fifth, with Jo making up a lot of time after her flat to finish ninth position, sandwiched between three New Zealand riders.
Winners are Grinners - Dan McConnell on top
Photo ©: Tony Fetch

The men's cross country race flew off in a cloud of dust with a New Zealand rider getting an early break away, and [Under 23 rider Lachlan] Norris close behind. Norris stuck on the wheel of the New Zealand rider until he got a chance to attack him on the grassy climb and take the lead.
Norris stayed away for two laps with TORQ rider Cal Brittan leading the chasing group. On the third lap on the steep grassy climb, I was able to bridge the gap from the chasing group to Norris. With Norris tearing up the course, all I could do was try to hang onto his wheel, and Dylan Cooper was snapping at my heels in third position.
Due to the fast pace set by Norris, the course started taking its toll on the riders behind the leading pack. On the fourth lap, I was able to sneak away from Norris and Cooper, opening up a race-winning lead. Canberra superstars Dylan Cooper and Ben Henderson completed the top three in the elite men's field. Luke Fetch, a young talented rider, didn't have a great day as he was riding with a broken thumb on the rocks and tussocks. Although disappointed, Luke has his eyes set on the Terra Australis. Cal Brittan had a good race finishing third Under 23 behind Norris and Paul Van Der Ploeg in first and second respectively.
Cal Britten
Photo ©: Tony Fetch

After the Terra Australis, I'm heading overseas to take on the challenging World Cups in South Africa and Europe and to race the European season.
Thanks to Gen and Dean Clark for the support in the 2008-9 Australian Series.
Until next time keep pedalling!
Cheers,
DMac
[Dan McConnell]
Photography
For a thumbnail gallery of these images, click here
Images by Tony Fetch
Images by Tim Retchford
Images by Russ Baker
See Cyclingnews' full coverage of the Oceania Championships.