Mary McConneloug & Mike Broderick
Photo ©: Mary McConneloug & Mike Broderick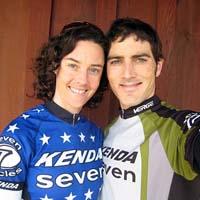 Team Kenda-Seven-NoTubes: The Mary McConneloug & Mike Broderick diary 2009
MTB "super-couple", US National cross country champion Mary McConneloug and Mike Broderick live together, train together, travel together and race together. They also share this diary on Cyclingnews.
Follow their adventures as they race the World Cup cross country circuit throughout 2009. Enjoy the unique, professional racing style of these two accomplished racers and world travelers.
South Africa, April 23, 2009
Exploring South Africa
Mary enjoys seeing a giraffe
Photo ©: Mary McConneloug & Mike Broderick

Mary and I were a little uncomfortable when the steward on the South African airlines flight announced that he was going to introduce a "non toxic spray" throughout the cabin and then immediately proceeded to irrigate the passenger area with a thick mist through the plane's ventilation system. The crew carried on as if it were nothing more than a morning dew, but we were pretty creeped out. The smell and irritation stayed with us throughout the painfully long disembarkation, seemingly aimed at making sure we had gotten the full effects of the "EPA-approved" spray.
As soon as we cleared out of the clotted, hazy Johannesburg, we realized that South frica was one of those places where we were going to want to do more than just build the bikes up for a typical week of World Cup venue-specific bike riding and racing. Even with our senses dulled by the long hours of lunesta-induced airline stupor, we could sense this country might be a place capable of changing our perspective on what an amazing place to live is all about.
Cathereral Peak
Photo ©: Mary McConneloug & Mike Broderick

Leafing through our first round of ratty tourist brochures, it was pretty clear that South Africa is full of controversy and has a history of awful secrets that haunt the country to this day. On the positive side, it is also a place with incredible outdoor recreation opportunity, vast mountains, beaches and wide open places that beckoned our internal need for active adventures for an unfathomable investment of time.
We turned off on the meandering back roads in the Northern Drakensburg area onto a rugged, red clay, dirt drive; giant aloes and thorny bush rose up on all sides while an evening thunderstorm stabbed the ground with violent forks of lightning from the black clouds hanging overhead. Mary and I shared a queasy feeling - partly from the travel and lack of sleep and partly from the experience that was unfolding; this was yet another place that would threaten to alter our lives, draw us further from what we know and entice us deeper into expatriotism.
Zebra sighting
Photo ©: Mary McConneloug & Mike Broderick

As soon as I could get the bikes out of their bags and assembled we were out the door – camera in one hand and Crank brothers multitool in the other, still fine-tuning the cables and tightening bolts as we shot blurry sunset pics. Ripping down the mile-long driveway out to a little road that Mary had scouted out, might just take us out to a natural reserve that contained a slew of exotic animals. We ended our first safari only with a close-up view of millions of bugs as they imprinted themselves into our retinas, but we were still glad to shake off the stagnation of the plane and get out on our first ride in South Africa.
We spent the next few days recovering the legs and shaking off the effects of the travel as best we could – lots of little rides and naps were mixed in while figuring out how to feed ourselves and setting up our limited timeline to see a bit of the country while prepping for the first World Cup of the season. Along the way, we found ourselves living well above our typical means and enjoying what to us were luxury accommodations for the price that we have paid for RV camping in some European countries.
Test race
Start
Photo ©: Mary McConneloug & Mike Broderick

We arrived to the race venue in Pietermaritzburg the week before the World Cup to take advantage of a UCI-catagorized race that was being held on the same track. We managed to register and get in two laps on the course just before dark. We hadn't really fully committed to the idea of racing, but the allure of competition grabbed us as soon as we saw the course tape. We were helpless to resist, other ideas or plans were altered as we registered and headed back to our accommodations for a single-minded night of bike tuning and race prep.
Race day was hot and humid, and the fast non technical 5km course with 250 meters of elevation a lap was a tough one on the legs. It was a great warmup for the World Cup race and a nice opportunity to get out on the course with only a quarter of the riders for a sample of what was to come during . Mary killed it and ended up on the podium in third while I suffered a bit more still seemingly weakened from my recent antibiotic rounds and ended up somewhere around 25th.
South Africans are quick to show their good side and seem especially willing to reach out to strangers, especially where the tribe of the bike is concerned. We hooked up with local pro Roan and his buddy Pete the day after the race, and they took us out on one of their sweet training loops that were cut into the hills above the city. It was super nice to have a local tour guide to make a bit of sense out of what we had perceived as nothing more than clear cut after clearcut. We got clued into some sweet trails where we could appreciate the mountain bike, fitness and the skills for what they are really best for – getting out for some pure riding fun and exploration.
New toys
Time for a little filming in the game park.
Photo ©: Mary McConneloug & Mike Broderick

Our globe-trotting SRAM support technicians arrived on the Tuesday before the World Cup, just in time to set our bikes up with a pre-release version of a new high-end mountain bike groupo known simply as XX. The equipment they brought was hot off the press and although they claimed that was still in the prototype stage, we found its performance to be more than polished enough to perform admirably at the highest levels of competition. Though we were only introduced to the new equipment three days prior to the World Cup, the feel was intuitive and we were able to take advantage of what was a significant upgrade in drivetrain and braking performance. Mary and I had a great testing opportunity in racing consecutive weekends on the same course with the equipment change being the only variable.
The details of the XX groupo are still purposely shrouded, awaiting to be revealed later in the summer, so we can't elaborate too much here. We can say that the system provides a welcome change and look into the way things on the mountain bike should be! Even our initial ride made it obvious that the XX groupo will be the new gold standard by which other component manufacturers will be forced to compete. Mary and I are honored to be among a handfull of athletes who have received the prototypes to give them a shakedown. The group is simply a pleasure to ride and race, with upgrades that are invaluable to professional racers and will likewise be appreciated by performance-oriented mountain bikers of all levels.
Some non-racing fun
Mike passes giant aloe plants
Photo ©: Mary McConneloug & Mike Broderick

Our first visit to a South African game reserve cost us 150 rand ( $1.50) a piece for the entire day completely unchaperoned and surrounded by wild animals in their natural environment. It would have been a rugged 6km drive through the park on a dry day, but the thunderstorms had us wondering why the park attendant even allowed us to enter the park in our two-wheel drive minivan.
Ignoring our better judgement and because we are fans of a driving challenge concerning rentals and off road situations, we had at it. Carving deep, fresh tracks on the red clay singletrack road surrounded by zebras and impalas was fun, but breaking the mountain bikes out and dropping into the network of steep hiking trails was just awesome. We were able to access the more remote corners of the park where the giraffe and wildebeest roamed (and we learned later they might be prone to protect their young against all predators by stomping them to death). No one was there to tell us otherwise, so we made a day of searching out and photographing animals between some steep hill intervals. The post ride time spent washing 20 types of giant animal dung off the bikes was well worth the overall experience of the day.
The big day
Men's World Cup race.
Photo ©: Mary McConneloug & Mike Broderick

By the time the World Cup race day arrived, we were feeling ready to get it on. An overnight rain shower had rendered the fast, red clay course as slick as could be, altering many of the short steep descents trecherous enough to consider walking. Our first instinct was to select more aggressive mud tires like the majority of the other teams but our time here had allowed us to get into sync with the timing and temperament of what happens to the soil after a rain. Even as the early morning junior race finished with mud-caked riders bearing the obvious signs of an intensely slick ride, we elected to send Mary out on our ultra fast dry day tire selection – the Kenda Small Block Eight. With their low rolling resistance and subsequent speed these tires for dry, tacky condition performance and that's what the course turned out to favor for the majority of the women's five lap race.
Mary had an awesome ride right from the start, coming through the first feed zone in a close one two with eventual race winner Austrian Elsbeth Osl. She continued to out climb and distance herself from the bulk of the women's field in an impressive display that reminded me that out of all the talents that I have seen her display. Climbing is clearly her greatest gift. The course was riddled with short, steep pitches broken up only by some fast straightforward descents that at the end of the day seemed (to me) added up to feeling like one long steep and grueling climb. Mary was clearly in her element, able to ride in the top three for the majority of the day.
Mike & Mary in South Africa.
Photo ©: Mary McConneloug & Mike Broderick

In the final lap and a half, the heat and intensity started to take its toll and she was forced to conserve a bit to ensure her being able to finish without cracking in the heat and humidity. She eventually succumbed to attacks from Norwegian Lene Byberg and Spaniard Marga Fullana though she was able to keep her composure and hold off the rest of the charging women's field to finish a fantastic fifth.
I was reminded how dangerous it is at the start of a World Cup cross country race with everyone shoulder to shoulder and wheel to wheel with 170 tapered down and caffiened up, hungry ass pro racers. Five seconds after the start an unidentified rider just to my left front launched over his bars at 20 mph and landed in the middle of the swarming pack. The resulting noise was terrible and for a brief second my competitive spark flickered as I swerved into the fencing to avoid the carnage.
I was really lucky to be not seriously involved as so many obviously were! Avoiding the terrors of the traditional start loop crash a had left the path clear to fully commit to suffer and tear myself down bit by bit by my own device as is customary when trying to be competitive at a World Cup cross country event. The onslaught continued for seven laps, and I was thrilled to make many suffer along with or more than I was, as I fought to advance my position that was somewhere around the the top 50 for the majority of the race.
Don't disturb the bush pigs
Photo ©: Mary McConneloug & Mike Broderick

I thrived off passing up those who had reached the end of their power and fell by the wayside right up until the point that I crossed over that unperceivable line and become one of them. At this point, the heat and effort became unbearable and I pretty much imploded and was only able to retaliate with a sluggish hard headed suffering to finish up my day in 63rd position.

It has been an amazing, though all-so-short journey in South Africa, and we want to thank everyone who has helped support us to be here. Having Mary make the podium on the first World Cup of the year is a victory that we hope all of you can take part in because you (you know who you are! ) are part of the reason we are here and able to do what we do.

From here we are looking forward to adapting to the climate of spring in Europe and are looking forward to the next rounds of World Cup racing from the comfortable confines of our sweet little Euro RV.

Hopefully you are finding nice weather to get out on the bike as well!


Mike and Mary
Team Kenda/Seven/NoTubes
Photography
For a thumbnail gallery of these images, click here
Images by Mary McConneloug & Mike Broderick