Italy's Ivan Basso
Photo ©: Roberto Bettini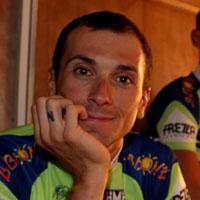 Brighter days ahead: The Ivan Basso Diary
Ivan Basso is back to racing after a forced rest of two years due to his involvement in Operación Puerto. The Italian, winner of the 2006 Giro d'Italia, looks to set the records straight and prove himself stronger than before while giving Cyclingnews' readers an inside look at his training and racing.
Back from a 16-month suspension, Basso ended his ban at the Japan Cup, October 26. He finished third in a close finish behind Damiano Cunego and Giovanni Visconti. The result was promising and Basso hopes there will be even brighter days ahead in 2009. Stay tuned as he recounts his journey back to the top of the sport.
January 26, 2009
Racing in Argentina
Ciao!
Ivan Basso enjoys the Italian paper
Photo ©: Roberto Bettini

I'm writing my latest diary entry from Argentina - where I'm racing in the Tour de San Luis. It's my first race of the year and it's great to finally get the season going. You maybe wondering how I'm doing in the race but to be honest I'm here to help improve my winter form and build on the base training I did back in Italy. You'll see me going harder and faster (hopefully) at the Tour of California and Tirreno-Adriatico in February.
"Now that he's back in the saddle he is taking a lot of the media pressure off me, but for me the pressure is not a problem."
- Basso on Armstrong's return
Despite being in Argentina I still managed to follow the Tour Down Under and Lance Armstrong. He'll be a big rival of mine when it comes to the Giro, but at this point in the season it is really hard to get an idea on his condition. He's probably thinking the same about me but I'm looking forward to crossing swords with him at the Tour of California.
Liquigas will go to there with a good team and we will try to be protagonists in the race. When you are not in top form it is possible to have bad days. You need to keep improving slowly towards the goals, and not force yourself in the lead up races, like California. I don't want to arrive dead at the finish line in those stages.
I raced in Japan last October 28 and I was on maximum form that day. However, I can't be in form at the end of October, the beginning of January, May, September... it's impossible. I understand that as a professional there is always pressure to be on form – from sponsors, fans and of course personal expectations - but it is not possible to show yourself in every race. So for now the plan is to remain patient, build my strength up and in the races where there is a big objective, perform to my capabilities.
Armstrong's comeback and testing
Ivan Basso in his first race of the 2009 season, Tour de San Luis.
Photo ©: Roberto Bettini

Lance Armstrong's comeback is still big news but now that the dust has settled and we've had time to pause and reflect I can say that there are two aspects that are important to me. Firstly I have great admiration for him as an athlete. He was on of my greatest rivals and made me suffer the most and we had some great battles when he was riding in the Tour de France. The other aspect is that he is a good friend of mine after what he did for my mother. He didn't have to go out of his way but he extended his help and it really meant a lot to me. Not many people would have done that.
Doctor Aldo Sassi on Basso
At Mapei: Basso tested
Photo ©: Aldo Sassi

Ivan Basso took the 'endurance' test at Mapei Sport Lab. The test consists on a 10-minute sub-maximal (410W) constant power protocol to estimate the time to exhaustion at the concerned power. The predicted time to exhaustion was 11 minutes at the beginning of the winter training, November 26, 2008, and he showed an increase up to 17 minutes. The 2008 best predicted time to exhaustion was 25 minutes.
His heart rate at the 10th minute of the constant power test dropped from 204 beats per minute to 188.
Roughly, Ivan is now at two-thirds of his 2008 best condition. The test showed that the fitness level is increasing as expected, despite the cold and snow forced Ivan to perform some training sessions on home trainer or on mountain bike.
Now that he's back in the saddle he is taking a lot of the media pressure off me, but for me the pressure is not a problem. I am used to it and I suffered a lot from it in the last two years. I had a lot more pressure in that time period than I will face in these months leading to the Giro d'Italia. My time off the bike hardened me to pressure and criticism but now that I'm back I have found a new confidence in my team, my abilities and my surroundings. I'm not trying to kid anyone; there's always going to be pressure but I've learnt how to deal with it and how channel it properly.
Armstrong recently announced that he will be using Don Catlin for personalised tests. This is similar to what Aldo Sassi does for me at the Mapei Sport Service. Don't forget that my team, who has the help of Doctor Roberto Corsetti, also tests me. Then there are the random controls from the UCI, WADA and CONI. I visited Sassi before Argentina, on January 8. I know that I am feeling good, but he can explain the technical aspects of my training and my testing. (See the sidebar - ed.)
You will be interested to know that Aldo also works with Cadel Evans. He is open to everyone, he is a professional and he gives personalised programmes to athletes based on their needs. Any type of athlete can seek his advice and he's professional enough to handle athletes who are rivals. He always says that he never interfere with racing, so as soon as an event starts he steps back. His job is to help get me to the start line in the best physical shape possible. I trust in his professionalism and there is not a conflict of interests with him guiding different top-level cyclists.
The last thing that I will mention is something that you may have read about. When I visited my friend Michele Bartoli over the New Year we rode past Ivano Fanini's place in Pisa and stopped in for a visit.
I know he said some bad things about me in the past, but he said them a during time when it was justified. It was a friendly meeting without any hidden objectives.
I know a lot of people were disappointed in me – fans, press – but I hope that I hope that they can appreciate the hard work that I have done in my return to the sport. Fanini confirmed to me that he appreciated my hard work and how I made my return.
Thanks for reading. I will write again before racing in the Tour of California.
Ciao,
Ivan
Photography
For a thumbnail gallery of these images, click here
Images by Aldo Sassi
Images by Roberto Bettini/www.bettiniphoto.net