An interview with Tyler Hamilton, September 3, 2008
Moving on
Tyler Hamilton returned from retirement to join Rock Racing
Photo ©: Roberto Bettini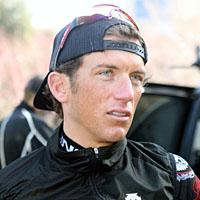 Tyler Hamilton successfully completed his comeback to top flight racing on Sunday, winning the US Pro Championships. The win in Greenville was his first single day race victory since the 2003 Liège-Bastogne-Liège and signalled that he once again should not be discounted from the possible list of winners, even at the age of 37. Cyclingnews' Paul Verkuylen spoke to Hamilton about what his future holds.
After a turbulent comeback season in 2007, Hamilton decided to retire from cycling, not that anybody knew. There were no major announcements or farewell parties for the Colorado resident. Frustrated and demoralised by his experience at Team Tinkoff, he didn't see a future in cycling. Tinkoff had sidelined him from racing since May that year, and had no intention of racing him.
"If I didn't resign from the team they just wouldn't race me," Hamilton explained. "Sure enough Oleg Tinkov did it [not race me]. So come September I retired. Basically I didn't make a big announcement; I didn't feel I owed the media anything."
To Hamilton's amazement, controversial Rock Racing team owner, Michael Ball rang and convinced him to once again pick up the pieces and start racing again. Just three months after he retired in September, Hamilton was again on his bike training for the new season ahead. Fast forward nine months and Hamilton has two wins under his belt, the 2.HC ranked Tour of Qinghai Lake in China and the US professional road race, a race he has dreamt of winning many times.
"It is something that I have ridden a few times in my career and American cycling has progressed a lot. There are so many talented riders. Winning the championship means a lot more than it used to."
"I am having fun, I am just glad to be back racing."
- Tyler Hamilton has no pressure, which makes winning a tad easier
Hamilton didn't expect to win it this year though, seeing himself more as a support rider for his teammate Fred Rodriguez. "For me it's all about the team. A win for the team is a win for me. If I can help Freddy win then that would be great," he told Cyclingnews during the Tour of Qinghai Lake.
As it turned out, Hamilton was one of the riders who animated the race the most and once he made the final move, put in 100% effort to make it work, while Blake Caldwell was playing the team card for Garmin-Chipotle. His reward was a stars and stripes jersey to wear for the next 12 months.
Great Britain is the next stop for Hamilton, where he will ride the Tour of Great Britain with his Rock Racing team. It will mark his return to European racing, since being sidelined by Tinkoff last year.
Hamilton's career stalled in 2004 shortly after he took gold in the Athens Olympic Games time trial. His medal was then placed in doubt after he failed a blood test for blood doping. He was later exonerated when his B sample was deemed unusable as the Athens lab where it was stored had frozen the sample.
Two weeks later he won the stage 8 time trial at the Vuelta a España, six days later he pulled out complaining of stomach problems. Both blood samples taken the day of his win however returned positive for a foreign blood population, which resulted in Hamilton ultimately being suspended from competition for two years.
Hamilton's subsequent appeal to the Court of Arbitration for Sport was dismissed. He has always maintained his innocence.
Back to racing, Rock Racing
Hamilton rode for the Russian Tinkoff team for a while
Photo ©: Roberto Bettini

"It will be exciting to go back racing again," Hamilton said of the prospect of racing in Europe once more.
Rock Racing plans to have a greater presence in Europe as of next year and racing in Britain brings with it an opportunity to show other race organisers that they have what it takes to compete against some of the best squads in Europe. Having the stars and stripes jersey in their ranks won't hurt either.
The opportunity to race in Europe is one that Hamilton has been hoping for since he left in 2007. "I have a place in Italy and I held onto that because of the possibility of going back," he explained. "It will be great to be back there part time or full time. I know I won't be doing this forever, but it will be fun to do."
Hamilton sees his role at Rock Racing as mentor to the younger riders as much as a team leader. In some ways the move has seen him travel full circle. As a youngster he travelled to Europe to be part of an upstart American squad and was nurtured by another Colorado local, Andy Hampsten.
"In my second year as a professional I had Andy Hampsten as a room-mate a lot. That was a big help for me. Now Sergio Hernandez is 23 and I think I was 23 back then, Andy was probably around the same age as me now. It's kind of funny how that works. It seems just like it was yesterday, but here we are 15 years later."
Tyler Hamilton took the closest possible victory
Photo ©: Phoenix Sports Technology

For now though, Hamilton is just enjoying acting like a junior who has just moved up to the senior ranks. Racing all over America and the world in races where he made a name for himself as an up and coming rider in the 1990s.
"I am having fun, I am just glad to be back racing.
"Right now I am having fun doing all these different races. Like last year I just got started and then I stopped basically; with Tinkoff. I was really excited to start racing.
"It's been fun this year. I have done a lot of races that I have never done before. The ones that I have done before, it was 10-12 years ago, in the States. For me it's not just about being able to race my bike but also being able to help out a lot of young guys in this team and being a mentor to them."
Hamilton in the stars and stripes
Photo ©: Phoenix Sports Technology

He has a three-year contract with Rock Racing, but explains that the term of his employment is not important, nor is the money. What is important is having fun and being happy.
"If I can't do my job then I won't be happy. So for me it is still year to year, if I can't give it 100% then I won't be sticking around."
Developing a world class squad is also something that Hamilton has always enjoyed being part of, since his days at US Postal. "I have always had a passion to help out the younger generation. I have always helped out the younger riders by choice, because I enjoy it. There is a lot of young talent in this team and I would love to contribute [in my] post cycling career.
Hamilton's switch to CSC in 2002 had many experts pondering just what he was thinking. At the time CSC was just a small division two team with large aspirations to make it to the big time. Hamilton however saw the potential and quickly signed up, the rest is history.
"A lot of people thought that was crazy. At the end of 2001 I signed with a small team called CSC, people thought that I was crazy. Then I went to Phonak which was the same thing.
"The years of developing US Postal were some of the greatest years of my career; I have some of the best memories from then. In 1999 when we won our first Tour with Lance we had two rented campers, all the other teams had buses; we called ourselves the 'bad news bears' because at the time we were a low budget team, barely getting by, but it was a lot of fun."
Photography
For a thumbnail gallery of these images, click here
Images by Phoenix Sports Technology
Images by Roberto Bettini/www.bettiniphoto.net